ADVERTISEMENT INFO:  PRODUCTS MENTIONED IN THIS POST ARE PR (GIFTED) AND LINKS USED ARE AFFILIATE LINKS. I RECEIVED NO MONEY TO WRITE THE BLOGPOST. PLEASE READ DISCLAIMER
The first thing I noticed when I started using the 107 Beauty Micro Drizzle Hydro Toner was that it felt a little different from the other lightweight Korean toners I had come to love over the last year and a half. (More info: What is a toner and do you really need one?)
Still hydrating, still lightweight, but different, especially when layered. At first I thought that was due to the added vinegar the brand is known for – 7-year aged according to the website, and correctly labeled as postbiotics, which makes me happy – but after several weeks of using it, I think it is something else. And I will share with you what in a bit! (More info: Prebiotics, probiotics and postbiotics in skincare)
What the 107 Beauty Micro Drizzle Hydro Toner claims
MICRO DRIZZLE is a lightweight hydrating toner that helps balance skin after cleansing and prep skin for further treatment. With no added fragrances, it's an ideal toner for all skin types.
Facts about the 107 Beauty Micro Drizzle Hydro Toner
Prize and size
One bottle contains 180 ml and is available for 35 $ on the website here. As always, toners last longer than expected despite using them liberally, so it should be enough for 3-6 months.
Texture and smell
Despite the vinegar, there is no acidic scent. No, you get a clear, watery liquid that smells of nothing and sinks in quickly.
How to use the 107 Beauty Micro Drizzle Hydro Toner
Suitable for use both morning and night, the website claims it is great for layering, and indeed I think that is where the strengths of the toner really come into play. When you apply more than one layer of this toner, you will notice that your skin feels as if it has a light layer of protection, as if you put on a lightweight balm.
It feels like more on the skin than just a hydrating toner, and I noticed that if my skin was stressed from the cold outside, layering this was more soothing than layering any other hydrating product. (More info: Will the Seven Skin Method give you glowing skin?)
And I think I have an explanation when looking at the ingredient list!
Ingredients of the 107 Beauty Micro Drizzle Hydro Toner
Water
solv
,
Glycerin

sii

|

h
0
0
,
Butylene Glycol
h

|

solv

|

vc
0
1
,
Glycereth-26
h

|

emo

|

vc
0
0
,
Hydrolyzed Hyaluronic Acid

h
,
Sodium Hyaluronate

sii

|

h
0
0
,
Sodium Acetylated Hyaluronate

h
,
Panthenol

so

|

h
0
0
,
Camellia Japonica Leaf Extract
,
Betaine

h
,
Beta-Glucan

so

|

h
,
Allantoin

so
0
0
,
Vitis Vinifera (Grape) Fruit Extract

so

|

aox

|

h
,
Vinegar
,
1,2-Hexanediol
solv
,
Boswellia Serrata Resin Extract
,
Disodium EDTA
chel
,
Ethylhexylglycerin
pres
Hover the mouse over an ingredient for short explanation. Read more on INCIDecoder.
What you will find is Glycerin as humectant, accompanied by three different forms of Hyaluronic Acid, Grape Extract and Camellia Japonica Leaf extract for some antioxidants and then the vinegar. What I think is responsible for that protection-like feeling I get though is neither of that, but the Beta-Glucan, Betaine and Allantoin. All three of them are soothing, and at least Beta-Glucan and Betaine can form a protective layer that protects the skin from moisture loss. (More info: The benefits of colloidal oatmeal in skincare)
Does it live up to its claims?
Yes.
It helps that the claims aren't really out there, but it is lightweight, it is hydrating and with a pH of around 5,5 close to the skin's own pH, which is what is usually meant by "balance the skin".
How does it compare to…
Vegreen Nature Mucin Toner
Though they initially feel similar, the Vegreen one is lighter and doesn't offer that soothing layer, which is why I prefer it when it is warmer. It also contains more product for less.
You can read my full review of the Vegreen Nature Mucin Toner here.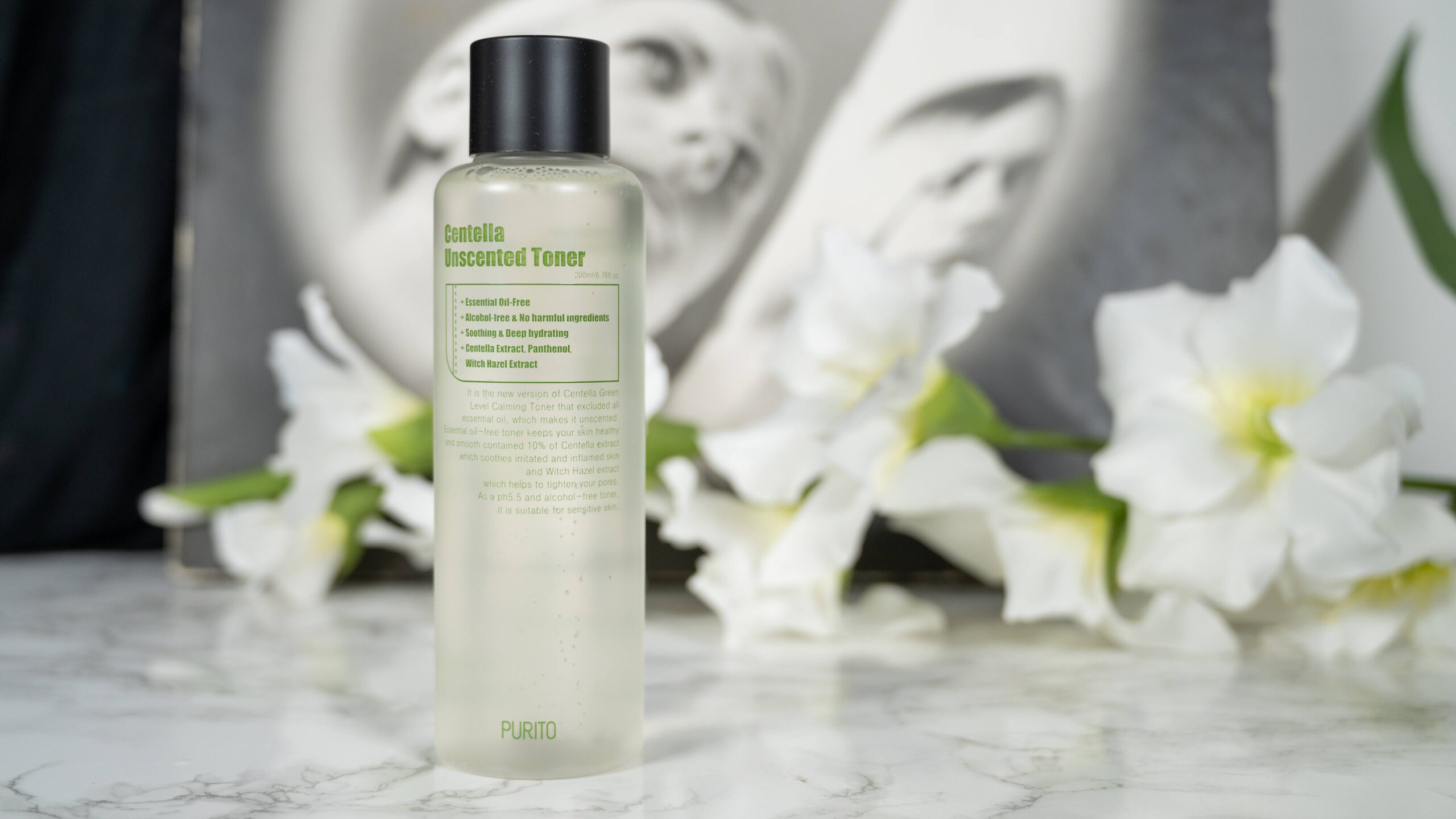 Purito Centella Unscented Toner
Again more product for less, Purito uses Centella Extract as well as Madecassoside and other compounds of Centella for soothing and feels, despite being thicker when poured out of the bottle, more lightweight on the skin. (More info: Centella Asiatica in skincare)
You can read my full review of the Purito Centella Unscented Toner here.
Would I repurchase and which skin types do I recommend the 107 Beauty Micro Drizzle Hydro Toner to?
While I enjoy that soothing protective layer during the very cold months, my skin can sometimes lean on the oily side, so I do prefer the more lightweight toners in my collection over this one. If your skin is on the dry side, very reactive or dehydrated though, I think this is just the right toner for you.
Shop my current favorite toners here

Don't forget to check out the Discount Code Page on top if you want to save some money on your next skincare purchase.
If you want to get a vote in the next Ask Doctor Anne Topic, Ingredient Spotlight or product I review, don't forget you can head over to my Patreon account to get more involved!
(Visited 610 times, 2 visits today)