ADVERTISEMENT INFO: I PAID FOR THE STAY AS WELL AS ANYTHING USED OR EATEN AT THE PLACE MYSELF. LINKS USED FOR PRODUCTS BENEATH ARE AFFILIATE LINKS. I RECEIVED NO MONEY TO WRITE THE BLOGPOST. PLEASE READ DISCLAIMER
Until our stay at Adventurecamp Schnitzmühle I would have told you that camping in Germany is vastly different from the laid back experience you get when traveling in Sweden or Denmark for example.
For a first impression, here is a short video I took there.
What camping has been like in the past
I have experienced roll out picket fences, complaints about a line crossing the property lines by half a centimeter and the constant reminder that from 12 until 3 pm is "Mittagsruhe", a time where you shouldn't play, laugh or basically exist outside of confined spaces – impossible with two small children, and quite frankly not what I go camping for.
If you look at the traditional campers, most of them have a satellite dish they put to good use – after sitting inside their picket fences drinking beer all day, they retreat inside their camper to watch tv, just like they'd do at home.
Each to their own of course, but that never was why we went camping. We wanted nights around the campfire, eating, cooking and playing outside and that feeling of being part of the outdoors, and so far that was what we found when we travelled Sweden, Denmark or Norway, but not here in Germany – until now.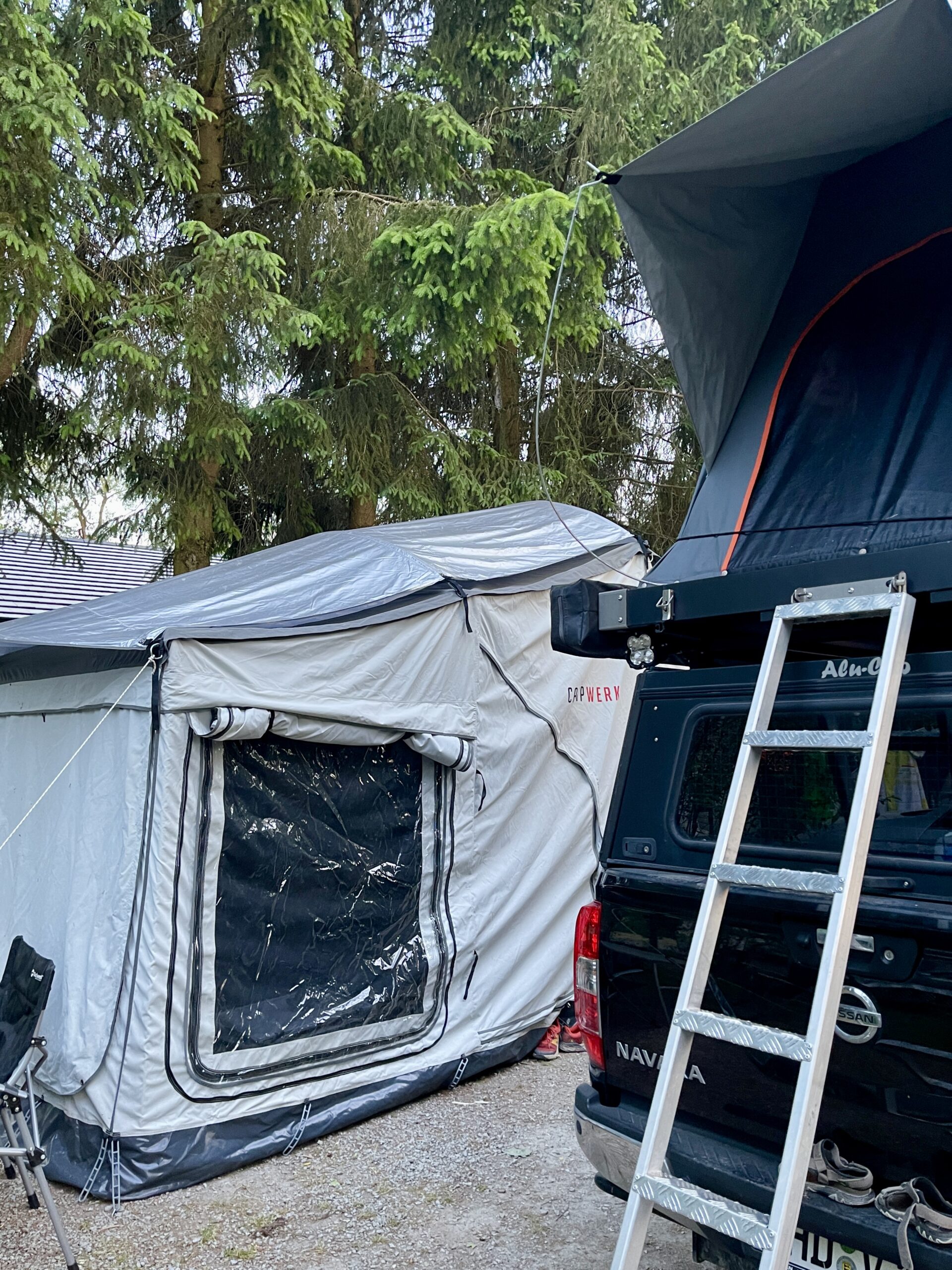 What has changed over the last few years
Now you can't always leave the country to find what you are looking for – a trip to Sweden is 14 hours by car for us, so not exactly feasible for a long weekend away. And times have been changing, one of the good things emerging from the pandemic: After years of being something old people do (or crazy outdoor sports guys), more and more families with small children decided to embrace that kind of holiday, as it is more affordable than a hotel, more flexible and was safe due to the outdoor setting when social distancing was in order.
And with that shift came a shift in peoples needs as well. More people went looking for the things we wanted as well. And once there is demand, places will start to adapt.
Adventurecamp Schnitzmühle – the campground
Now I can't say how long Schnitzmühle has been the hipsters paradise it currently is, maybe it has been that way for over a decade and I just never bothered to look. But I would assume that is has adapted over the last few years, curating to the crowd it is attracting now.
Schnitzmühle is located near Viechtach in the region Bayrischer Wald (Bavarian Forest), in a part that was nicknamed Bayrisch-Kanada due to the beautiful forests and rivers you'll find here, apparently resembling Canada (I can't vouch for that as I have never been to Canada myself). The campground itself is located on an island in the river "Schwarzer Regen", deep enough to travel by canoe, but not as deep that you have bigger boats on it, and is connected by bridge with the main land where you will find lodges, hotel with restaurant and reception and the spa complex.
On the island you will find a bar called Bongo Bar offering seating outdoors, but with a roof above and selling soft drinks, beer and different cocktails. They are open from 7 pm and 11 pm and play music during this time as well, so if you have a camp near that, you better bring some ear plugs.
Next to the bar is a beachvolleyball place that doubles up as giant sand pit for the little ones and several table football things you can use free from extra charge. Then there is a playground with swings and stuff to climb on at the middle of the island, next to the Jungle House that contains showers, toilets and sinks, and to the south a huge campfire spot among standing stones and a small sandy beach from where you can start for a canoe trip or some Stand Up Paddle Boarding. (More info: Skincare tips for Stand Up Paddle Boarders).
All over the island are huge trees, offering lot's of shade during summer, and at the riverside there are lanters and twinkle lights, both marking the spot so you don't accidentally take a wrong turn and obviously being very romantic and instagrammable.
The Jungle House – Showers, sinks and toilets
The Jungle House is the hippest toilet house I have been to, and the jungle theme is not only visible at the entrance pictured above, but all through the place. You will find plants (both fake and real depending on the light) and many of the mirrors carry uplifting messages like "You are beautiful" printed right where you'll see them. It is the Daily Affirmation version of Social Media, just available offline.
There was always someone present for constant cleaning during the day, meaning that despite it being a little less sinks and showers than I would have hoped for – you had to figure out peak showering hours and make sure to go sometime else when you didn't want to stand in line for up to 30 minutes – it was always clean and stocked with toilet paper and paper towels.
Even during rainy episodes (we weren't overly lucky with the weather when staying there) it never turned into the muddy disaster I have seen in other places.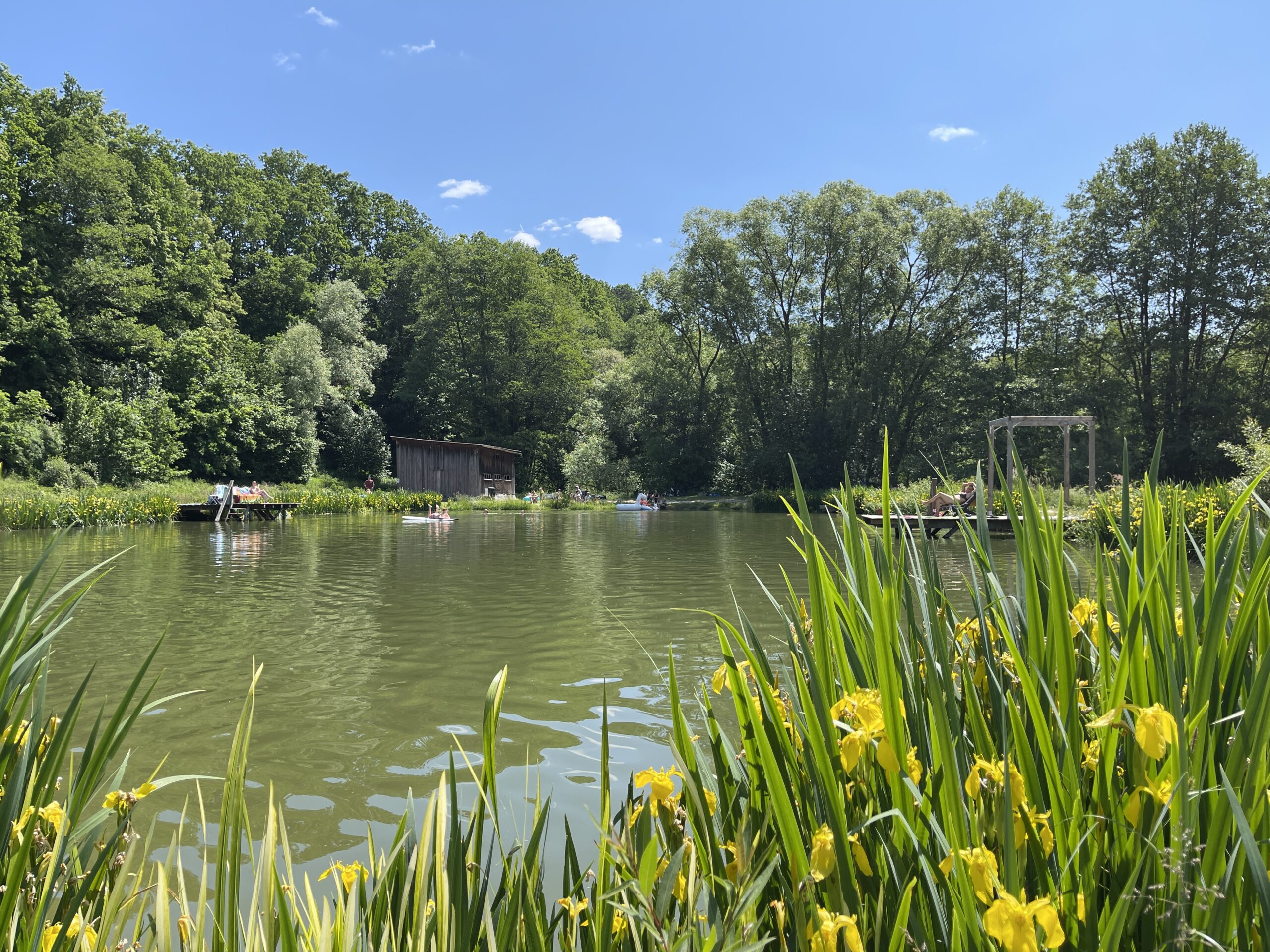 La Laguna
If the river is too cold for your liking (it definitely was for me), there is an artificial lake right next to the restaurant called La Laguna, complete with boardwalk and sandy beach. It isn't exactly warm, but warmer than the river and has a wooden raft the kids used for traveling from one side to another, taking "passengers" with them. It fits up to 15 children, so there never was any discussion whose turn it was, just a constantly changing mix of people either on top of or swimming alongside the raft.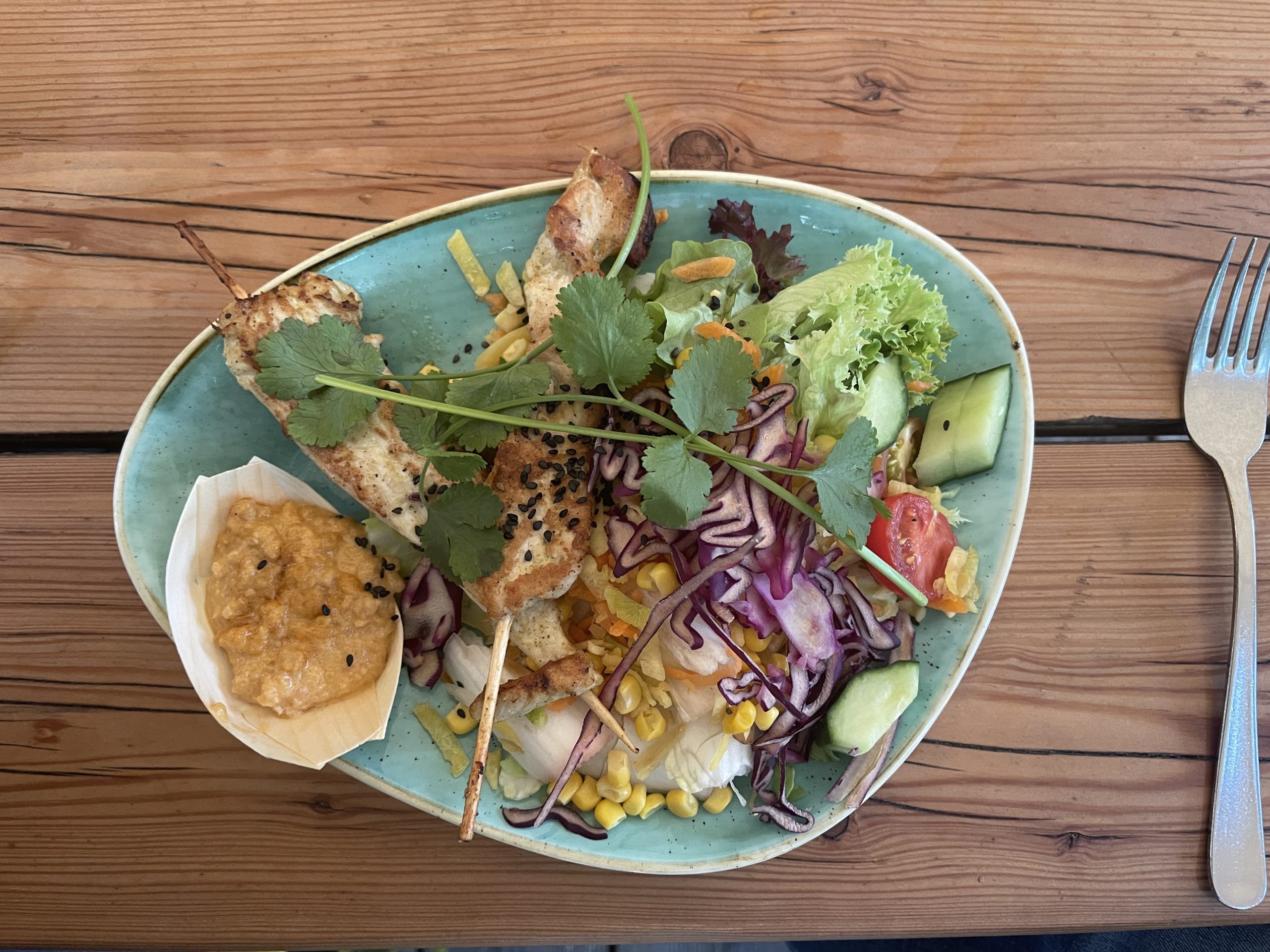 Schnitzmühle – the food
Obviously cooking at the campground is the option most people will chose when camping, but in case you can't be bothered, you can either visit the Jungle restaurant offering an interesting mix of local Bavarian Cuisine and Thai Food, or go to the Food Truck parked outside for a freshly made pizza – all places offer vegetarian and vegan options, something not to be expected when going out in Bavaria.
We ate at the restaurant the first night and got pizza another night, but didn't go in for breakfast or afternoon cake as we were usually out and about in the afternoons. We did get fresh bread rolls and Brezeln each morning though, to eat at our place.
Schnitzmühle – shopping
Now shopping isn't usually something I would think about in conjunction with a campground, but in this case I feel it really showcases the vibe the whole place has.
At the reception, you can get a variety of things – bread rolls and sweets, but also clothes, shoes, coffee table books and various trinkets that you never knew you needed, like mugs or tote bags with funny quotes printed on them. Or skincare and jewelry, all clean, vegan, natural and whatever else you can imagine. And all of a good quality that is reflected in price, it is definitely not a place for those short on money.
Very conveniently there is also a 24/7 shop selling you everything you most likely forgot out of vending machines: Shower gel, toothbrushes and beer for example. Much appreciated as upon arrival on a Sunday I realized I had left all our toothbrushes at home…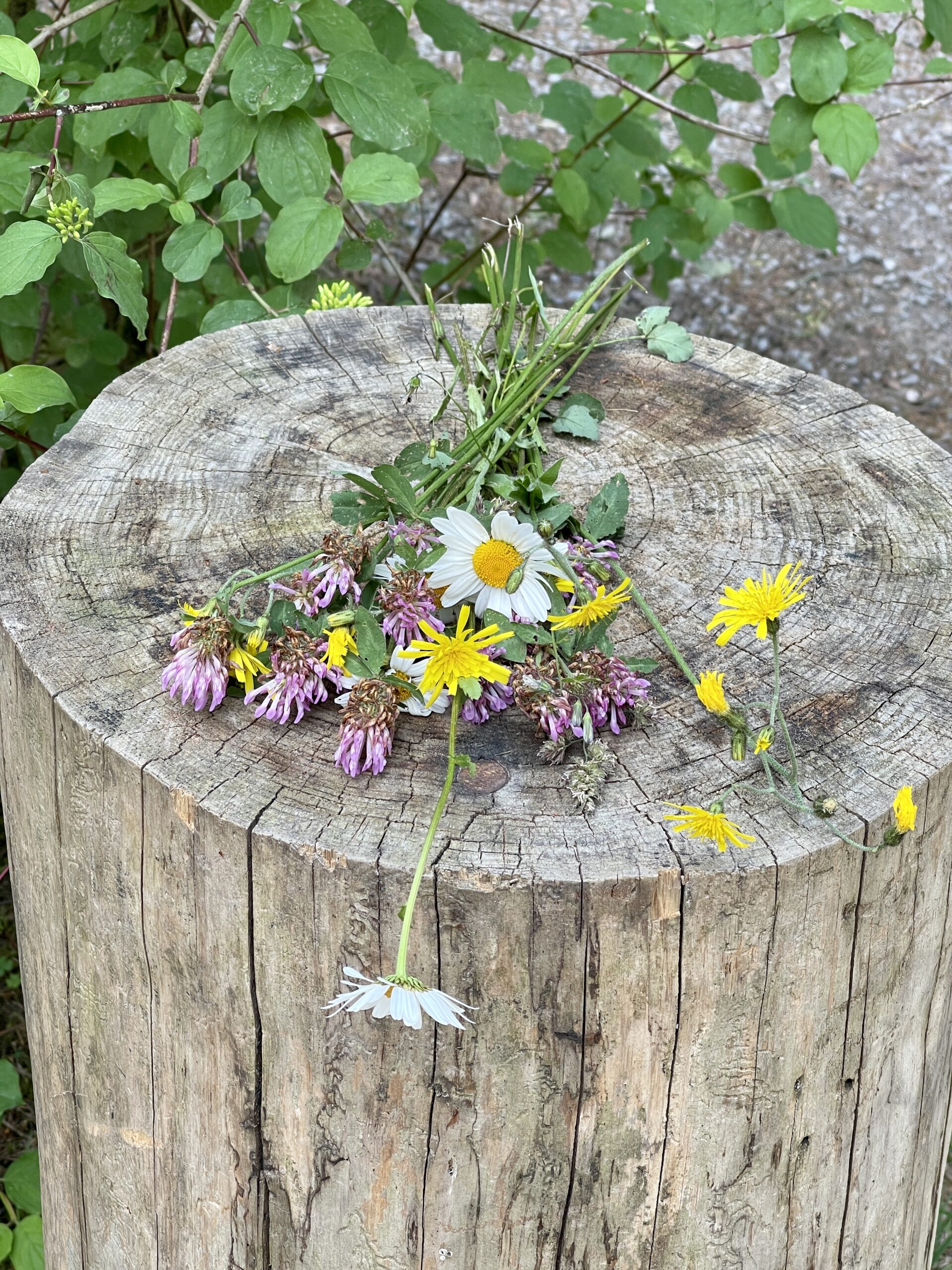 Activities at and around Schnitzmühle
The main thing to do anywhere in this area is obviously hiking or canoeing, and both can be easily done starting at the campsite.
At the camp itself there is a place called Nature Camp offering different group activities you can book like a Nature Escape Room, Learning to make fire in the woods, Learning how to build a raft, basically survival skills that can also be booked as team building event for companies. We didn't book any, but I talked to a mother/daughter duo that did the fire making one and were very content with how it went.
Not always available are special offers like Yoga retreats or things like The Female Explorer Community gathering (More info here: Schnitzmühle Kultur), so depending on what you are looking for, I guess you'll be able to find it.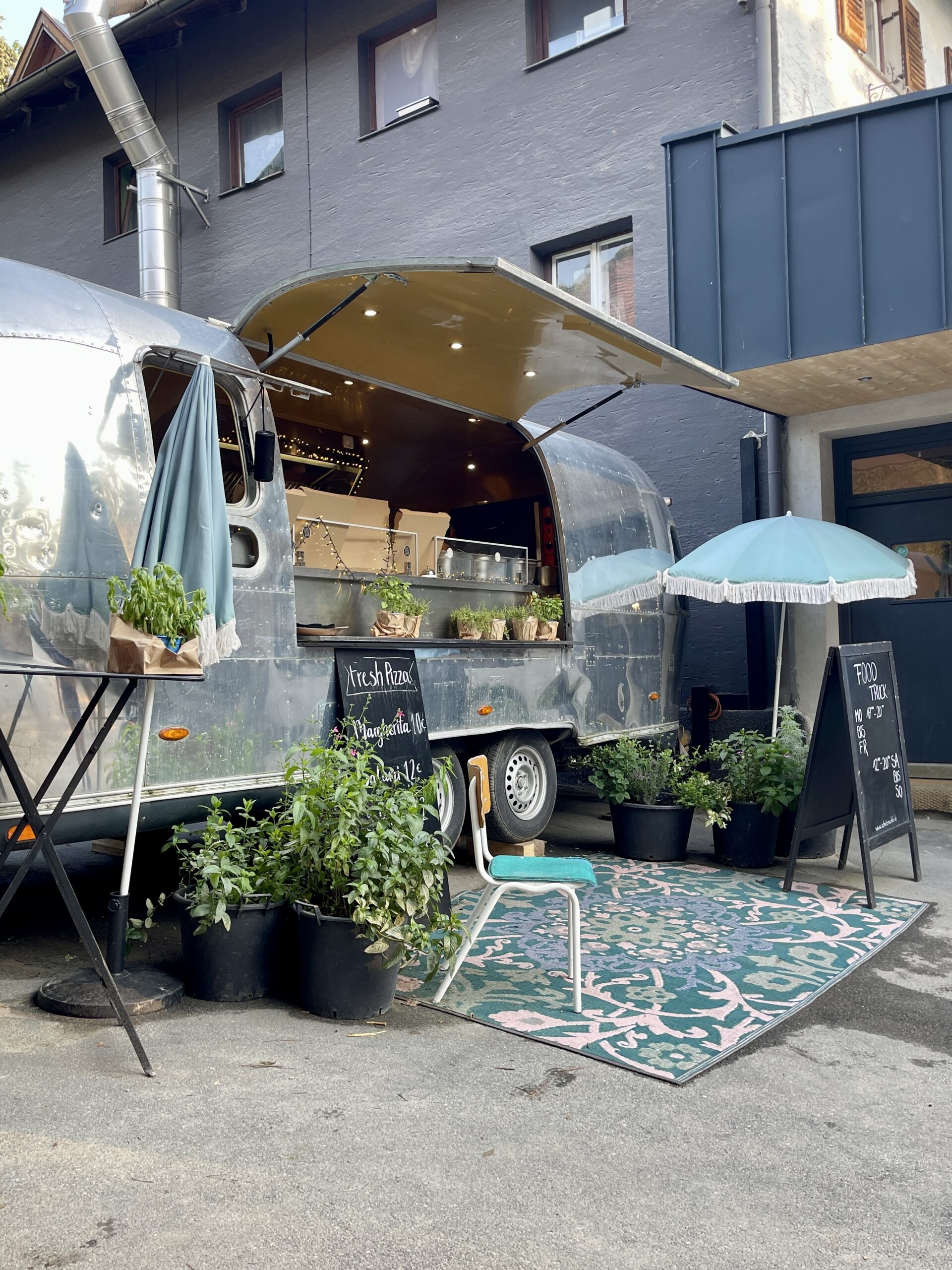 More infos regarding the campsite
Should you consider going yourself, here is some more background information: Dogs are welcome at the campground, as are other animals (we saw a cat on a leash while we are there). You can book a place for a tent with or without electricity, can go there with camper van or, like we did, with our combination of pickup equipped with hard top and roof tent combined with our tent trailer.
For those two together though the campsite was on the smaller side with not much space left for outdoor seating and campfire. Speaking of campfire, you can rent a mobile fireplace as well as wood (and marshmallows to roast) on site.
Should you want more comfort, there is also a row of pre-setup tents with a wooden floor alongside the river as well as a row of tiny houses, black ones next to the river and golden ones on stilts behind them. I wasn't able to look inside (and the golden ones were still under construction), but I found a few pictures on their homepage that gave an impression – I am certainly intrigued.
And if you are, too, here is a link to their homepage (not affiliate).
Shop the skincare that I took camping with me here
Don't forget to check out the Discount Code Page on top if you want to save some money on your next skincare purchase.
If you want to get a vote in the next Ask Doctor Anne Topic, Ingredient Spotlight or product I review, don't forget you can head over to my Patreon account to get more involved!
(Visited 141 times, 1 visits today)