ADVERTISEMENT INFO:  PRODUCTS MENTIONED IN THIS POST ARE PR (GIFTED) AND LINKS USED ARE AFFILIATE LINKS. I RECEIVED NO MONEY TO WRITE THE BLOGPOST. PLEASE READ DISCLAIMER
Should you combine Glycolic Acid, a retinoid and peptides all in one go in your routine? No, you shouldn't. Unless… unless they are mixed by a skilled cosmetic chemist and already combined in one product, like they are in the Alpha-H Liquid Gold Midnight Reboot Serum we will review today. (More info: How do I combine retinol with other skincare?)
I see more and more people looking for a streamlined routine that allows them to use less steps while getting the same results, and for those people products like the Alpha-H Midnight Reboot are amazing. There is one thing that might put you off other than the price though – I will tell you in a bit. (To take the edge of the price, there is a discount code in the Discount Codes tab on the top of the page – you are welcome!)
What the Alpha-H Liquid Gold Midnight Reboot Serum claims
A powerful age-defying serum combining an industry-first, patent-pending formulation of bioavailable actives and native Australian botanicals for visibly smoother, plumper, glowing skin.
Facts about the Alpha-H Liquid Gold Midnight Reboot Serum
Prize and size
One dropper bottle contains 30 ml and retails for 129 $ on the website here. It shouldn't matter, but I do love the withe and gold packaging, very elegant. It is vegan and cruelty-free and has a pH of 4.
Texture and smell
It is slightly yellow, not uncommon for products with granactive retinoid, and feels like a lightweight lotion on the skin. (More info: Your comprehensive guide to different retinols) While it spreads like a dream, it does take several minutes to sink in.
The one thing that might be a dealbreaker for you is the scent: To me it smells similar to The Inkey List Tranexamic Acid (full review here), like Barbecue Sauce. I can't say why, as both contain no fragrance and don't look particularly similar when you look at the ingredient list, but it might be bothersome for you if you don't particularly like that scent.
How to use the Alpha-H Liquid Gold Midnight Reboot Serum
It is for night time use and the website states that people new to acids should start with 1-2 times a week, slowly building it up to every other night. Although I found this serum to be incredibly gentle, I used it nightly for two weeks to see how far I could go and didn't experience any issues, I do think this is good advice. Start with once a week, see how your skin reacts and build up from there. A few drops are enough, smoothed over the skin directly after cleansing and then followed up by a moisturizer if you feel your skin needs one. I would probably skip that in summer and only use the serum at night. (More info: 5 steps to take if you damaged your skin barrier)
Ingredients of the Alpha-H Liquid Gold Midnight Reboot Serum
Water
solv
,
Glycolic Acid

exf

|

buff
,
Glycerin

sii

|

h
0
0
,
Butylene Glycol
h

|

solv

|

vc
0
1
,
Propanediol
solv

|

h
,
Dicaprylyl Carbonate
emo
,
Dimethicone
emo
0
1
,
Potassium Hydroxide
buff
,
Cetyl Alcohol
emo

|

vc
2
2
,
Hydrolyzed Jojoba Esters
,
Methyl Gluceth-20

h
,
Sodium Polyacryloyldimethyl Taurate
vc
,
Vitamin E

aox
0
–
3
0
–
3
,
Helianthus Annuus (Sunflower) Seed Oil

emo
0
0
,
Dimethyl Isosorbide
solv

|

vc
,
Phenoxyethanol
pres
,
Ferulic Acid

aox

|

amic
,
Glyceryl Stearate
emo

|

emu
0
1
–
2
,
PEG-100 Stearate
surf

|

emu
0
0
,
Ammonium Glycyrrhizate
,
Hibiscus Sabdariffa Flower Extract
,
Caprylyl Glycol
h

|

emo
,
Hydroxypinacolone Retinoate

cci
,
Sodium Hyaluronate

sii

|

h
0
0
,
Ubiquinone

aox
,
Hippophae Rhamnoides (Sea Buckthorn) Fruit Extract
,
Tasmannia Lanceolata (Pepperberry) Extract
,
Ethylhexylglycerin
pres
,
Palmitoyl Tripeptide-5

cci
Hover the mouse over an ingredient for short explanation. Read more on INCIDecoder.
There is 14% Glycolic Acid as exfoliant, Glycerin as humectant, Ferulic Acid, Vitamin E and Ubiquinone as antioxidants and then Granactive Retinoid. Alpha-H tells us that it uses 1% Granactive Retinoid, which is the trademark for a solution made from Hydroxypinacolone Retinoate and Dimethyl isosorbide in which the active, the Hydroxypinacolone Retinoate is at 0,1%, so the actual retinoid concentration in this product is 0,1%, not 1%.
The last thing I want to mention is the Palmitoyl Tripeptide-5, a peptide going by the name of Syn-Coll and claiming to improve collagen production – there are a few small studies done on it showing promising results, but it isn't the peptide with the most data to date. But when paired with Glycolic Acid and a retinoid I would expect the main changes to come from them anyway. (More info: Everything you need to know about peptides in skincare)
Does it live up to its claims?
Yes.
Now I don't know which formulation of bioactives and native Australian botanicals is patent-pending, but I don't care either. The claims of smoother, plumper and glowing skin are easily fulfilled by Glycolic Acid, the retinoid and the Glycerin.
How does it compare to…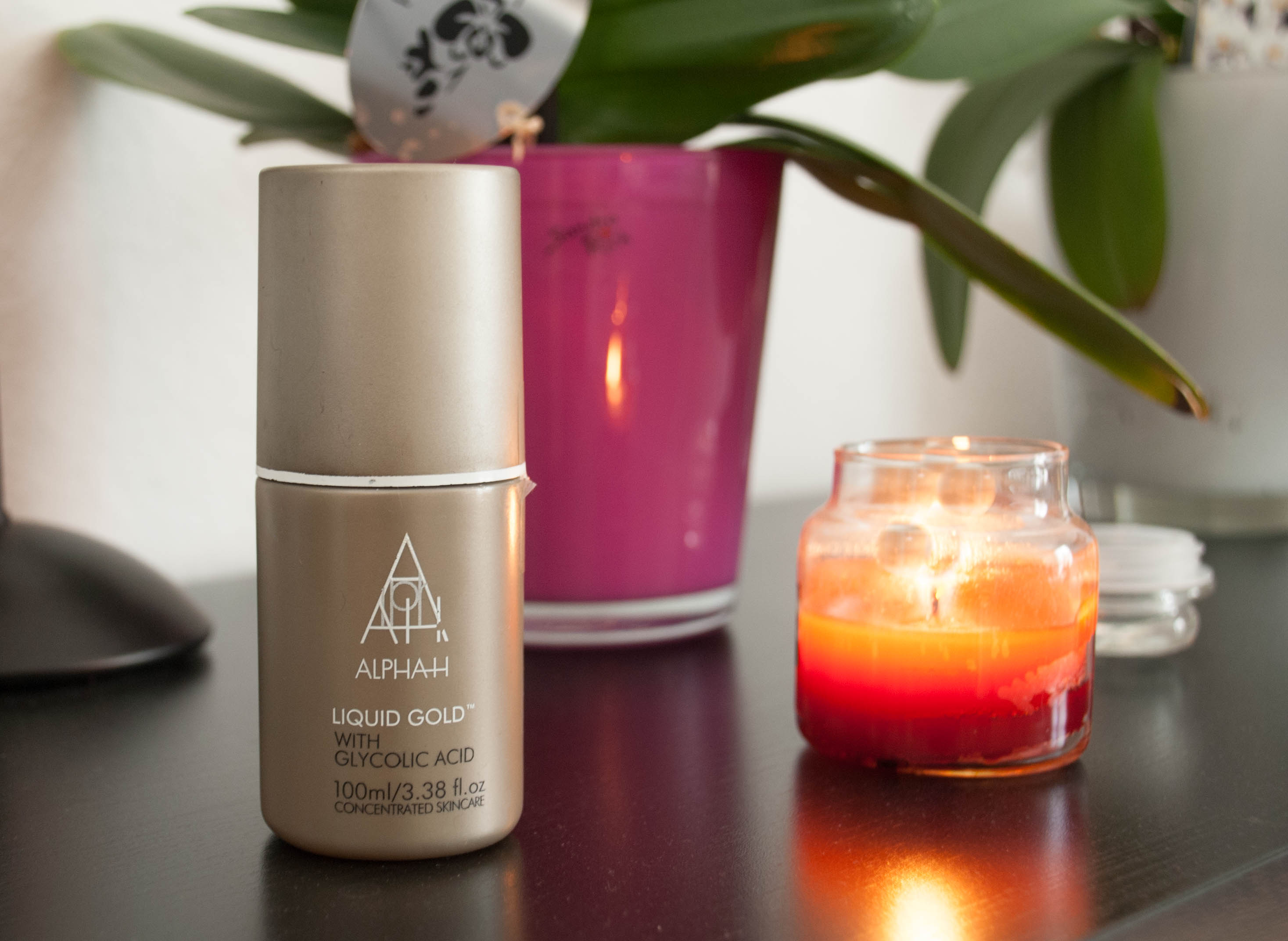 The original Alpha-H Liquid Gold Acid Exfoliant
Despite only containing 5% Glycolic Acid, the original one feels much stronger than the Midnight Reboot. I think the reason for that is one, the pH, which is at 2,8 for the Acid Exfoliant, making it more effective in terms of exfoliation, but also more irritating and two the fact that it uses Alcohol denat. as solvent, which can be a little drying.
As counterintuitive as it sounds, I would say the Acid Exfoliant is more effective, but should definitely be used less frequently, even if it is only at 5%, while the Liquid Gold Midnight Reboot is better suited for regular use, but will take longer to show results.
You can read my full review of the Alpha-H Liquid Gold Acid Exfoliant here.
Would I repurchase and which skin types do I recommend the Alpha-H Liquid Gold Midnight Reboot Serum to?
Judging by how it made my skin look – I used it on my decolleté as I am on Tretinoin for my adult acne, so using it on my face wouldn't yield fair results – it is a product that I would enjoy in my routine. As putting a 129$ serum on my neck feels a little extra though, I passed it on to my mother for her face.
Given the mix of actives and the price point I think this is more suited to mature skins that have a variety of concerns they want to target, like dull skin, hyperpigmentation, fine lines or loss of elasticity, but can't be bothered with layering three different serums worrying about which one goes with which.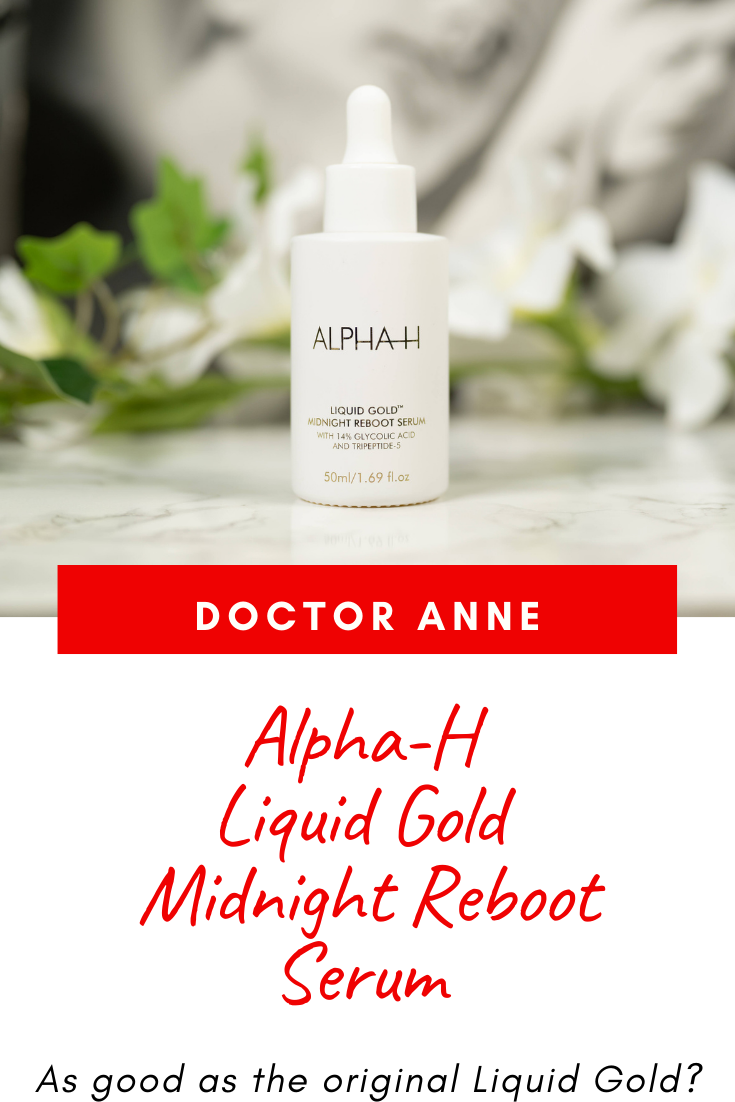 Shop the product here
Or my favorite retinol products here
Don't forget to check out the Discount Code Page on top if you want to save some money on your next skincare purchase.
If you want to get a vote in the next Ask Doctor Anne Topic, Ingredient Spotlight or product I review, don't forget you can head over to my Patreon account to get more involved!
(Visited 1.782 times, 1 visits today)