ADVERTISEMENT INFO: PRODUCTS MENTIONED IN THIS POST ARE PURCHASED MYSELF, LINKS USED ARE AFFILIATE LINKS. I RECEIVED NO MONEY TO WRITE THE BLOGPOST. PLEASE READ DISCLAIMER
I often get asked about peptides in skincare, and while I personally use Copper Peptides in my routine year round, I understand that given the lack of evidence we have, most people would rather try something like the Balea Beauty Expert Day Cream with 3% Peptid-Solution & 1% Ectoin  before investing into some of the pricier products out there. (More info: Everything you need to know about peptides in skincare)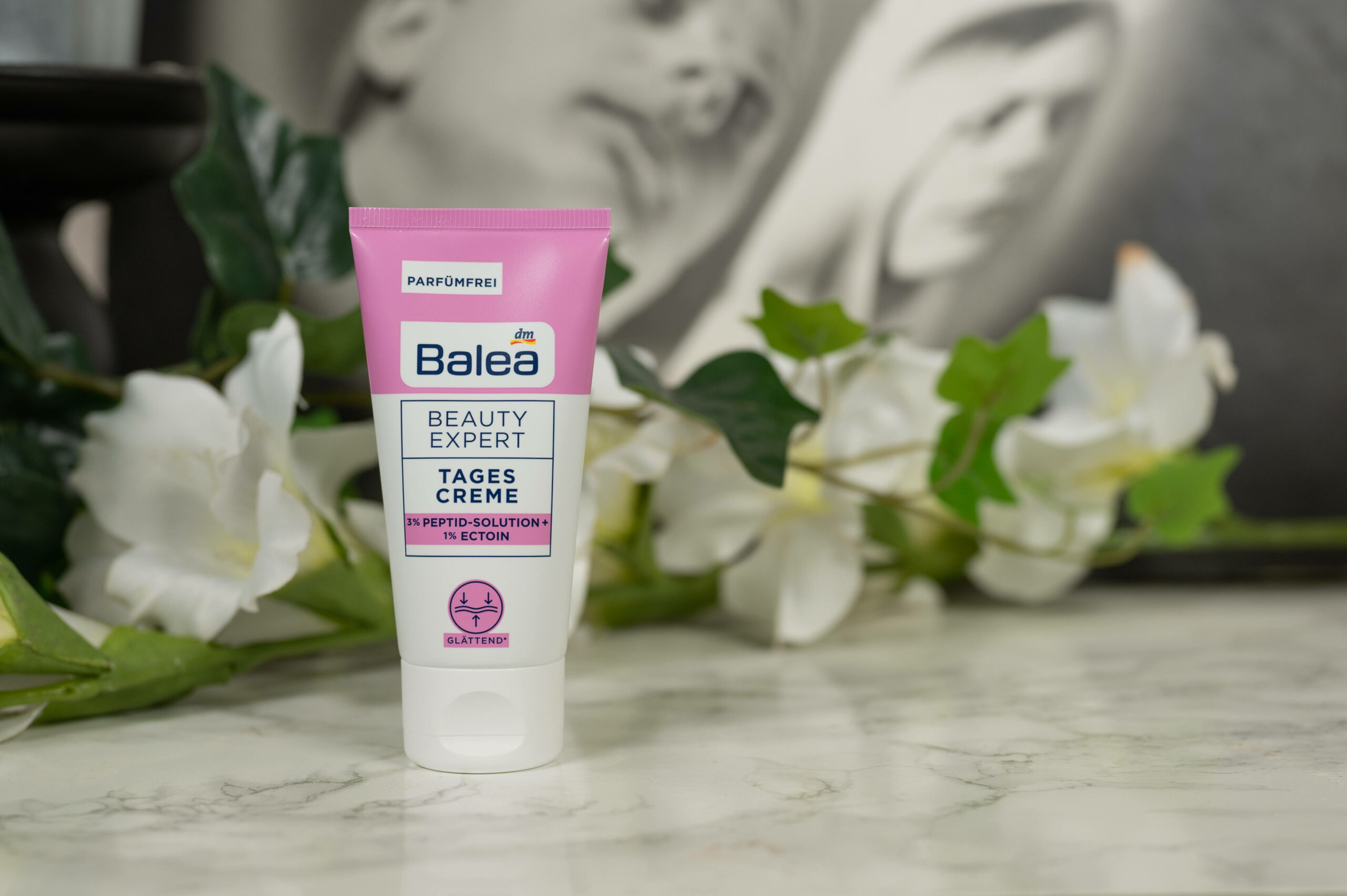 If you are interested in the whole line, I have an overview here.
What the Balea Beauty Expert Day Cream 3% Peptid-Solution & 1% Ectoin claims
The day cream with 3% peptide solution, 1% ectoin, 1% squalane and 2% panthenol provides the skin with intense moisture and ensures a radiant, fresh complexion. This highly effective formula reduces lines and wrinkles and improves skin elasticity. It protects your skin from stress factors and supports the skins important repair processes – for a balanced skin feeling.
Facts about the Balea Beauty Expert Day Cream 3% Peptid-Solution & 1% Ectoin
Prize and size
On tube contains 50 ml and is available for 5,95 € in stores or online here.
Texture and smell
The cream has a lotion texture and no noticeable scent. It is white in color, not very tacky after application, but leaves a slight film on the skin that takes a while to completely disappear.
How to use the Balea Beauty Expert Day Cream 3% Peptid-Solution & 1% Ectoin
It is a day cream, so it is supposed to be worn throughout the day. On my combination skin that would only work in the colder months as it is a tad too rich to be worn comfortably in the heat. But even if it weren't, it has the tendency to pill up with the sunscreens I use on top, rendering it useless for daytime use.
You can obviously wear it at night just as well for your peptide fix, which is what I did during summer. I didn't find it overly hydrating though, so in winter I needed something else.
Ingredients of the Balea Beauty Expert Day Cream 3% Peptid-Solution & 1% Ectoin
Aqua
solv
,
Coco-Caprylate/Caprate
emo
,
Glycerin

sii

|

h
0
0
,
Caprylic/Capric Triglyceride
emo
,
Octyldodecanol
emo

|

perf
,
Cetearyl Alcohol
emo

|

vc

|

emu

|

surf
1
2
,
Panthenol

so

|

h
0
0
,
Behenyl Alcohol
emo

|

vc
,
Glyceryl Stearate Citrate
emo

|

emu
,
Ectoin

aox

|

so

|

h
,
Squalane

sii

|

emo
0
1
,
Sclerotium Gum
vc
,
Sorbitan Laurate
emu
1
–
2
1
–
2
,
Acetyl Dipeptide-1 Cetyl Ester

cci

|

so
,
Acetyl Hexapeptide-8

cci

|

h
,
Palmitoyl Tripeptide-38

cci
,
Hydroxyethylcellulose
vc
,
Sodium Stearoyl Glutamate
emu

|

surf
,
Hydroxypropyl Cyclodextrin

,
Butylene Glycol
h

|

solv
0
1
,
Citric Acid
buff
,
Caprylyl Glycol
h

|

emo
,
Ethylhexylglycerin
pres
,
Phenoxyethanol
pres
Hover the mouse over an ingredient for short explanation. Read more on INCIDecoder.
The peptides used in this cream are Acetyl Dipeptide-1, apparently soothing, Acetyl Hexapeptide-8, also known as Argireline or "Botox in a jar" – just to be clear here, nothing you put on your skin will ever have the same effect as something you inject, but that is what it is known for – and Palmitoyl Tripeptide-38, a peptide from the Matrixyl family that according to the manufacturer stimulates the production of different components of the skin matrix like different forms of collagen. In addition there is Glycerin as humectant, Panthenol for soothing and Squalane as moisturizer.
I wasn't familiar with Ectoin as ingredient when I first tested the product, but since then I did a deep dive into the claims and actual data, as it seems to be one of the new and emerging ingredients of 2023 as it is supposed to be hydrating, soothing, protect from UV radiation and premature aging. (More info: The benefits of Ectoin in skincare explained)
Does it live up to its claims?
In parts.
It contains peptides that claim to reduce wrinkles and improve skin elasticity as well as antioxidants to protect from environmental stress. I did however not feel it provided intense hydration.
How does it compare to…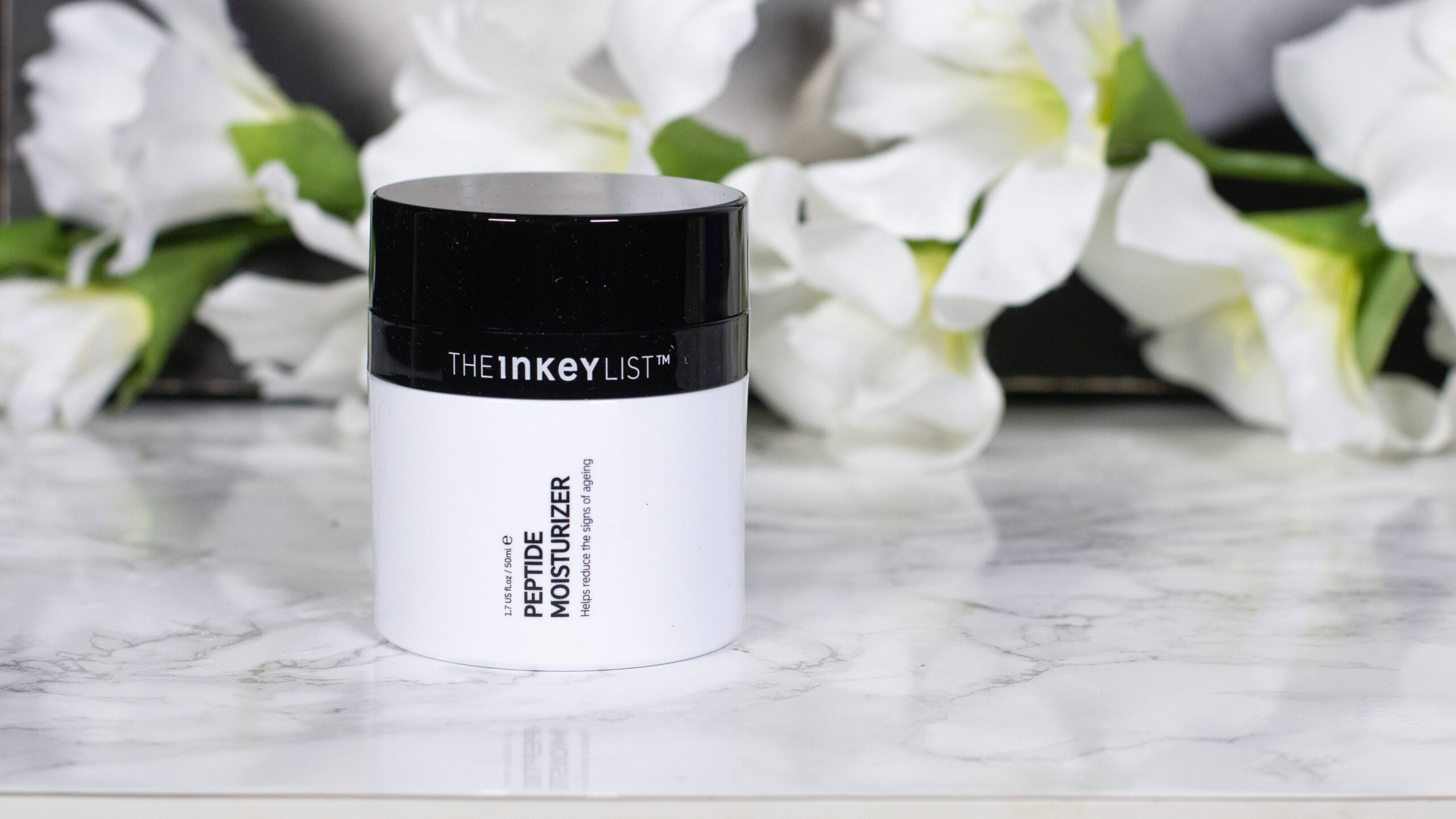 The Inkey List Peptide Moisturizer
The version from The Inkey List is not marketed as day cream and feels richer when applied, leaving the skin much better hydrated. Despite that it feels more comfortable on my skin. without the film or the risk of pilling. Ingredientwise the peptides used in The Inkey Lists version have less data behind them (Balea features one from the Matrixyl-Complex, which is pretty well researched). And even though The Inkey List is very affordable already, Balea is even cheaper. I personally would still get the one from The Inkey List simply because of the nicer texture if I had to chose between those two.
You can read my full review of The Inkey List Peptide Moisturizer here.
Would I repurchase and which skin types do I recommend the Balea Beauty Expert Day Cream 3% Peptid-Solution & 1% Ectoin to?
As you can probably guess, I wouldn't repurchase. I don't like the texture and don't find it hydrating enough. Should you want to incorporate peptides into your routine though without spending a lot of money, it is a good option to try. I personally use the NIOD Copper Peptide Serum for my peptide fix, which is admittedly a lot more expensive.
It won't work during the day for those with oily skin and is probably not hydrating enough for night time use for those with dry skin. In general peptides aren't a necessity in a skincare routine and for certain not if you are below the age of 30. (More info: The best skincare routine for teenagers, The best skincare routine in your 20s )
Shop the post
Don't forget to check out the Discount Code Page on top if you want to save some money on your next skincare purchase.
If you want to get a vote in the next Ask Doctor Anne Topic, Ingredient Spotlight or product I review, don't forget you can head over to my Patreon account to get more involved!
(Visited 1.280 times, 1 visits today)