ADVERTISEMENT INFO: PRODUCTS MENTIONED IN THIS POST ARE PURCHASED MYSELF, LINKS USED ARE AFFILIATE LINKS. I RECEIVED NO MONEY TO WRITE THE BLOGPOST. PLEASE READ DISCLAIMER
Whenever I see a product in slender, round packaging, using 2% Salicylic Acid, my first thought is: How is it going to compare to the original, the holy grail, the Paula's Choice Skin Perfecting 2% BHA Liquid Exfoliant? Especially when it comes at a fraction of the price, like the Balea Beauty Expert Liquid Peeling 2% BHA.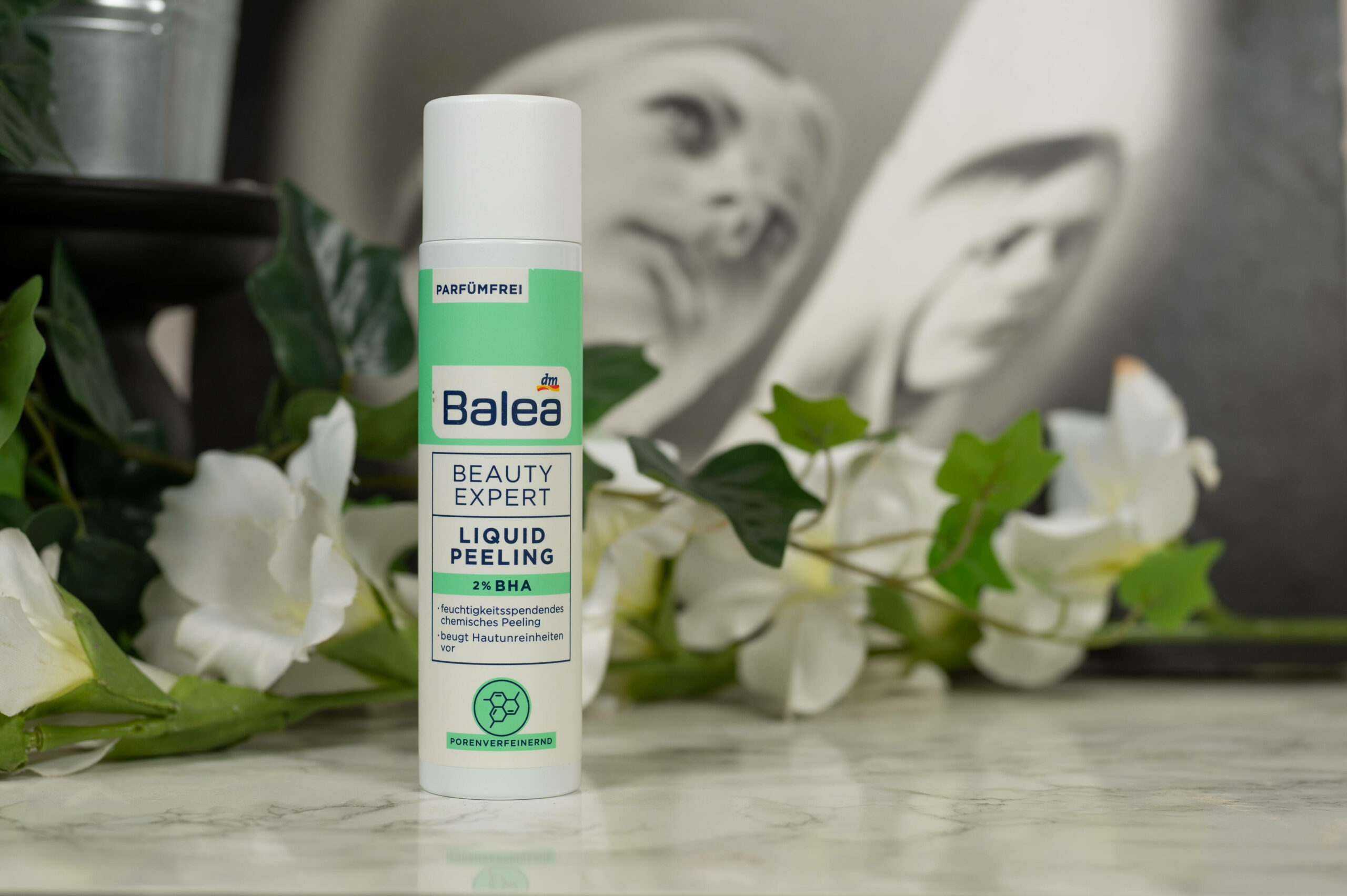 If you are not familiar with the Balea Beauty Expert series, they are a special line by the German drugstore brand Balea, claiming to put a focus on effective ingredients. I did an overview over the whole line already that I will link here, but wanted to take the chance to look at the individual products more in depth on the blog.
What the Balea Beauty Expert Liquid Peeling claims
Hydrating chemical peel that prevents congestion and minimizes pores.
Facts about the Balea Beauty Expert Liquid Peeling
Prize and size
One bottle contains 125 ml and is available for 5,95 € in store or on the website here.
Texture and smell
It is absolutely clear and has no noticeable scent, so you could almost confuse it with water, if it weren't for the silky borderline oily feeling it leaves on the skin. As it is incredibly runny, you shouldn't pour it out too enthusiastically  – I am speaking of experience here, it will run through your fingers down the drain. Not that painful given the price, but still an avoidable waste of product.
How to use the Balea Beauty Expert Liquid Peeling
Liquid exfoliants, just like other actives, usually go on directly after cleansing. I often make an exception for my Tretinoin (More info: How to use Tretinoin and strong retinol without irritation), but my chemical peels are applied first thing in the morning, directly after cleansing. I usually let them sit for a while without anything on top afterwards, for around as long as it takes me to brush my teeth, and then follow up with the rest of my skincare. Obviously using it at night would work just as well, but I personally prefer to keep my actives separate and use Tretinoin at night. (More info: How to combine your skincare ingredients the right way)
What you need to be aware of though is that it leaves the skin feeling a particular way – if you are nice, you'll call it silky, but on my skin in summer it was borderline oily and felt unpleasant. There was no pilling or any issues with other products put on top, but still it just didn't feel right for me.
Ingredients of the Balea Beauty Expert Liquid Peeling
Propanediol
solv

|

h
,
Aqua
solv
,
Salicylic Acid

exf

|

aacne

|

so

|

pres
,
Glycerin

sii

|

h
0
0
,
Camellia Sinensis Leaf Extract

aox

|

so
,
Sodium Hydroxide
buff
Hover the mouse over an ingredient for short explanation. Read more on INCIDecoder.
The ingredients isn't actually that different to Paula's Choice in that they both are pretty short and use Green Tea Extract as additional soothing ingredient. Paula's Choice has different solvents though and and Water as first ingredient, which might be the explanation why I much prefer Paula's Choice version in texture. If you just look at the "actives", Balea has additional Glycerin as humectant, but I didn't notice a difference in how hydrated my skin felt. That is, to be honest, not what I look for in my chemical exfoliants anyway.
Does it live up to its claims?
Yes.
It kept my skin congestion free as good as other Salicylic Acid products I had tried and wasn't stripping either.
How does it compare to…
Paula's Choice Skin Perfecting 2% BHA Liquid Exfoliant
Both are perfectly fine at what they are suppose to do: They gently exfoliate the skin and, at least for me, were enough when used three times a week to prevent congestion. Neither of them felt irritating or stripping either, so when you go just by that, the Balea Liquid Peeling would be the better choice, given that it is 5,95 € for 120 ml, while Paula's Chocie is at 36 € for 118 ml. Still, I much prefer Paula's Choice as the way Balea makes my skin feel is just not for me. Instead of silky after I applied the Paula's Choice one, it feels oily and overly slippery, so I will continue to repurchase the more expensive, but for me personally also more sensory pleasant version.
You can read my full review of Paula's Choice Skin Perfecting 2% BHA Liquid Exfoliant here.
Would I repurchase and which skin types do I recommend the Balea Beauty Expert Liquid Peeling to?
I said it before, I will repurchase Paula's Choice for my face over this one, but only because of the texture. If I were on a budget, I would opt for the Balea version as it is much more cost effective. That being said, the Balea version is a great option for body breakouts or larger areas of congestion, which is why I keep using it on my arms and shins against the Keratosis pilaris that will inevitably creep up come winter. (More info: Chicken skin? How to deal with Keratosis pilaris)
I don't think there is a specific skin type that will benefit of this one, it is rather a question of how much you are willing to spend on a chemical peeling.
Shop the Balea Beauty Expert collection here
Don't forget to check out the Discount Code Page on top if you want to save some money on your next skincare purchase.
If you want to get a vote in the next Ask Doctor Anne Topic, Ingredient Spotlight or product I review, don't forget you can head over to my Patreon account to get more involved!
(Visited 4.870 times, 4 visits today)