ADVERTISEMENT INFO: PRODUCTS DISCUSSED IN THIS BLOGPOST ARE PURCHASED MYSELF, BUT LINKS USED ARE AFFILIATE LINKS. I RECEIVED NO MONEY TO WRITE THE BLOGPOST. PLEASE READ DISCLAIMER
You guys often ask me about affordable German drugstore skincare recommendations, so I figured that I would take the opportunity to talk about the new-ish Balea Beauty Expert products. Not because Balea is outstanding or the Beauty Expert products are one of a kind, but because it is a pretty concise collection that offers interesting ingredients at a very good price point.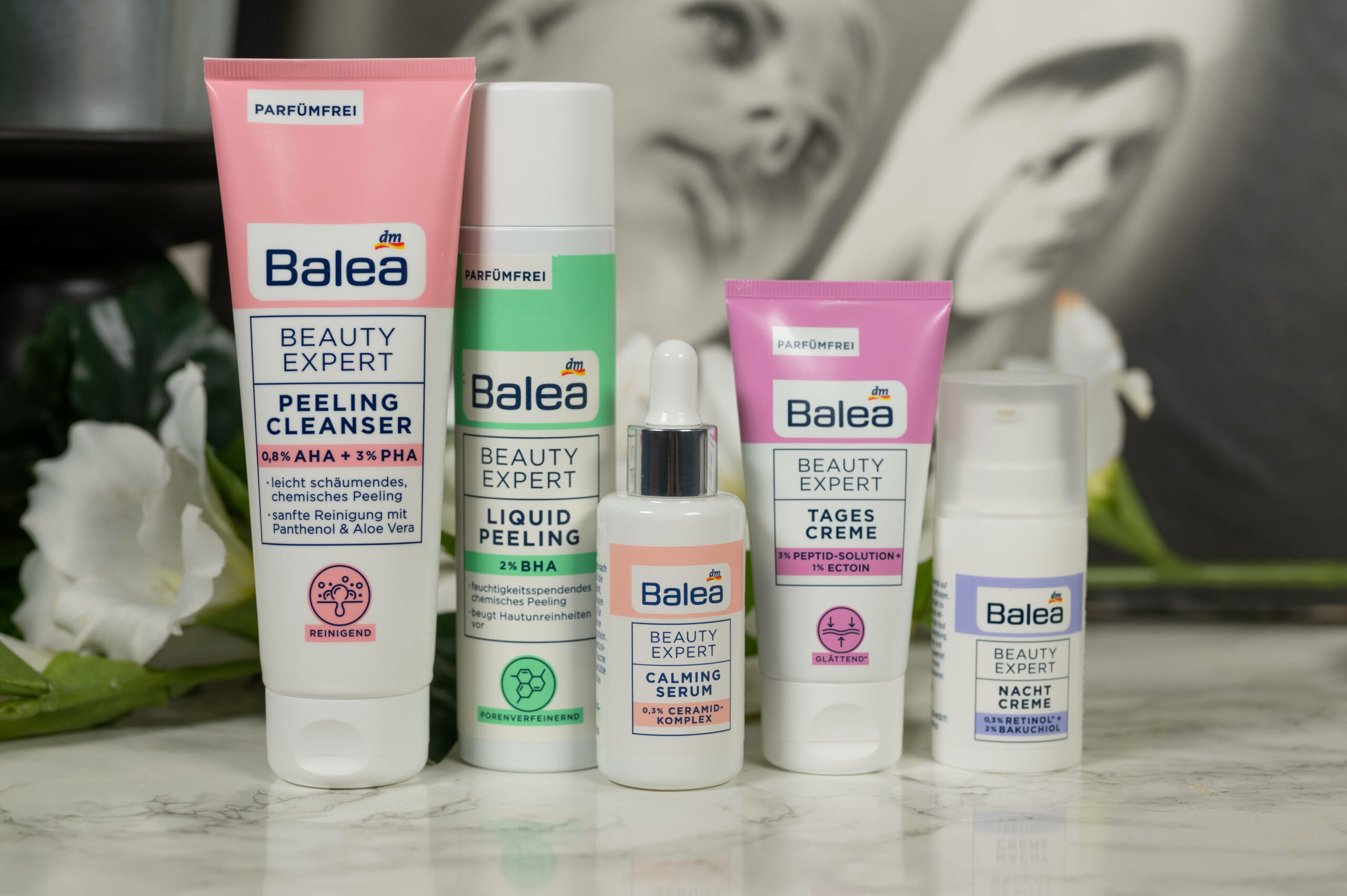 Balea itself has been around for decades, they were founded in 1995 as in house brand of the German drugstore DM and offer around 450 different hair, skin and body care products. They usually cater to a younger audience, not the money-heavy aging demographic I belong to, but I have both used and recommended them when creating skincare routines for others here in Germany. (More info: Creating a hyperpigmentation skincare routine for my sister and Creating a skincare routine for rosacea skin)
The Beauty Expert line has Geek and Gorgeous or The Inkey List vibes, and we all know how much I love these brands, so let's take a closer look at what they offer – as always there are some great items, but also some you might want to pass on.
Balea Beauty Expert line – the claims
Developed specifically for the different skin needs with a special focus on effective ingredients. Balea Beauty Expert is formulated by the rules of the "Balea Clean Beauty Guide", meaning we will not use controversial ingredients.
This is obviously a rough translation, as the website is only available in German. The "Clean Beauty Guide" already gets points off in my book, but at least it isn't plastered all over their packaging, the only "free from" claim I can find is the "free from microplastic" label.
At this point, the line contains 7 different products, out of which I have the 5 for the face. There is also a Body Cream Gel with Niacinamide and a 5% AHA Peeling Bodylotion that were sold out when I went to DM, so they might get a review on the blog at a later date.
The reviews here will be short ones, as this is supposed to look at the line as a whole, but if you want to learn more about the individual products, there will be in-depth reviews on the blog linked.
All products are vegan and fragrance-free.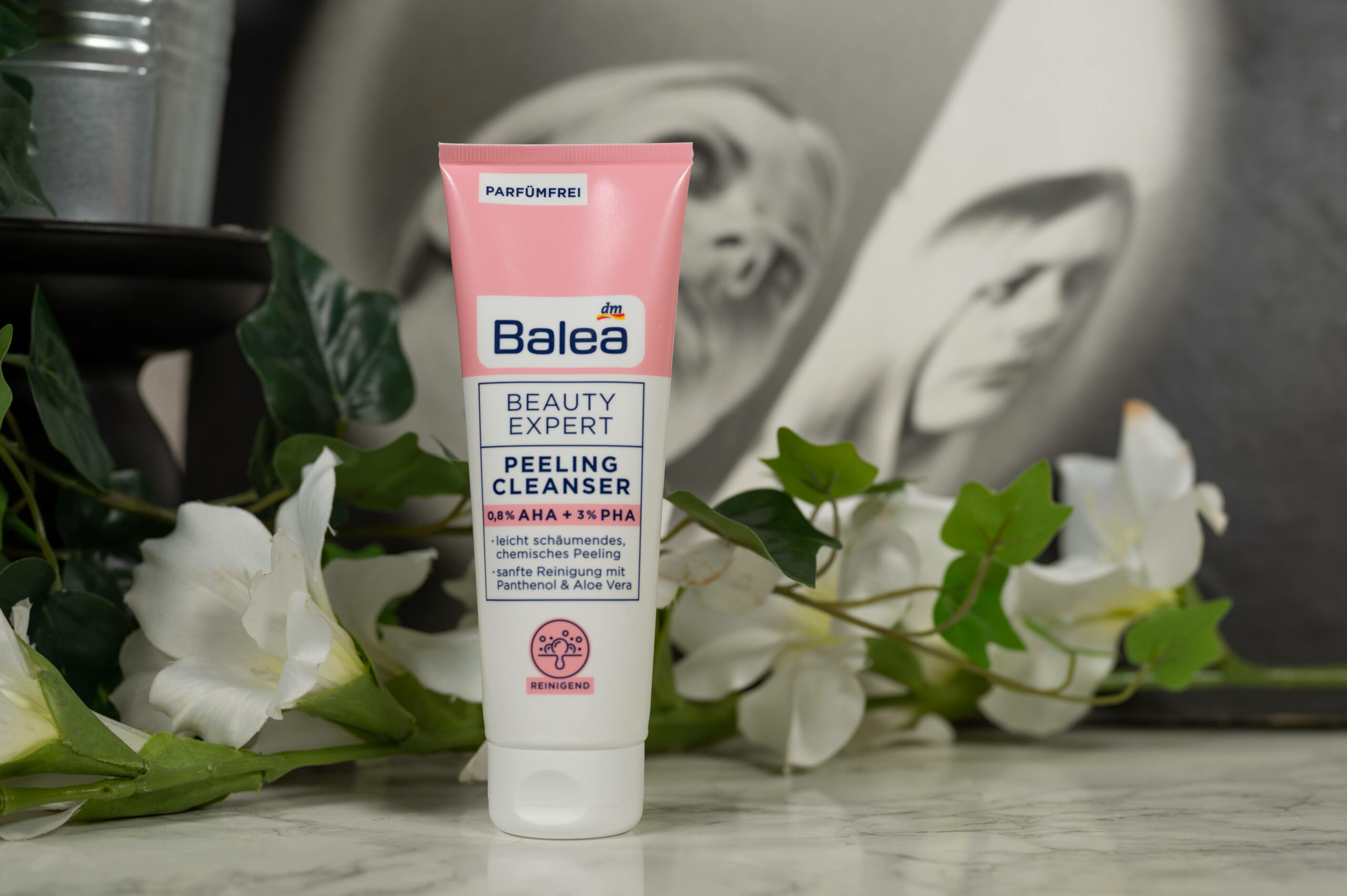 Balea Beauty Expert Peeling Cleanser with 0,8% AHA and 3% PHA
Let's start off with the only cleanser offer, the Balea Beauty Expert Peeling Cleanser (125 ml for 3,95 €, full review coming soon). I admit I was a little confused when I realized that the only cleanser was a peeling one with AHAs, as you know that I don't advocate for daily exfoliation.
When you take a closer look though, I wouldn't expect any real peeling action from this product, so it makes a little more sense. The 0,8% AHA it contains is Lactic Acid which, depending on the pH, usually needs concentrations of around 4% to act as exfoliant. And that is speaking for leave on products. The Polyhydroxy Acids, present at 3%, are very, very gentle exfoliants and can be used in concentrations of up to 20%, so you won't get a strong exfoliation from them either. (More info: Polyhydroxyacids in skincare) I have a whole post dedicated to them, but in short while they will do what other acids do as well, reducing hyperpigmentation and evening out the skin, they also act as humectants and as antioxidants. A good addition for sure, but at 3% not something I would turn to if I want exfoliation, if you get what I mean.
It is a firm gel texture and looks a little cloudy as it is not clear, is easy to distribute and doesn't foam up much. I have tried removing my eye makeup with it – even though you are not supposed to use it around the eyes – and it really isn't well equipped to do that, so I would use it as morning or second cleanse.
Other than the acids it contains Panthenol and Aloe Vera for soothing the skin, different humectants (but no Hyaluronic Acid or Glycerin) and Inulin, which is a prebiotic.
It leaves my skin feeling clean and hydrated and is a cleanser that I thoroughly enjoy, especially at this price point.
Recommended for: All skin types.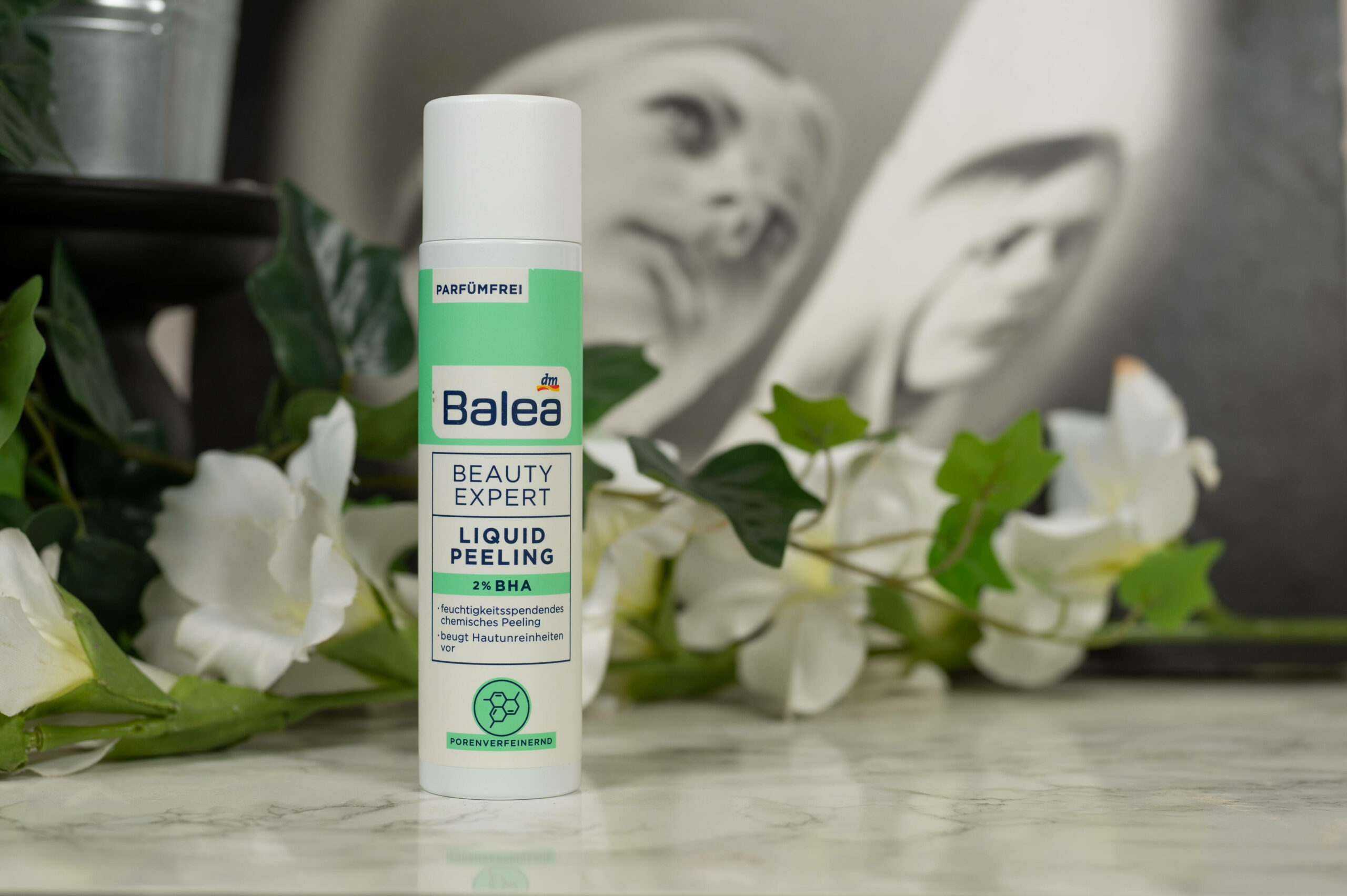 Balea Beauty Expert Liquid Peeling 2% BHA
I know what you think: The packaging and the name of the Balea Beauty Expert Liquid Peeling 2% BHA (125 ml for 5,95 €, full review coming soon) reminds of the Paula's Choice Skin Perfecting 2% BHA Liquid Exfoliant (full review here), and really even the ingredient list sounds pretty similar, with both using Green Tea Extract as additional antioxidant and featuring a pretty short ingredient list.
The Balea version uses Propanediol as main solvent though – it is listed before water – and has added Glycerin for hydration, and while this sounds nice in theory, it leads to the texture feeling a lot more oily on the skin. You know that slightly silky feeling that Paula's Choice gives you? The same, but not slightly, more full on and for me personally too much despite the watery, clear texture.
It doesn't cause any irritation and keeps my skin congestion free just as good as the Paula's Choice one does, so if that silky layer doesn't bother you as much, it is a great alternative as it is much cheaper.
Recommended for: Oily skins or skin prone to congestion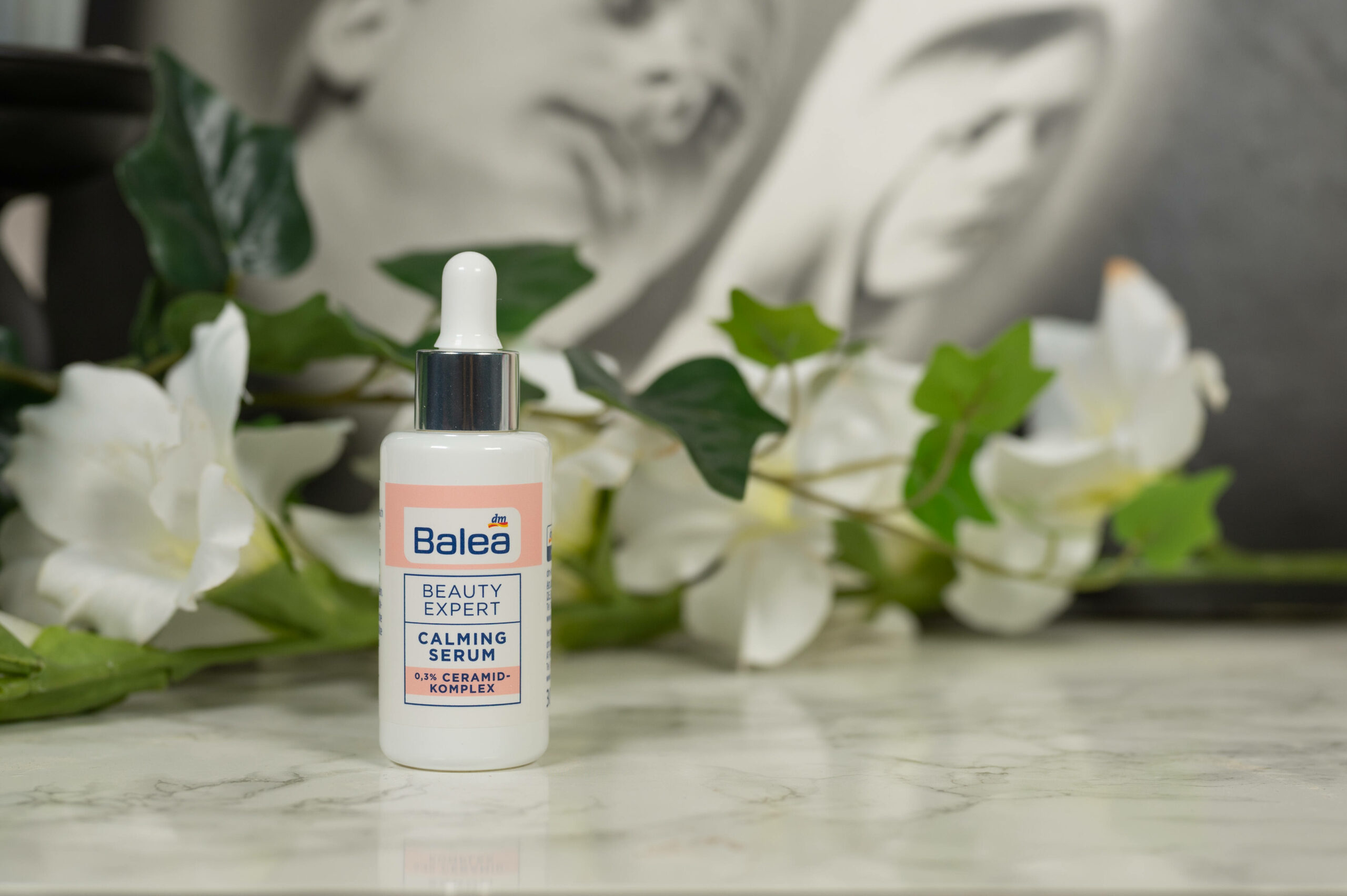 Balea Beauty Expert Calming Serum with 0,3% Ceramide Complex
There is also only one serum step, the Balea Beauty Expert Calming Serum with 0,3% Ceramide Complex (30 ml for 5,95 €, fragrance-free, vegan, full review coming soon). I think it makes sense to add a calming serum into the line as the potential actives, the exfoliating acids and retinoids, are present in the cleanser, the toner and the night cream. After all inflammation and skin irritation are important factors when it comes to premature aging, and Ceramides are part of the skin's outermost layer, creating the skin barrier you surely already have heard of that prevents transepidermal water loss and reduces irritation. (More info: The 5 steps you need to take to repair your skins barrier)
The serum uses Ceramide NP and Ceramide NG, two of the 9 Ceramides present in the skin, paired with Linoleic and Linolenic Acid as well as Phospholipids. There is also Glycerin as humectant – no Hyaluronic Acid, which is rare these days – and Sweet Almond Oil as additional emollient.
The prebiotics mentioned on the bottle are Inulin and Alpha-Glucan Oligosaccharide, both sugar derived and aiming to feed the good bacteria living on your skin.
I won't go into detail on Ceramides just yet, there will be a dedicated video on them in the future, for now I will just tell you that while the data on them isn't as good as it is on retinoids and sunscreen, we can at least say that they surely do no harm and might offer skin benefits, and the same goes for prebiotics (More info: Pre-, pro-, and postbiotics in skincare).
The product itself has the texture of a light lotion, maybe not perfect for the dropper bottle it is packaged in, feels very soothing on the skin and has a nutty, earthy scent. I really enjoy using it as I feel it smoothes and calms my skin and can be used with every other product you decide to pair it with. Oily skins might even be able to use it instead of their moisturizer as last step, saving you a layer in the heat.
Recommended for: All skin types.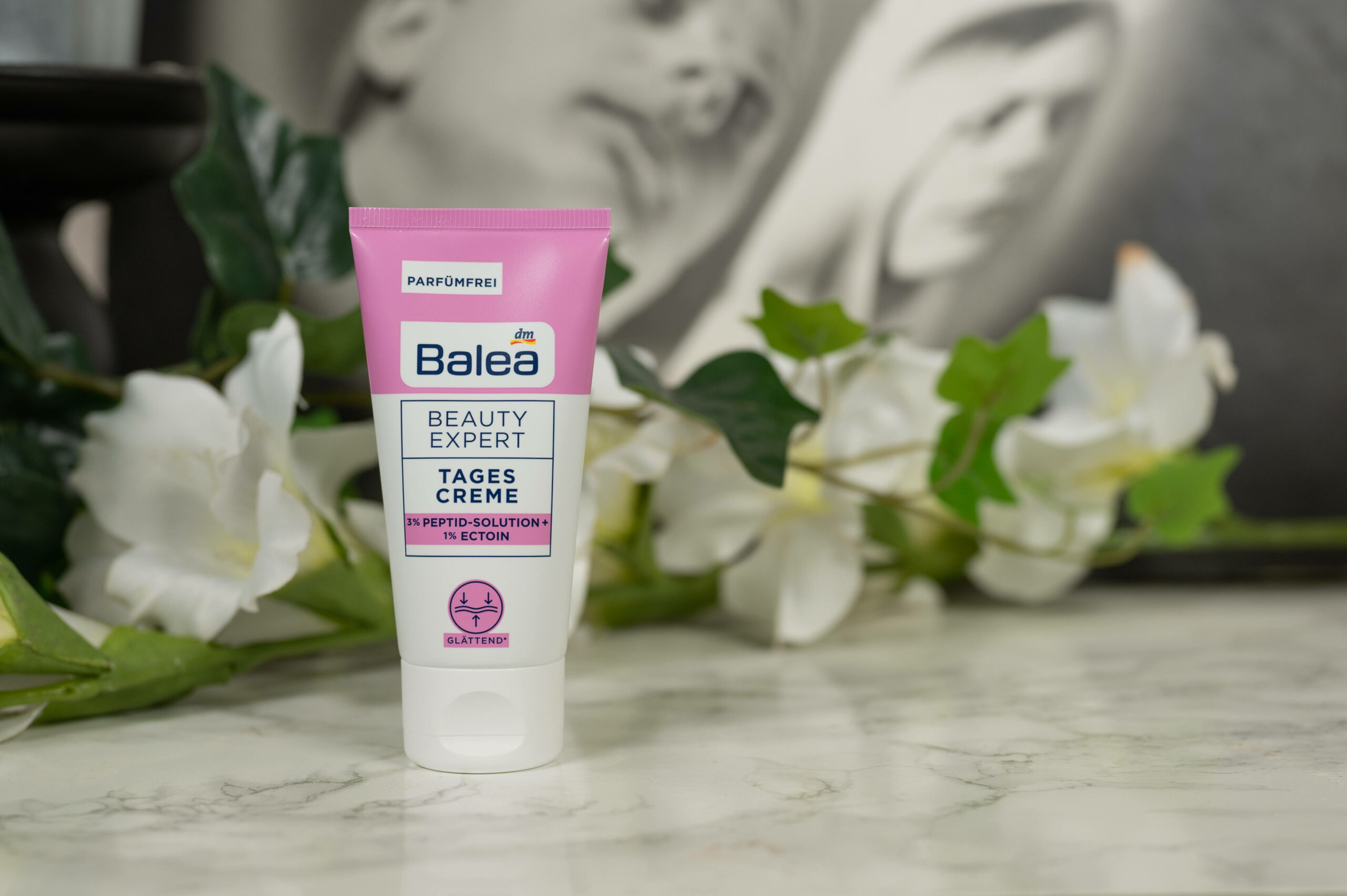 Balea Beauty Expert Day Cream with 3% Peptide Solution + 1% Ectoin
I have a blogpost on the effects of peptides in skincare in general, as I won't be able to go into too much detail, but in short: there are different types that claim to do different things and as the data on them is still limited, I get that many people don't want to spend a lot of money on them, which is why the Balea Beauty Expert Day Cream with 3% Peptide Solution + 1% Ectoin (50 ml for 5,95 €) sounds interesting. (More info: Everything you need to know about peptides in skincare)
You don't need a high concentration of peptides, so 3% isn't bad, and Ectoin is a humectant created through fermentation that seems to be getting more popular lately – I haven't seen it around much, so I don't have an opinion on it at the moment.
The peptides used in this cream are Acetyl Dipeptide-1, apparently soothing, Acetyl Hexapeptide-8, also known as Argireline or "Botox in a jar" – just to be clear here, nothing you put on your skin will ever have the same effect as something you inject, but that is what it is known for – and Palmitoyl Tripeptide-38, a peptide from the Matrixyl family that according to the manufacturer stimulates the production of different components of the skin matrix like different forms of collagen. In addition there is Glycerin as humectant, Panthenol for soothing and Squalane as moisturizer.
While the ingredient list sounds nice, the cream itself is just okay. It is a little heavy for my combination skin to wear during the day in the summer months, so I would probably use it at night, but at the same time it doesn't feel very hydrating, so I don't think it would be enough for those that have dry skin. While it is easy to spread, it tends to leave a film that has a tendency to ball off when you use a generous amount. So if you decide to get it, use a thin layer.
Recommended for: Normal skins that want to dip their toe into peptides without breaking the bank.
Balea Beauty Expert Night Cream with 0,3% Retinol and 2% Bakuchiol
I saved the worst for last, because the Balea Beauty Expert Night Cream with 0,3% Retinol and 2% Bakuchiol (30 ml for 5,95 €, full review coming soon) really annoys me, mainly because of the name and what I perceive as misleading marketing: If you look closely, the 0,3% Retinol in the name has an asterisk, and if you read the fine print, it will tell you that by 0,3% Retinol, they actually mean Retinylpalmitate, a retinol ester that needs one conversion step to be transformed into Retinol, which then again needs two more conversion steps to be transformed into Retinoic Acid. Now it might be that the concentration of Retinylpalmitate used here is indeed equivalent to 0,3% Retinol when you calculate it, but most data I have seen shows little to no effect of Retinylpalmitate when applied topically whatsoever, no matter the concentration, and I find it incredibly misleading to write 0,3% Retinol in the name when it doesn't in fact, contain ANY Retinol. (More info: Your comprehensive guide to retinoids in skincare)
The 2% Bakuchiol is a nice touch, as this seems to be an effective concentration. I do however prefer true retinoids over Bakuchiol, so that didn't win me over either. The rest of the formula is pretty simple, with Glycerin as main humectant and Sunflower Seed Oil as emollient, but I found the cream overall a tad too rich for my skin and, just like the day cream, with a tendency to ball up when used generously. (More info: Bakuchiol vs Retinol – Which one is better for you?)
I wouldn't repurchase mainly because of the name, and I wouldn't recommend it if you are looking for a retinoid cream, but if you are on the dry side and want to use Bakuchiol either instead or in support of your retinoids, this might be a nice option.
Recommended for: Dry skins, people that want to use Bakuchiol
My final thoughts
As it is with most skin care lines, I love some and am not a fan of others, but overall the line is a really nice one for those in Germany that want to shop local and affordable. It isn't the line to build a complete routine with if you are looking for stronger actives, but great as supporting acts around maybe a prescription retinoid or a strong exfoliant.
I personally will consider repurchasing the cleanser and the serum, in my opinion the best picks from the line, and would caution you to try the other products first to see if you like their texture, as especially the moisturizers aren't what I consider must-haves.
Shop the post here
Don't forget to check out the Discount Code Page on top if you want to save some money on your next skincare purchase.
If you want to get a vote in the next Ask Doctor Anne Topic, Ingredient Spotlight or product I review, don't forget you can head over to my Patreon account to get more involved!
(Visited 14.294 times, 8 visits today)