ADVERTISEMENT INFO: PRODUCTS DISCUSSED IN THIS BLOGPOST ARE PURCHASED MYSELF, BUT LINKS USED ARE AFFILIATE LINKS. I RECEIVED NO MONEY TO WRITE THE BLOGPOST. PLEASE READ DISCLAIMER
If you spend time in the internet skincare community, you have learned by now that daily exfoliation is not a good thing. Yet the Balea Beauty Expert line offers but one cleanser option, their Peeling Cleanser with 0,8% AHA and 3% PHA. So are you supposed to pair it with other cleansers?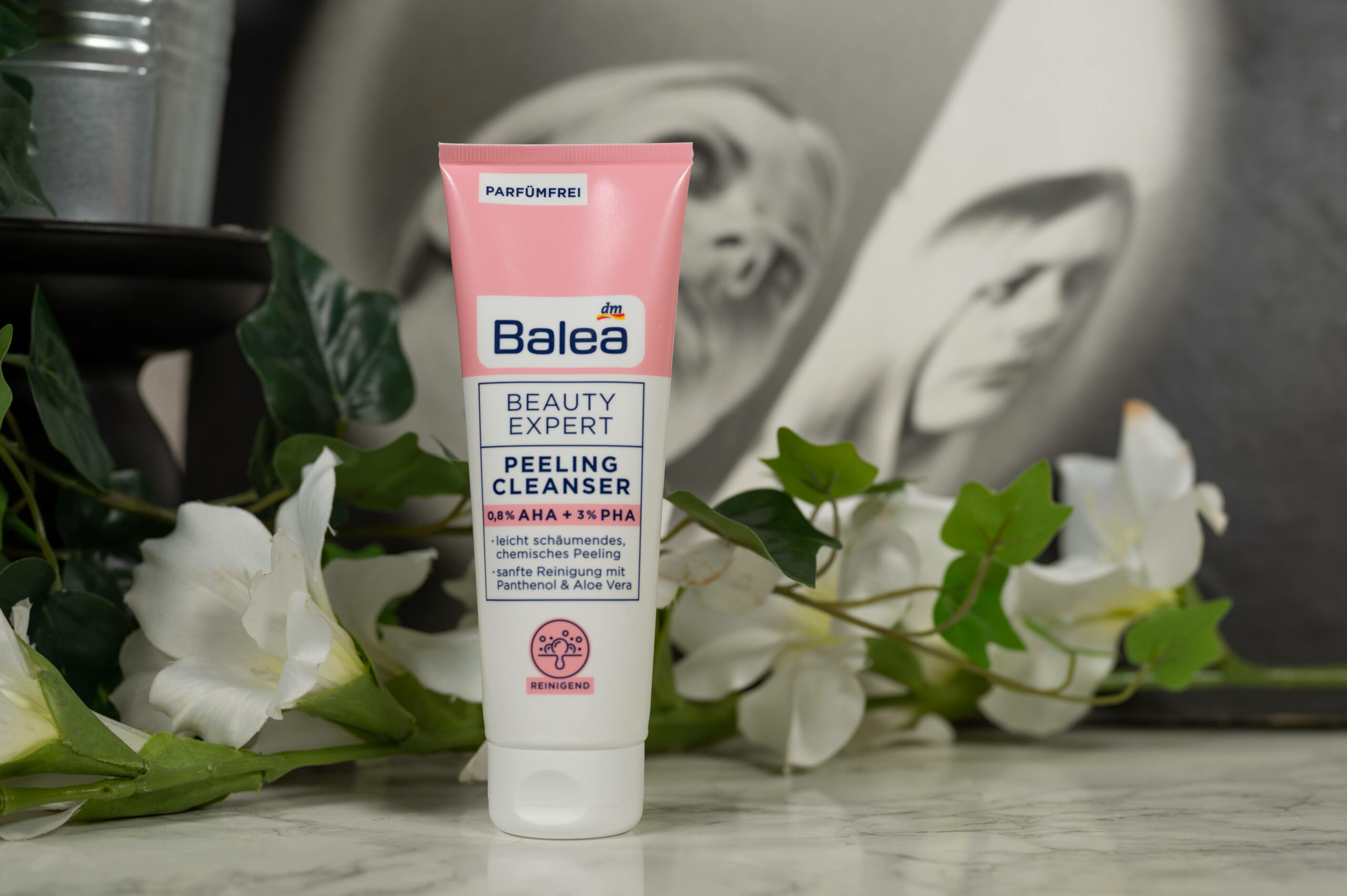 Or does the "no daily exfoliation" recommendation not apply here? Can you actually take your makeup off with it, despite it containing acids? And which skin types is it aimed at?
We will talk about all this (and more) today.
And if you are interested in the rest of the line, you can find my thoughts on it here. (More info: Complete Review of the Balea Beauty Expert Line)
What the Balea Beauty Expert Peeling Cleanser claims
Alpha-Hydroxy and Poly-Hydroxyacids are acids of natural origin that penetrate the upper layer of the skin to gently slough off dead skin cells. This Peeling Cleanser with 0,8% AHA and 3% PHA peels the skin extra gently. This chemical peel with Panthenol and Aloe Vera is recommended for daily use. It supports the skin's natural renewal process and promotes a smooth and even complexion.
Facts about the Balea Beauty Expert Peeling Cleanser
Prize and size
One squeezy tube contains 125 ml and is available for 3,95 € on the website here. It is vegan, fragrance-free and comes at the skin friendly pH of 4,0 to 5,0.
Texture and smell
The cleanser has a pleasant and refreshing gel texture and a milky color, not as in milky white, but as in cloudy. It is called foaming cleanser, but only foams up a little when you add some water.
As it is fragrance free, it has no pleasant scent but the slight glue-ish note that I associate with many unfragranced products. It isn't strong and doesn't linger though.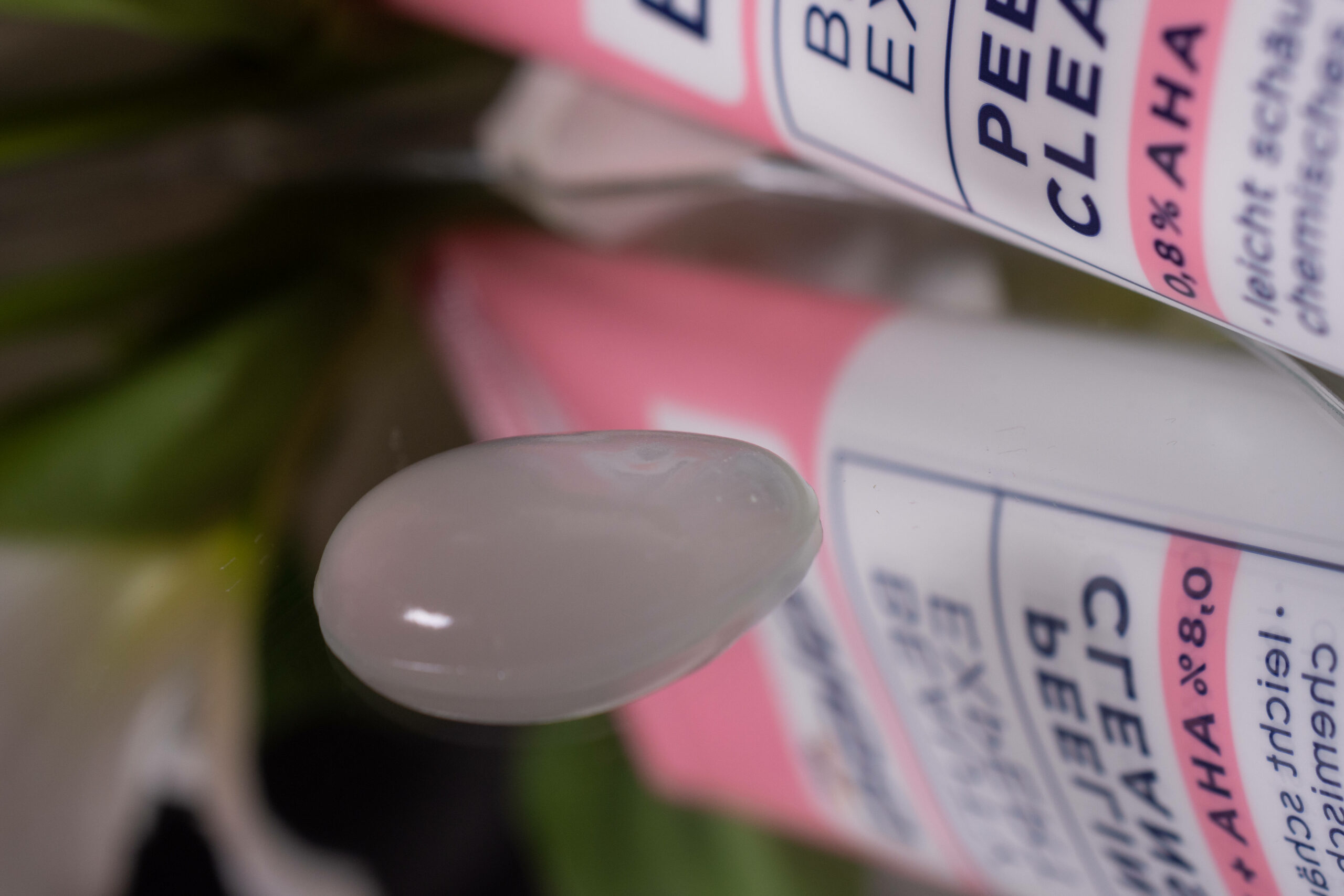 How to use the Balea Beauty Expert Peeling Cleanser
Now onto the question if this is really a cleanser you could use daily – the answer is: Yes, it is.
Because, and I will explain a little more in the next paragraph when we dive into the ingredients, I don't really consider it an exfoliating cleanser.
To me it feels gentle, refreshing and hydrating, the perfect morning cleanse or second cleanse should you do them. (More info: Is Double Cleansing really necessary?)
Yes, you can use it to remove makeup, but I don't find it to be particularly effective at that and wouldn't recommend using it around the eyes anyway, so I personally reach for it usually in the mornings.
I have used it daily for two weeks without any sign of irritation despite my skin not being the most robust when it comes to acids due to my prescription Tretinoin (More info: How to use Retin A with minimal irritation), so if you don't suffer from rosacea or have very reactive skin for other reasons, you should be fine too. (More info: Skincare tips for rosacea skin and 5 things to do when you have wrecked your skin barrier)
Ingredients of the Balea Beauty Expert Peeling Cleanser
Aqua
solv
,
Sodium Carboxymethyl Starch
vc
,
Sodium Lactate

buff

|

h
,
Butylene Glycol
h

|

solv
0
1
,
Gluconolactone

exf

|

chel
,
Decyl Glucoside
surf
,
Lauryl Glucoside
surf
,
Maltooligosyl Glucoside
,
Hydrogenated Starch Hydrolysate
h
,
Aloe Barbadensis Leaf Juice

so

|

h
,
Panthenol

so

|

h
0
0
,
Lactic Acid

exf

|

h

|

buff
,
Cocamidopropyl Betaine
surf

|

vc
,
Inulin

,
Xanthan Gum
vc
,
Citric Acid
buff
,
Sodium Benzoate
pres
Hover the mouse over an ingredient for short explanation. Read more on INCIDecoder.
The reason why I don't think of this as an exfoliant is actually the concentration and the acids used. Yes, Alpha Hydroxy Acids (AHA) are potent chemical peels, but Lactic Acid, which is used here, usually needs a concentration of around 4% (depending on the pH of the product) to have any exfoliating properties, and the 0,8% used here will be hydrating at best. Polyhydroxy Acids (PHA), here used is Gluconolactone, have been used between 3% up to 30% in studies done on them, and while I can't give you an "ideal percentage", 3% is pretty low. (More info: The role of Polyhydroxy Acids in skincare). At this lower concentration PHA are more likely to hydrate and act as antioxidant, which explains why I find this to be pretty hydrating.
There is also Inulin, a so-called prebiotic derived from plants aiming to feed the good bacteria on your skin (More info: Prebiotics, probiotics and postbiotics in skincare), as well as Panthenol and Aloe Vera for extra soothing. While Panthenol aka Pro-Vitamin B 5 has some good supporting data, Aloe Vera is more of an anecdotal one used for that purpose.
Overall I would classify this as hydrating and soothing rather than as an exfoliating cleanser.
Does it live up to its claims?
Well.
As stated above I don't think this will give you any relevant exfoliation, but is a great choice when you are looking for a hydrating and soothing gentle cleanser for daily use.
How does it compare to…
The Inkey List Hyaluronic Acid Cleanser
No, The Inkey List doesn't claim any exfoliating properties, it is a straightforward hydrating one, and that it does amazingly well. The reason why I mention it here is that I find them similar in hydrating and cleansing properties, with the version of The Inkey List having a slightly smoother texture (probably due to the Hydrogenated Starch Hydrolysate in Baleas version). Both contain Inulin as prebiotic, while The Inkey List has no Panthenol, Aloe Vera or exfoliating acids, but Glycerin instead.
I like both, but the Balea Beauty Expert is more affordable and easier to pick up if you live in Germany.
You can read my full review of The Inkey List Hyaluronic Acid Cleanser here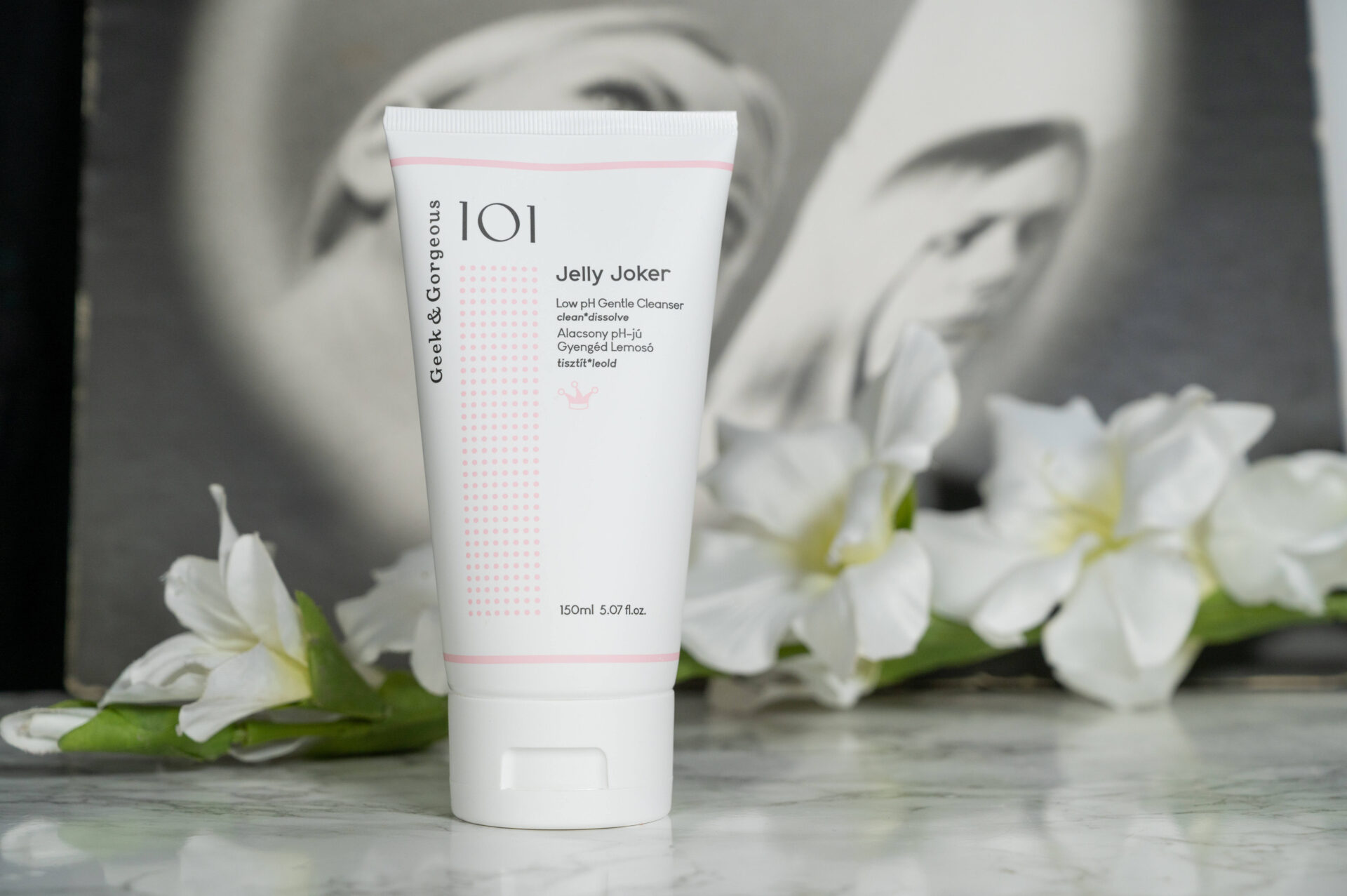 Geek and Gorgeous 101 Jelly Joker
Another one that doesn't claim any exfoliation, but is pretty similar in texture and how it makes my skin feel. It is a little firmer and works a little better if you need to remove waterproof makeup, but both aren't the best for makeup removal and more suited as second or morning cleanse. The Jelly Joker uses Allantoin and Panthenol as soothing ingredients.
Again I like both a lot, so which one I will pick up depends on if I am placing an order at Geek and Gorgeous anyway or if I stop by my local DM.
You can read my full review of the Geek and Gorgeous Jelly Joker here
Would I repurchase and which skin types do I recommend the Balea Beauty Expert Peeling Cleanser to?
I think this cleanser is, despite the name, suitable for all skin types and is one I will gladly have in my routine in the future.
Shop the whole Beauty Expert Line here
Don't forget to check out the Discount Code Page on top if you want to save some money on your next skincare purchase.
If you want to get a vote in the next Ask Doctor Anne Topic, Ingredient Spotlight or product I review, don't forget you can head over to my Patreon account to get more involved!
(Visited 4.060 times, 1 visits today)