ADVERTISEMENT INFO: PRODUCTS MENTIONED IN THIS POST ARE PR (GIFTED) AND LINKS USED ARE AFFILIATE LINKS. I RECEIVED NO MONEY TO WRITE THE BLOGPOST. PLEASE READ DISCLAIMER
Double Cleansing, first with an oil-based cleanser and then with a foaming one, is something you most likely already heard of. Well, today I want to talk about the Beauty of Joseon Green Plum Refreshing Cleanser, meant to be used as second step and perfect to follow up a first cleanse with the Beauty of Joseon Radiance Cleansing Balm (full review here) we talked about a few weeks back.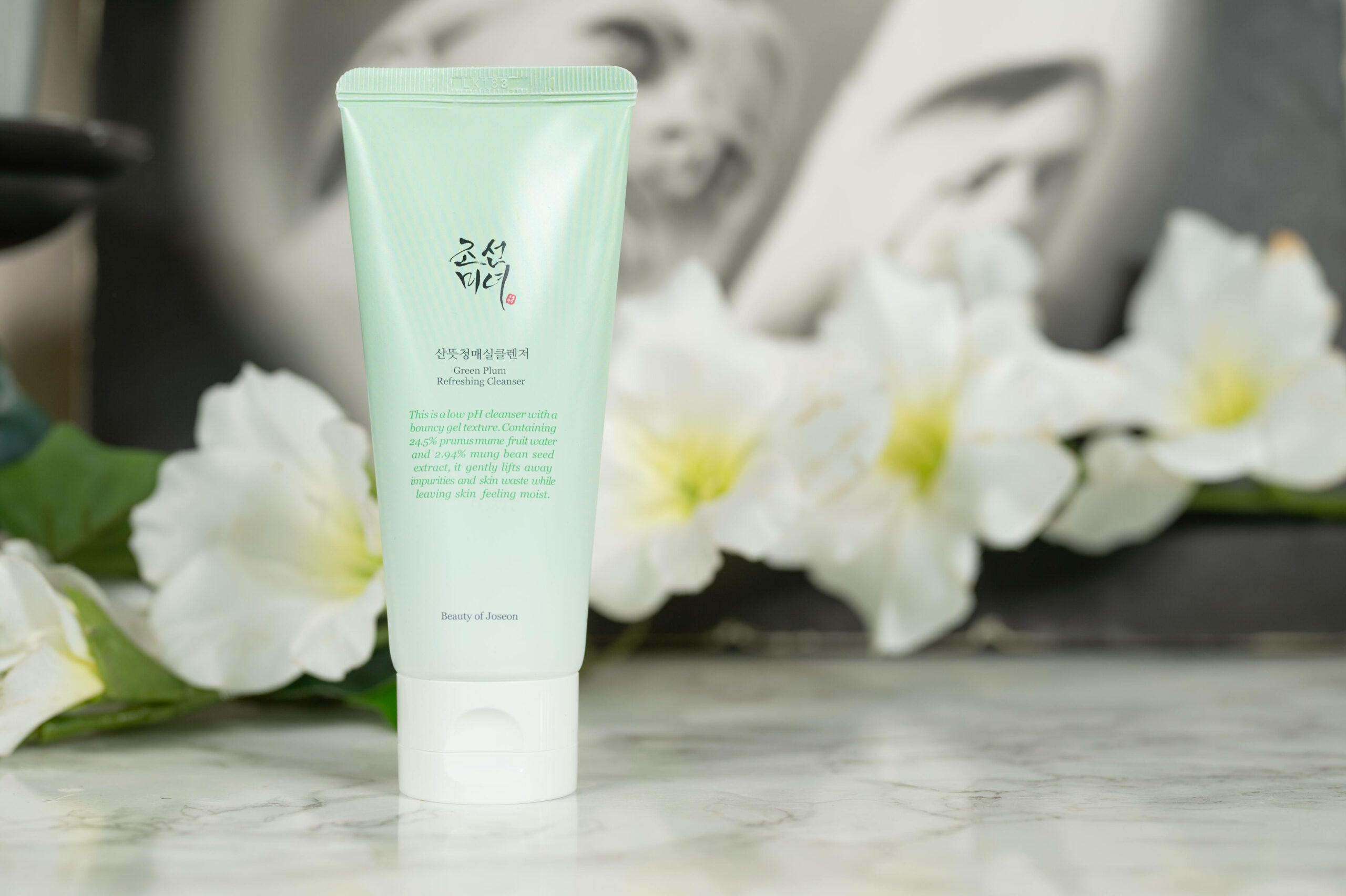 It contains Green Plum Water paired with Mung Bean Extract and up until now plums and beans made me think about digestion rather than skincare – but maybe that is about to change?
Let's take a closer look.

What Beauty of Joseon Green Plum Refreshing Cleanser claims
It contains mung bean extract that creates a synergistic effect with plum water, a natural herbal ingredient, and helps remove dead skin cells and sebum. And it is a light gel-type hypoallergenic, mildly acidic cleanser that does not dry out the skin easily and helps retain moisture.
Facts about the Beauty of Joseon Green Plum Refreshing Cleanser
Prize and size
One beautiful pastel green gradient tube contains 100 ml and is available for 13 $ on the website here.
Texture and smell
It is a gel with a very faint green color, only really noticeable against a white background and has a faint, fresh scent.
The foam this one has is remarkable, it is really firm and doesn't collapse easily – I know this is a niche passion, but firm foam products bring me joy!
How to use the Beauty of Joseon Green Plum Refreshing Cleanser
It is supposed to be used as a morning cleanse, should you do one, or as a second cleanse after makeup removal at night. (More info: Do you really need to Double Cleanse)
The website cautions you not to use it around the eyes, but obviously I did try it as only cleanse to provide you with the full information and can tell you: It didn't irritate my eyes, which is a plus, and it does remove makeup okay-ish, but you need to put in some effort if you wear mascara and liner. So, be good, follow the website instructions and use something else to get rid of your eye makeup.
You can either lather it up in your hands or, if your face is already wet, lather it up on your skin, before you rinse it off. It rinses clean and leaves the skin feeling fresh, but not hydrated. It isn't stripping either, but not something I would consider a hydrating cleanser.
Ingredients of Beauty of Joseon Green Plum Refreshing Cleanser
Water
solv
,
Prunus Mume Fruit Water
h
,
Cocamidopropyl Hydroxysultaine
surf

|

vc
,
Phaseolus Radiatus Seed Extract
,
Sodium Cocoyl Isethionate
surf
,
Glycerin

sii

|

h
0
0
,
Sodium Chloride
vc
,
Camellia Sinensis Leaf Extract

aox

|

so
,
Houttuynia Cordata Extract

aox

|

so
,
Nelumbo Nucifera Flower Extract
,
Oryza Sativa (Rice) Extract
abrasive/scrub
,
Prunus Mume Fruit Extract
h
,
Vaccinium Angustifolium (Blueberry) Fruit Extract
so
,
Guar Hydroxypropyltrimonium Chloride
vc
,
Coconut Acid
surf

|

emo

|

emu
,
Ethylhexylglycerin
pres
,
Caprylyl Glycol
h

|

emo
,
Sodium Isethionate
surf
,
Citric Acid
buff
,
Butylene Glycol
h

|

solv

|

vc
0
1
,
1,2-Hexanediol
solv
,
Punica Granatum Extract
,
Clitoria Ternatea Flower Extract
,
Garcinia Mangostana Peel Extract
,
Propylene Glycol Laurate
surf
3
0
,
Sodium Citrate
chel

|

buff
,
Disodium EDTA
chel
Hover the mouse over an ingredient for short explanation. Read more on INCIDecoder.
You must forgive me if I only skin over the numerous plant extracts this one contains in addition to the two specifically mentioned on the website – the benefit claims of most plant extracts come from traditional usage rather than studies, and while that does of course not mean they don't work, it does mean that I can't really tell you if they work and how.
Again, not hating on them, it just isn't something I can confidently talk about.
As surfactants Cocamidopropyl Hydroxysultaine and Sodium Cocoyl Isethionate are used, both considered mild surfactant with excellent foam forming abilities, then Glycerin as humectant and then, picked out of the variety of extracts, Camellia Sinensis Leaf Extract or Green Tea Extract with its catechins for antioxidant and antiinflammatory effects as well as Houttuynia Cordata Extract, apparently rich in flavonoids which again have antioxidant and antiinflammatory effects.
(More info: How to read the ingredient list in skincare)
Does it live up to its claims?
Most of them.
I don't exactly think it helps to lock in moisture, but it is a lovely gel cleanser that is non-stripping.
How does it compare to…
The Inkey List Hyaluronic Acid Cleanser
If you are looking for a hydrating cleanser, The Inkey List surely is the better option. The foam, however, is much better in the Beauty of Joseon one, so I guess it depends on your skin type and preferences which one you prefer.
You can read my full review of The Inkey List Hyaluronic Acid Cleanser here
The pixi Hydrating Milky Cleanser
I picked this one for comparison because it has a similar amazing foam. But bubbles aside, the pixi version isn't mildly acidic, but rather slightly alkaline, which isn't ideal for the skin's acid mantle and contributes to the squeaky clean feeling you get after using it. I didn't find it to be particularly hydrating either, so even for firm foam lovers like myself, Beauty of Joseon is the better option.
You can read my full review of the pixi Hydrating Milky Cleanser here.
Would I repurchase and which skin types do I recommend the Beauty of Joseon Green Plum Refreshing Cleanser to?
I am really looking forward to using this one as a morning or second cleanse come summer as it feels very refreshing, but would suggest it for combination to oily skin types more than for those of you that are dry. It isn't stripping per se, but I feel like dry skin types might benefit from something more hydrating in the first place so they don't have to work so hard with the following steps.
Shop the post here:

or my current favorite cleansers here:
Don't forget to check out the Discount Code Page on top if you want to save some money on your next skincare purchase.
If you want to get a vote in the next Ask Doctor Anne Topic, Ingredient Spotlight or product I review, don't forget you can head over to my Patreon account to get more involved!

(Visited 8.037 times, 8 visits today)