ADVERTISEMENT INFO:  PRODUCTS MENTIONED IN THIS POST ARE PR (GIFTED) AND LINKS USED ARE AFFILIATE LINKS. I RECEIVED NO MONEY TO WRITE THE BLOGPOST. PLEASE READ DISCLAIMER
When I review a product, it is usually all about the texture, scent and feel it has. If I do review something like the Beauty of Joseon Relief Sun: Rice + Probiotics SPF 50+ though, the thing that you guys are most interested in is: Is the claimed SPF 50+ a real thing?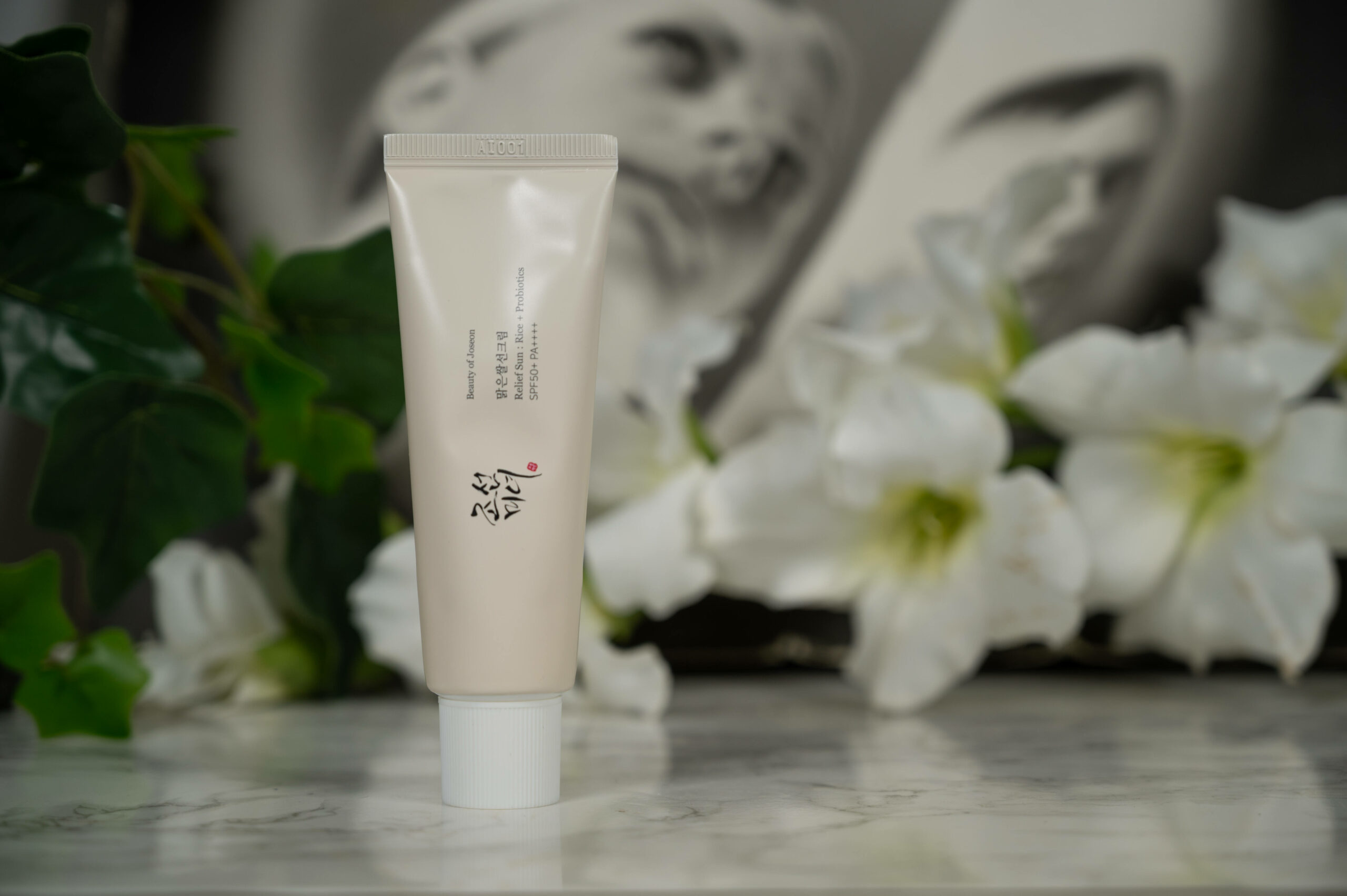 Well, I wanted to know that too, so I reached out to the brand and they very kindly sent over their testing results – more on that later.
What Beauty of Joseon Relief Sun: Rice + Probiotics SPF 50+ claims
Relief Sun : Rice + Probiotics SPF50+ PA++++ is Our new chemical sunscreen that applies gently on the skin and by also including skin calming and brightening ingredients, it allows sensitive skin types to use it with ease as well
Facts about Beauty of Joseon Relief Sun: Rice + Probiotics SPF 50+
Prize and size
One tube contains 50 ml and is available for 18 $ on the website here.
Texture and smell
The texture is the one of the most beautiful, elegant, hydrating yet non-greasy cream you can imagine and there is absolutely no noticeable scent to the product.
How to use Beauty of Joseon Relief Sun: Rice + Probiotics SPF 50+
Sunscreen goes on as the last step in your morning routine, and if your skin is more on the normal to oily side, this SPF will probably be enough on its own without the need of a dedicated moisturizer. Applying the recommended amount is no problem as it sinks in completely, it never did pill on me and it is comfortable for reapplying throughout the day as well. (More info: The best ways to reapply SPF over makeup)
Yes, it adds more dew to the skin than I personally like, but you need to keep in mind that I grew up in the 80s when matte skin was all the rage – you lot with your preference for glow will most likely love it.
Don't be fooled, if you really apply it liberally, it will take up to a minute until it does fully sink in, but after that no stickiness, no film, just plump and hydrated skin.
Ingredients of Beauty of Joseon Relief Sun: Rice + Probiotics SPF 50+
Water
solv
,
Oryza Sativa (Rice) Extract (30%)
abrasive/scrub
,
Dibutyl Adipate
emo

|

solv
,
Propanediol
solv

|

h
,
Diethylamino Hydroxybenzoyl Hexyl Benzoate

sunsc
,
Polymethylsilsesquioxane
,
Ethylhexyl Triazone

sunsc
,
Niacinamide

cci

|

sb

|

aacne

|

h
,
Methylene Bis-Benzotriazolyl Tetramethylbutylphenol

sunsc
,
Coco-Caprylate/Caprate
emo
,
Caprylyl Methicone
emo
,
Diethylhexyl Butamido Triazone
sunsc
,
Glycerin

sii

|

h
0
0
,
Butylene Glycol
h

|

solv
0
1
,
Oryza Sativa (Rice) Germ Extract
emo
,
Camellia Sinensis Leaf Extract

aox

|

so
,
Lactobacillus/Pumpkin Ferment Extract

exf
,
Bacillus/Soybean Ferment Extract
,
Saccharum Officinarum (Sugarcane) Extract

h
,
Macrocystis Pyrifera (Kelp) Extract
,
Cocos Nucifera (Coconut) Fruit Extract
emo
,
Panax Ginseng Root Extract

aox

|

emo
,
Monascus/Rice Ferment
aox
,
Pentylene Glycol
solv

|

h
,
Behenyl Alcohol
emo

|

vc
,
Poly C10-30 Alkyl Acrylate
vc
,
Polyglyceryl-3 Methylglucose Distearate
emu
,
Decyl Glucoside
surf
,
Tromethamine
buff
,
Carbomer
vc
0
1
,
Acrylates/C10-30 Alkyl Acrylate Crosspolymer
vc
,
1,2-Hexanediol
solv
,
Sodium Stearoyl Glutamate
emu

|

surf
,
Polyacrylate Crosspolymer-6
vc
,
Ethylhexylglycerin
pres
,
Adenosine

cci
,
Xanthan Gum
vc
,
Tocopherol

aox
0
–
3
0
–
3
,
Lactobacillus/Rice Ferment
,
Aspergillus Ferment
,
Saccharomyces/Rice Ferment Filtrate
Hover the mouse over an ingredient for short explanation. Read more on INCIDecoder.
Hover the mouse over an ingredient for short explanation. Read more on INCIDecoder.
The main UV filters used are Uvinul A plus, Uvinul T 150, Uvasorb HEB, Tinosorb M and Tinosorb S, and to support the skin calming and brightening claims you will find Niacinamide, several fermented ingredients and plant extracts like Green Tea and Ginseng Root Extract, all things often found in Korean Beauty products. Glycerin is used as the main humectant.
(More info: The difference between chemical and mineral filters and Everything you need to know about Niacinamide in skincare)
Is the claimed SPF 50+ valid?
The filters used are modern chemical filters that provide broad spectrum protection. The first thing I do when testing a new sunscreen is that I go to the BASF sunscreen calculator and see how the filters used perform on a very basic level. When doing that, the filters do add up to a SPF 50+, with amazing UVA protection. As the filters used don't tell you the whole story, the formulation plays a huge role too, this is only half of the story. Beauty of Joseon uses Dibutyl Adipate for example, an emollient working especially well in helping to solubilize UV filters, which might have an effect on the protection reached by the finished formula.
The next thing I did was reach out to the brand and ask about their testing methods, and here is what I learned: This sunscreen was tested in two different labs, once in Korea and once in Spain. That alone is reassuring, as sunscreen testing is complicated and the more test results you get, the better your chances to get it right. The SPF testing in Spain was done in Summer 2021 according to Standard ISO24444 and Cosmetics Europe Guidelines 2006, which means in vivo testing on healthy volunteers, and suggests an SPF of 63,1 (+/- 0,6). Now two aren't three tests and there is still room for error, but I feel comfortable about having adequate sun protection when wearing it, especially as the texture makes it easy to apply a generous amount.
Just remember, putting on SPF is always only part of sun smart behavior and never an excuse to spend hours in the midday sun!
Does it live up to its claims?
Yes.
It contains calming and brightening ingredients, is a chemical sunscreen and never irritates my skin.
How does it compare to…
Bioré UV Aqua Rich Essence
A Japanese formula, a tad more lightweight than this one, and using two additional filters, Octinoxate and Uvinul T 150, which both add protection in the UVB spectrum. It does contain fragrance and alcohol, which I don't mind, but might be a problem if you are sensitive to these. While I prefer Bioré in the summer, Beauty of Joseon is my favorite during the winter months.
You can read my full review of the Bioré UV Aqua Rich Essence here.
Would I repurchase and which skin types do I recommend Beauty of Joseon Relief Sun: Rice + Probiotics SPF 50+ to?
I already have two more tubes of this sunscreen stacked up that will see me through early spring and, depending how quickly it will heat up here, early summer as well. While very oily skins might find it too hydrating, I think everyone else will love this formula as much as I do, and the carefully chosen filters make it a great option even for sensitive skins usually reacting to chemical sunscreens.
Shop this one and more of my favorite sunscreens here

Don't forget to check out the Discount Code Page on top if you want to save some money on your next skincare purchase.
If you want to get a vote in the next Ask Doctor Anne Topic, Ingredient Spotlight or product I review, don't forget you can head over to my Patreon account to get more involved!
(Visited 20.932 times, 5 visits today)