ADVERTISEMENT INFO: SOME PRODUCTS MENTIONED IN THIS POST ARE PR (GIFTED) AND LINKS USED ARE AFFILIATE LINKS. I RECEIVED NO MONEY TO WRITE THE BLOGPOST. PLEASE READ DISCLAIMER
The brand Beekman 1802 has a lot of features they would probably love to be mentioned here – they are certified microbiome-friendly, believe in the power of goat milk, have a kindness program – but I want to first and foremost mention the packaging of the Beekman 1802 Bloom Cream Daily Face Cream. Why that? Because it is what puts the Bloom in the name and is so cute, it is absolutely ridiculous.
On first sight it probably doesn't look too special, but when you remove the lid, it has a press-down cap whose opening is shaped in a way that the cream that comes out of it is shaped like a flower. And I am not ashamed to admit that this excites me every single time I use it. Other than looking cute, the free space in the middle means that should you want to use one of their boosters.
What the Beekman 1802 Bloom Cream Daily Face Cream claims
Our #1 best-selling daily facial moisturizer that's certified microbiome friendly and clinically proven to restore healthy, youthful radiance. This elegant, lightweight formula is designed to work on all skin types and literally blooms out of the bottle with every pump.  Our ultra-Kind formula mimics your natural skin barrier and absorbs instantly to perfectly support, nourish, and protect your skin.
Facts about the Beekman 1802 Bloom Cream Daily Face Cream
Prize and size
One tube contains 50 ml and is available for 54 $ on the website here. As it contains honey, goat milk and colostrum, it is not vegan.
Texture and smell
If the thought of goat milk makes you worried, fear not, the cream has no noticeable scent – not that I mind scented products, but I don't think I would be particularly fond of my face smelling like goats.
The texture is rich and firm, but easy to spread.
How to use the Beekman 1802 Bloom Cream Daily Face Cream
Depending on your texture preferences and skin type (More info: How to determine your skin type) you can use this cream both morning and night. For my normal to oily skin it worked best at night and during the colder months and very well on nights when I used my Tretinoin (More info: How to use strong retinoids with minimal irritation)
The brand sells different boosters you can mix into the cream – you apply two drops in the center of the beautiful flower created and then apply the mixture to your face – and I tried that with the Beekman 1802 Smooth Booster (full review here). While it took a while to get them to mix together completely, the cream felt much lighter afterwards, more like something I would wear in the mornings as well.
Nothing in the cream would react with other ingredients, so it should fit into your routine very well.
Ingredients of the Beekman 1802 Bloom Cream Daily Face Cream
Water (Aqua)
solv
,
Coconut Alkanes
emo

|

solv
,
Coco-Caprylate
emo
,
Propanediol
solv

|

h
,
Magnesium Sulfate
vc
,
Polyglyceryl-4 Diisostearate/Polyhydroxystearate/Sebacate
emu

|

surf
,
Caprae Lac (Goat Milk)
,
Colostrum
,
Bifida Ferment Lysate

,
Lactose
h
,
Milk Protein
,
Aloe Barbadensis Leaf Extract

so

|

emo

|

h
,
Honey

so

|

h

|

amic
,
Eryngium Alpinum (Blue Thistle) Flower Extract
,
Cucumis Sativus (Cucumber) Fruit Extract

so

|

emo
,
Chamomilla Recutita (Matricaria) Flower Extract

so

|

aox
0
0
,
Symphytum Officinale (Comfrey) Leaf Extract
,
Helianthus Annuus (Sunflower) Seed Oil

emo
0
0
,
Niacinamide

cci

|

sb

|

aacne

|

h
,
Whey Protein

cci
,
Gluconolactone

exf

|

chel
,
Caprylic/Capric Triglyceride
emo
,
Coco-Caprylate/Caprate
emo
,
Polyglyceryl-3 Oleate
emu
,
Diisostearoyl Polyglyceryl-3 Dimer Dilinoleate
emo
,
Zinc Stearate
col

|

vc
0
0
,
Glycerin

sii

|

h
0
0
,
Sodium Benzoate
pres
,
Calcium Gluconate
h
,
Tocopherol

aox
0
–
3
0
–
3
,
C10-18 Triglycerides
emo

|

solv
,
Lecithin

emo

|

emu
Hover the mouse over an ingredient for short explanation. Read more on INCIDecoder.
Before I go into the skin beneficial ingredients you will find, I wanted to touch on the Goat Milk and the Colostrum as chances are if you are not a parent yet, the term Colostrum isn't one you are familiar with.
But first, Goat Milk: When you look at the website, you will find it as ancient beauty secret used by Cleopatra and the likes. Milk in general contains lipids, so a milk bath is less drying than one with plain water, and milk also contains a small percentage of lactic acid. That percentage is too low to have a significant exfolianting effect on the skin, but might add to the hydrating potential as does the milk protein and the sugars milk contains which act as humectant. Beekman 1802 now claim that the goat milk is especially beneficial for the skins microbiome – they have their whole line certified as microbiome friendly – but this is something I can neither deny or support, as the research on the ideal microbiome is still far from done. (More info: Prebiotics, probiotics and postbiotics in skincare)
Now Colostrum: Colostrum is pre-milk produced by lactating animals including humans and is very nutrient dense and rich in calories. It is the first food your baby gets when you decide to breastfeed and is very small in quantity as you only start lactating. After the first few days it is replaced with the regular milk both in humans and animals. I have no information about added benefits of Colostrum opposed to regular milk in skincare, I guess the nutrient and lipid density are why it was used.
Now for the rest of the cream. You will find several emollients as well as humectants and then Bifida Ferment Lysate, a postbiotic (More info: The benefits of fermented ingredients in skincare), then Niacinamide with its varying benefits for the skin (More info: The benefits of Niacinamide in skincare) and then Gluconolactone, a Polyhydroxy Acid that has more hydrating than exfoliating effects (More info: The benefits of Polyhydroxy Acid in skincare). Several plant extracts like Cucumber and Chamomille offer hydration and soothing, and the added Honey has antimicrobial and antiinflammatory properties.
Does it live up to its claims?
In parts.
It sinks in quickly and is very nourishing, but I wouldn't call it lightweight.
How does it compare to…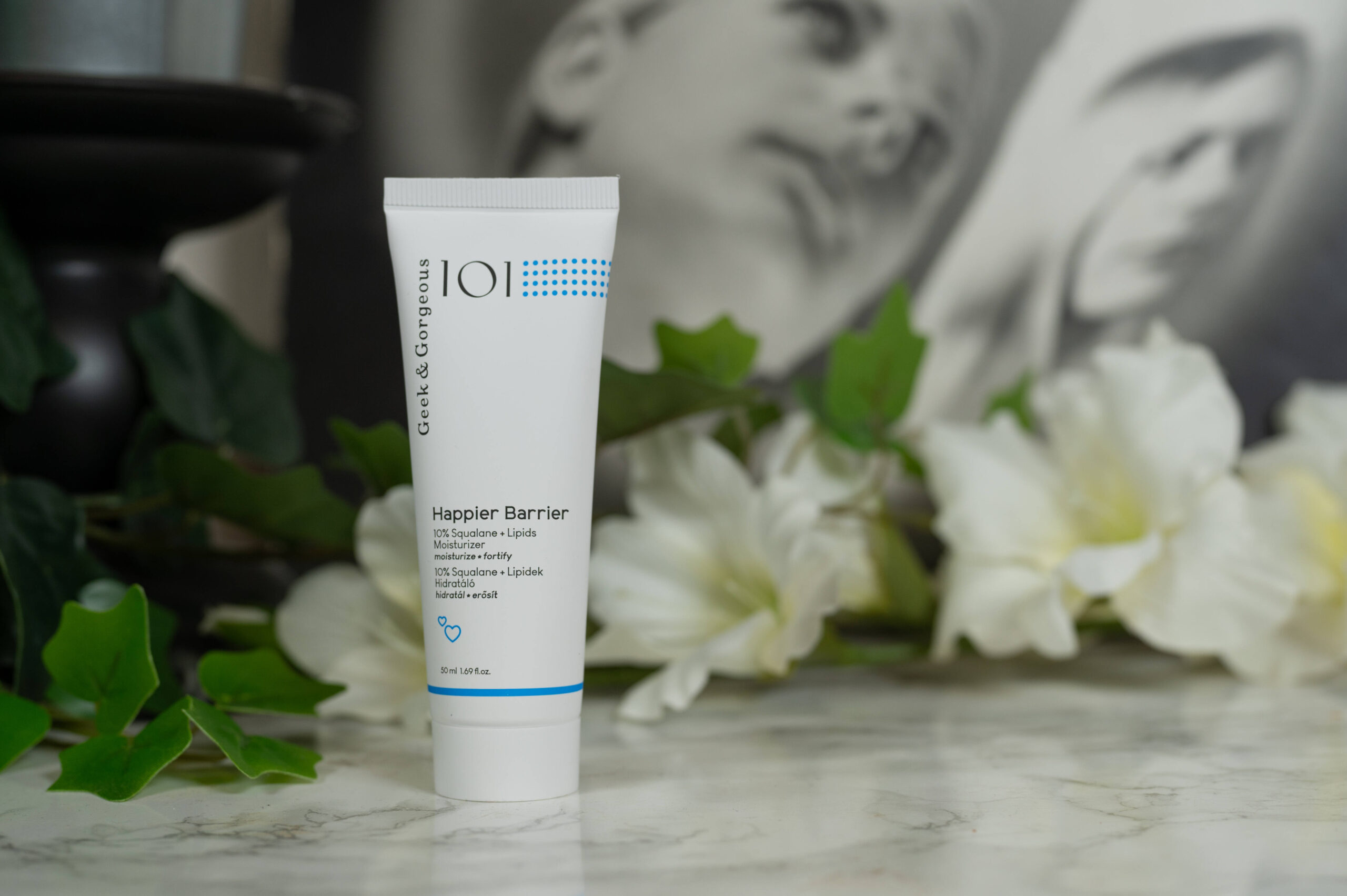 Geek and Gorgeous Happier Barrier
The moisturizer from Geek and Gorgeous doesn't contain goat milk, colostrum or a variety of plant extracts, but instead focusses on other ingredients for barrier repair and soothing like Allantoin, Green Tea Extract (More info: The benefits of Green Tea Extract in skincare) and Bisabolol. It also has Squalane and Ceramide NG (More info: The benefits of Ceramides in skincare) in the formula alongside other lipids.
Both are similar in texture and spreadability, but Happier Barrier has an a tad more natural finish on the skin.
You can read my full review of the Geek and Gorgeous Happier Barrier Moisturizer here.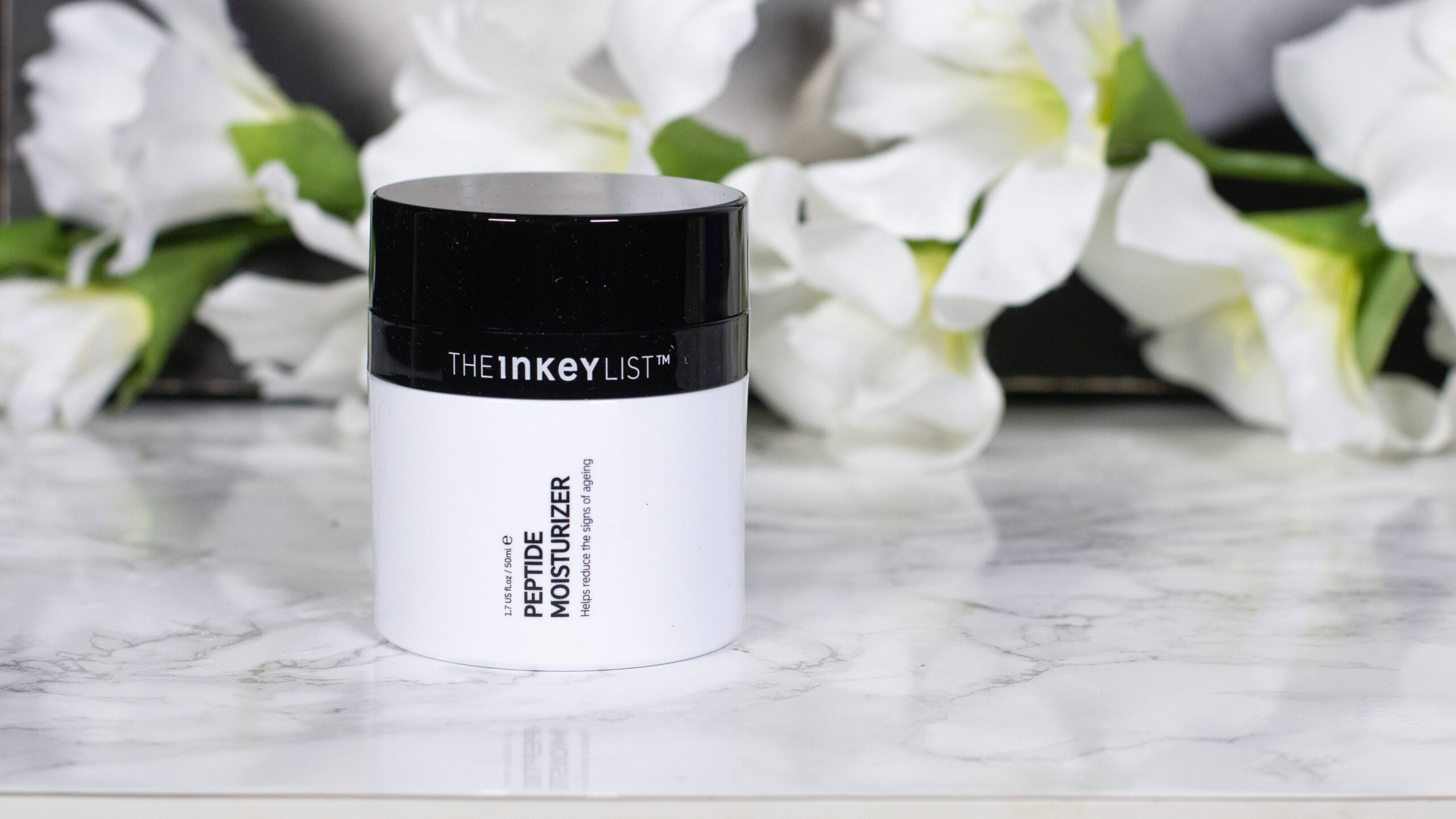 The Inkey List Peptide Moisturizer
Another rather rich moisturizer I prefer at night, but this time with added peptides instead of goat milk (More info: The benefits of peptides in skincare). Other than that it is again similar in texure and has the jar packaging, but no fancy outlet creating a flower.
Similar to the Geek and Gorgeous version it is much more affordable than the Beekman 1802 product.
You can read my full review of The Inkey List Peptide Moisturizer here.
Would I repurchase and which skin types do I recommend the Beekman 1802 Bloom Cream Daily Face Cream to?
Although I do enjoy the cream greatly, I will personally not repurchase as I am not convinced by the added benefits from goat milk, colostrum and the likes. I like the texture that is great for either dry skins or skins that regularly use strong actives, the latter probably more at night than during the day.
Shop the post
Don't forget to check out the Discount Code Page on top if you want to save some money on your next skincare purchase.
If you want to get a vote in the next Ask Doctor Anne Topic, Ingredient Spotlight or product I review, don't forget you can head over to my Patreon account to get more involved!
(Visited 247 times, 6 visits today)