ADVERTISEMENT INFO: SOME PRODUCTS MENTIONED IN THIS POST ARE PR (GIFTED) AND LINKS USED ARE AFFILIATE LINKS. I RECEIVED NO MONEY TO WRITE THE BLOGPOST. PLEASE READ DISCLAIMER
Beekman 1802 might sport the 1802 in the brand name, but the company itself was founded much later. It gets its name from the farm the products like the Beekman 1802 Smooth Booster I want to talk about today were created. Created as in "thought into existence", thankfully no one here claims to mix them by hand at the kitchen table. They come from a skincare factory with all necessary safety measures in place, which I much prefer.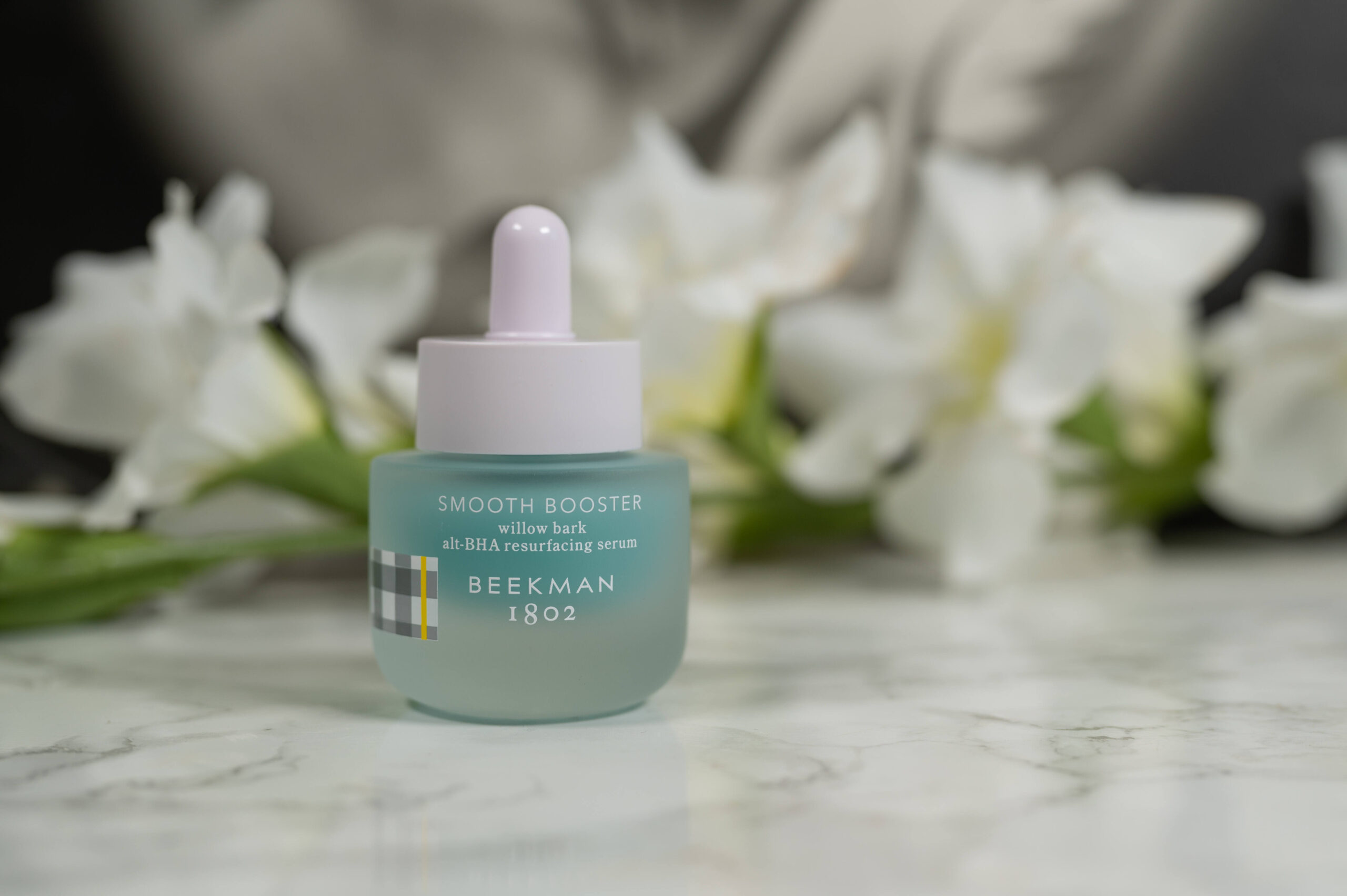 Alongside the historic farm they refer to, the brand also uses ingredients with a history, like goat milk Cleopatra used to bath in or the Willow Bark used to treat fever and inflammation before we were able to synthesize Salicylic Acid and subsequently Aspirin.
They also put the emphasis on the skins microbiome, combining prebiotics and postbiotics in their products (More info: Prebiotics, probiotics and postbiotics in skincare) and had their skincare line certified as Microbiome friendly by the MyMicrobiomeAG (apparently a German company, but I don't know more about them than what their website tells you).
I don't think that we are at a place yet where we can influence the skins microbiome or even know what an ideal microbiome would look like (More info: Everything you need to know about the skins microbiome), but I am a fan of gentle products that respect the skins integrity (and I think goats are cute!), so I was excited to take a look at the products.
What the Beekman 1802 Smooth Booster Willow Bark Exfoliating Serum claims
The first Clinically Kind® resurfacing booster made for sensitive skin. Our Smooth Booster Willow Bark Exfoliating Serum is a vegan, concentrated serum powered by willow bark extract, caviar lime and lactic acid, and is safer for sensitive skin than traditionally irritating AHA and BHA skin resurfacing treatments.
Facts about the Beekman 1802 Smooth Booster Willow Bark Exfoliating Serum
Prize and size
One bottle with a pipette contains 15 ml and is available for 28 $ on the website here. It shouldn't matter, but I love the design of the bottle – not efficient, but incredibly cute.
Texture and smell
The color you see isn't tinted glass, but the color of the actual serum – it is bright blue, which thankfully does not stain the skin. While the texture isn't watery, but a little on the gel-ish side, the serum itself spreads with ease and has no noticeable scent.
How to use the Beekman 1802 Smooth Booster Willow Bark Exfoliating Serum
This product is a booster, so it can be used either on its own on cleansed skin or mixed into the cream (they have a beautiful picture on the website with a drop of blue inside the bloom created by the special cream packaging). Either will work fine, as will using it morning or night.
As the only "pure" acid in the ingredient list, lactic acid, comes in the last third I wouldn't assume a strong exfoliating effect, and I personally had no issues when pairing it with other potentially irritating products, but especially if your skin is very reactive it might be a good idea to keep it separate from other exfoliants or retinoids. (More info: The best way to combine skincare products)
There is only minimal tackiness and no issues with pilling.
Ingredients of the Beekman 1802 Smooth Booster Willow Bark Exfoliating Serum
Water (Aqua)
solv
,
Coco-Caprylate/Caprate
emo
,
Glycerin

sii

|

h
0
0
,
Salix Alba (Willow) Bark Extract

so
,
Xanthan Gum
vc
,
Microcitrus Australasica (Caviar Lime) Fruit Extract
exf
,
Curcuma Longa (Turmeric) Leaf Extract
,
Simmondsia Chinensis (Jojoba) Seed Oil

emo
0
0
–
2
,
Moringa Oleifera Seed Oil

emo
,
Curcuma Longa (Turmeric) Root Extract

aox

|

so

|

sb

|

perf
,
Aloe Barbadensis Flower Extract
emo
,
Ocimum Sanctum (Holy Basil) Leaf Extract
,
Ocimum Basilicum (Basil) Flower/Leaf Extract
,
Melia Azadirachta (China Berry) Flower Extract
,
Adansonia Digitata (Baobab) Seed Oil

emo
,
Melia Azadirachta (China Berry) Leaf Extract
,
Corallina Officinalis Extract
,
Coccinia Indica Fruit Extract
,
Solanum Melongena (Eggplant) Fruit Extract
,
Amber Powder
,
Lactic Acid

exf

|

h

|

buff
,
Sodium Benzoate
pres
,
Sodium Levulinate
,
Potassium Sorbate
pres
,
Sodium Anisate
amic
Hover the mouse over an ingredient for short explanation. Read more on INCIDecoder.
In the ingredient list you have Glycerin as humectant and then quite a few plant extracts, out of which Tumeric Root Extract has antioxidant properties, the Caviar Lime Extract claims to have gentle AHA like effects and then the name giving Willow Bark Extract. Willow Bark Extract contains Salicin, a precursor of Salicylic Acid as well as flavonoids and phenolic acids. With the conversion needed before you get Salicylic Acid and the fact that it is an extract, so not necessarily a high concentration, I doubt however that it will have any relevant exfoliating effect, but probably is more soothing and antiinflammatory.
As I mentioned above already, Lactic Acid is present, but way down the ingredient list, so in such a low concentration I again don't think you'll get any exfoliation from it.
Does it live up to its claims?
Hm.
I am a little confused that it claims to be vegan – apparently it isn't formulated with goat milk, so the Lactic Acid is lab-made. If the addition of plant extracts is safer for sensitive skins than a dedicated AHA or BHA serum is debatable as well, as it depends on your skins individual sensitivities. It is gentler than a dedicated exfoliating serum for sure, but at the same time way less effective.
How does it compare to…
Glow Recipe Watermelon Glow PHA + BHA Toner
I am well aware that one is a toner and the other one is a booster/serum, but both are similar in that they claim exfoliation without adding an exfoliating acid in a relevant concentration and in using Willow Bark Extract as Salicylic Acid alternative. Glow Recipe has a Polyhydroxy Acid and Betaine Salicylate, while Beekman 1802 adds Lactic Acid at a very low concentration. (More info: Everything you need to know about Polyhydroxy Acids in skincare) Both also have different plant extracts that don't necessarily make them the ideal choice for reactive skins, and Glow Recipe is more affordable judged by price per ml.
You can read my full review of the Glow Recipe Watermelon Glow PHA + BHA Toner here.
NIOD Non-Acid Acid Precursor 15%
Similar to the Beekman offer, NIOD has something that claims to be gentler than exfoliants and to offer precursors to exfoliating acids for a more subtle resurfacing effect. Both are quite expensive, but NIOD also offers to interesting peptides to enhance performance that you won't find here. They don't have much data behind them, but would me chose NIOD over Beekman 1802 if I had to pick one. More likely though is that I won't purchase either.
You can find my full review of the NIOD Non-Acid Acid Precursor 15% here.
Would I repurchase and which skin types do I recommend the Beekman 1802 Smooth Booster Willow Bark Exfoliating Serum to?
No, I would not repurchase. I prefer my exfoliating serums to have a defined concentration rather than plant extracts and am fortunate enough that my skins tolerates them without issues. I am also not yet willing to spend extra on microbiome friendly skincare. If you feel different, if you prefer Willow Bark Extract over Salicylic Acid or if you just want one of the cute bottles on your shelf, than this should work for all skin types that don't react to any of the plant extracts it contains.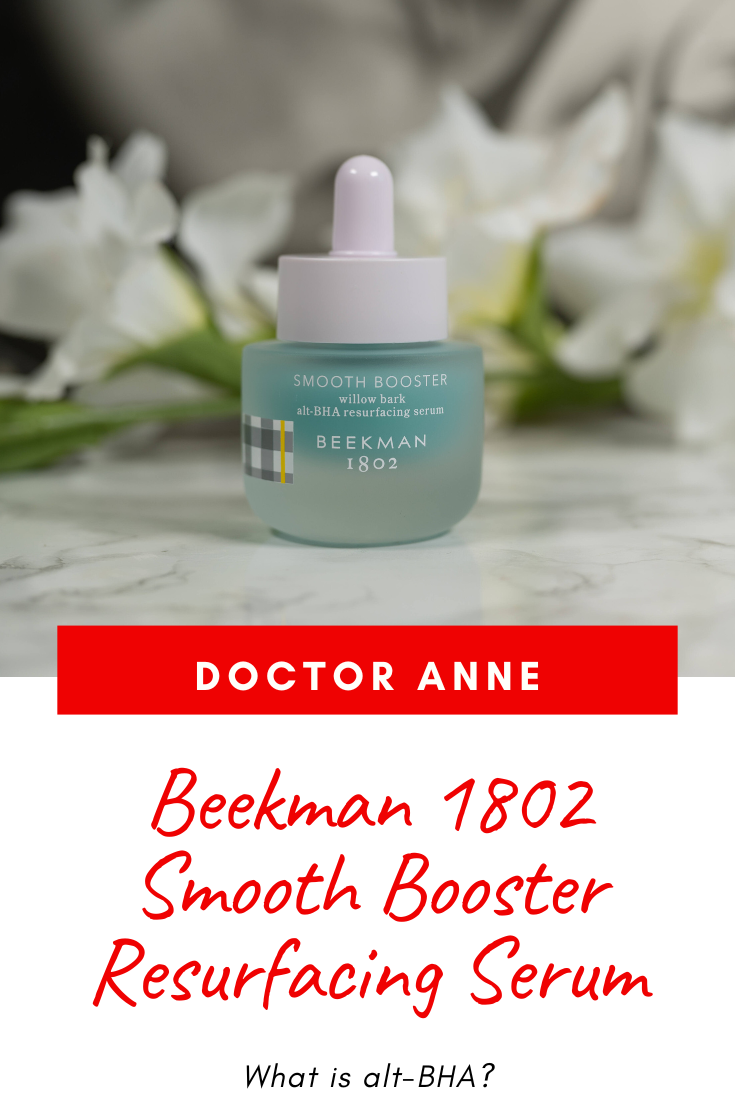 Shop the post

Don't forget to check out the Discount Code Page on top if you want to save some money on your next skincare purchase.
If you want to get a vote in the next Ask Doctor Anne Topic, Ingredient Spotlight or product I review, don't forget you can head over to my Patreon account to get more involved!
(Visited 140 times, 3 visits today)