ADVERTISEMENT INFO: PRODUCTS ARE DISCUSSED IN THIS BLOGPOST ARE PR (GIFTED) AND LINKS USED ARE AFFILIATE LINKS. I RECEIVED NO MONEY TO WRITE THE BLOGPOST. PLEASE READ DISCLAIMER
The most interesting thing about the Biossance Squalane + Lactic Acid Resurfacing Night Serum is the 10% vegan Lactic Acid. Maybe it is just me, but I remember the days when bathing in milk or covering your face in yogurt was the recommended DIY kitchen hack for a gentle exfoliation, claiming that the lactic acid was in the dairy.
Which is true, even if I still don't advocate for yogurt face masks, but lactic acid is also prevalent in fermented vegetables, as it is made by fermenting carbohydrates. That makes it vegan in most cases – I just don't see many brands mention that. (More info: The benefits of fermented ingredients in skincare)
Well, this isn't the only thing worth mentioning here, so let's see what else I can tell you about the Biossance Squalane + Lactic Acid Resurfacing Night Serum.
What the Biossance Squalane + Lactic Acid Resurfacing Night Serum claims
10% lactic acid serum delivers dramatically smoother, more luminous skin overnight.
It promises results as quickly as over night, with after 1-2 weeks the latest. That might be true for someone that never exfoliated before – I remember how amazed I was when I used my first acid – but isn't necessarily true for those that already have a balanced routine going, including retinoids or other acids.
Facts about the Biossance Squalane + Lactic Acid Resurfacing Night Serum
Prize and size
One bottle, with a lovely twist-cap pump, contains 30 ml and is available for 62$ on the website here. It is, as mentioned above, vegan.
Texture and smell
The texture is that of a light lotion, with a white, slightly pearlescent finish. It has a very faint, slightly warm and nutty scent, but you really have to get close to be able to smell it.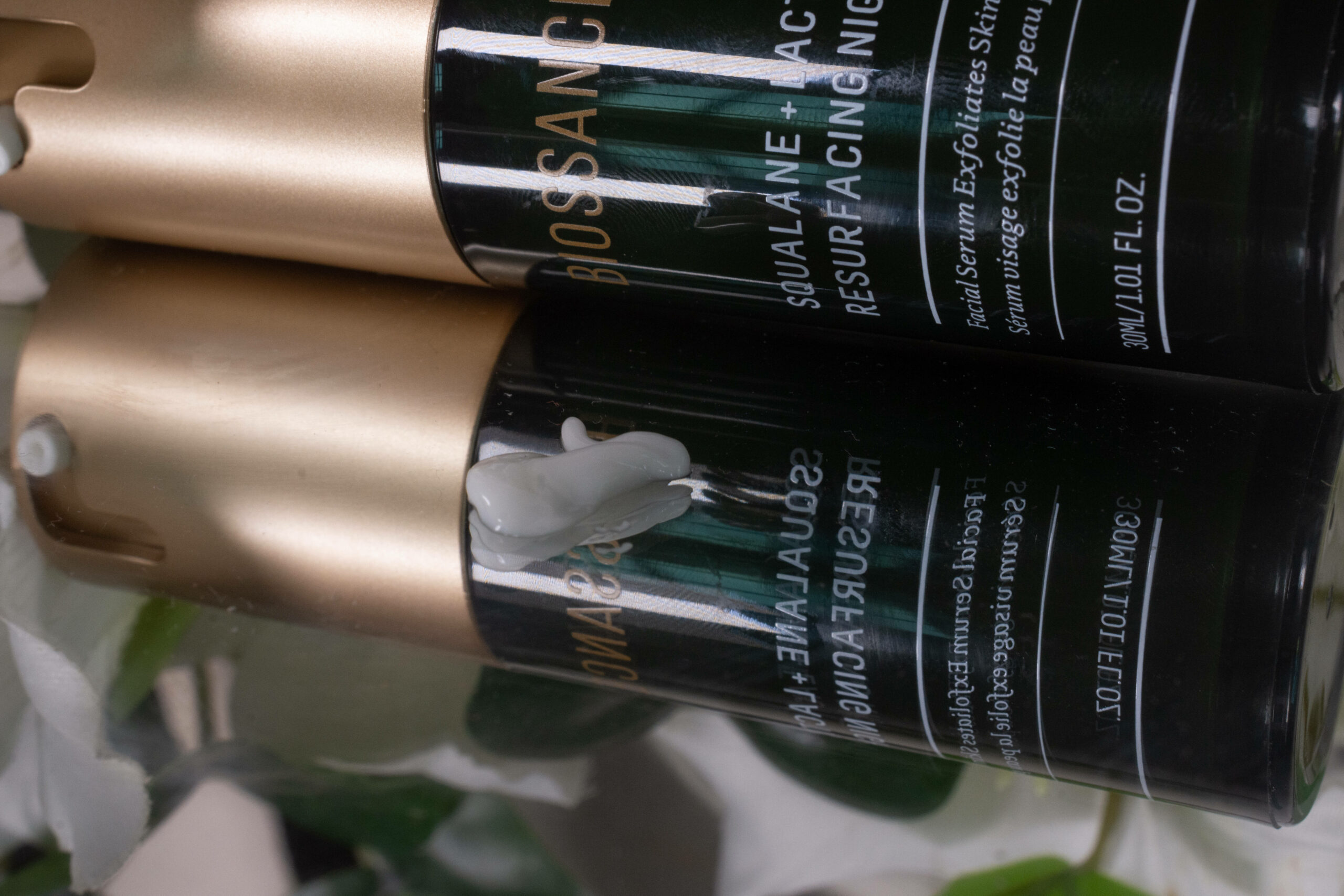 How to use the Biossance Squalane + Lactic Acid Resurfacing Night Serum
The website recommends using it at night – it is called a night serum after all – but you would in theory be able to use it during the day as well, as it does not contain ingredients sensitive to UV exposure like retinoids. (More info: Your comprehensive guide to retinoids)
It will increase your skins sensitivity to the sun, as all exfoliating products do, but that is an effect due to the exfoliation and will stay for a few days no matter if you use it morning or night.
I personally prefer night time use though, as I do with all my exfoliants, and use it on alternating nights with my Tretinoin. Yes, depending on your skins resilience you might be able to use them at the same night, but I recommend keeping your actives separate not to wreck your barrier. (More info: Have you damaged your skin barrier? 5 things to do now)
That being said, I used the product for a week straight every day and did not experience any irritation.
Ingredients of the Biossance Squalane + Lactic Acid Resurfacing Night Serum
Water/Aqua/Eau
solv
,
Caprylic/Capric Triglyceride
emo
,
Lactic Acid

exf

|

h

|

buff
,
Squalane

sii

|

emo
0
1
,
Glycerin

sii

|

h
0
0
,
Sodium Hydroxide
buff
,
Cetearyl Olivate

emu
,
Propanediol
solv

|

h
,
Sorbitan Olivate

emu
,
Cetearyl Alcohol
emo

|

vc

|

emu

|

surf
1
2
,
Lespedeza Capitata Leaf/Stem Extract
,
Polyacrylate Crosspolymer-6
vc
,
Acacia Senegal Gum
,
Sodium Gluconate
chel

|

h
,
Xanthan Gum
vc
,
Phenoxyethanol
pres
,
Ethylhexylglycerin
pres
,
Lavandula Angustifolia (Lavender) Oil

amic

|

perf
,
Linalool

perf
This product is vegan, cruelty-free, and gluten-free.
Hover the mouse over an ingredient for short explanation. Read more on INCIDecoder.
This is a short and almost minimalistic ingredient list, which I think is always a good idea when it comes to potentially irritating ingredients. There is the 10% vegan lactic acid as well as glycerin as humectant and a few emollients – Squalane among them, obviously – and then the one thing I think that could have been left out, Lavender Oil and alongside it Linalool.
I don't mind Lavender, I love it in my herb garden, but as it is true for many essential oils they are potentially irritating and I just prefer my exfoliants without them. According to the website it is added to promote feelings of calm and tranquility, but as I can't even really smell it, it doesn't have that effect on me.
Does it live up to its claims?
Well.
Dramatically is a big word, and – much to my relief, I might add – the serum did not cause drama on my skin. It did, within the course of a week, reduce texture I had on the back of my arms and made the skin noticeably smoother, so if we overlook the exaggeration, I'd say yes. (More info: Chicken skin? How to treat Keratosis Pilaris)
How does it compare to…
Sunday Riley Good Genes Lactic Acid Treatment
Oh, how I loved that one back in the days when it was still available here in Europe! It was my non-irritating magic potion for smoother, brighter skin over night, using Lactic Acid as well as Fermented ingredients, Squalane and a ton of plant extracts to achieve that.
The formulation did not meet European rules – I am not sure why, I think the concentration of Lactic Acid might have been too high, so I haven't been able to get it for over five years. As a side by side comparison isn't possible and relying on my memory probably not accurate, I won't give you a favorite pick, but I will say that Biossance smells way better and that both are gentle, yet showing results.
You can read my full review of the Sunday Riley Good Genes Lactic Acid Treatment here.
Would I repurchase and which skin types do I recommend the Biossance Squalane + Lactic Acid Resurfacing Night Serum to?
I don't regularly exfoliate anymore, but if I would, I am pretty sure this would become a staple. Yes, it is more expensive than I would like and I could do without the lavender oil, but I like the gentle yet noticeable effect it has on my texture.
I think it is a great option for those that don't get along too well with Glycolic Acid, but want more results that they'd get from something like Polyhydroxy Acids. Especially more mature skin that has a tendency to dryness and texture will probably benefit from using it. (More info: Polyhydroxy Acids in skincare – Are they for you?)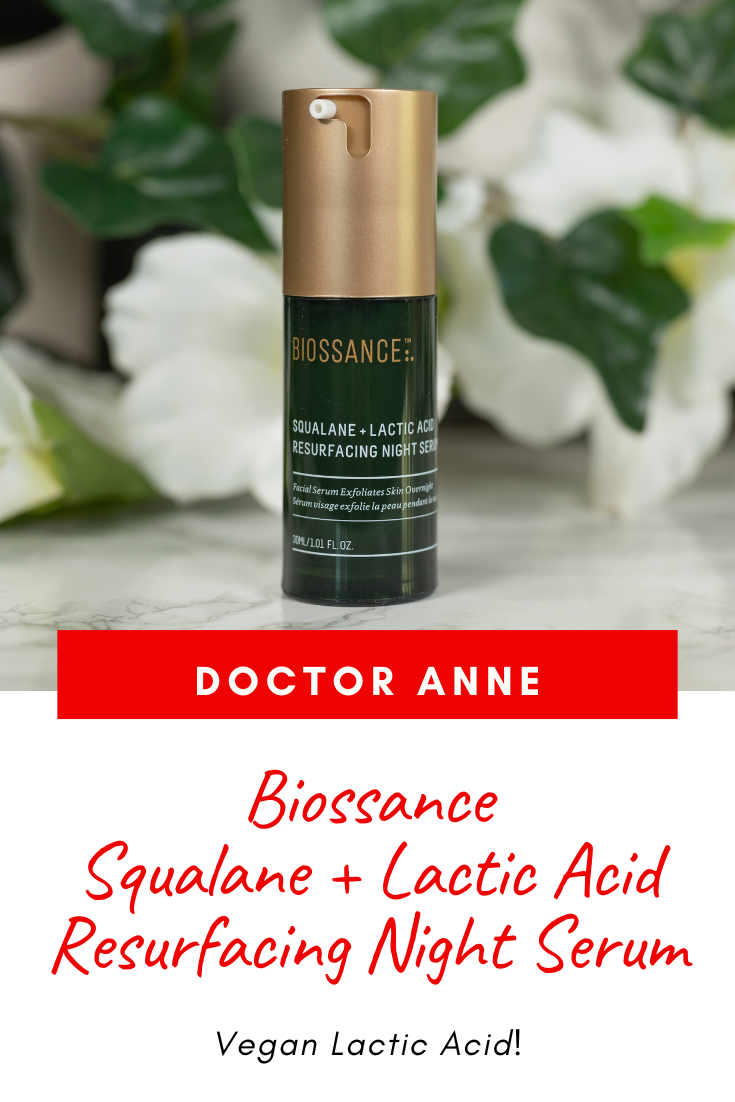 Shop my current favorite exfoliants here


Don't forget to check out the Discount Code Page on top if you want to save some money on your next skincare purchase.
If you want to get a vote in the next Ask Doctor Anne Topic, Ingredient Spotlight or product I review, don't forget you can head over to my Patreon account to get more involved!

(Visited 2.203 times, 2 visits today)