ADVERTISEMENT INFO: PRODUCTS DISCUSSED IN THIS BLOGPOST ARE PR (GIFTED) AND LINKS USED ARE AFFILIATE LINKS. I RECEIVED NO MONEY TO WRITE THE BLOGPOST. PLEASE READ DISCLAIMER
I have a daughter that is 8 years old, so let me assure you I am no stranger to mermaids. Mermaid toys, mermaid books, mermaid candy, and, quite recently, mermaid sunscreen. Although I admit the Canmake Mermaid Skin Gel UV SPF 50+  didn't come to me by my daughters recommendation.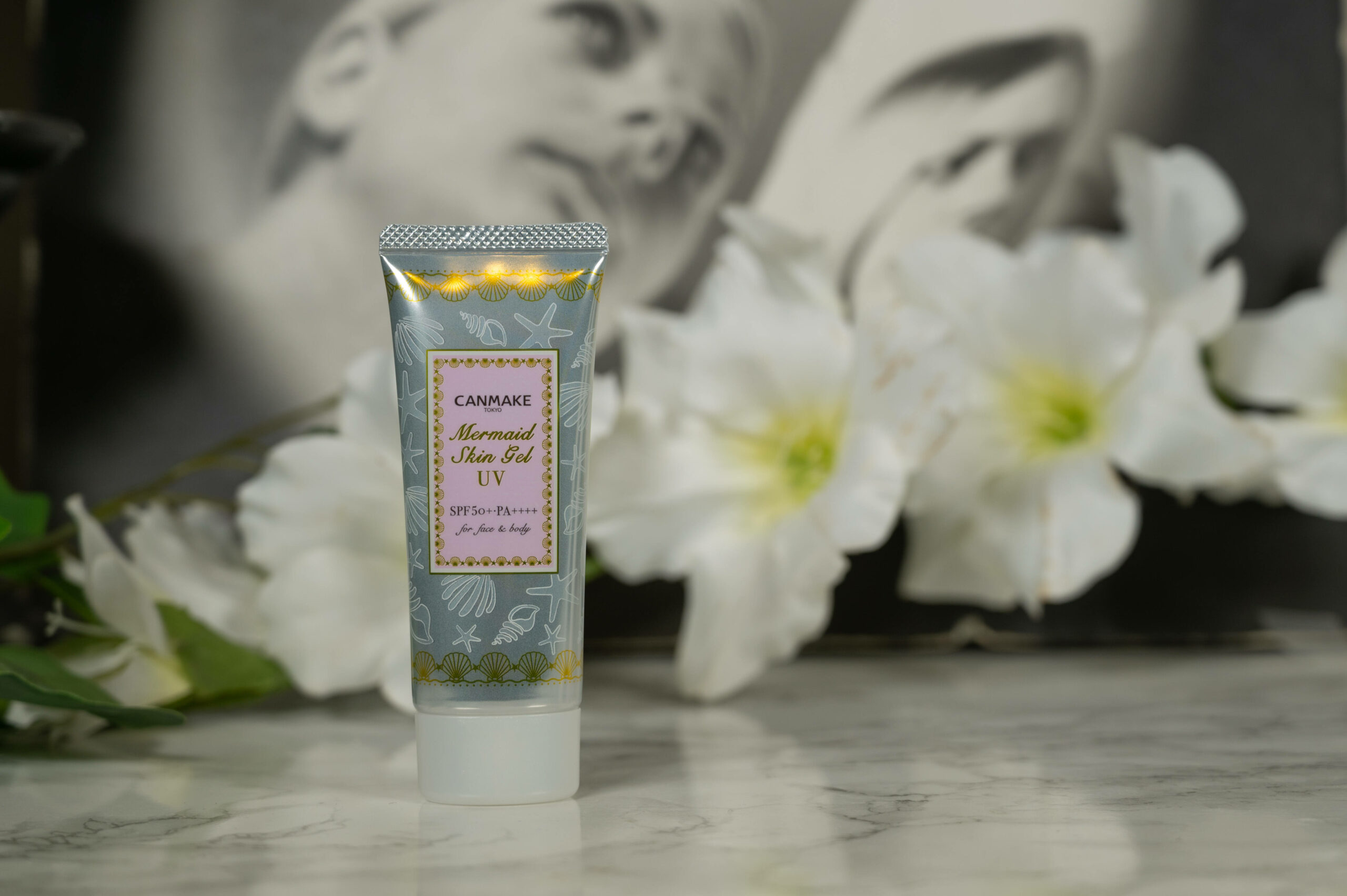 No, in fact it was mentioned for years now under almost every sunscreen review I did as a great choice for oily skin and perfect to wear under makeup. But when you look at the website – Splash! Feel as fresh as a mermaid princess – I can't help but wonder if it isn't marketed more towards my daughter than it is towards me.
Seashells and glittery packaging aside, what is there actually to say about the product?
What the Canmake Mermaid Skin Gel UV SPF 50+ claims
Powerful yet delectably moist. Smooth gel without that roughness or stickiness characteristic of most sunscreen. Also serves as a makeup base.
Facts about the Canmake Mermaid Skin Gel UV SPF 50+
Prize and size
One dainty little bottle contains 40 ml and is available for 11 $ on the website here. I have 01 Clear, the other two options available are 02 White, apparently formulated to enhance one's paleness, and 03 Cica Mint, which is green and contains Centella Extract. (More info: The benefits of Centella Asiatica explained)
Texture and smell
The product comes out as a gel-cream, but melts into the skin like water when you start to spread it out, absorbing almost immediately. There is no noticeable scent, which is a relief, after seeing the packaging I was somehow expecting some kind of floral sweetness.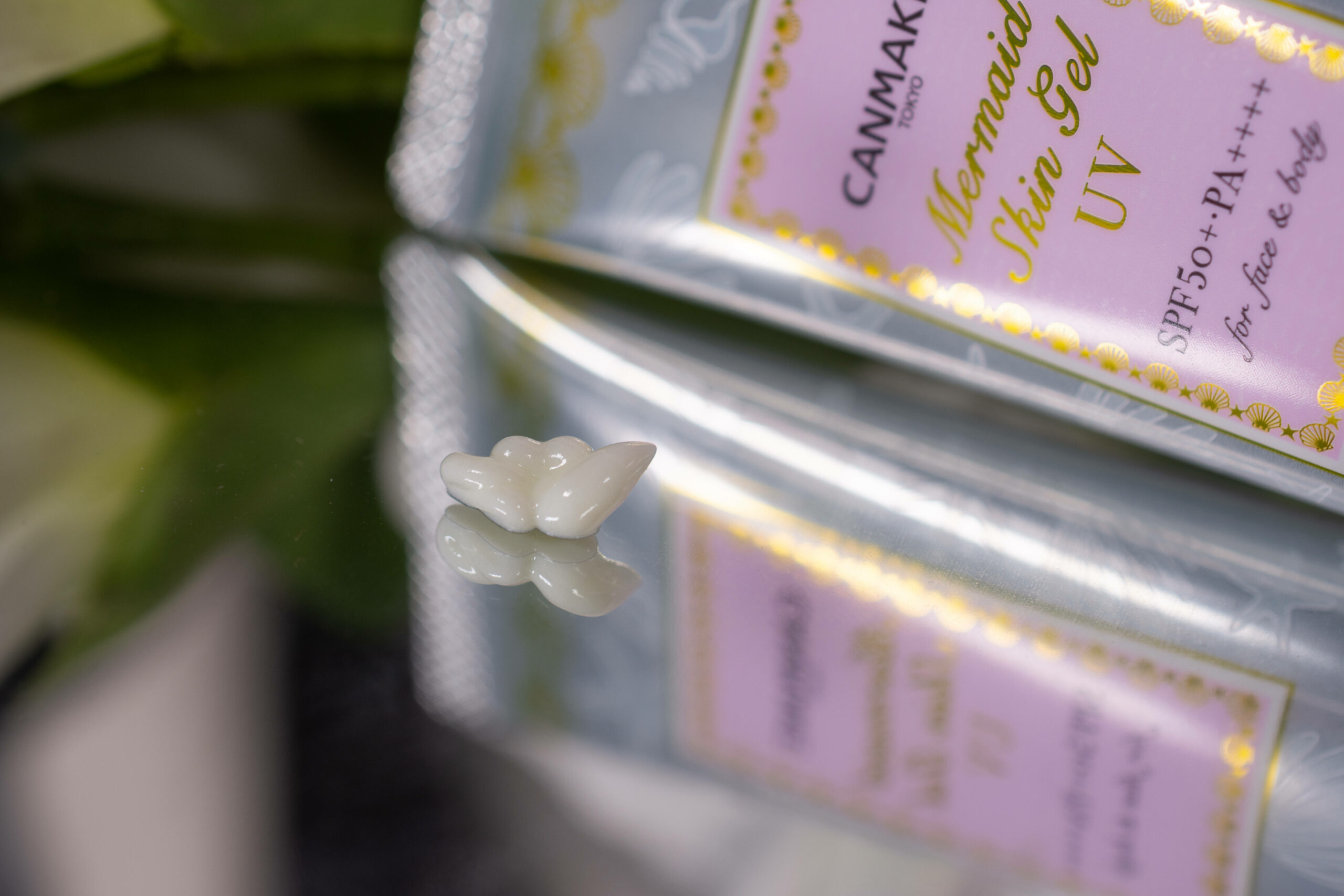 How to use the Canmake Mermaid Skin Gel UV SPF 50+
Sunscreen is always the last step in your routine, and in my opinion the Canmake Mermaid Skin Gel is best used for office days as it isn't water or sweat resistant and doesn't lend itself to outdoor activities for that reason. (More info: My favorite outdoor sunscreen)
It really makes for a lovely makeup base and despite claiming to be "delectably moist" doesn't add too much extra shine to my face. It isn't matte either, but after setting for a few minutes it is less glazed donut than some of the other Asian sunscreens I have tried.
It's biggest strength though in my opinion is for reapplication. As much as we all know we should do it, I am the first to admit that adding another layer of sunscreen on a hot summers day isn't exactly comfortable with many products out there. The Canmake Mermaid Skin Gel, similar to Biore Aqua Rich UV Essence or the MISSHA Essence Sun Milk, is one of the products that are an exception due to their refreshing texture.
(More info: 5 ways to reapply sunscreen over makeup)
Ingredients of the Canmake Mermaid Skin Gel UV SPF 50+
Water
solv
,
Ethylhexyl Methoxycinnamate
sunsc
0
0
,
Butylene Glycol
h

|

solv
0
1
,
Diethylamino Hydroxybenzoyl Hexyl Benzoate

sunsc
,
Zinc Oxide

sunsc
0
1
,
Methylheptyl Laurate
emo
,
Titanium Dioxide

sunsc

|

col
,
Dimethicone
emo
0
1
,
Bis-Ethylhexyloxyphenol Methoxyphenyl Triazine

sunsc
,
Polydimethylsiloxane
emo
0
1
,
Cyclopentasiloxane
emo

|

solv
,
Hydroxyethyl Acrylate/Sodium Acryloyldimethyl Taurate Copolymer
vc
,
Diisostearyl Malate
emo

|

surf
,
Aluminum Hydroxide
emo

|

h

|

vc
,
PEG-60 Hydrogenated Castor Oil
emu

|

surf
,
Stearic Acid
emo

|

vc
0
2
–
3
,
Phenoxyethanol
pres
,
Polyglyceryl-3 Polydimethylsiloxyethyl Dimethicone
,
Polyhydroxystearic Acid
emu
,
Jojoba Esters
so

|

emo

|

h
,
Xanthan Gum
vc
,
Arginine

sii
,
Sodium Hyaluronate

sii

|

h
0
0
,
Alpha-Glucan
h
,
Phytic Acid
chel
,
Saxifraga Sarmentosa Extract
,
Glucosyl Ceramide
,
Prunus Yedoensis Leaf Extract
so
,
Coix Lacryma-Jobi Ma-Yuen Seed Extract
,
Morus Alba Root Extract
sb
Hover the mouse over an ingredient for short explanation. Read more on INCIDecoder.
The filters are a mixture between organic (aka chemical) and inorganic (aka mineral), featuring both Zinc Oxide and Titanium Dioxide for UVB and UVA II protection as well as Octinoxate (UVB protection), Uvinul A plus (UVA protection) and Tinosorb S (UVA and UVB protection). The mixture makes for a nice broad spectrum protection. (More info: The difference between chemical and mineral filters)
Additional skin beneficial ingredients are Hyaluronic Acid for hydration and Arginine as part of the Natural Moisturizing Factors as well as a few different plant extracts. (More info: Ingredient Spotlight Hyaluronic Acid)
According to the website 85% of the ingredients are beautifying – well, I'll let you be the judge on whatever that is supposed to mean.
Does it live up to its claims?
Yes.
It is smooth, moist and serves as a great makeup base.
How does it compare to…
MISSHA All-Around Safe Block Essence Sun Milk
Missha contains only organic filters and lacks the more modern ones like Uvinul A Plus and Tinosorb S, which is probably the reason why it offers less UVA protection with only PA+++. (More info: UVA protection and how it is measured)
It also contains alcohol and more plant extracts, but is similarly lovely to reapply throughout the day. (More info: Alcohol in skincare – the truth)
Due to the lesser UVA protection I do prefer Canmake over MISSHA.
You can read my full review of the MISSHA All-Around Safe Block Essence Sun Milk here
Biore UV Watery Essence Aqua Rich SPF 50+
Biore has been my go to for reapplication throughout the day for years now, with my only complaint being the fact that it smells quite strongly of alcohol.
When looking at the formula, this one and the one from Canmake are pretty similar and other than the strong scent of Biore I find them to perform equally good on the skin. Biore has Uvinul T150 as an additional filter, which offers protection in the UVB range.
Out of the two, I'd say it depends which one is better available to you and how sensitive you are to Biores strong scent.
Would I repurchase and which skin types do I recommend the Canmake Mermaid Skin Gel UV SPF 50+ to?
Yes, I would repurchase the Canamake one as I usually have a dedicated sunscreen for reapplication in my purse. In my opinion, this will work for all skin types except maybe those with rosacea where it will depend on your individual triggers.
Shop my favorite sunscreens here
Don't forget to check out the Discount Code Page on top if you want to save some money on your next skincare purchase.
If you want to get a vote in the next Ask Doctor Anne Topic, Ingredient Spotlight or product I review, don't forget you can head over to my Patreon account to get more involved!
(Visited 3.430 times, 3 visits today)