ADVERTISEMENT INFO: THE PRODUCTS MENTIONED IN THIS POST MIGHT BE PR (GIFTED) AND LINK USED MIGHT BE AFFILIATE LINKS. I RECEIVED NO MONEY TO WRITE THE BLOGPOST. PLEASE READ DISCLAIMER
I often get asked about the best skincare routine to fight hyperpigmentation, but while I have some sun damage and some post-inflammatory erythema, it is not my main skincare concern. So to be able to really show you what a skincare routine targeting mainly hyperpigmentation looks like and which effects you are able to get, I roped my baby sister into joining me today. And if I say "baby sister", I am only referring to her age – I may be the oldest of us four, but also the shortest.
Her name is Franziska, she is 37 years old, a dog owner, a music lover, a smoker and until two years ago, a sun worshipper rarely using sunscreen.
She also prefers her routine to be quick and affordable, as opposed to me she doesn't want to spend half her salary on cosmetics. As she also never used a retinoid or other so-called "actives" before, we introduced the products one after the other over the course of around a month to make sure there was no irritation.
Before and after pictures
As you can see in the "before" picture here Franziska has a lot of sun damage merging into larger areas mainly on her forehead, around the eyes and cheekbones and on the chin area, basically on the sun terrace areas of the face, alongside more sparse patches on the cheeks. The before picture was taken in April, the after one in August, exactly 4 months after the first.
Despite the difference in lighting (and the usual disclaimer that nothing is faked as easily as before and after pictures, so never rely on those alone!) you can see that while the hyperpigmentation is still very visible, the skin overall looks more even and the pigmentation has started to lighten, something that is much more noticeable when you see it in person.
Which changes can you expect when treating hyperpigmentation
Now if you were hoping for a more drastic change, let me tell you that these are actually very decent results – treating hyperpigmentation is a very slow process, we are talking months to years here, and you will never be able to get rid of it completely unless you use more invasive procedures like certain lasers and such.
You will also need a combination of different ingredients that target different aspects of melanogenesis, rarely will one product be enough to make a huge difference. (More info: What is hyperpigmentation?)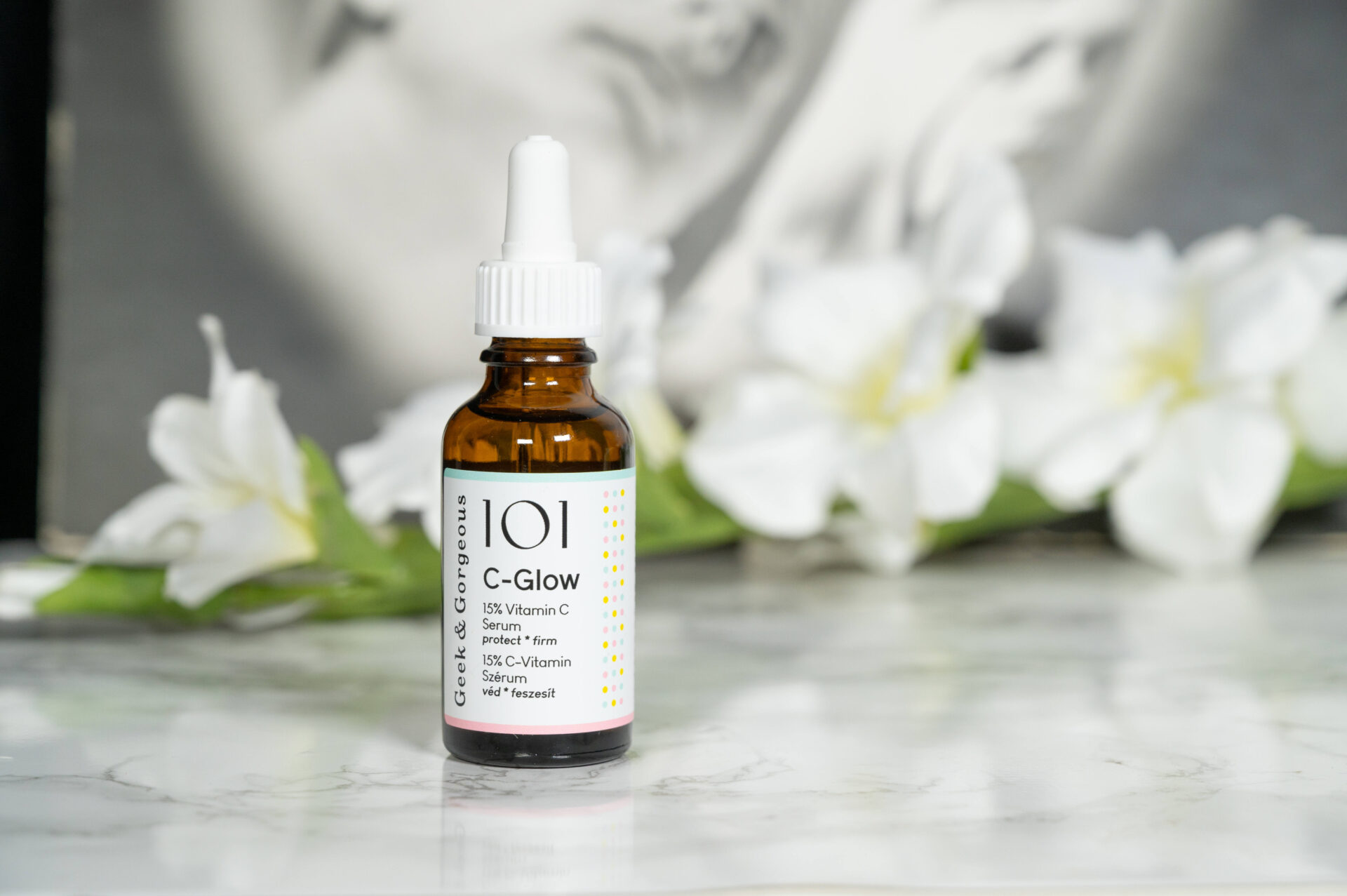 My sisters morning skincare routine
My sister is NOT a morning person, so I knew it had to be quick and easy if I wanted her to stick with a routine, which is why we picked the minimalistic approach: Cleansing with water or a face wash of choice, then the Geek & Gorgeous 101 C-Glow Serum (30 ml for 10,50 €, read my full review here) and then sunscreen, every day, rain or shine, reapplied throughout the day and paired with a baseball cap on her dog walks.
The C-Glow Serum is my favorite, but how did it work for my sister? What did she like and dislike? Here are her opinions:
"I really liked the texture of the C-Glow serum and I felt like it gave my skin a healthy and fresh look, but I didn't like the smell at all. I had the smell on my fingers until I washed them 3 or 4 times, but with a dog you wash your hands often, so it was gone quickly. I will definitely continue using it." – Editors note: This is interesting as I do not notice any scent at all!
Why Vitamin C?
We picked Vitamin C for several reasons: Firstly it is an antioxidant, meaning it reduces oxidative stress through UV exposure and airborne pollution, in this case the cigarette smoke. (More info: The effect of airborne pollution on the skin). Second it helps lighten hyperpigmentation both by inhibiting Tyrosinkinase, which is responsible for them appearing, and by reversing the Dopaquinone, which is dark, back to Dopa, which is colorless and thus lightening already existing spots in the process.
The third reason is that it supports collagen production, which has absolutely nothing to do with hyperpigmentation, but never hurts. (More info: Everything you need to know about Vitamin C in skincare)
Sunscreen is self explanatory and the key element to any skincare routine fighting hyperpigmentation, and the best one is the one you actually wear. My favorites for more acne prone skin are discussed in numerous posts (just search sunscreen in the description box), my sisters priorities were "easy to repurchase", "affordable" and "nice texture", obviously alongside broad spectrum protection. Which ones did she enjoy the most?
"I usually pick up some at DM, the Garnier one you recommended was very nice (she is referring to the Garnier Anti-Age Super UV SPF 50 one that I reviewed here). Currently I am using theSunDance Pro Climate Sun Fluid SPF 50, 100 ml for 4,95 €."
My sisters evening skincare routine
Now onto the evenings, which is where we put the actives, mainly the Retinaldehyde. I mean, you all knew I wouldn't suggest a routine without adding a retinoid to the mix. (More info: The different types of retinoids explained)
But step by step the routine was:
Cleansing the face with a face wash of choice and then every night the Niacinamide Serum by The Inkey List (30 ml for 7,95 €). It has 10% Niacinamide, a little more than the recommended 5%, but most people do get along with that very well, and also Glycerin and Hyaluronic Acid so you don't need additional hydrating stuff. (More info: Everything you need to know about Niacinamide)
I personally hadn't tried this serum, I usually use the one with Zinc from The Ordinary as my skin is more on the oily side (full review of The Ordinary Niacinamide + Zinc Serum here), so what did my sister think?
"I liked the texture and that it absorbs quickly, so I didn't have to wait a long time to continue with my evening routine. It gave my skin a healthy, moisturized look without looking oily and my skin was really soft after using it."
One of the benefits of Niacinamide I hadn't mentioned yet is that it helps in tolerating retinoids with less irritation (More info: How to use Tretinoin with minimal irritation), a smooth transition to the next skincare step:
The Geek & Gorgeous A-Game 10 (30 ml for 18,50 €, full review here). Retinoids are amazing for many different things, and treating hyperpigmentation is among them. They increase cell turnover, meaning that the cells with additional melanin in them are shed quicker and the pigmentation fades.
They also are a key part of a routine tackling premature aging, and as both smoking and UV exposure increase loss of collagen and elastin, I figured they were much needed as part of this routine as well. Retinaldehyde, which is used in the A-Game products, is the strongest form of retinoids available without a prescription in Germany, and it also comes with an increased risk of irritation. To minimize that risk, we slowly built it up until my sister was using it every other night.
Now how did it work for her? Was there any irritation, or any other things she wanted to share?
"The texture was nice and I had no irritations, but I had to wait to go to bed after using it, or putting on a white shirt, because if I didn't I'd have yellow stains on my pillow or shirt. But I liked it anyway, because I think it works well against hyperpigmentation and makes a really smooth skin." – Editors note: My other sister using the 0,05% Retinal containing A-Game 0,5 did not experience staining, so it might be due to the concentration.
On the nights no retinoid was used, we picked another ingredient to fight hyperpigmentation and introduced The Inkey List Tranexamic Acid Night Treatment (30 ml for 14,95 €, full review here). We could have picked other things like Alpha Arbutin, Kojic Acid or Licorice Root Extract as well, and we might change this up in the future, but I had used and liked the Tranexamic Acid one myself, so we went with it. Tranexamic Acid works by inhibiting the plasminogen/ plasmin pathway, which is part of melanogenesis, so it hinders new melanin production. (More info: Tranexamic Acid for hyperpigmentation)
Now how did the product, especially the very strange barbecue scent, for my sister?
"I loved it. texture feeling on the skin and it smells like barbecue sauce, That was the best part of it."
Depending on your skin type, this routine can be followed up with a moisturizer – my sister has normal skin and didn't feel the need through the warmer months, as both the Tranexamic Acid as well as the A-Game have a more lotion-like texture, but you might feel different. Any moisturizer will do, preferably one that doesn't have any other added "actives".
Is this the best skincare routine for fighting hyperpigmentation?
I think it is the best one for my sister at the given time. Yes, there are more ingredients we could have combined for more impact, but I knew for her to stick to it, it needed to be quick and not too complicated.
I actively decided against an exfoliant as the retinal already increases cell turnover and I didn't want to risk irritation, and I built the routine around the retinoid and around the sunscreen. I also did not use hydroquinone as in Germany it is prescription and requires dermatological follow up and we wanted a readily available routine.
In the hierarchy of hyperpigmentation treating ingredients, I would always go sunscreen, retinoid, Vitamin C and then fill in any "free treatment spots" (and by that I mean nights were no retinoid is used) with either Tranexamic, Kojic or maybe Azelaic Acid, with Licorice Root Extract or with Alpha Arbutin – which one out of those is best determined by trying how they work for your individual skin.
Shop the post
You can find my continuously updated list of skincare products to fight hyperpigmentation here.
And if you want to get a vote in the next Ask Doctor Anne Topic, Ingredient Spotlight or product I review, don't forget you can head over to my Patreon account to get more involved!
(Visited 3.469 times, 1 visits today)