Advertisement info: This blog uses affiliate links. I received no money to write it. Please read disclaimer.
I admit that I am no longer a regular user of face masks, so if I finish one AND repurchase, it has to be really good. Or, as is the case with the dear klairs Freshly Juiced Vitamin E Mask, very good and convenient to use – I just don´t have time for annoying extra steps anymore.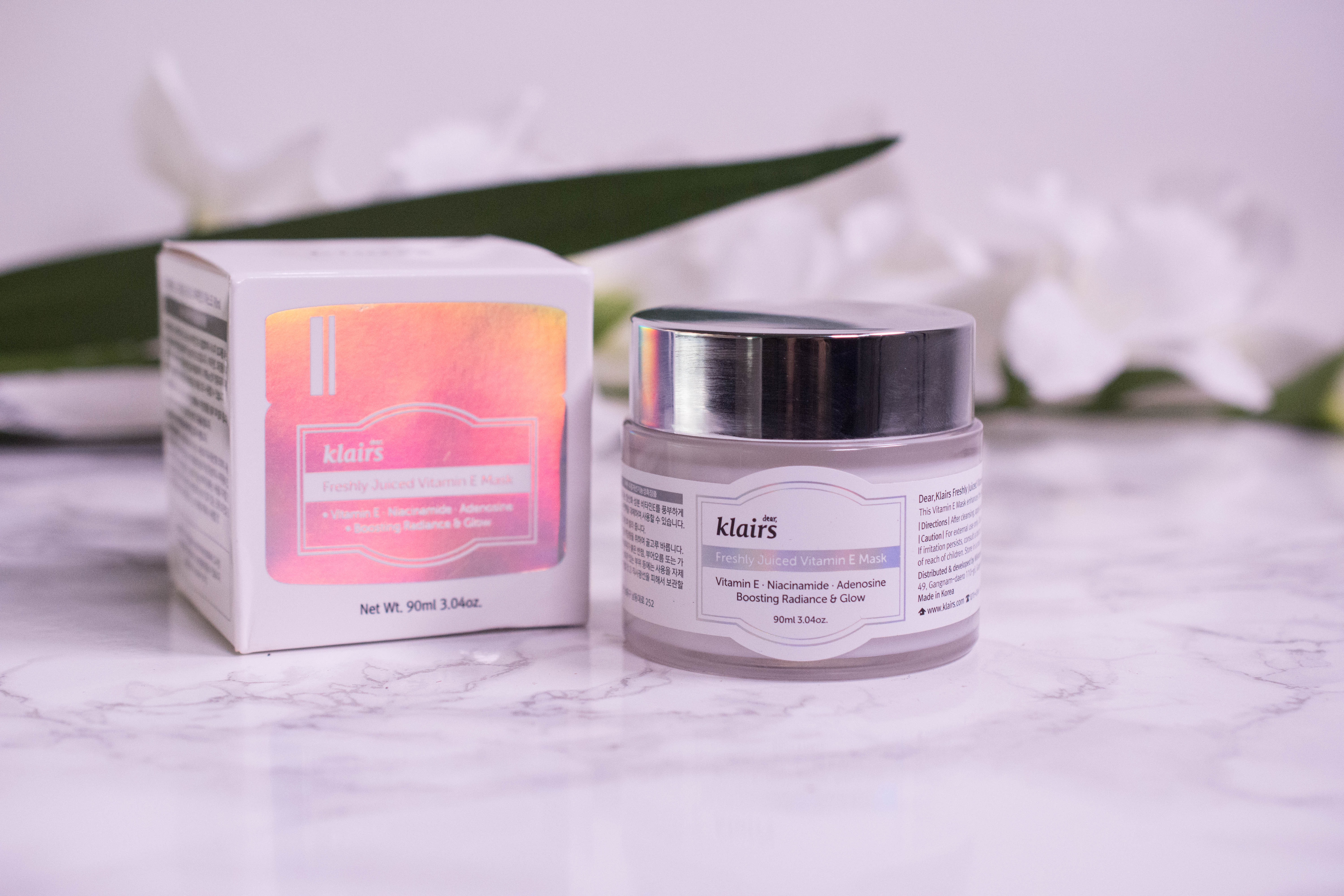 The klairs Freshly Juiced Vitamin E Mask actually already featured here on this channel, as part of my favorite face masks in 2018 to get my skin back on track after a beach holiday. Not that I can see many beach holidays in my near future, but I am still happy to have it back in my stash.
What klairs Freshly Juiced Vitamin E Mask claims
A multifunctional product that can be used as a mask, sleeping pack or daily moisturizer. Fortified with the antioxidant power of vitamin E to brighten, improve wrinkles, and prevent signs of aging.
Use it during the day to protect the skin from UV damages and use it at night for wrinkle improvement and skin regeneration.
With a pudding-like texture, the cream transform into a rich essence that helps the product tightly adhere onto the skin, which maintains and lock-in the moisture for at least 8 hours. This memory foam consistency will give an overnight miracle of brighter, firmer, and more hydrated skin.
Facts about the klairs Freshly Juiced Vitamin E Mask
Prize and size
One pot contains 90 ml and retails for 24£ on Tonic 15, where I tend to buy it from. You can get it from Amazon, but I am very careful with purchasing skincare from there.
Texture and smell
"Pudding like" sounds awful in my opinion. I think it feels like jelly, which sounds just as bad, but is actually kind of fun, especially as it melts when in contact with the skin. The scent is fresh, with a slight citrus note, but not overpowering.
How to use the dear klairs Freshly Juiced Vitamin E Mask
Out of the three recommended ways – daytime moisturizer, face mask or sleeping pack – I only ever use it as sleeping pack. Or overnight face mask. Or plain night cream, whatever you want to call it. I don´t see the point in washing it off when I can leave it on (told you I want things to be as easy as possible) and just don´t like it on my face under makeup. Maybe if your skin is drier than mine that would work, but on my combination skin it takes too long to sink in.
klairs Freshly Juiced Vitamin E Mask Ingredients
Water
solv
,
Glycerin

sii

|h
0
0
,
Butylene Glycol
h

|solv|

vc
0
1
,
Tocopheryl Acetate
aox
0
0
,
Niacinamide

cci

|sb|

aacne

|h
,
Sodium Hyaluronate

sii

|h
0
0
,
Carrageenan
vc
,
Gellan Gum
vc
,
Betaine

h
,
Algin
vc
4
4
,
Mannan
,
Ceramide NP

sii
,
PEG-60 Hydrogenated Castor Oil
emu

|surf
,
Acrylates/C10-30 Alkyl Acrylate Crosspolymer
vc
,
Chlorphenesin
pres

|amic
,
Arginine

sii
,
Ethylhexylglycerin
pres
,
Centella Asiatica Extract

so

|aox|

h

|surf
,
Rubus Fruticosus (Blackberry) Fruit Extract
,
Salicornia Herbacea Extract

aox

|

sb

|

h
,
Phragmites Communis Extract
,
Adenosine

cci
,
Lavandula Angustifolia (Lavender) Oil

amic

|perf
,
Eucalyptus Globulus Leaf Oil

perf

|amic
,
Pelargonium Graveolens Flower Oil

perf
,
Cananga Odorata Flower Oil

perf
Hover the mouse over an ingredient for short explanation. Read more on INCIDecoder.
First and foremost: Yes, this does contain essential oils, including Lemon and Orange Peel Oil, so if you are sensitive to that or simply want to avoid them, this mask is not for you.
If that doesn´t bother you though, you are greeted with a mask that not only contains the usual humectant suspects like Glycerin and Hylauronic Acid, but also Niacinamide (read here why I love it so much), Ceramide NP, Arginin and Adenosine as healing and hydrating amino acids, Vitamin E and Centella Asiatica Extract for soothing.
Does it live up to its claims?
Yes.
Why they choose to focus on Vitamin E for brightening in their claims is beyond me – surely Niacinamide plays an important role in that as well. In general though this mask leaves my skin plump, hydrated, calm and bright, perfect for a day when you did catch a little more sun than planned. Or, as I said back in 2017, after you return from a long beach holiday.
How does the klairs Freshly Juiced Vitamin E Mask compare to…
The Body Shop Drops of Youth Bouncy Sleeping Mask
Another one from the archives here, my original review on that is from 2015! Using my blog as skincare journal though pays off now, as I can tell you that The Body Shops offer is similar in texture and price, but lacks the Niacinamide, Amino Acids and Centella Asiatica, which makes the klairs offer my favorite.
Read my full review of The Body Shop Drops of Youth Bouncy Sleeping Mask here.
Elemis Peptide4 Plumping Pillow Facial
Finally a recent one, written in Januar 2020. I mainly compare them because they are both called hydrating sleeping masks, apart from that they couldn´t be more different. Elemis offer is heavily infused with essential oils, much pricier and instead of Niacinamide, Amino Acids and Centella Asiatica contains antioxidant plant extracts and the signature "peptide4 blend" claiming to increase hydration. On top of that it is more of a gel cream texture as opposed to a jelly.
It is indeed a richer one, and due to the warm scent one that I gravitate towards in winter more than I do now in the summer months.
Read my full review of the elemis Peptide4 Plumping Pillow Facial here.
Would I repurchase?
Yes.
In fact I have, this is my second pot, purchased with my own money after falling in love with the first one that I got via PR back in 2018.
Whom do I recommend the dear klairs Freshly Juiced Vitamin E Mask to?
Anyone with exception of those sensitive to some ingredients. It works for hydration, against hyperpigmentation and soothes the skin.
Shop the post
(Visited 3.161 times, 1 visits today)