ADVERTISEMENT INFO:  PRODUCTS MENTIONED IN THIS POST ARE PR (GIFTED) AND LINKS USED ARE AFFILIATE LINKS. I RECEIVED NO MONEY TO WRITE THE BLOGPOST. PLEASE READ DISCLAIMER
To be honest, I don't use purely hydrating serums anymore. They might be fine in your twenties, but for someone like me, the Hylamide SubQ Skin Serum is a much better pick. (More info: The best skincare to use in your 20s)
You see, hydration is really important, and it still is at age 43, but I want something with a little more oomph without needing to layer three different serums each morning, I just don't have the time or patience for that.
The Hylamide SubQ Skin Serum is named "the ultimate anti-aging serum" in reviews on here, so I was intrigued. But is it really that good?
What the Hylamide SubQ Skin Serum claims
For multi-depth rehydration and reduction in the look of lines and irregularities
Facts about the Hylamide SubQ Skin Serum
Prize and size
One dropper bottle, made of frosted glass, contains 30 ml and is available for 22 $ on the website here. It is part of the Hylamide Core Series, has a pH of 5,5-6,5 and is vegan.
Texture and smell
The serum has a slightly thicker texture that spreads easily and has no scent. Like most serums that are high in Hyaluronic Acid it leaves behind a minimal stickiness, but way less than others and only for around a minute.
(More info: Hyaluronic Acid in skincare – More than a humectant?)
How to use the Hylamide SubQ Skin Serum
Morning, evening, or both are possible places for it in your routine, and all of that works well. I like to apply it to slightly damp skin, either directly after cleansing or after toner, should I use one, and then follow up with moisturizer at night or my sunscreen in the mornings. It contains peptides, which prefer a less acidic environment, so pairing it with Acids or Ascorbic Acid with a low pH might reduce the effects.
(More info: Everything you need to know about peptides in skincare)
Ingredients of the Hylamide SubQ Skin Serum
Aqua (Water)
solv
,
Glycerin

sii

|

h
0
0
,
Hydrolyzed Yeast Extract

h
,
Pentylene Glycol
solv

|

h
,
Tamarindus Indica Seed Gum

h

|

vc
,
Sodium Hyaluronate Crosspolymer

sii

|

aox

|

h
,
Palmitoyl Tripeptide-38

cci
,
Myristoyl Nonapeptide-3

cci
,
Copper Lysinate/Prolinate

cci
,
Methylglucoside Phosphate

cci
,
Hydrolyzed Sodium Hyaluronate
h
,
Sodium Hyaluronate

sii

|

h
0
0
,
Ahnfeltia Concinna Extract

vc
,
Saccharide Isomerate

h
,
Polyglucuronic Acid

h
,
Lactobacillus/Eriodictyon Californicum Ferment Extract

h
,
Pseudoalteromonas Ferment Extract

so

|

h
,
Phospholipids

sii

|

emo
,
Lecithin

emo

|

emu
,
Hydroxypropyl Cyclodextrin

,
Cetyl Hydroxyethylcellulose
vc
,
Polyacrylate Crosspolymer-6
vc
,
Hexylene Glycol
solv

|

emu

|

perf

|

surf
0
–
1
0
–
2
,
Salicylic Acid

exf

|

aacne

|

so

|

pres
,
Citric Acid
buff
,
Sodium Citrate
chel

|

buff
,
Sodium Hydroxide
buff
,
Trisodium Ethylenediamine Disuccinate
chel
,
Ethoxydiglycol
solv

|

h

|

perf
0
0
,
Leuconostoc/Radish Root Ferment Filtrate
amic

|

pres
,
Sodium Benzoate
pres
,
Potassium Sorbate
pres
,
Ethylhexylglycerin
pres
,
Caprylyl Glycol
h

|

emo
,
Phenoxyethanol
pres
,
Chlorphenesin
pres

|

amic
Hover the mouse over an ingredient for short explanation. Read more on INCIDecoder.
Humectants used are Glycerin, several molecular weights of Hyaluronic Acid as well as a complex called Optim Hyal, which is Hydrolyzed Yeast Extract and Polyglucuronic Acid and apparently stimulates the skins own Hyaluronic Acid production for a more lasting effect.
Then there are several peptides, claiming to improve collagen production, and another complex called Neodermyl which, according to the manufacturer, not only stimulates collagen production, but also elastin production – that would be an industry first. There are also fermented ingredients and, some eagle-eyed viewers might have spotted it, Salicylic Acid. The latter one comes way after the peptides in the ingredient list, which are usually used at very low concentrations, so I don't think you get an actual relevant BHA-effect from this one.
(More info: How to read the ingredient lists in cosmetics)
Does it live up to its claims?
Yes.
It is hydrating with a lovely texture and plumps up the skin, making fine lines less noticeable.
How does it compare to…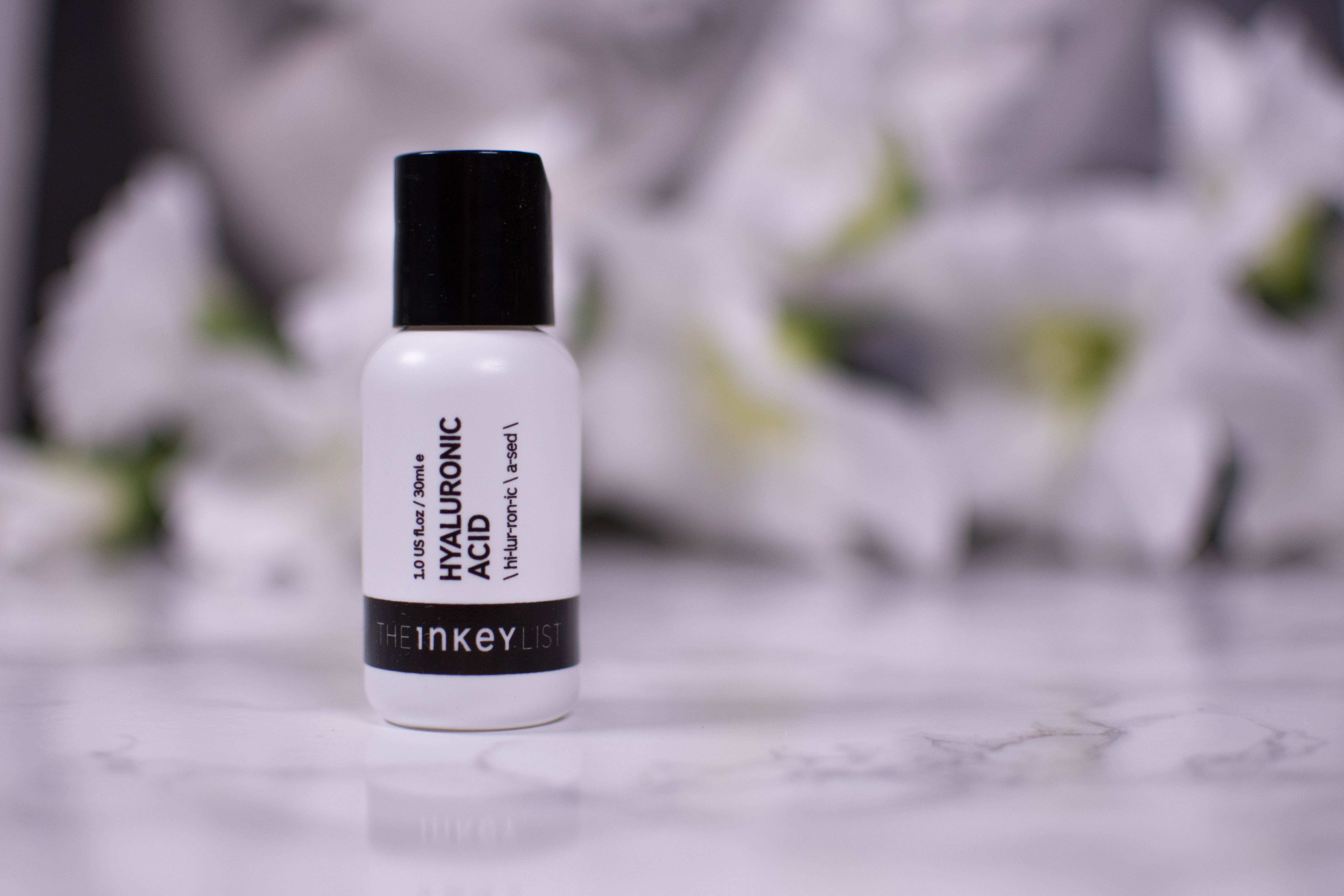 The Inkey List Hyaluronic Acid
Similar in texture and in the main humectants, The Inkey List contains other peptides and none of the new complexes. If these potentially effective ingredients are worth paying three times the price is a very personal decision.
You can read my full review of The Inkey List Hyaluronic Acid here.
NIOD Copper Amino Isolate 3
This is a recent discovery for me, and one that also comes from the Deciem brand. Copper Peptides do have the most research out of all peptides, and despite not having as many humectants I find the NIOD one hydrating enough for my skin. It is at 70 € much more expensive though, so again you need to see if it is worth the investment for you.
You can read my full review of the NIOD Copper Amino Isolate 3 here
Would I repurchase and which skin types do I recommend the Hylamide SubQ Skin Serum to?
Although I enjoy it and will continue to use it, I don't think I will repurchase. When it comes to peptides, it is copper peptides for me, and for the new complexes used – I just didn't see a difference in my own skin that made me a believer. Yes, that is anecdotal evidence and changes might be so subtle now that it would take several years for them to be noticeable, but that is just how I feel.
As far as skin types is concerned, this will work for everyone that doesn't react to low molecular weight Hyaluronic Acid, but due to the added peptides and complexes is probably aimed at more mature skin.
Shop the post
Don't forget to check out the Discount Code Page on top if you want to save some money on your next skincare purchase.
If you want to get a vote in the next Ask Doctor Anne Topic, Ingredient Spotlight or product I review, don't forget you can head over to my Patreon account to get more involved!
(Visited 1.598 times, 4 visits today)