THIS BLOGPOST USES AFFILIATE LINKS AND CONTAINS PR (GIFTED ITEMS). I DID NOT RECEIVE ANY MONEY TO WRITE IT. PLEASE READ DISCLAIMER.
I often get asked why I rarely review mineral sunscreens. The answer is simple: I usually absolutely hate them. But I do get that if you live in the US or have very reactive skin, they might be your only option, which is why today we will talk about the NIOD Survival 30, a tinted mineral sunscreen that I don't hate.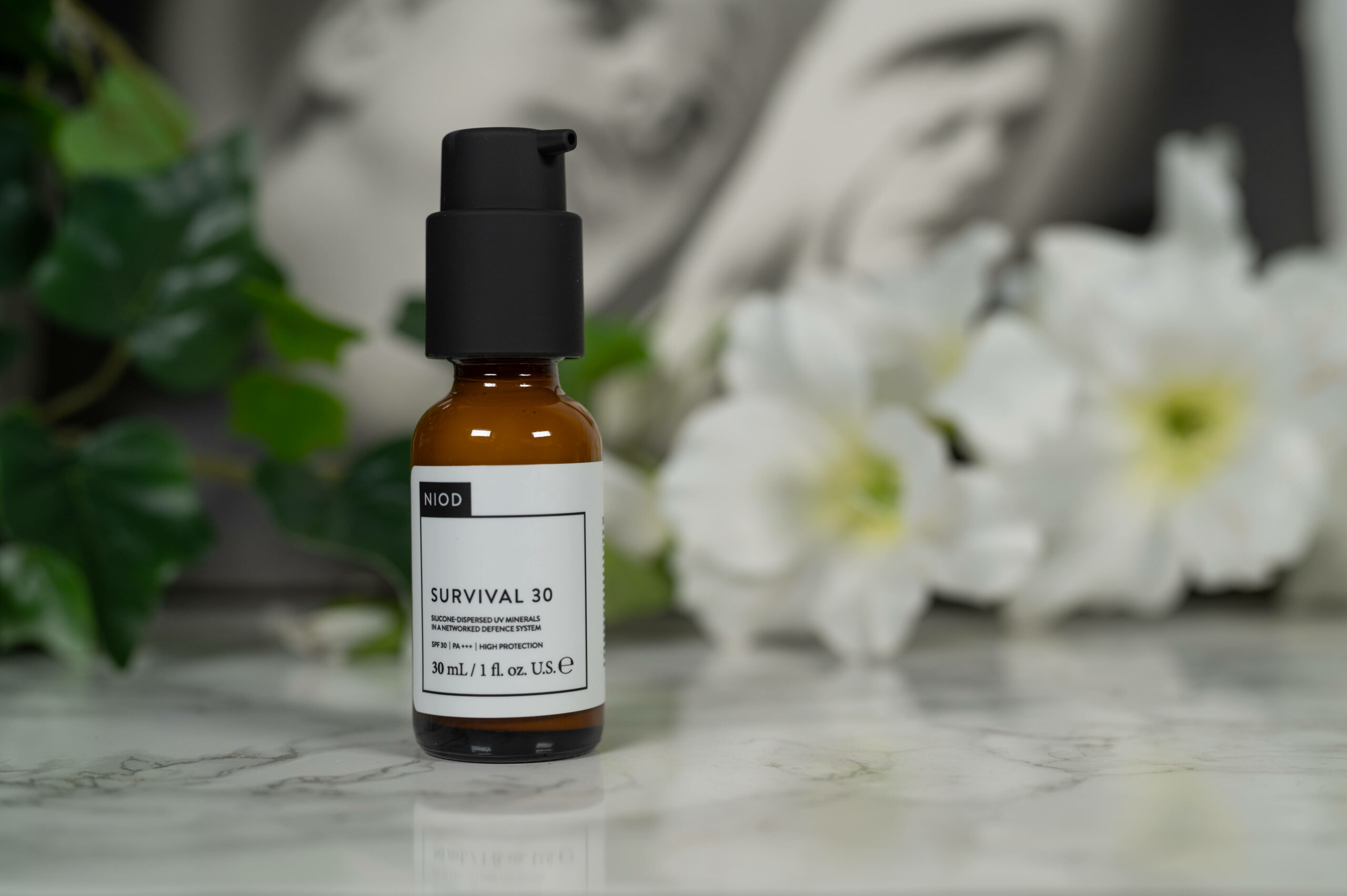 I don't love it either, but it has some perks that even I, as a sunscreen snob, need to acknowledge.
So without further ado, here is my NIOD Survival 30 review: The good, the bad and the ugly!
What NIOD Survival 30 claims
Silicone-Dispersed UV minerals in a network defense system, designed for all skin tones.
They claim blue light protection, antioxidant benefits and, arguably most important in a sunscreen, SPF 30 with PA +++, meaning a PPD of 8 – 16 or "good protection against UVA" as opposed to PA++++ being "very good protection against UVA".
(More info: UVA protection- How is it measured?)
Facts about NIOD Survival 30
Prize and size
One bottle contains 30 ml and is available for 35 $ on the website here. It is vegan and comes with a pump.
Texture and smell
This sunscreen has the texture of a lotion and a slightly nutty scent, even though it is nut-free as the website states.
The tint is definitely cool in undertone and rather light, as you can see in the video below it makes even my light complexion look a little ashy, so I wouldn't necessarily agree that it works on all skin tones as claimed.
Upon application it feels silky, much nicer than other mineral sunscreens I have tried, but heavier than my beloved chemical ones.
(More info: Chemical, mineral and physical sunscreen filters – Which one is best for you?)
How to use the NIOD Survival 30
Sunscreen goes on as the last step in your morning routine and needs to be used liberally in order to get the protection claimed on the bottle. (More info: How much sunscreen do I need for my face?)
The problem with tinted sunscreens is often that if you apply enough, it looks weird. I measured out how much was needed to get the SPF 30 – which is still less than I prefer to wear daily – and if I applied that much, it looked as if I had caked on foundation and felt sticky and a little uncomfortable. The trick here is to wait for 15-20 minutes after which, as you can see in the video, the Survival 30 did sink in and did actually look quite natural and skin like in finish. Not in color though, but I could make that work by warming it up with blush and bronzer.
After around six hours I could see the pigment breaking up around the chin and nose area, just like foundation usually does, and by the end of the day it was gone with some orangey leftovers around the hairline and eyebrows.
I didn't like it particularly for reapplication throughout the day as it had a tendency to roll off then, but could make it work when using a beautyblender. Still it didn't feel very comfortable on the skin.
(More info: 5 ways to reapply SPF on top of makeup)
Ingredients of NIOD Survival 30
Cyclopentasiloxane
emo

|

solv
,
Aqua (Water)
solv
,
Zinc Oxide

sunsc
0
1
,
Titanium Dioxide

sunsc

|

col
,
Peg-10 Dimethicone
emu
,
Glycerin

sii

|

h
0
0
,
Peg-9 Polydimethylsiloxyethyl Dimethicone
emu
,
Dimethicone/Peg-10/15 Crosspolymer
emu
,
Propanediol
solv

|

h
,
Acrylates/Ethylhexyl Acrylate Crosspolymer
,
Hexyl Laurate
emo
,
Polyglyceryl-4 Isostearate
emu
,
Dimethylmethoxy Chromanol

aox
,
Inulin

,
Alpha-Glucan Oligosaccharide

,
Solanum Lycopersicum (Tomato) Fruit Extract
aox
,
Superoxide Dismutase

aox
,
Xanthophyll

aox
,
Pinus Pinaster Bark Extract

aox
,
Polygonum Aviculare Extract

aox

|

emo
,
Alteromonas Ferment Extract

so
,
Padina Pavonica Thallus Extract

,
Arginine

sii
,
Glycine

sii
,
Alanine

sii
,
Serine

sii
,
Valine

sii
,
Proline

sii
,
Threonine

sii
,
Isoleucine

sii
,
Histidine

sii

|

h
,
Phenylalanine

sii
,
Aspartic Acid

sii
,
Pca

sii

|

h
,
Sodium Pca

sii

|

h
0
0
,
Sodium Lactate

buff

|

h
,
Squalane

sii

|

emo
0
1
,
Simmondsia Chinensis (Jojoba) Seed Oil

emo
0
0
–
2
,
Tocopherol

aox
0
–
3
0
–
3
,
Melanin
,
Sucrose

h

|

so
,
Tapioca Starch
vc
,
Stearic Acid
emo

|

vc
0
2
–
3
,
Trimethylsiloxysilicate
emo
,
Pentylene Glycol
solv

|

h
,
Butylene Glycol
h

|

solv
0
1
,
Trisodium Ethylenediamine Disuccinate
chel
,
Sodium Chloride
vc
,
Dipropylene Glycol
solv
,
Tromethamine
buff
,
Ethoxydiglycol
solv

|

h

|

perf
0
0
,
Alumina
vc

|

abrasive/scrub
,
Potassium Sorbate
pres
,
Sodium Benzoate
pres
,
1,2-Hexanediol
solv
,
Ethylhexylglycerin
pres
,
Phenoxyethanol
pres
,
Caprylyl Glycol
h

|

emo
Hover the mouse over an ingredient for short explanation. Read more on INCIDecoder.
It combines Zinc Oxide and Titanium Dioxide dispersed in silicones which are probably responsible for the silky feel upon application and, as Cyclopentasiloxane tends to evaporate from the skin, for the change in finish and feel after a while. There is also some Glycerin and a ton of antioxidants, for example Tomato Fruit Extract and Superoxide Dismutase, alongside several Amino Acids.
Now I want my sunscreen to primarily be sun protection, but we know that antioxidants enhance the sun protective properties of UV filters, so they are a welcome addition.
Does it live up to its claims?
Parts of them.
It is mineral sunscreen dispersed in silicones, but I can't see this working for all skin tones.
How does it compare to…
DRMTLGY Tinted SPF 46
DRMTLGY feels a little richer upon application, but needs a similar amount of time to sink in and has the same, skin like finish after it did. Where NIOD looks too ashy on me, DRMTLGY is too dark and looks slightly orange, but again, I could make both work.
DRMTLGY has a higher protection against UVB rays, but doesn't give a PA rating and uses a mixture between mineral (Zinc Oxide) and chemical (Octinoxate) filters.
Full review of the DRMTLGY Tinted SPF 46 coming soon.
Would I repurchase and which skin types do I recommend the NIOD Survival 30 to?
As you might have guessed, I would not repurchase, both because the color doesn't work for me and because I prefer chemical filters due to their more elegant texture. I also think this is pretty expensive for a sunscreen, especially as it only contains 30 ml of product.
If you are set on using mineral filters only though, need an "office sunscreen" to wear mostly indoors and can make the color work for you, this is one of the few options I would consider recommending.
Shop my favorite sunscreens here
Don't forget to check out the Discount Code Page on top if you want to save some money on your next skincare purchase.
If you want to get a vote in the next Ask Doctor Anne Topic, Ingredient Spotlight or product I review, don't forget you can head over to my Patreon account to get more involved!
(Visited 1.661 times, 1 visits today)