ADVERTISEMENT INFO:  PRODUCTS MENTIONED IN THIS POST ARE PR (GIFTED) AND LINKS USED ARE AFFILIATE LINKS. I RECEIVED NO MONEY TO WRITE THE BLOGPOST. PLEASE READ DISCLAIMER
Dr Jart+ is famous for his Ceramide line, which I have not tried yet, so I was more than excited when I received a sunscreen from the brand in the mail: The Dr. Jart+ Every Sun Day Mild Sun SPF 43 PA+++, despite it being a inorganic aka mineral sunscreen. (More info: Mineral, chemical and physical sunscreen – What is the difference?)
These usually don't work for me, but as I had a few exceptions from that rule recently – and to be honest, because at that price point I did expect something outstanding – I was willing to give it a go.
Well… Let's see how that turned out.
What the Dr. Jart+ Every Sun Day Mild Sun SPF 43 claims
The Dr. Jart Every Sun Day Mild Sun SPF43 PA+++ is a lightweight mineral sunscreen that offers protection against both UVA- and UVB rays. Mineral filters are very suitable for the most sensitive skin. The sunscreen is rich in Swiss gletcher milk and plant extracts to make the skin more resistant against heavy temperature fluctuations
Facts about the Dr. Jart+ Every Sun Day Mild Sun SPF 43
Prize and size
One tube, in very plain white and lime green packaging, contains 50 ml and is available for 29,99 € on the website here. I quite like the pump it has.
Texture and smell
The product feels thicker than other sunscreens I have tried, like a firm cream, and takes some effort to spread. It is far from being one of the thick pastes I usually associate with inorganic filters, but still definitely not lightweight.
It has a freshcitrus-y scent, but very subtle.
How to use the Dr. Jart+ Every Sun Day Mild Sun SPF 43
As last step in your routine, this one is applied after you did the rest of your skincare in the mornings or throughout the day for touch ups. You need to apply enough to get the claimed protection, and for my face I measured three pumps. (More info: How much sunscreen do you really nee for your face and neck?) These three pumps took a while to be worked in the skin and left a very noticeable white cast despite me being so pale. I could feel it on my skin all through the day and it felt very uncomfortable when trying to reapply.
What I did like though was the matte finish, one of the benefits of inorganic filters and probably very interesting for those of you with oily skin.
Ingredients of the Dr. Jart+ Every Sun Day Mild Sun SPF 43
Water
solv
,
Cyclopentasiloxane
emo

|

solv
,
Zinc Oxide (Ci 77947)

sunsc
0
1
,
Cyclohexasiloxane
emo

|

solv
,
Titanium Dioxide (Ci 77891)
col
0
0
,
Butylene Glycol
h

|

solv
0
1
,
Dimethicone
emo
0
1
,
PEG-10 Dimethicone
emu
,
Methyl Methacrylate Crosspolymer
,
Polymethylsilsesquioxane
,
Pentylene Glycol
solv

|

h
,
Potassium Cetyl Phosphate
emu

|

surf
,
Aluminum Hydroxide
emo

|

h

|

vc
,
Polyhydroxystearic Acid
emu
,
Dimethicone/Methicone Copolymer
,
Hydrogenated Palm Glyceride
emo

|

emu

|

surf
,
Stearic Acid
emo

|

vc
0
2
–
3
,
Phenoxyethanol
pres
,
Caprylyl Glycol
h

|

emo
,
Hydroxyethyl Acrylate/Sodium Acryloyldimethyl Taurate Copolymer
vc
,
Citrus Aurantium Bergamia (Bergamot) Fruit Oil

perf
,
Sodium Polyacrylate
vc
,
Salvia Sclarea (Clary) Oil
,
Disodium EDTA
chel
,
Glycerin

sii

|

h
0
0
,
Hydrolyzed Vegetable Protein
,
Maltodextrin
,
Buddleja Davidii Extract
,
Thymus Vulgaris (Thyme) Extract
perf
Hover the mouse over an ingredient for short explanation. Read more on INCIDecoder.
Regarding the sunscreen filters, there are no surprises here: Zinc Oxide and Titanium Dioxide, the latter paired with Aluminum Hydroxide as protective coating. The mixture of both offers good enough protection in the UVB and UVA II range to qualify as broad spectrum, but is lacking in the UVA I range and, when not used in form of nano particles, is often cosmetically unpleasant, hard to spread and leaving a white cast. (More info: What is UVA protection and why does it matter?)
There isn't much else in the formula that might offer skin benefits, some Glycerin as humectant and a few plant extracts. It does contain Bergamot essential oil, probably responsible for the nice scent, but not what I would expect in a product specifically marketed towards sensitive skin.
Does it live up to its claims?
In parts.
It is matte finish and works great at absorbing excess oil throughout the day, but I would neither call it lightweight nor recommend it to sensitive skins.
How does it compare to…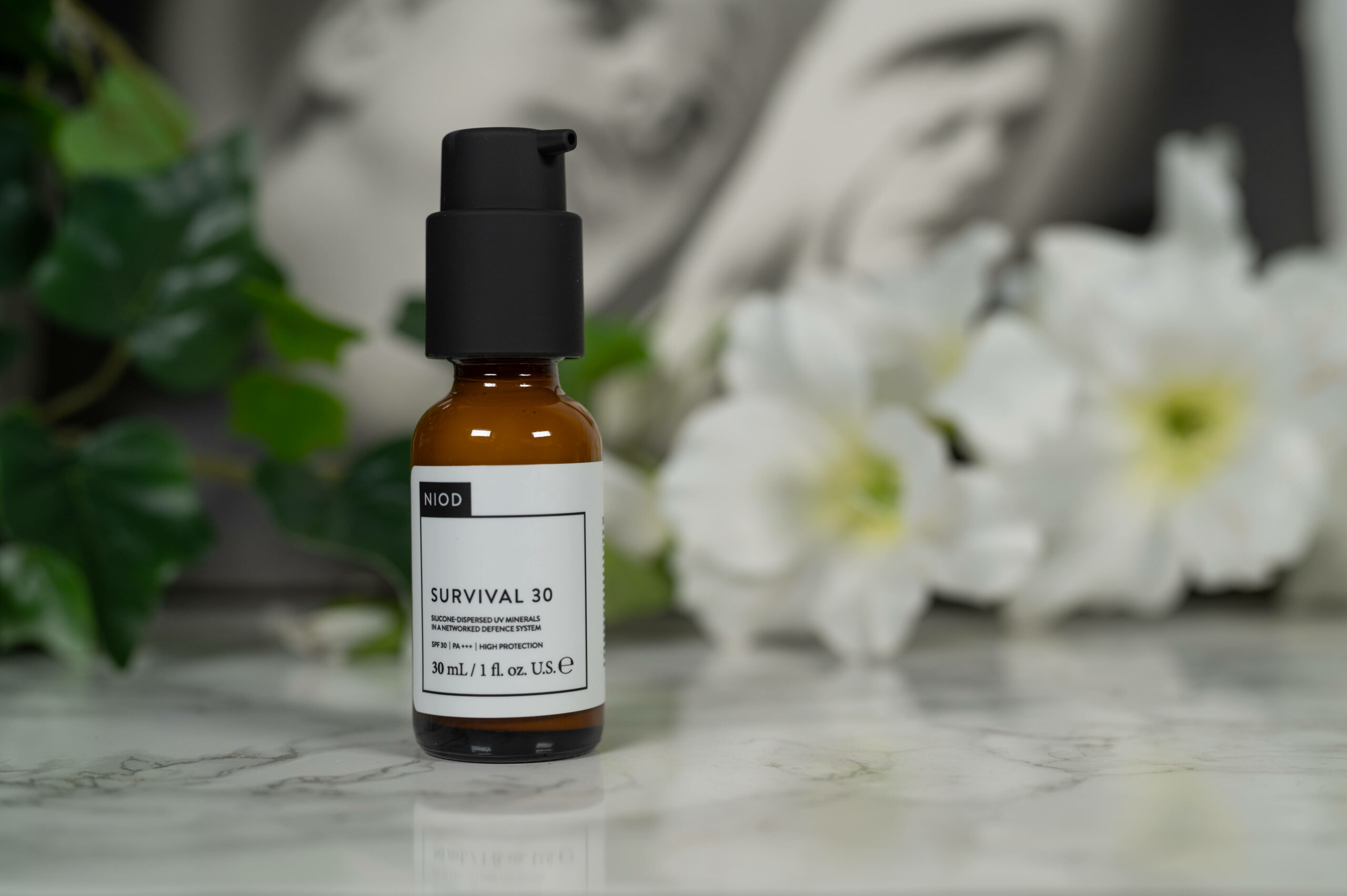 NIOD Survival 30
NIODs version has a much nicer texture, but a less good protection, offering only SPF 30. It is also tinted, which means you don't get a white cast, but the tint wasn't perfect for my skin – most of them are either too orange or too ashy, and NIODs version looked ashy on me.
In terms of price, NIOD is 35 $ for 30 ml, so more expensive.
You can read my full review of the NIOD Survival 30 here.
Would I repurchase and which skin types do I recommend the Dr. Jart+ Every Sun Day Mild Sun SPF 43 to?
No, I will not repurchase. I don't like the texture, the white cast or the ingredient list much, the only pro I can see for myself is the mattifying effect. If you don't have access to the more modern filters though or are very oily, it might be a good option to try.
If your skin is sensitive or acne-prone and you have heard inorganic or mineral filters are best for you – this is a) a myth and not true for more modern filters and b) not true for this specific one as it contains Bergamot essential oil that I wouldn't exactly recommend for sensitive skins.
(More info: Which sunscreen is best for acne-prone skin?)
Shop this one here
or shop my favorite sunscreens here
Don't forget to check out the Discount Code Page on top if you want to save some money on your next skincare purchase.
If you want to get a vote in the next Ask Doctor Anne Topic, Ingredient Spotlight or product I review, don't forget you can head over to my Patreon account to get more involved!
(Visited 2.008 times, 1 visits today)