ADVERTISEMENT INFO: THE PRODUCTS MENTIONED IN THIS POST WERE PURCHASED BY ME, BUT I HAVE RECEIVED PR FROM DR SAM SKINCARE IN THE PAST. LINKS USED MIGHT BE AFFILIATE LINKS. I RECEIVED NO MONEY TO WRITE THE BLOGPOST. PLEASE READ DISCLAIMER
I admit, when I purchased the Dr Sam Flawless Neutralizing Gel I wanted it to solve a very specific problem, and sadly, it didn't. It DID help me with something else though, and there is a specific group of people that I think will benefit a lot from introducing that product into their routine.
So in today's review we will take a closer look at the newest release of Dr Sam Bunting, the ingredients it uses and who I think it is a very good investment for – or who can possibly skip it.
What I wanted the Dr Sam Flawless Neutralizing Gel to do
You know I suffer from adult acne and use Tretinoin to keep it under control. That works pretty well with two minor issues. The first is that my skin is pretty reactive and does not tolerate acid exfoliation very well anymore. (More info: How to use Retin-A with minimal irritation)
The second, in which the first kind of mixes, is that during one week of my menstrual cycle my skin gets congested, and if I don't manage to control that effectively, develops 1-3 angry and inflamed zits that take forever to go away and inevitably heal leaving a red mark or PIE. (More info: PIE vs PIH – What is the difference?)
So for me it is a constant balance between enough acid exfoliation to prevent that, but not too much so my skin doesn't start to flake and burn, and I struggle to get that balance right the second the weather changes or I travel or something along these lines.
And when we look at the claims, it sounds as if this product could have helped me with that.
What Dr Sam Flawless Neutralizing Gel claims
Your first line of attack against breakouts, blackheads and dark marks. It helps reduce redness, spot size and minimises future breakouts. And it's actively hydrating, so it's kind to your skin barrier. That means it won't flake or peel so it works seamlessly under make-up.
Facts about the Dr Sam Flawless Neutralizing Gel
Prize and size
One tube contains 30 ml and is sold for 28 £ on the website here.
Texture and scent of the Dr Sam Flawless Neutralizing Gel
Despite being called a Gel, it looks and feels like a light cream, is white and has no real scent. I never experienced any burning or stinging sensation, but when I used a little more than usual it could lead to pilling with my more hydrating sunscreens.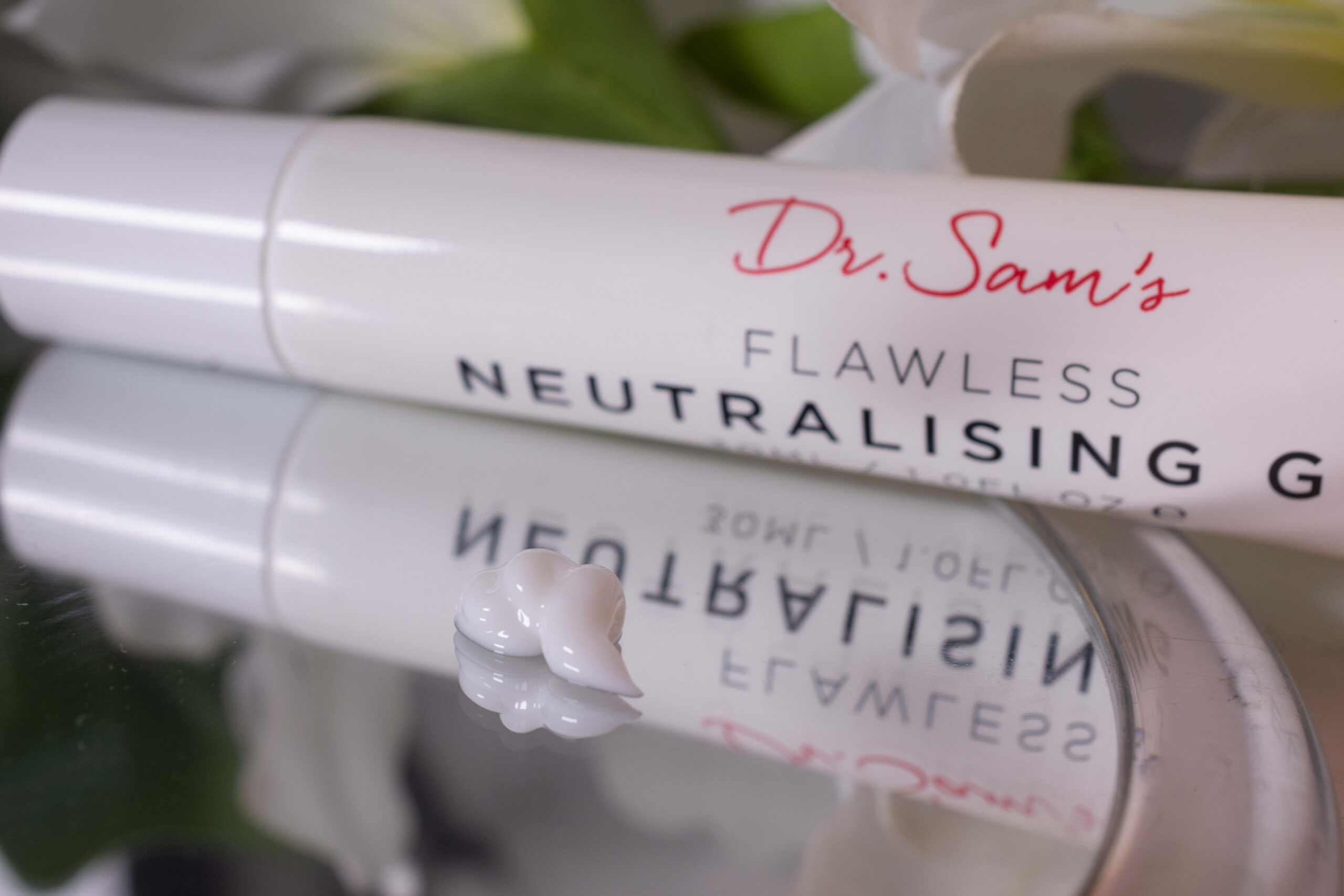 How to use the Dr Sam Flawless Neutralizing Gel
Depending on the rest of your routine, it could be used both as spot treatment for individual zits, as spot treatment in terms of daily treating a specific area of the face or simply all over the face for general prevention. It can also be used morning or night and probably even twice a day, as neither the added Bakuchiol, the Salicylic Acid or the Azelaic Acid are sensitive to UV light, and is best used directly after cleansing.
I tried all three versions over the last two months and all worked fine with no irritation or sensitivity. (More info: Is your skin barrier damaged?)
Ingredients of the Dr Sam Flawless Neutralizing Gel
Aqua (Water)
solv
,
Propylene Glycol
h

|

solv

|

vc
0
0
,
Ammonium Polyacryloyldimethyl Taurate
vc
,
Azelaic Acid

aacne

|

so

|

buff
,
Squalane

sii

|

emo
0
1
,
Salicylic Acid

exf

|

aacne

|

so

|

pres
,
Glyceryl Stearate
emo

|

emu
0
1
–
2
,
Disodium EDTA
chel
,
PEG-100 Stearate
surf

|

emu
0
0
,
Sodium Hydroxide
buff
,
Bakuchiol

cci

|

aox

|

amic
Hover the mouse over an ingredient for short explanation. Read more on INCIDecoder.
As you can see here, it has quite a combination of actives. The first one is 5% Azelaic Acid, antiinflammatory, antibacterial and suitable for use in pregnancy. 5% is on the lower spectrum in terms of concentrations and usually very well tolerated. (More info: Skincare during pregnancy)
Next up is 2% Salicylic Acid, which is the highest concentration for readily available products and is great for oily skin types and congestion. Then we have 0.5% Bakuchiol, again on the lower side concentrationwise. I have talked about Bakuchiol in the past, it is not an ingredient that I actively seek out in my products, but if your skin is very sensitive and you can't really make retinoids work for you, you might feel differently. (More info: Bakuchiol – is it the new retinol?) The last noteworthy ingredient is 5% Squalane, which is supposed to be moisturizing, but not greasy and should work for all skin types.
What I noticed is that despite the "actively hydrating" claim the only humectant used is Propylene Glycol, which might explain why I do not perceive it to be a hydrating formula.
Does it live up to its claims?
Now I said in the beginning that I purchased it specifically for the once a month congestion that I had hoped to keep under control with daily use in what is often referred to as the "hormonal beard" area of my face. Sadly it didn't do much for that, the congestion did show up for two months without a reduction that was noticeable to me. On the plus side though I did not experience any irritation with daily application either, which is why I think it will work exceptionally well for those with sensitive skin that have difficulties tolerating actives.
Where it absolutely convinced me though was as spot treatment. I usually only use salicylic acid and a pimple patch for my zits, but using this two to three times a day paired with a pimple patch at night led to much quicker reduction in inflammation and redness, probably due to the added azelaic acid, without any dryness in the surrounding area. So maybe not exactly what I had hoped it would be, but a pleasant surprise nonetheless. (More info: Pimple patches – how they work best)
Would I repurchase and which skin types do I recommend it to?
While I haven't completely made up my mind if it is worth repurchasing for me – I am looking for a way to completely avoid these pimples, not simply to treat them – I do think it is brilliant for those of you whose main concern is the redness and inflammation and that try to alleviate this alongside using other actives with minimal risk of irritation.
If you want to get a vote in the next Ask Doctor Anne Topic, Ingredient Spotlight or product I review, don't forget you can head over to my Patreon account to get more involved!
(Visited 2.509 times, 1 visits today)