ADVERTISEMENT INFO: THE PRODUCTS MENTIONED IN THIS POST ARE PR (GIFTED) AND LINK USED ARE AFFILIATE LINKS. I RECEIVED NO MONEY TO WRITE THE BLOGPOST. PLEASE READ DISCLAIMER
Finding the right moisturizer when your skin is oily and acne-prone is a struggle, I know that, so I had high hopes that Dr Sam's Flawless Moisturizer  could be the one. You know I need a formula that is light so it doesn't make me feel suffocated, yet enough to soothe my Tretinoin irritated skin in winter, and that sounds exactly like the kind of skin Dr. Sam's brand caters to.
So did it live up to my expectations? Let's talk.

What Dr Sam's Flawless Moisturizer claims
Like a hug for your skin. A luxurious gel-cream that absorbs in a flash to leave skin comfortable, dewy and hydrated throughout your busy day.
Facts about Dr Sam's Flawless Moisturizer
Prize and size
One pump contains 50 ml and is available for 25 £ on the website here.
Texture and scent
Why this is called a gel-cream I don't know, for me it looks and feels like a cream. It is on the more dense side, but easy to spread and despite being fragrance-free has no unpleasant scent. In fact if you would ask me to describe what a true cream was like, I'd describe it like this one.
How to use the Dr Sam's Flawless Moisturizer
One pump is enough for a thin layer on the face, so if you want to include your neck, which is always a good idea, go for 1.5 or two pumps instead.
Depending on your routine this can be used morning or night, in the mornings after serum and before sunscreen, in the evenings either as the last step or as a buffer before you apply your Tretinoin. (More info: How to use Tretinoin with minimal irritation)
While I have used it both ways, I did prefer to use it in the evenings as it does not, as claimed, absorb in a flash. It isn't sticky or heavy, but leaves a layer of hydration that I can feel when I touch my skin. Great for the promised dewy look, it is just that I prefer to feel nothing on my face during the day, especially when I need to wear a face mask.
It never pilled though, it is definitely just a skin feel thing for me.
Ingredients of Dr Sam's Flawless Moisturizer
Aqua (Water/Eau)
solv
,
Butyrospermum Parkii (Shea) Butter

emo

|

vc
,
Cyclopentasiloxane
emo

|

solv
,
Niacinamide

cci

|

sb

|

aacne

|

h
,
Propanediol
solv

|

h
,
Dimethicone
emo
0
1
,
Glycerin

sii

|

h
0
0
,
Cetyl Alcohol
emo

|

vc
2
2
,
Caprylic/Capric Triglyceride
emo
,
Glyceryl Stearate Se
emu
2
3
,
Panthenol

so

|

h
0
0
,
Xylitylglucoside

h
,
Polysilicone-11
,
Stearic Acid
emo

|

vc
0
2
–
3
,
Anhydroxylitol

h
,
Phenoxyethanol
pres
,
Carbomer
vc
0
1
,
Allantoin

so
0
0
,
Sodium Hyaluronate

sii

|

h
0
0
,
Xylitol

h
,
Sodium Hydroxymethylglycinate
pres
,
Sodium Stearoyl Glutamate
emu

|

surf
,
Sodium Hydroxide
buff
,
Disodium Edta
chel
,
Ethylhexylglycerin
pres
,
Citric Acid
buff
Hover the mouse over an ingredient for short explanation. Read more on INCIDecoder.
The second ingredient is Shea Butter, which many people claim is causing clogged pores for them. Now there is varying information online whether or not shea butter has a high comedogenicity rating and should be used in acne-prone skin, but the truth is none of this information is going to be helpful. While pure shea butter might cause problems for you, it might be completely fine when used in a cream as the formulation makes a huge difference in how it performs, so all I am going to say here is that for me this didn't cause any problems.
Then there is 5% Niacinamide, great for barrier strengthening, evening out the skin tone and sebum control, Panthenol and Allantoin for soothing and Glycerin as well as a small amount of Hyaluronic Acid as humectants. (More info: Ingredient Spotlight Niacinamide and Ingredient Spotlight Hyaluronic Acid)
If you know me, you know that the niacinamide/ panthenol combination is one of my favorites in moisturizers.
Does it live up to its claims?
Some of them.
It is comfortable and leaves my skin dewy and hydrated, but I don't think it absorbs in a flash.
Which skin types do I recommend Dr Sam's Flawless Moisturizer to?
I don't think this will work for very oily skin types and it probably won't be rich enough for very dry skins either, but if you sit anywhere in between, I think you will get along with it just fine.
The fact that it is fragrance-free and contains Panthenol as well as Allantoin makes it suitable for reactive skin and due to the 5% Niacinamide it is also great for a skincare routine built around prescription retinoids like Tretinoin. (More info: How to determine your skin type)
Would I repurchase?
Maybe.
Is it my perfect moisturizer? No. I would prefer for it to sink in a little quicker, as right now I don't really like it in the mornings when I am rushed for time, but this is actually a minor inconvenience rather than a real complaint. It surely is among the moisturizers I would recommend to my friends and family – and to you, my skincare family, as well.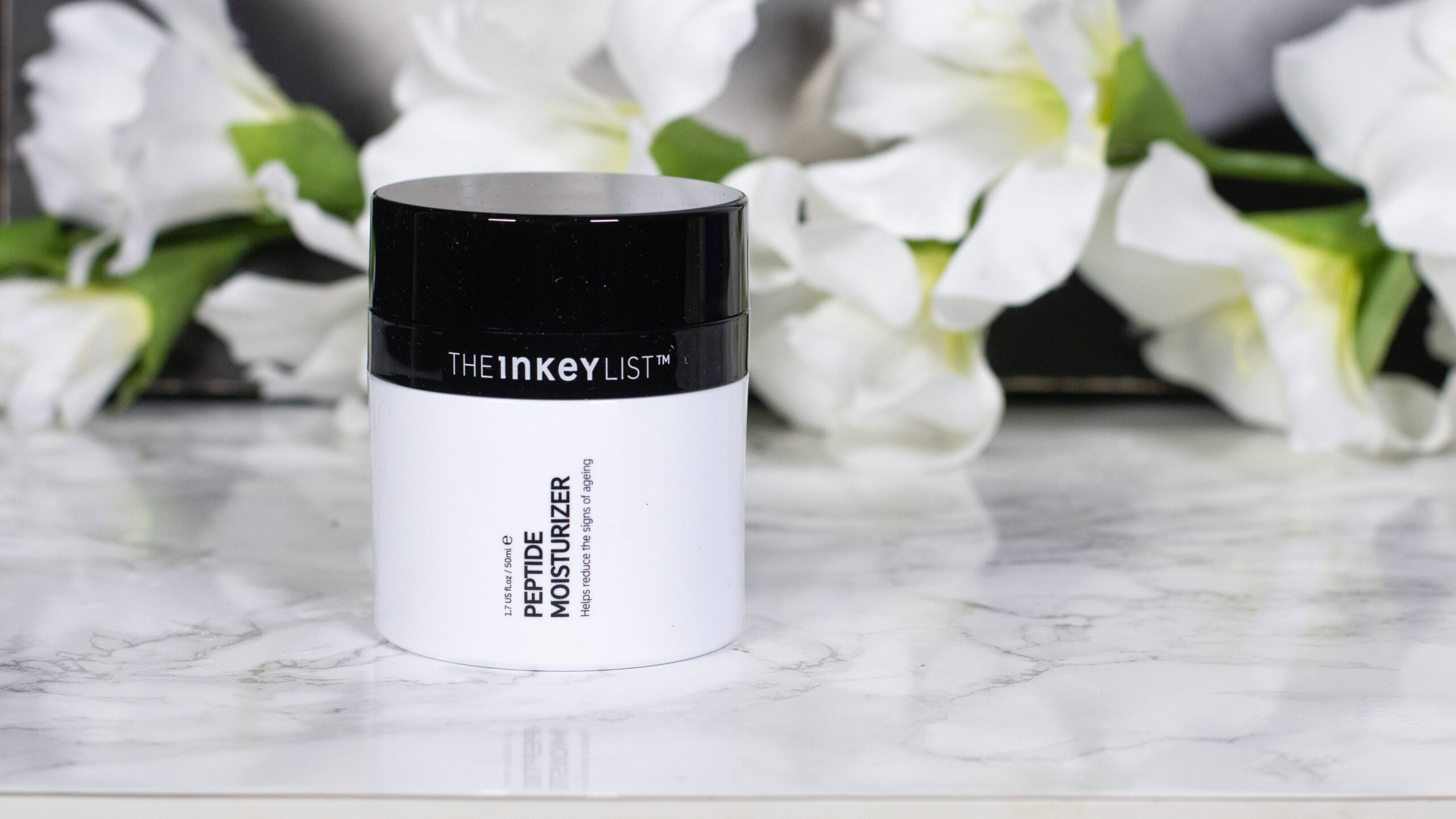 How does it compare to…
The Inkey List Peptide Moisturizer
Although both are close in terms of texture, I do prefer the version from The Inkey List just a little bit in how it sits on my skin. The Inkey List also offers a peptide, although I wouldn't make this my main reason for choosing one over the other. (More info: Peptides and their role in skincare) Both work really well on my skin especially during winter. (More info: Why you need to change your skincare routine in winter)
You can read my full review of The Inkey List Peptide Moisturizer here.

If you want to get a vote in the next Ask Doctor Anne Topic, Ingredient Spotlight or product I review, don't forget you can head over to my Patreon account to get more involved!
Shop the post
(Visited 1.698 times, 1 visits today)