ADVERTISEMENT INFO:  PRODUCTS MENTIONED ARE PR (GIFTED) AND LINKS USED ARE AFFILIATE LINKS. I RECEIVED NO MONEY TO WRITE THE BLOGPOST. PLEASE READ DISCLAIMER
I went to New York City for the first time a while ago and boy was I impressed! I only knew it from movies (and yes, we stopped by the Friends and the SATC house!), but you can't really grasp the uniqueness and energy from TV or books alone.
Now I am not going to bore you with my memories here (The tall building! The dirt on the streets! The constant noise! The things you could do!), but ever since I returned, I can't quite look at the Emile Cordon Lip Balms the same way as I did before.
You see they are manufactured in New York, and while the ones pictured here are called Lisa, Rose Petal and Carnele, other versions from the line are called Madison Queen or Manhattan Flair (More info: Emile Cordon Miracle Lips Balms reviewed), and they introduce their product on the website writing the following: Imagine you wake up in the morning getting ready at your vanity in your Upper East Side apartment with this luxurious formula.
So this is what I think of now whenever I reach for one of them: The indulgent and limitless luxury you can find in New York (even more nuanced by the poverty of those that weren't as lucky as others).
Because let's face it: No one needs a 60$ lip balm. It is unnecessary luxury, it is pure indulgence, it is a treat for yourself or a loved one with the sole purpose to bring joy to your life whenever you reach for it. Just like many of the things New York has to offer to those fortunate enough to have the means.
What Emile Cordon claims
A classic everyday lip balm for beautiful lips. In the greatest respect of the Classic Lip Balms, its formula has been preciously optimized for comfort and long-lasting moisture on the lips. Infused with Sweet Almond Oil, Coconut Oil, Squalane, and Vitamin E. Delicate color with an exclusive blend of scented varieties created by our Scent Discovery Team. Paraben and Petrolatum Free.
Facts about Emile Cordon Classic Lip Balms
Prize and size
One white plastic pot with golden print contains 12 g and is available for between 57 $ and 63 $ on the website here. The trio I own are available as a gift set in a bag that says "this bag contains magic" for 170 $ total here.
Texture and smell
All three have a similar texture, rich and hydrating, yet easy to spread and without feeling greasy on the lips. But when I apply them in the evening, there is still a soft layer and some shine left come morning without any trace of stickiness. If you compare them to another favorite of mine, the Nuxe Reve de Miel Lip Balm, that one feels heavier and is more matte, but lasts equally long.
Now while the texture is the same in all three, the scent is noticeably different. Rose Petal has the most subtle scent, according to the website the notes are: Rose, Rose Petal and Spring Time Garden, and it is the one I reach for the most on an everyday basis. Lisa smells a little more intense and to me like strawberries and cream, but according to the website the notes are: Sparkling Rose Champagne, Fresh Tea Rose and Charming Vanilla. Carnelé is similar in fragrance intensity to Lisa, but much warmer and to me more suited for winter and the upcoming holidays, with the notes according to the website being: Canelé, Rum, Vanilla Beans and Sweet Caramel.
None of them shows up as color on my lips.
Ingredients of Emile Cordon Classic Lip Balms
Ricinus Communis (Castor) Seed Oil
emo

|

perf
0
0
–
1
,
Cetyl Stearyl Alcohol
emo

|

vc

|

emu

|

surf
1
2
,
Olea Europaea (Olive) Fruit Oil

aox

|

emo
0
0
–
2
,
Hydrogenated Castor Oil
emo

|

vc

|

emu

|

surf
0
1
,
Glycine Soja (Soybean) Lipids
,
Lauryl Laurate
,
Copernicia Prunifera (Carnauba) Wax
,
Euphorbia Cerifera (Candelilla) Wax
perf

|

vc
,
Squalane

sii

|

emo
0
1
,
Cocos Nucifera (Coconut) Oil

emo

|

perf
0
4
,
Prunus Amygdalus Dulcis (Sweet Almond) Oil

emo
0
1
–
3
,
Tocopheryl Acetate
aox
0
0
,
Parfum (Fragrance)

perf
,
Polyhydroxystearic Acid
emu
Hover the mouse over an ingredient for short explanation. Read more on INCIDecoder.
Apart from perfume and colorants, the base formula is the same in all three: A mixture of different oils, Sweet Almond, Coconut, Castor Seed and Olive to be precise, alongside lipids like Squalane and Soybean and some waxes. Nothing outstanding, but it is, after all, a lip balm.
Would I repurchase and which skin types do I recommend the Emile Cordon Classic Lip Balms to?
As much as I love the hydration and the luxurious feeling they give me, I would probably not repurchase, much like I wouldn't choose the Upper East Side as my primary residence. If I were to spend that much money on a lip balm, I would go for one of the Miracle Balms from the same brand that do deposit color alongside the hydration.
Should you be looking for a gift for the person that has everything already and appreciates the little luxuries in life though, I think they are a beautiful choice. I would take them as a gift again any day.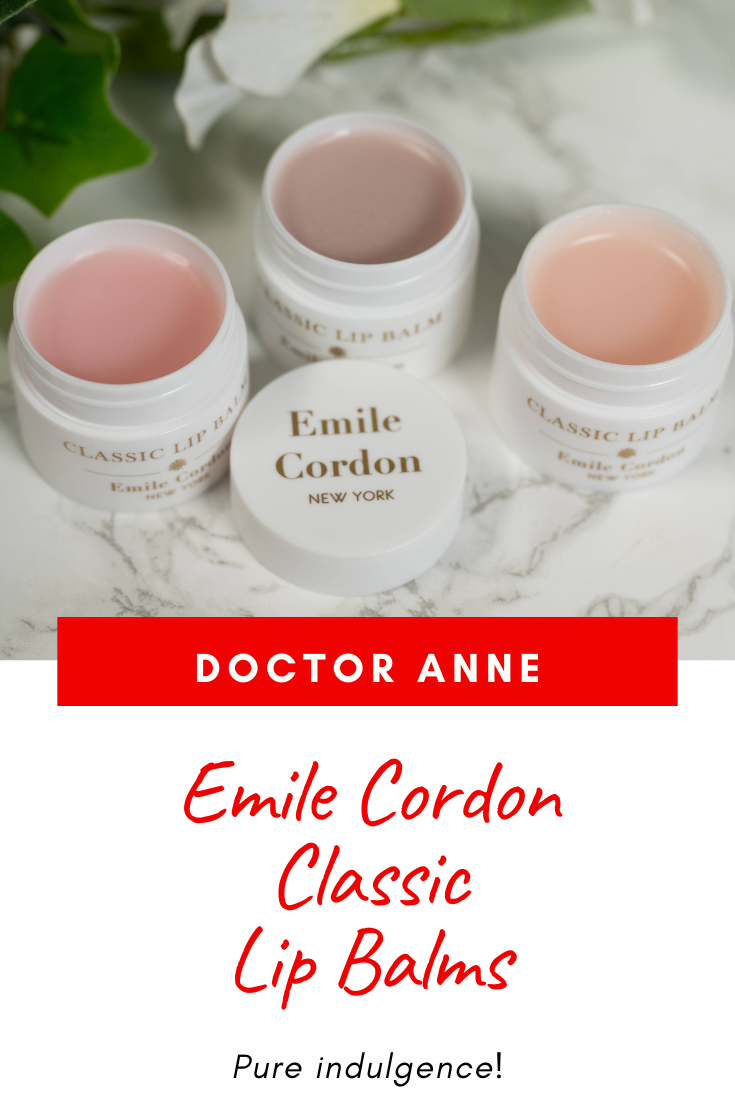 Shop the post

Don't forget to check out the Discount Code Page on top if you want to save some money on your next skincare purchase.
If you want to get a vote in the next Ask Doctor Anne Topic, Ingredient Spotlight or product I review, don't forget you can head over to my Patreon account to get more involved!
(Visited 249 times, 1 visits today)