ADVERTISEMENT INFO: PRODUCTS MENTIONED IN THIS POST ARE PURCHASED MYSELF, BUT LINKS USED ARE AFFILIATE LINKS. I RECEIVED NO MONEY TO WRITE THE BLOGPOST. PLEASE READ DISCLAIMER

I haven't done many foundation reviews lately, mainly because I haven't worn any foundation for most of the last two years anyway. I still don't wear it daily, but there have been rare occasions and for them I wanted something else than the full coverage one that I use for filming. (More info: Foundation Review Estee Lauder Double Wear)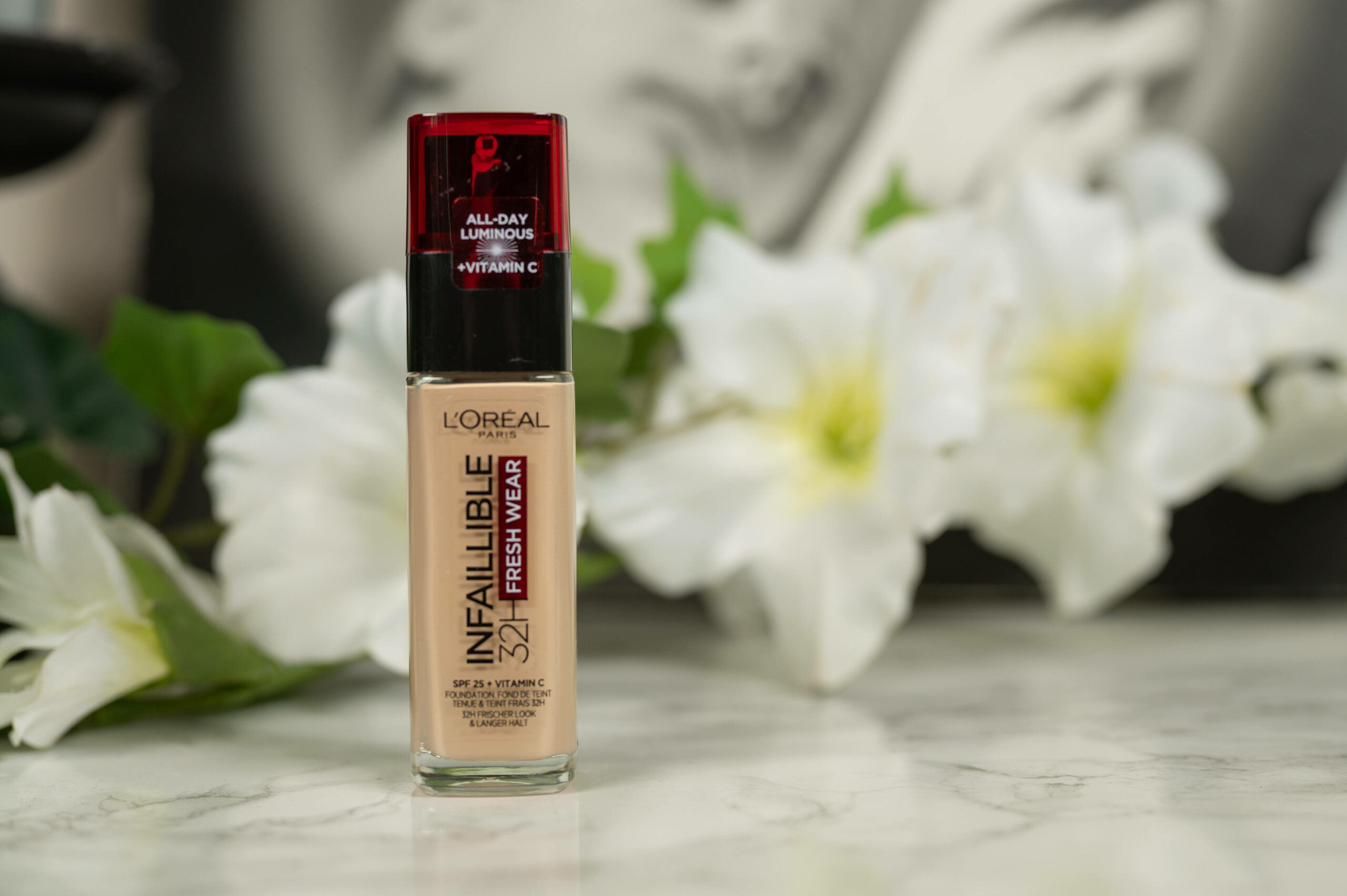 I needed something that felt less like a foundation, and the L'Oréal Infallible 32 Hour Fresh Wear Foundation claiming a fresh, breathable and lightweight formula seemed to be a good one to ease my way back in.
But is it true to its claims and how does it wear on my sometimes oily, acne prone and mature skin? Let's see.
What the L'Oréal Infallible 32 Hour Fresh Wear Foundation claims
Our breakthrough longwear foundation offers up to 32 hours of wear with a weightless formula that allows the skin to breathe. The ultra-thin liquid goes on smoothly to give a fresh, even, healthy-looking complexion
Facts about the L'Oréal Infallible 32 Hour Fresh Wear Foundation
Prize and size
One bottle, glass with a pump, in the typical L'Oréal Foundation packaging, contains 30 ml and is available in 30 different colors with the majority of shades in the light to medium shade range. It is available for 7,95 € on the website here.
Texture and best ways of application
As you would expect from the description, it is a very runny formula that I preferred to apply either with a beauty blender or my fingers – old school, I know. I found that if I used a brush, the flat top ones worked the best, the fluffier ones I used sometimes left it looking a little patchy or made it emphasize my pores.
Finish, feeling on the skin and coverage
The finish is skin-like, neither matte nor extra dewy and the coverage is medium, yet buildable to full. As you can see, the pigmentation on my lower cheeks is still shining through, as is some hyperpigmentation on my temples, but it did a pretty good job at evening out the rest of my face, and that with just one layer dabbed on with a damp beautyblender.
While it doesn't feel heavy, I can definitely feel I am wearing something, similar to how a heavier moisturizer would feel. I have worn more lightweight foundations, yet definitely heavier foundations as well, and it isn't uncomfortable. That "Something on my skin" feeling will disappear within the first hour.
This is what it looks like freshly applied:
How does it wear throughout the day?
I need to preface that by saying that I did not use a primer or makeup fixing spray when filming these clips, mainly because I don't use them when I wear foundation throughout the day. If you use one or both, you might be able to increase the longevity on your skin.
2 hours after application
The first thing that I notice at around the two hour mark is that it gets a little more dewy around the nose and chin area than I prefer, but otherwise I am still happy with how it looks. If it weren't for the review, I would powder now, but didn't do it to show you how it performs on its own.
If I had very dry and flaky bits of skin, like the leftovers of a dried up zit or similar, the foundation would stick to that by now and emphasize the flakes a little. Other than that though, as you can see in the closeup, it isn't settling into my lines, pores or doing other weird things.
4 hours after application
Now remember that the footage you are looking at here is filmed in natural light and in 4k. What you see here is pretty much what you would see when you would meet me in real life. From a distance it still looks pretty good, but close up, you can see it start to separate and disappear a little around the nose, with some of the redness I have there shining through. Other than that though, as you can see in the closeup, it isn't settling into my lines, pores or doing other weird things.
6 hours after application
The foundation disappearing is now visible from the distance around the nose and chin and even more so close up. There still is some coverage going on, but you can see more texture and pigmentation shining through. If I had an important meeting or date (ha!) I would touch up now.
Now 6 hours doesn't even come close to a work day for the majority of us, and I would expect a foundation that claims to be longwearing to last longer than that. It is long enough for a night out though, which is when I wear foundation, and of course depends on your skin and any additional preparation steps you took.
11 hours after application
This is right before I take it off. Apologies for the change in lighting, I was using natural light from a north facing window and this one is more flattering than the one in the clips before.
The coverage now is almost entirely gone, you get a good look at the angry red zit on my chin that previously stayed covered pretty well. It looks pretty similar to how my face looked before I put on foundation in the morning, with maybe a little less prominent pigmentation on the cheeks – but that might be the changed lighting more than the foundation though.
Still it doesn't emphasize my lines or makes my face look worse than it did bare – don't laugh, that has happened to me with other foundations, so I don't mind it too much.
I have not – obviously – tested it for 32 hours, but as it claims "up to", which is a sneaky way of saying "anything between 1 and 32 hours is possible", I didn't expect it to last that long anyway. Still, six hours is a little shorter than I would have hoped.
Touching up throughout the day
I have no footage of how well it works for touchups – my preferred way is to go in with a damp, clean beauty blender to redistribute it and then maybe add an additional, very light layer in areas where it has completely rubbed off.
It isn't perfect, but looks well enough to see me through the final meeting of the day without having to re-do my full face.
Which skin types do I recommend the L'Oréal Infallible 32 Hour Fresh Wear Foundation to?
I do enjoy it on skin like mine, which can be oily in the t-zone, but also dehydrated or dry in other areas and that is prone to breakouts. As it doesn't emphasize fine lines and wrinkles I think it will work well on more mature skins as well. The only skin type I would not recommend this to is very oily ones, as my natural oils did start to break it up at around the 4 hours mark, which makes me doubt it will stay long on these skins. If you have a lot of texture and dry skin, I don't think it will be the best either, you will probably need something more hydrating than that.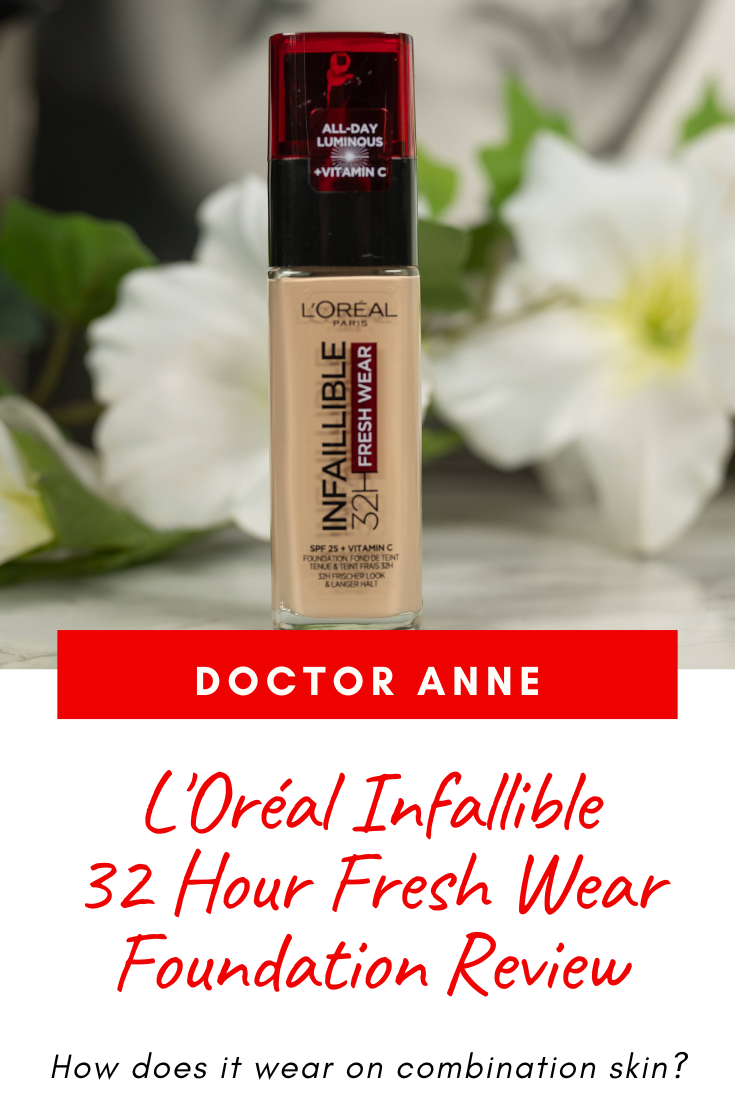 You can buy it here


Don't forget to check out the Discount Code Page on top if you want to save some money on your next skincare purchase.
If you want to get a vote in the next Ask Doctor Anne Topic, Ingredient Spotlight or product I review, don't forget you can head over to my Patreon account to get more involved!

(Visited 13.145 times, 1 visits today)