ADVERTISEMENT INFO: SOME PRODUCTS MENTIONED IN THIS POST ARE PURCHASED MYSELF AND LINKS USED ARE AFFILIATE LINKS. I RECEIVED NO MONEY TO WRITE THE BLOGPOST. PLEASE READ DISCLAIMER
I am a huge fan of tea in various flavors – I drink black, green and white tea, I drink it plain, with sugar, with milk, but somehow Kombucha, the star in the fresh Kombucha Facial Treatment Essence, never really grew on me. At least not as beverage.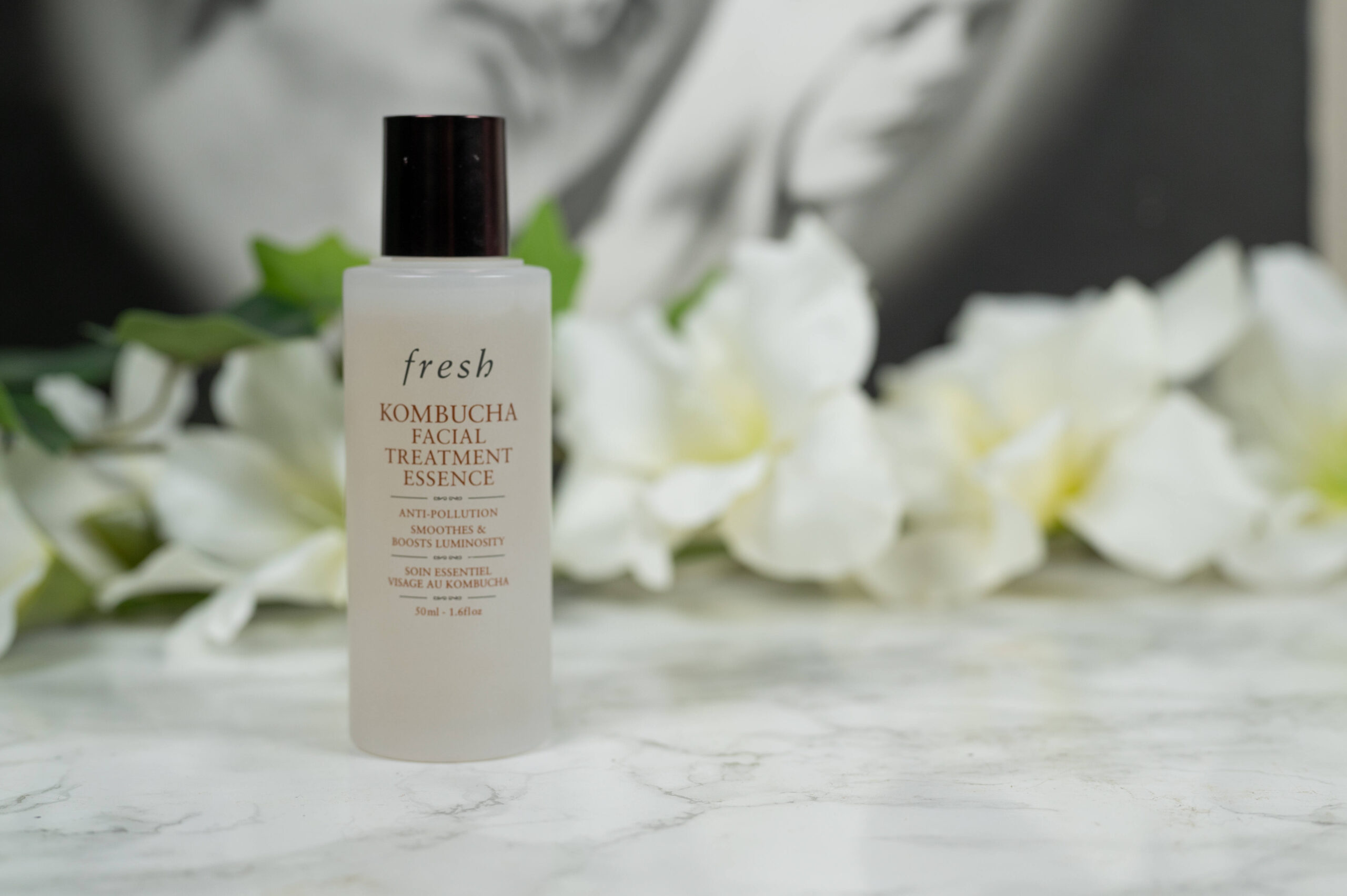 Kombucha is fermented black tea, and besides the benefits of fermented things on gut health, there seems to be a benefit regarding skin and skincare as well. (More info: The benefits of fermented ingredients in skincare). Fermentation breaks down bigger molecules into their smaller components, making it easier for them to penetrate the skin and be beneficial.
But does that really make a difference here?
What the fresh Kombucha Facial Treatment Essence claims
A best-selling anti-pollution treatment essence powered by potent kombucha to hydrate & minimize fine lines for a smoother, more luminous complexion.
It also claims to protect against indoor and outdoor pollution as well as digital light, probably a reference to blue light emitted from computer screens. (More info: Is your phone aging your skin?)
Facts about the fresh Kombucha Facial Treatment Essence
Prize and size
There are several sizes available. I got the travel size, which contains 50 ml and is available for 36 $ on the website here. The biggest one available (and the best value for money if you know you enjoy it) would be the 250 ml version that costs 108 $ here.
Texture and smell
This essence is quite runny, applied to the skin it behaves like water, but feels a little more substantial after application. The scent is pretty strong, something I have noticed with all fresh products I have tried, something sweet and floral, and tends to linger on the skin. I admit the scent isn't my favorite, but I could get over it.
How to use the fresh Kombucha Facial Treatment Essence
Essences are supposed to be used after cleansing to both deliver beneficial ingredients and to prepare the skin for the next step (like serum and moisturiser).  I talked about the difference between essence, toner and tonic before (More info: What is an essence and do you need one?), but in recent times it is often just a name that is used for a variety of skincare products of different texture, so in general this one would come after cleansing and before or instead serum, depending on what you feel your skin needs. (More info: Is skinimalism the key to a healthier skin?)
Due to its claims I would use it in the mornings rather than at night, but both would work fine based on the ingredients. You can absolutely use it for the Seven Skin Method (More info: What is the Seven Skin Method) and it pairs well with everything else.
Ingredients of the fresh Kombucha Facial Treatment Essence
Water
solv
,
Saccharomyces Ferment Filtrate

so

|

h
,
Glycerin

sii

|

h
0
0
,
Camellia Sinensis Leaf Extract

aox

|

so
,
Pentylene Glycol
solv

|

h
,
Polyglycerin-3
h
,
Kigelia Africana Fruit Extract

amic

|

so

|

aox
,
Citrus Unshiu Peel Extract
sb

|

aox
,
Sodium Hyaluronate

sii

|

h
0
0
,
Adenosine

cci
,
Tocopheryl Acetate
aox
0
0
,
Tocopherol

aox
0
–
3
0
–
3
,
Butylene Glycol
h

|

solv
0
1
,
Diglycerin

sii

|

h
,
Peg-60 Hydrogenated Castor Oil
emu

|

surf
,
Sodium Benzoate
pres
,
Parfum (Fragrance)

perf
,
Disodium Edta
chel
,
Hydroxyethylcellulose
vc
,
Sodium Citrate
chel

|

buff
,
Bht
aox

|

pres
,
Citric Acid
buff
,
Potassium Sorbate
pres
,
Biotin
,
Phenoxyethanol
pres
,
Linalool

perf
,
Citronellol

perf
,
Geraniol

perf
Hover the mouse over an ingredient for short explanation. Read more on INCIDecoder.
As it was to be expected, the main ingredient right after water is Saccharomyces Ferment Filtrate, which has shown both in vitro as well as in vivo to be anti inflammatory, then Camellia Sinensis Leaf Extract, said to be a potent antioxidant as well as fighting inflammation and Adenosine, again used to reduce inflammation and soothe the skin.
The two other plant extracts, Kigelia Africana Fruit Extract and Citrus Unshiu Peel Extract I am less familiar with, but from what I have found they claim to be brightening and tightening, but I wouldn't put too much hope in this.
You will find both perfume as well as Linalool, Citronellol and Geraniol, probably from the plant extracts, which might be problematic for rosacea prone skin. (More info: Is fragrance in your skincare really that dangerous?)
Does it live up to its claims?
Hm.
I don't really understand where the smoothing and more luminous claims come from. You do get antioxidants as well as anti inflammatory benefits though, which is probably where the "pollution protection" claim comes from. (More info: Do you need antipollution skincare?)
How does it compare to…
The 107 Micro Drizzle Hydro Toner
First of all, the 107 Micro Drizzle Hydro Toner does not contain any Saccharomyces Ferment Filtrate, but it has Beta-Glucan, Allantoin and Tea Extract as well as vinegar, so I felt it was fair to compare them for their soothing abilities.
The 107 offer doesn't have a scent to it though and has no added fragrance, so if you don't like the scent of fresh's offer that much, it might be a good alternative to look into, especially as it is only a fraction of the price.
You can read my full review of the 107 Beauty Micro Drizzle Hydro Toner here.
Would I repurchase and which skin types do I recommend the fresh Kombucha Facial Treatment Essence to?
While I do like it on my skin, I don't like the scent and am not willing to spend that much on a toner. It is suitable for all skin types except rosacea and eczema prone ones that don't react well to fragrance (More info: How to treat rosacea skin). In general though I think there are other ones out there that work just as well, but for a fraction of the price.
Shop the post
Don't forget to check out the Discount Code Page on top if you want to save some money on your next skincare purchase.
If you want to get a vote in the next Ask Doctor Anne Topic, Ingredient Spotlight or product I review, don't forget you can head over to my Patreon account to get more involved!
(Visited 1.575 times, 3 visits today)