ADVERTISEMENT INFO: PRODUCTS ARE DISCUSSED IN THIS BLOGPOST ARE PR (GIFTED) AND LINKS USED ARE AFFILIATE LINKS. I RECEIVED NO MONEY TO WRITE THE BLOGPOST. PLEASE READ DISCLAIMER
No, you do not need a dedicated Niacinamide Serum in your routine. Niacinamide is in so many skincare products these days that you most likely get enough through your multipurpose products already.
With that being said: I almost always have one in my rotation, and the reason for that is my minimalistic approach. Sounds counterintuitive, but on the nights I use Tretinoin, I don't use much else – as soon as the weather gets warmer it is cleanse and Tretinoin, no other actives or moisturizers. And here is where things like the Geek and Gorgeous B-Bomb 105 Niacinamide Serum come in handy: They give me the Niacinamide I like to pair with my Tret, but no potential irritating actives or another layer like a moisturizer would. (More info: How to use Retinol with minimal irritation)
But I am picky when it comes to which serums I like – did the Geek and Gorgeous B-Bomb meet my expectations?
What Geek and Gorgeous B-Bomb claims
A light and hydrating 10% Niacinamide (aka Vitamin B3), Zinc PCA and Sarcosine formula to help combination skin related problems, such as enlarged pores, oiliness, and blemishes.
Facts about Geek and Gorgeous B-Bomb
Prize and size
One bottle contains 30 ml and is available for 8,50 € on the website here. It comes in the usual glass dropper bottle and is vegan as well as fragrance- and essential oil free with a pH of 5.5 – 6.5.
Texture and smell
The serum is slightly milky and while still runny just a tad more dense than watery – it runs through your fingers, but not as fast as others do is the best way to describe it. There is a faint scent that I can't really name, but it is only noticeable when you really sniff it.
How to use the Geek and Gorgeous B-Bomb
As I mentioned before, I use my Niacinamide Serum before my Tretinoin, as this combo seems to be beneficial in reducing irritation, so I do my evening cleanse, apply this one and then, once it has absorbed completely, follow up with Tret. As Niacinamide does play well with all other ingredients and isn't sensitive to light, you can use it wherever it fits your routine best. The light texture and quick absorption mean it is just as good used in the mornings, and I never experienced any pilling despite a light tackiness that it left behind. (More info: Everything you need to know about Niacinamide)
Ingredients of Geek and Gorgeous B-Bomb
Aqua (Water)
solv
,
Niacinamide

cci

|

sb

|

aacne

|

h
,
Butylene Glycol
h

|

solv
0
1
,
Glycereth-26
h

|

emo

|

vc
0
0
,
Zinc Pca

aacne

|

h
,
Sarcosine

,
Propanediol
solv

|

h
,
Pentylene Glycol
solv

|

h
,
Xanthan Gum
vc
,
Ethylhexylglycerin
pres
,
Phenoxyethanol
pres
Hover the mouse over an ingredient for short explanation. Read more on INCIDecoder.
First, obviously Niacinamide at 10%. Niacinamide is just an all round good ingredient, helping with oil control, pigmentation and skin barrier function, but it has shown all these beneficial effects at around 5% concentration – you basically get more than you need here. That isn't usually a problem, as most people tolerate it very well, but as it is present in many products, it might get to the point where it gets too much for you.
The Zinc PCA is aimed at oily skin types, as it helps regulate sebum production and can be antibacterial – if you are dry already, it might be counterproductive. Other than that you have some humectants and preservatives, so really a serum focused on its main ingredient rather than a multitasker.
Does it live up to its claims?
Mostly yes.
I don't find it particularly hydrating, but everything else is among the skincare benefits of Niacinamide and therefore entirely possible.
How does it compare to…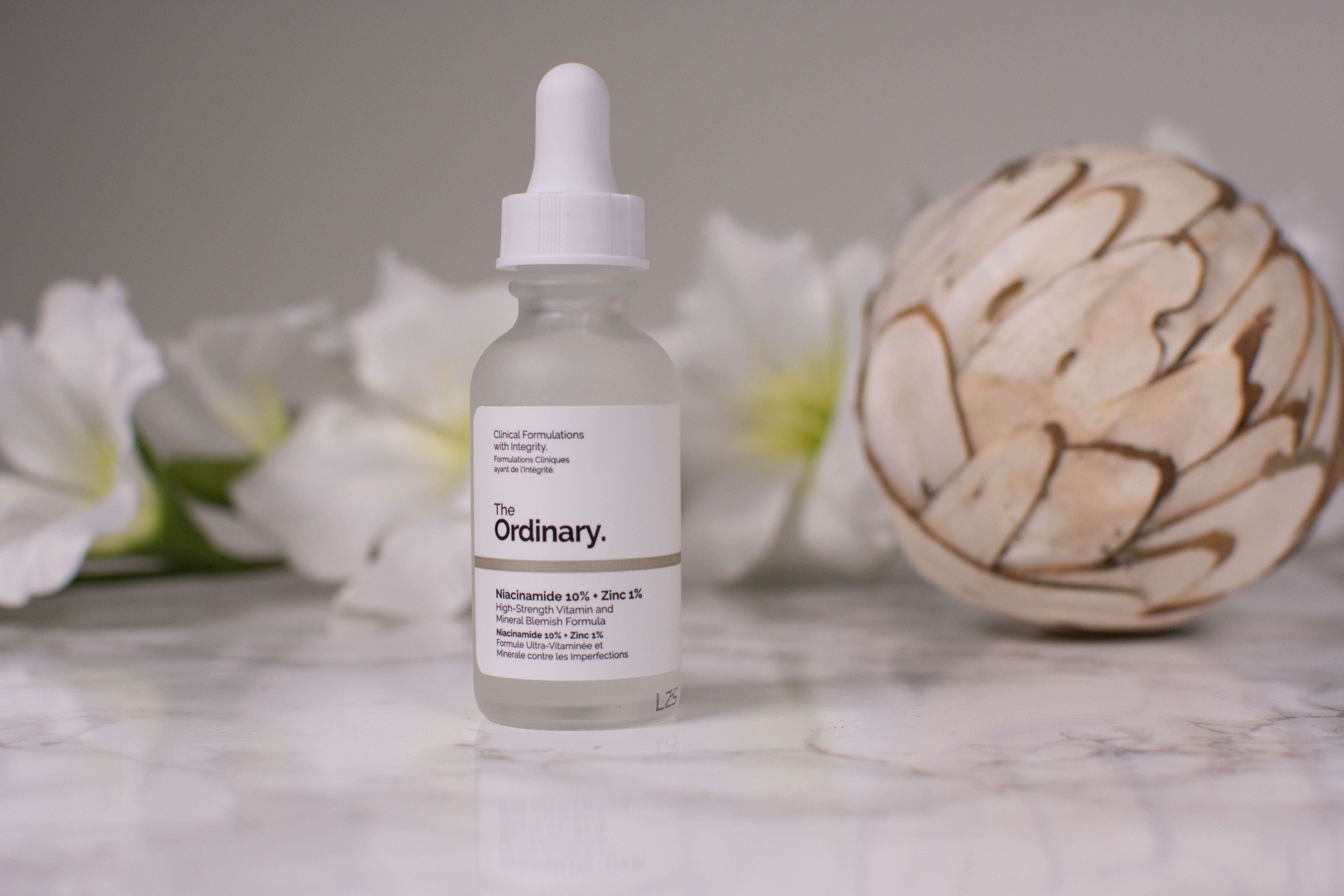 The Ordinary Niacinamide + Zinc
The Ordinary's version is a little milkier and a little less runny, but that is something you only notice in a direct side by side comparison. If I had to test them blindfolded, I probably wouldn't be able to tell them apart, neither in texture and feel nor in effects on my skin.
You can read my full review of The Ordinary Niacinamide + Zinc here.
The Inkey List Niacinamide 10%
Even thicker than the one from The Ordinary and definitely with way more tackiness, The Inkey List does not contain Zinc PCA and is thus probably better suited for dry skin types. I much prefer Geek and Gorgeous in texture, but my skin is still rather oily in the t-zone in summer.
You can read my full review of The Inkey List Niacinamide Serum here.
Would I repurchase and which skin types do I recommend Geek and Gorgeous B-Bomb to?
I like it as much as I like the version from The Ordinary, my previous go-to version, and as they both feel almost identical to me and don't differ in price that much, it probably comes down to which one is best available when it comes to reordering. It is best suited for combination oily skin types, if you are dry you might prefer The Inkey Lists version without the added Zinc.
Shop this one and my other favorite supporting serums here

Don't forget to check out the Discount Code Page on top if you want to save some money on your next skincare purchase.
If you want to get a vote in the next Ask Doctor Anne Topic, Ingredient Spotlight or product I review, don't forget you can head over to my Patreon account to get more involved!
(Visited 2.254 times, 1 visits today)