ADVERTISEMENT INFO:  PRODUCTS MENTIONED ARE PR (GIFTED) AND LINKS USED ARE AFFILIATE LINKS. I RECEIVED NO MONEY TO WRITE THE BLOGPOST. PLEASE READ DISCLAIMER
Once it gets cold, I am all about barrier repair – even more than I usually am, so a moisturizer called Geek and Gorgeous Happier Barrier is something that I immediately need to put to the test. After all, my skin and skin barrier didn't react too well to the sudden onset of freezing cold last weekend! (More info: How I am updating my skincare routine for winter)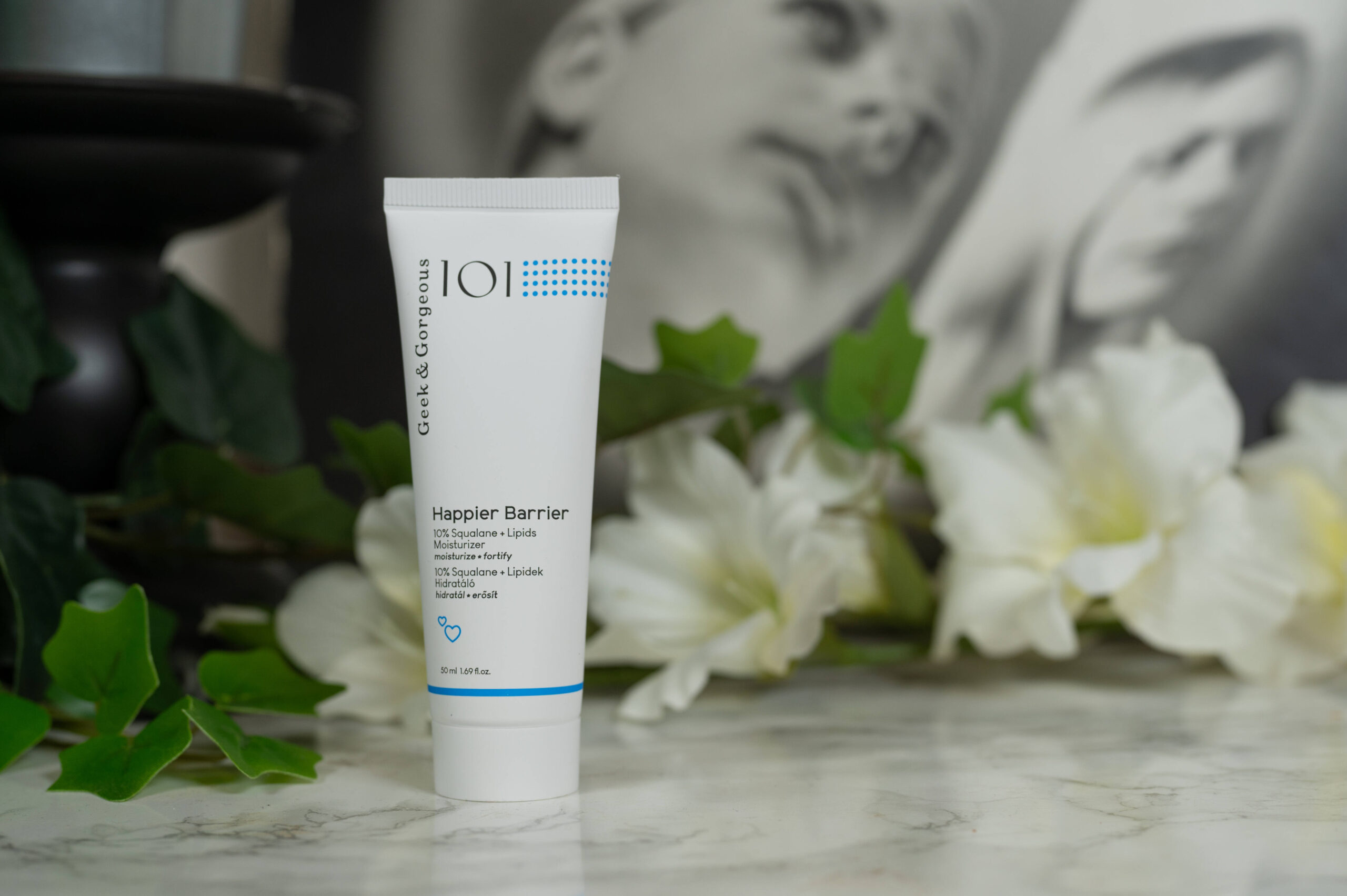 To put into context, my skin isn't overly reactive, but as I have been on Tretinoin for ages to treat my adult acne, it is more sensitive to external stressors than it used to be and I make an effort to take precautious measures to prevent eczema flare ups and dry patches, both through my lifestyle and the products I am using. (More info: The 5 things to do when your skin barrier is compromised)
So, why is the product called Happier Barrier? What exactly in it is supposed to get your skin in a good mood?
Let's talk!
What the Geek and Gorgeous website claims
A nourishing, yet lightweight moisturizer with squalane, skin-identical lipids + green tea polyphenols for a healthy skin barrier & silky soft skin.
Facts about the Geek and Gorgeous Happier Barrier moisturizer
Prize and size
It comes in a white tube with a dark blue line around the bottom, and although it somehow looks small, it contains 50 ml and is available for 10,80 € on the website here.
Texture and smell
The first thing you'll notice is that Happier Barrier has a peachy color when it comes out of the tube. It also feels a little firmer, but still is light enough to spread easily. There is no immediately noticeable scent, but if you go real close to sniff you'll get a whiff of something a little earthy, probably the ingredients own scent as the product itself is fragrance-free.
How to use the Geek and Gorgeous Happier Barrier moisturizer
Well, you probably don't need me to tell you when to use moisturizer – it is the last step before sunscreen in the mornings and the last step in your routine at night.
People with more oily skin using a hydrating sunscreen will get away with not using any moisturizer when it is warmer, which is what I usually do. So during the year I would use a lightweight moisturizer at night from around May to September and then switch that one to the mornings and use Happier Barrier at night for the rest of the year. The only exception is that I prefer to use a more occlusive moisturizer on my Tretinoin nights year round – I use it as a barrier, so moisturizer and then the Tretinoin to prevent irritation – and for that the Happier Barrier version is what I reach for. (More info: How to use Retin-A with minimal irritation)
Happier Barrier version feels substantial on the skin, if you know what I mean, but has a very natural finish and does not add additional glow. Before and after application my skin looks exactly the same. It isn't prone to pilling either or leaves the skin tacky, probably because of the lack of Hyaluronic Acid.
Ingredients of the Geek and Gorgeous Happier Barrier moisturizer
Water, Squalane, Dicaprylyl Carbonate, Glycerin, Jojoba Oil/​Macadamia Seed Oil Esters, Polyglyceryl-3 Methylglucose Distearate,Butylene Glycol, Cetearyl Alcohol, Hydroxyethyl Acrylate/​Sodium Acryloyldimethyl Taurate Copolymer, Camellia Sinensis Leaf Extract,Bisabolol, Allantoin, Ceramide NG, Squalene, Phytosteryl Macadamiate, Phytosterols, Tocopherol, Tocopheryl Acetate, Citric Acid, Ethylhexylglycerin, Phenoxyethanol
You will find Glycerin as main humectant, but paired with ingredients with emollient and occlusive properties, like Squalane, part of human sebum, a mixture between Jojoba, Macadamia and Olive-oil derived lipid esters and Ceramide NG. These three mimic the natural lipid composition we find in healthy skin, which is probably where the barrier repair claim stems from. (More info: Ceramides in skincare)
As an antioxidant there is Camellia Sinensis Leaf Extract with Green Tea polyphenols, and you will find Allantoin and Bisabolol for soothing.
It has the focus on reducing the Transepidermal Water Loss due to a lack of lipids rather than on drawing moisture into the skin.
Does it live up to its claims?
Yes.
It is lightweight, but very nourishing and contains a mixture of skin identical lipids and green tea polyphenols.
How does it compare to…
Geek and Gorgeous Hydration Station
This is the other new moisturizer the brand released, and it is aimed at normal to oily skin. Not surprisingly it is much more lightweight in texture, but equally as hydrating. Both share Glycerin as main humectant, no Hyaluronic Acid, and have Bisabolol and Allantoin for soothing as well as antioxidants, and both have that beautiful natural finish I very much appreciate..
I personally enjoy both for different times of the day and different seasons.
You can find my full review of Geek and Gorgeous Hydration Station here.
Would I repurchase and which skin types do I recommend Geek and Gorgeous Happier Barrier moisturizer to?
Yes, I enjoy Happier Barrier enough to put it on my "to repurchase" list, especially paired with Tretinoin for buffering. It is aimed at normal to dry skins, but as long as you aren't very oily, I think it would work for any skin type, especially during the cold and winter.
Shop the post here
Don't forget to check out the Discount Code Page on top if you want to save some money on your next skincare purchase.
If you want to get a vote in the next Ask Doctor Anne Topic, Ingredient Spotlight or product I review, don't forget you can head over to my Patreon account to get more involved!
(Visited 2.591 times, 1 visits today)