ADVERTISEMENT INFO: THIS BLOG POST USES AFFILIATE LINKS AND CONTAINS GIFTED ITEMS. I RECEIVED NO MONEY TO WRITE IT. PLEASE READ DISCLAIMER.
I kid you not, the "Liquid" in the Geek & Gorgeous 101 Liquid Hydration Toner is really an accurate description of how this toner is in texture. The first time I used the bottle I opened it and energetically poured some into my hand, covering myself, the sink and parts of the bathroom floor in product.
Good thing it is very reasonably priced, doing something like that with more expensive skin care can ruin the whole night!
But other than very runny, what else is there to say about this toner? This is what we are going to talk about today.
If you are interested in the brand in general, I already reviewed their Jelly Joker cleanser and have a few more reviews in the pipeline, that I will add here.
What the Geek & Gorgeous 101 Liquid Hydration claims
A silky facial toner with 5% Panthenol + Natural Moisturising Factors (NMF) to hydrate and soothe all skin types.
Facts about the Geek & Gorgeous 101 Liquid Hydration
Prize and size
One bottle contains 110 ml and retails for 7 € on the website here. It is vegan and has a pH of 4,5 to 5.
Texture and scent
Now I already mentioned in the introduction how liquid this toner is, and to be honest it looks and feels like water. As it is unscented there is also no scent to detect, so I guess if my husband would just fill up this bottle with water, I wouldn't really notice just from looking at it.
How to use the Geek & Gorgeous 101 Liquid Hydration Toner
Like I do with all my toners, I don't use a cotton pad but pour some in the palm of my hand – very, very carefully! – and pat it all over my face.
Geek & Gorgeous 101 Liquid Hydration Ingredients
Water
solv
,
Panthenol

so

|

h
0
0
,
PEG/PPG/Polybutylene Glycol-8/5/3 Glycerin
h
,
Sodium PCA

sii

|

h
0
0
,
Diglycerin

sii

|

h
,
Urea

sii

|

h
,
Hydrolyzed Rice Protein
,
Sorbitol
h
0
0
,
Lysine
,
Pca

sii

|

h
,
Allantoin

so
0
0
,
Lactic Acid

exf

|

h

|

buff
,
Tocopherol

aox
0
–
3
0
–
3
,
Citric Acid
buff
,
Ethylhexylglycerin
pres
,
Phenoxyethanol
pres
Hover the mouse over an ingredient for short explanation. Read more on INCIDecoder.
Other than humectants, including the so called Natural Moisturizing Factors (NMF) this toner contains 5% Panthenol, an ingredient great for soothing as well as Allantoin, again used for soothing and wound healing. The Lactic Acid you can see in the formula is probably not in here as exfoliant, due to the low concentration and the (for exfoliating properties) not ideal pH, so I would not count that as exfoliating toner. It is a soothing, hydrating product that could be used on my skin without stinging even if it was upset due to all the things I tend to do to it.
Does it live up to its claims?
Yes.
It is hydrating, soothing and should work for all skin types.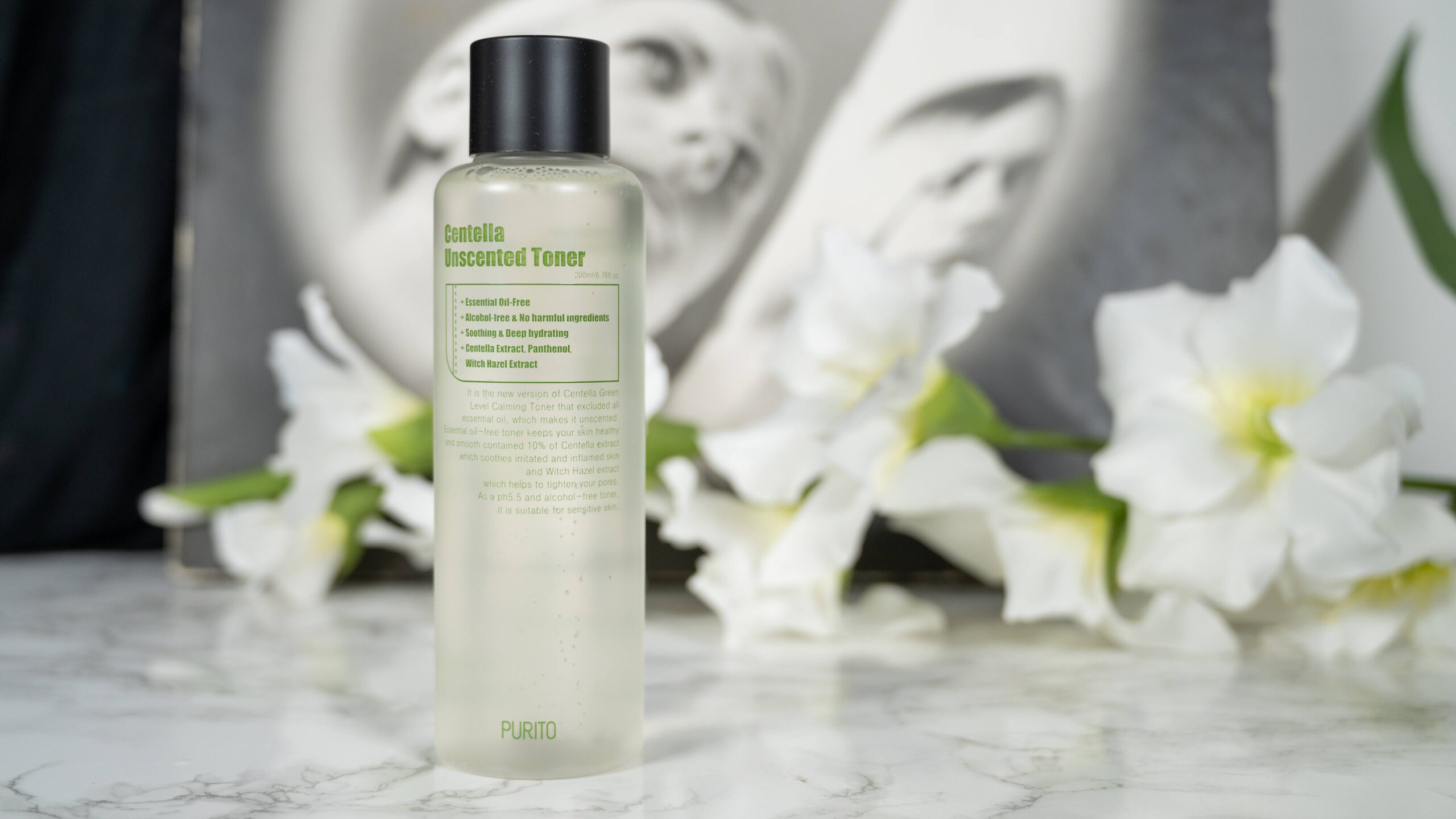 How does it compare to…
Purito Centella Unscented Toner
While both are designed to soothe and hydrate the skin (and do a great job in that!), the Purito version is much thicker in texture and features Centella Asiatica rather than Panthenol. As both ingredients are used to calm irritated skin it probably comes down to your texture preferences when deciding which one to go for – I personally have not made up my mind yet.
Read my full review of the Purito Centella Unscented Toner here.
Would I repurchase?
Eventually.
Either this one or the Purito Centella Unscented Toner will earn a permanent place in my routine for sure.
Whom do I recommend it to?
This toner is one that I wholeheartedly recommend for every type of skin and skin concern out there.
(Visited 2.882 times, 1 visits today)