ADVERTISEMENT INFO: THIS BLOG POST USES AFFILIATE LINKS AND PR-SAMPLES. I RECEIVED NO MONEY TO WRITE IT. PLEASE READ DISCLAIMER
You know I am all about soothing the skin and gentle skincare, especially if you are on prescription acne treatments, and in two of my recent posts I talked about how beneficial Colloidal Oatmeal and Centella Asiatica Extract can be for that.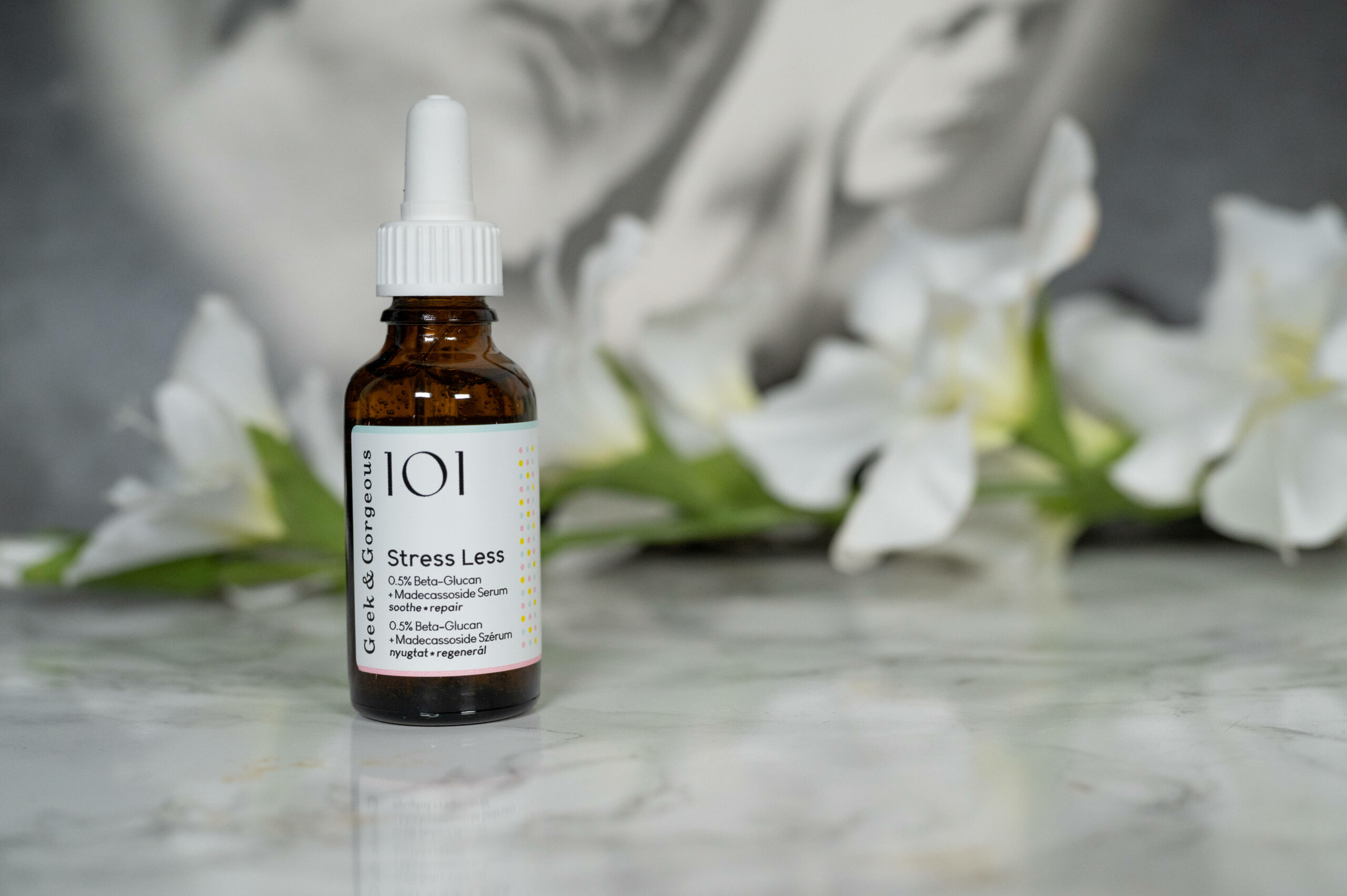 Well, the friendly people at Geek & Gorgeous must have read my mind, as one of their newest releases is the Geek & Gorgeous 101 Stress Less Serum, featuring both 0,2% Beta-Glucan, found in Colloidal Oatmeal, and 0,3% Madecassoside, found in Centella Asiatica.
Sounds like a match made in heaven? Here is my review!
Why the ingredients in the Geek & Gorgeous 101 Stress Less Serum are good for the skin
I recommend you read the post on Colloidal Oatmeal and Centella Asiatica for in-depth information, but in short: Beta-Glucan is a soluble fibre that forms a colloid film on the skin when dispensed in liquid, helping to improve the skin's barrier function. (More info: The benefits of Colloidal Oatmeal for the skin)
Madecassoside on the other hand, a so called Centelloid, is both an antioxidant as well as a humectant and has shown in lab studies to increase collagen production, which means it aids in wound healing. (More info: The benefits of Centella Asiatica for the skin)
What the Geek & Gorgeous 101 Stress Less Serum claims
A light & silky gel formula with high amounts of Beta-Glucan from Oat and Madecassoside from Centella Asiatica to soothe and repair the skin.
Facts about the Geek & Gorgeous 101 Stress Less Serum
Prize and size
One bottle, dark glass with a dropper, contains 30 ml and retails for 10,80 € on the website here.
Texture and scent of the Geek & Gorgeous 101 Stress Less Serum
It isn't watery, but feels like a light gel in firmness, spreads easily and has no noticeable scent.
How to use the Geek & Gorgeous 101 Stress Less Serum
While both morning and night time use is possible, I like to use it after cleansing and before I use my prescription Tretinoin at night. (More info: How to use Tretinoin with minimal irritation)
During my time in the South of France though, when my skin was exposed to a lot of salt water from swimming in the ocean, I used it during the day, after the morning swim, as extra calming step in between. (More info: Why is my skin freaking out after vacation?)
Geek & Gorgeous 101 Stress Less Serum Ingredients
Aqua (Water)
solv
,
Methyl Gluceth-20

h
,
Saccharide Isomerate

h
,
Glycerin

sii

|

h
0
0
,
Madecassoside (0.3%)

aox

|

so
,
Beta-Glucan (0.2%)

so

|

h
,
1,2-Hexanediol
solv
,
Citric Acid
buff
,
Sodium Citrate
chel

|

buff
,
Caprylyl Glycol
h

|

emo
,
Carbomer
vc
0
1
,
Sodium Hydroxide
buff
,
Ethylhexylglycerin
pres
,
Phenoxyethanol
pres
Hover the mouse over an ingredient for short explanation. Read more on INCIDecoder.
Other than Madecassoside and Beta-Glucan, you get a bunch of humectants, Glycerin being the best known, and preservatives. As for the concentrations of both "actives" – I can't say if these are the ideal concentrations, as there is simply not much data as to how much you actually need, but both have been tested at concentrations around that mark with promising results.
Does it live up to its claims?
Yes.
I feel my skin is much calmer and resistant to external irritants when I use it.
How does it compare to…
the Purito Centella Unscented Serum
Don't fall for the 49% Centella Asiatica Extract claimed by Purito here, that does not automatically mean it has more Madecassoside than the Geek & Gorgeous version. The extract is mainly water, how much of the individual Centelloids it contains can't be said for sure.
That doesn't mean it is inferior either, as Puritos version not only contains the extract, but has other Centelloids as well as Niacinamide, Ceramide NP and Green Tea Extract for added benefits, but of course no Beta-Glucan. Which out of the two is more important to you is personal preference.
To be honest, both felt similar in texture as well as effect on my skin, but my analytical brain is more drawn to the precise percentages of Geek & Gorgeous rather than the extracts.
Read my full review of the Purito Centella Unscented Serum here
Would I repurchase?
Yes.
I found it to be a great allrounder that goes well with everything and helps my skin smoothly use my Tretinoin all year round. (More info: Can you use Retinol in the summer?)
Which skin types do I recommend the Geek & Gorgeous Stress Less Serum to?
Due to its simple and soothing ingredients list I think the Geek & Gorgeous Stress Less Serum is suitable for all skin types, especially those that are on stronger treatments and need calming products to accompany their Tretinoin or Benzoylperoxide for example.
If you want to get a vote in the next Ask Doctor Anne Topic, Ingredient Spotlight or product I review, don't forget you can head over to my Patreon account to get more involved!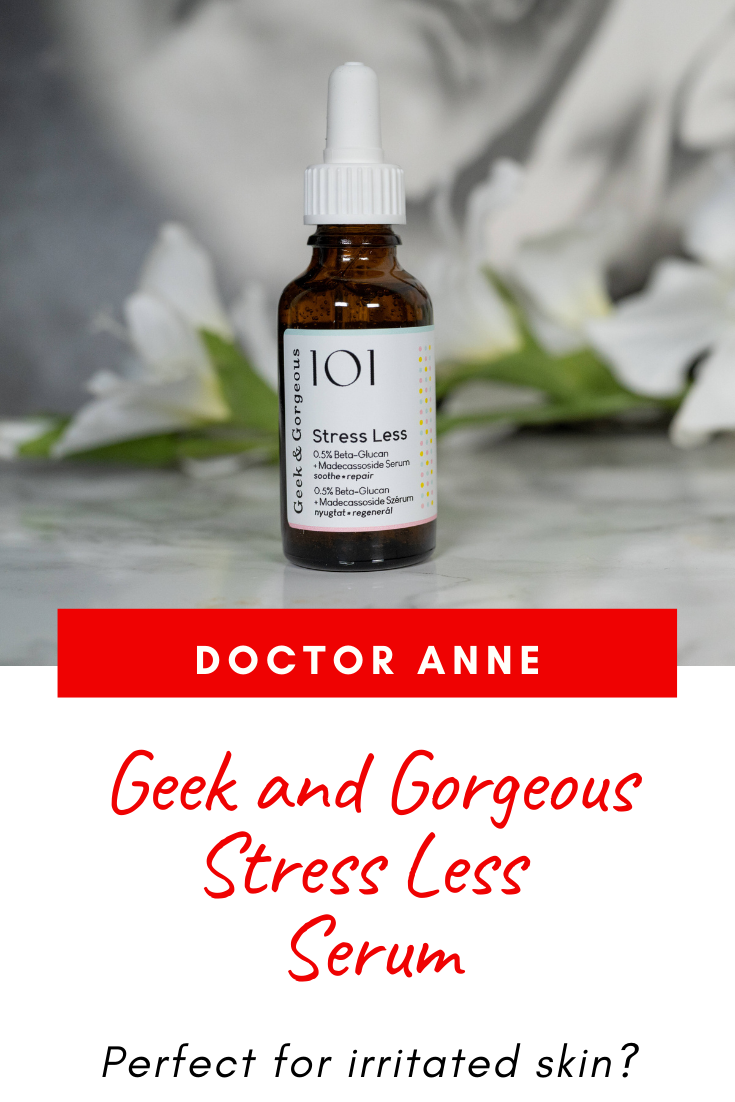 (Visited 2.984 times, 2 visits today)