ADVERTISEMENT INFO: SOME PRODUCTS MENTIONED IN THIS POST ARE PURCHASED MYSELF AND LINKS USED ARE AFFILIATE LINKS. I RECEIVED NO MONEY TO WRITE THE BLOGPOST. PLEASE READ DISCLAIMER
According to the website, the Glow Recipe Watermelon Glow PHA + BHA Pore-Tight Toner is inspired by the Korean Aqua Peel Facial in that it exfoliates and hydrates at the same time. To achieve that, it features both PHAs or Polyhydroxy Acids, big exfoliating acids that are really gentle because they don't penetrate the skin as deep as Glycolic Acid for example would and that hydrate the skin (More info: The benefits of Polyhydroxy Acids in skincare) as well as BHA or Betahydroxy Acid, usually referring to Salicylic Acid, aiming to exfoliate inside the pores.
Only that in this case, the BHA does not mean Salicylic Acid – we will get to that in a bit. I got this one as part of a set of minis, so pictured above is the mini size, not the full size, and if you are interested in what I thought of the other products, you can find a video review here:
But for now, let's take an in-depth look at the Glow Recipe Watermelon Glow PHA + BHA Pore-Tight Toner.
What the Glow Recipe Watermelon Glow PHA + BHA Pore-Tight Toner claims
Hydrate skin and tighten pores all at once with the ultra-gentle Watermelon Glow PHA + BHA Pore-Tight Toner.
Facts about the Glow Recipe Watermelon Glow PHA + BHA Pore-Tight Toner
Prize and size
There are two sizes available, the full size containing 150 ml which is available for 34 $ and the travel size containing 40 ml, which is available for 15 $ on the website here.
Texture and smell
Texturewise the PHA + BHA Toner is clear and looks like water, but has a little body when spread, but no tackiness. I found it to work well with everything layered on top, so no issue with pilling. Like all Glow Recipe products, this one has a distinct fruity scent that is supposed to resemble Watermelon, but that I as proclaimed watermelon lover absolutely can't stand. While it is quite strong though, it doesn't linger, so I can cope with it. (More info: Is fragrance in your skincare bad for you?)
How to use the Glow Recipe Watermelon Glow PHA + BHA Pore-Tight Toner
The toner can be used both morning or night and, depending on your skin, probably daily if you feel the need for it, as it is very gentle. I would use it as hydrating toner all over the face, but the website suggest also using it as spot treatment or as mask where you soak a cotton pad in product and leave it on areas of concern for around 10 minutes – while that is entirely possible, I don't think it will have a significant effect used like this, and I will explain in a bit why.
As I am not a fan of using cotton pads fr my toner, I just pour some into the palms of my hands and pat it on, avoiding the eye area, before I follow up with serum and sunscreen or moisturizer.
Ingredients of the Glow Recipe Watermelon Glow PHA + BHA Pore-Tight Toner
Opuntia Ficus-Indica (Cactus) Extract

so

|

h
,
Citrullus Lanatus (Watermelon) Fruit Extract

aox
,
Glycerin

sii

|

h
0
0
,
Hyaluronic Acid

sii

|

h
,
Gluconolactone

exf

|

chel
,
Sodium Polyglutamate
h
,
Betaine Salicylate
exf

|

amic
,
Salix Alba (Willow) Bark Extract

so
,
Melaleuca Alternifolia (Tea Tree) Extract
amic

|

perf
,
Hibiscus Sabdariffa Flower Extract
,
Lactobacillus/Watermelon Fruit Ferment Extract
,
Cucumis Sativus (Cucumber) Fruit Extract

so

|

emo
,
Saccharum Officinarum (Sugarcane) Extract

h
,
Glycyrrhiza Glabra (Licorice) Root Extract

so

|

sb
,
Scutellaria Baicalensis Root Extract

so

|

aox

|

amic

|

h
,
Paeonia Suffruticosa Root Extract
,
Brassica Oleracea Capitata (Cabbage) Leaf Extract
,
Ipomoea Batatas Root Extract
,
Sorbitan Oleate
emu
0
3
,
Levulinic Acid
perf
,
Sodium Levulinate
,
Fragrance/Parfum

perf
Hover the mouse over an ingredient for short explanation. Read more on INCIDecoder.
Despite calling itself a PHA + BHA Toner, it only contains a dedicated Polyhydroxy Acid, Gluconolactone, but no actual Salicylic Acid. Instead it has Betaine Salicylate, which contains Salicylic Acid connected to Betaine, a moisturizer, and thus is more gentle than Salicylic Acid on its own, and Willow Bark Extract, which also contains Salicylates that are very close in structure to Salicylic Acid.
This makes it gentler, but also is not enough for someone with acne that needs their 2% Salicylic Acid to keep the skin congestion free. There is also Glycerin and Hyaluronic Acid as humectants and few plant extracts that have more or less data on their effects behind them. The ones with probably the highest concentration are Cactus Extract and Watermelon Fruit Extract, both claiming antioxidant and hydrating properties. The other noticeable ones are Sugarcane Extract, which might offer a little bit of additional exfoliation and Licorice Root Extract that is supposed to be skin brightening.
Now you might see why I don't think this is really an exfoliating toner – the exfoliants present are either part of an extract in unknown concentrations or altered in their structure to be more gentle as it is with the Betaine Salicylate – great if your skin doesn't tolerate the full concentration, but not as effective as for example the Paulas Choice Liquid Exfoliant, and the reason why I don't really see the point in using it as mask or spot treatment.
Does it live up to its claims?
In parts.
It is hydrating for sure, but other than pluming the skin I doubt it will have much effect on the pores.
How does it compare to…
Paulas Choice Skin Perfecting 2% BHA Liquid Exfoliant
This is hands down my favorite exfoliant and despite containing the full 2% Salicylic Acid you'll need to bring down inflamed spots and unclog your pores, it is very gentle. Obviously less gentle than the Glow Recipe version, but if you struggle with congestion and/ or breakouts, I would still suggest you try this one, even if it is a smidgen more expensive.
You can read my full review of the Paulas Choice skin Perfecting 2% BHA Liquid Exfoliant here.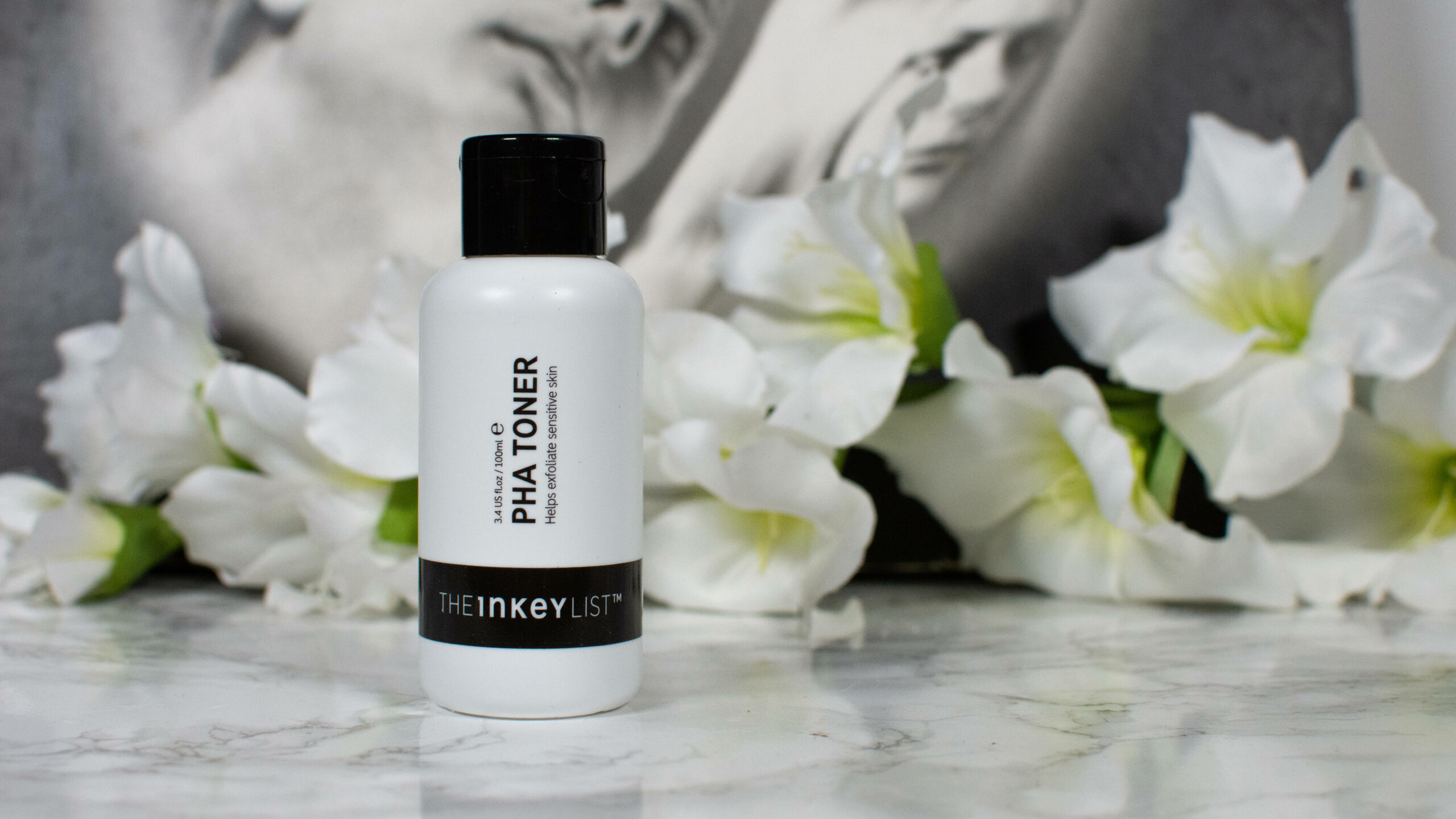 The Inkey List PHA Toner
The version from The Inkey List only contains Polyhydroxy Acids, so it does not claim to help with congestion an pore size. I do hoewever think that in effect, it is very similar to tthe fresh version. It is gentle, it is hydrating and has very, very gentle exfoliating effects that makes it suitable for sensitive skins or skin like mine that can get irritated easily in winter due to the Tretinoin I use (More info: The best way to exfoliate when using strong retinoids)
On top of that it doesn't have the scent I dislike and is much more affordable, so for me is the clear favorite among the two.
You can read my full review of The Inkey List PHA Toner here.
Would I repurchase and which skin types do I recommend the Glow Recipe Watermelon Glow PHA + BHA Pore-Tight Toner to?
You might have guessed it, I would not repurchase. I prefer to stick to other products that are either more effective for my skin goals or more affordable, like the two mentioned above.
If you want a little exfoliation, additional hydration and don't get along with higher concentrations of actives, this one might be an option to consider. At least if you like the scent and the packaging which I, I admit, am not immediately drawn to.
TL;DR
The Glow Recipe Watermelon Glow PHA + BHA Pore-Tight Toner claims to hydrate, add glow and tighten the appearance of pores. Despite the name it does not contain Salicylic Aid, but Salicylates as part of a plant extract, so while I agree that it is nice and hydrating, I don't think it is enough for people with congestion or acne that want to introduce Salicylic Acid into their routine. In general though I think it is pretty expensive for what it is as well as heavily fragranced, so I think there are better alternatives out there.
Shop Glow Recipe skincare here
Don't forget to check out the Discount Code Page on top if you want to save some money on your next skincare purchase.
If you want to get a vote in the next Ask Doctor Anne Topic, Ingredient Spotlight or product I review, don't forget you can head over to my Patreon account to get more involved!
(Visited 3.308 times, 8 visits today)