ADVERTISEMENT INFO: PRODUCTS DISCUSSED IN THIS BLOGPOST ARE PURCHASED MYSELF AND LINKS USED ARE AFFILIATE LINKS. I RECEIVED NO MONEY TO WRITE THE BLOGPOST. PLEASE READ DISCLAIMER
You should not use sunscreen you have had open for more than a year, and that is why this tube of Heliocare 360° Gel Oil-Free SPF 50 + will be tossed after I wrote this blogpost.
I bought it last June, after I tried and loved the Heliocare 360 ° Water Gel and figured the oil-free version would be perfect come summer, as my skin, despite me being well in my 40s, does get pretty oily once it gets hot. (More info: Skincare changes for summer)
Well, turns out I was wrong, and today I will tell you why.
What the Heliocare 360° Gel Oil-Free SPF 50 + claims
An ultra-light mattifying gel that melts into the skin with a dry-touch, matte finish. The perfect choice for oily, combination or spot prone skin – give your skin the best protection against the sun without breaking out.
Facts about the Heliocare 360° Gel Oil-Free SPF 50 +
Prize and size
One bottle contains 50 ml and is available for 19 € on the website here. It is vegan and alcohol free, but contains fragrance and the packaging has changed since I purchased it last year.
Texture and smell
My first issue is the scent. Opposed to the Water Gel, which is advertised as "minimal fragrance" on the website, the oil-free version has a very strong floral scent. I am not against fragranced products in general, but this one is too intense for my personal taste.
The product isn't colorless, which is what I usually associate with the name "gel", but brownish and more like a cream in texture, firmer than the Water Gel.
How to use the Heliocare 360° Gel Oil-Free SPF 50 +
Last step in your routine is when you apply all your sunscreens and this one is no exception. So you do your morning routine and then either apply a separate moisturizer if your face needs it or just proceed with the spf after the serum step, which is what I usually do in summer. (More info: How much sunscreen do you need for your face and neck?)
The website recommends the two finger rule and I found that to work quite well.
The color is initially quite visible on my hands, and gives my face a slight tint that disappears over time. It says dry touch on the tube, but I did not find that to be true. The product stayed tacky for at least an hour on my skin and when the tackiness finally disappeared, I could feel a layer on my skin throughout the day, something like a tight film, whenever I moved my face. I didn't find it mattifying either, but it didn't add shine either. Oh, and after around six hours it started to rub off, not like pilling, but more like something that had gotten so dry, it was flaking off.
So my main problem apart from the scent is that I really did not like how it feels on my skin. Even compared with other European formulas like the ones from La Roche Posay or the Heliocare 360° Water Gel it was remarkably uncomfortable. As I don't see many other people talk about this issue, it might be that I am probably no longer as oily as I thought and that I need more hydrating formulas, but I would love to hear how the product worked for you?
Ingredients of the Heliocare 360° Gel Oil-Free SPF 50 +
Aqua
solv
,
C12-15 Alkyl Benzoate
emo

|

amic
,
Arginine

sii
,
Phenylbenzimidazole Sulfonic Acid

sunsc
,
Disodium Phenyl Dibenzimidazole Tetrasulfonate

sunsc
,
Bis-Ethylhexyloxyphenol Methoxyphenyl Triazine

sunsc
,
Titanium Dioxide(Nano)

sunsc

|

col
,
Hexylene Glycol
solv

|

emu

|

perf

|

surf
0
–
1
0
–
2
,
C14-22 Alcohols
,
C12-20 Alkyl Glucoside
emu

|

surf
,
Diethylamino Hydroxybenzoyl Hexyl Benzoate

sunsc
,
Nylon-12
vc
,
Myristyl Alcohol
emo

|

vc
4
2
,
Dipropylene Glycol Dibenzoate
emo
,
Ceteareth-25
surf

|

emu
,
Diethylhexyl Butamido Triazone
sunsc
,
Phenoxyethanol
pres
,
Polypodium Leucotomos Leaf Extract

aox
,
Ferulic Acid

aox

|

amic
,
Caffeic Acid
aox
,
Physalis Angulata Extract
,
Caprylyl Glycol
h

|

emo
,
Melanin
,
Myristyl Glucoside
surf
,
Ethylhexyl Triazone

sunsc
,
Caprylyl Methicone
emo
,
Hydrolyzed Wheat Protein/PVP Crosspolymer
,
Glycerin

sii

|

h
0
0
,
3-O-Ethyl Ascorbic Acid

aox

|

sb
,
Alumina
vc

|

abrasive/scrub
,
PPG-15 Stearyl Ether Benzoate
emo
,
Disodium Ethylene Dicocamide PEG-15 Disulfate
surf
,
Camellia Sinensis Extract

aox

|

so
,
Ethylhexylglycerin
pres
,
Tocopheryl Acetate
aox
0
0
,
Xanthan Gum
vc
,
Phytosphingosine Hcl
,
Plankton Extract
,
Ethyl Lauroyl Arginate Hcl
,
Panthenyl Triacetate
,
Parfum

perf
,
Simethicone
emo
0
1
,
Oxothiazolidine
,
Disodium EDTA
chel
,
Silica
vc
,
Ethyl Linoleate
emo

|

perf
,
Caprylic/Capric Triglyceride
emo
,
Oleyl Alcohol
emo

|

perf

|

solv

|

vc
2
4
,
Butylene Glycol
h

|

solv
0
1
,
Propylene Glycol
h

|

solv

|

vc
0
0
,
Lecithin

emo

|

emu
,
Sodium Benzoate
pres
,
Tocopherol

aox
0
–
3
0
–
3
,
Linalool

perf
,
Limonene

perf

|

solv
Hover the mouse over an ingredient for short explanation. Read more on INCIDecoder.
For filters we have Ensulizole (mainly UVB), Neo Heliopan AP (mainly UVA II), both often used in formulas for oily skin due to their lightweight nature, then Tinosorb S (both UVA and UVB), Uvinul A Plus (UVA), Uvasorb HEb (UVB and UVA II), Uvinul T 150 (UVB) and, as only inorganic aka mineral filter, Titanium Dioxide (nano, mainly UVB and UVA II). (More info: UVA protection – why it is important)
For additional skin benefits there is Glycerin (pretty far down the ingredient list), 3-O-Ethyl Ascorbic Acid as Vitamin C derivative, Vitamin E and Ferulic Acid and a few plant extracts for antioxidant benefits, like Green Tea Extract and the Polypodium Leucotomos Leaf Extract Heliocare is known for and calls "FernBlock Technology". (More info: Everything you need to know about Vitamin C and its derivatives)
There is also perfume as well as Linalool and Limonene as potential troublesome ingredients for some.
Does it live up to its claims?
No.
It is neither lightweight nor is it dry to the touch.
How does it compare to…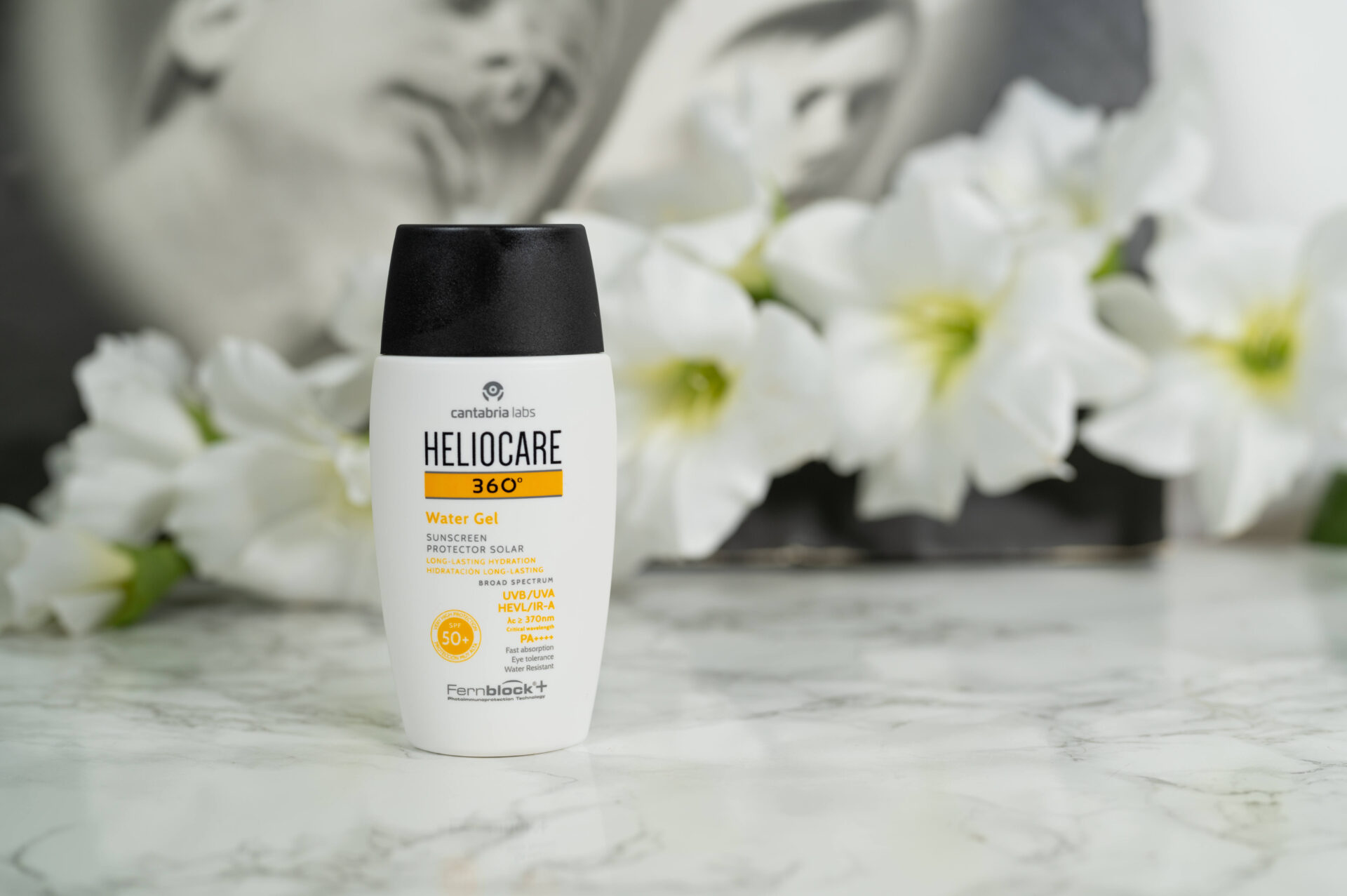 Heliocare 360° Water Gel
Despite both being called a gel, the Water Gel is more runny in texture and definitely more dewy after application. It is much more comfortable to wear, feels as if I powdered my face with no tackiness  and has no noticeable fragrance, which makes it my favorite.
You can read my full review of the Heliocare 360° Water gel here.
Would I repurchase and which skin types do I recommend the Heliocare 360° Gel Oil-Free SPF 50 + to?
No, I would not repurchase. I mean, I wasn't even able to finish the bottle I had! As it gets rave reviews online though, I think it must work very well for really oily skins. And for those that aren't as easily overwhelmed by fragrance as I apparently am.
Shop this one here

or my favorite sunscreens here

Don't forget to check out the Discount Code Page on top if you want to save some money on your next skincare purchase.
If you want to get a vote in the next Ask Doctor Anne Topic, Ingredient Spotlight or product I review, don't forget you can head over to my Patreon account to get more involved!

(Visited 7.114 times, 5 visits today)