ADVERTISEMENT INFO: SOME PRODUCTS MENTIONED IN THIS POST ARE PR (GIFTED) AND LINKS USED ARE AFFILIATE LINKS. I RECEIVED NO MONEY TO WRITE THE BLOGPOST. PLEASE READ DISCLAIMER
In 2019 was the first time I did a blogpost called "Holy grail skincare – the products I would immediately repurchase if all my skincare disappeared over night". It is supposed to be a routine made up of only favorites, the basics I wouldn't want to be without, and each year I come back to it and see if anything has changed through all the new things I tested.
Last year I also proceeded to add up the prices, to see how much I would have to spend if I purchased everything myself. In 2021 that was 441,77 € (including hair care), so we will see if my taste has gotten more expensive over time…
There is a lot of different things that influence if something makes it into the list, so sometimes the decision is solely made based on texture or scent – not everything in here is high performance skincare, some things are just little treats to myself.
My favorite cleansers of 2022
The Inkey List Oat Cleansing Balm (150 ml for 11,99 €, full review here) has featured before and is still frequently repurchased. I love the addition of colloidal oatmeal to the formula. (More info: Everything you need to know about colloidal oat meal in skincare) And because I have a weakness for balm cleansers, I will also add the Beauty of Joseon Radiance Cleansing Balm (100 ml for 19 $, full review here) to this list. It has such a lovely and luxurious texture that it really is a joy to use.
As second cleanse I would also pick a new discovery, the 107 Beauty Chaga Jelly Low pH Cleanser (120 ml for 22 $, full review here). It is a gel cleanser with minimal foam and the most delicious tea scent I have come across, it puts me in a good mood simply sniffing the packaging. Not the best for makeup removal, but for the mornings it is gorgeous. (More info: Which cleanser type is right for your skin?)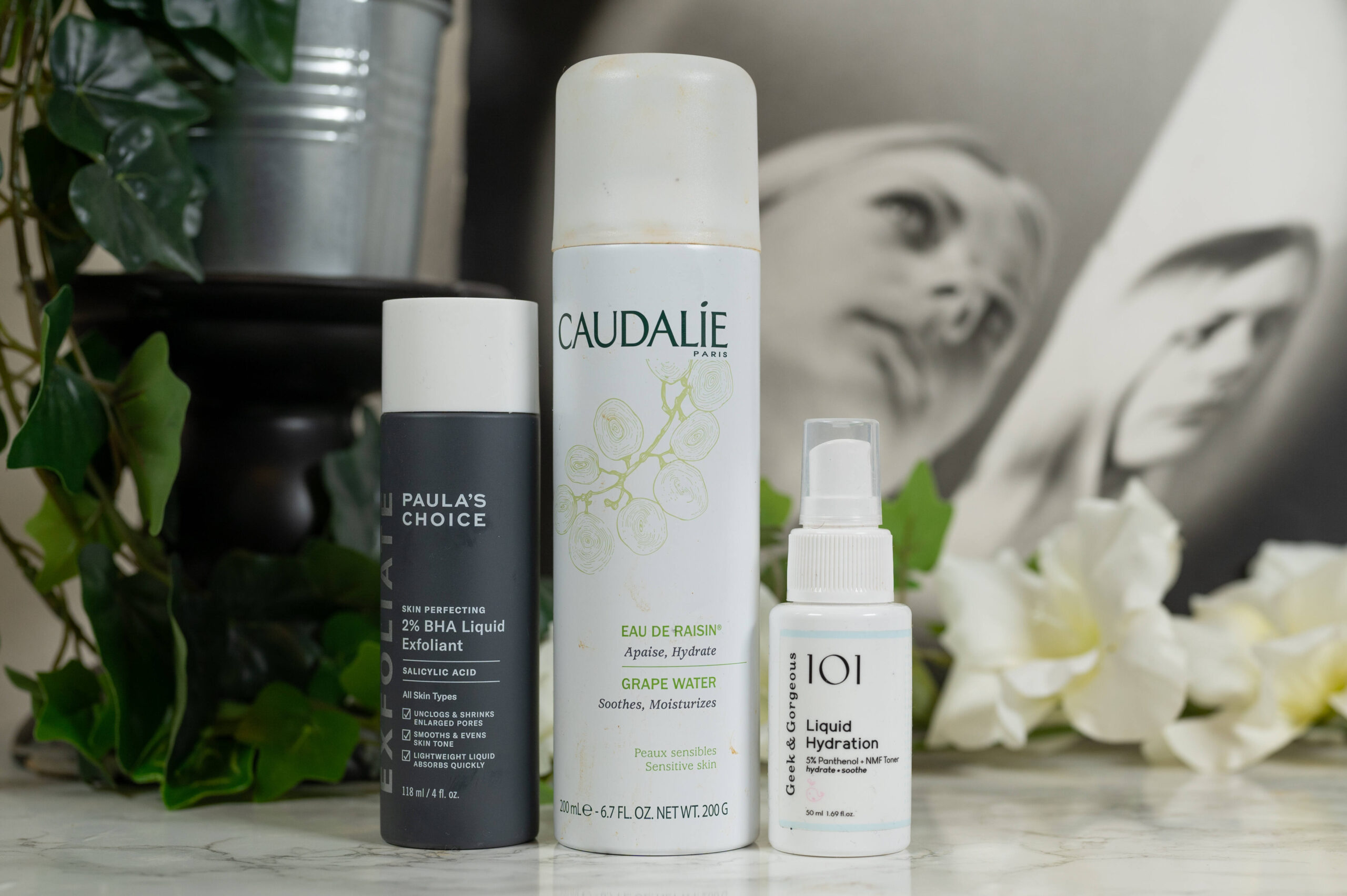 My favorite toners and face mists of 2022
Absolutely non-essential, but for me a great way to get in extra hydration. (More info: Is the Seven Skin method really good for you?)
Every year I struggle where to fit in my exfoliating toners, do they belong here or in the serum category? I will go by texture and mention the Paula's Choice 2% BHA Liquid Exfoliant (118 ml for 36 €, full review here) here, as it is very runny. I have used Salicylic Acid for over a decade, but it somehow took me until May 2022 to finally try this cult favorite. Well, I have never looked back, it is the gentlest and most effective one I have tried to date, so it has earned its place here.
For extra lightweight hydration in the summer I will still pick the Caudalie Grape Water (200 ml for 12 €, full review here) that just has the finest mist ever, and for the colder months I will also stick to last years nominee, the Geek and Gorgeous Liquid Hydration Toner with Panthenol (110 ml for 7 €, full review here), no changes to last years picks.
My favorite serums of 2022
My favorite skincare step, and one where you will find both old favorites as well as new additions. The old ones are the Geek and Gorgeous C-Glow Serum (30 ml for 10,50 €, full review here), which will be absolutely no surprise to anyone, and the Estee Lauder Advanced Night Repair Serum (30 ml for 50 €, full review here) that is extremely expensive, but for my skin just is perfect for hydration and soothing, maybe due to the fermented ingredients it contains. I know there are similar and less expensive versions out there, but for me this is just the one I keep coming back to.
New in this category is the Deciem NIOD Copper Amino Isolate Serum 3 (30 ml for 72 €, full review here) that I use to get my copper peptide fix, and the Balea Beauty Expert Calming Serum (30 ml for 9,95 €, full review here) that I discovered when testing German drugstore skincare last summer. Now I know soothing and hydrating serums are plenty on the market, but in this one I enjoy the added Ceramides, the lightweight texture and the fact that it is easily accessible for me. (More info: Everything you need to know about Ceramides in skincare)
My favorite eye creams of 2022
This is the category I could just copy and paste from the previous two years, as nothing really has changed: I still would pick The Inkey List Caffeine Eye Cream (15 ml for 10,99 €, full review here) for the mornings and the Murad Retinol Youth Renewal Eye Serum (15 ml for 59 €, full review here) for at night.
Now I haven't tested many other ones, but from the ones I tried nothing else comes close. (More info: Are eye creams just a waste of money?)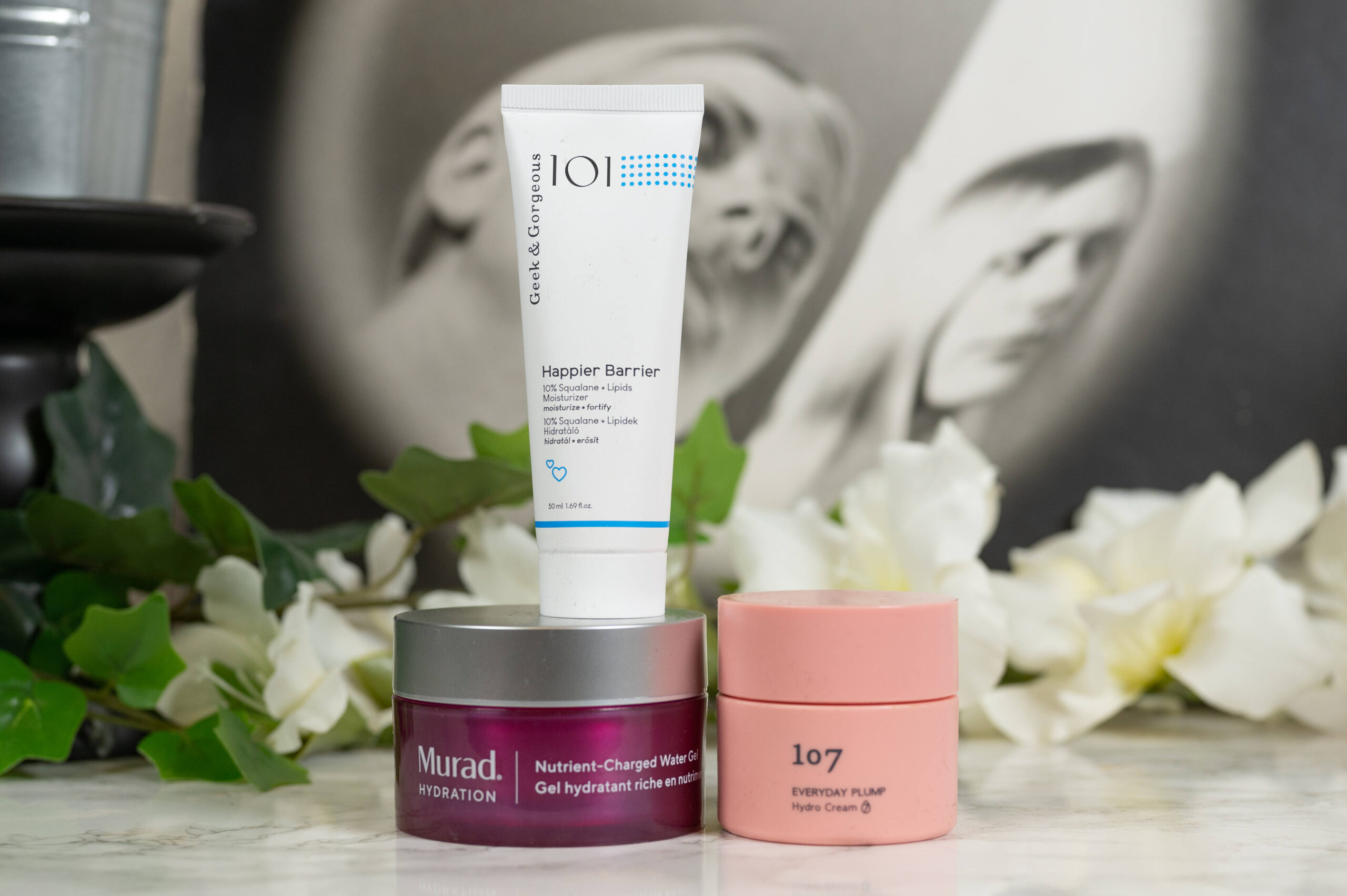 My favorite moisturizers of 2022
For moisturizers I will actually bring one back that somehow got left out last year: The Murad Nutrient Charged Water Gel (50 ml for 78 €, full review here), which again is pretty expensive, but has such a beautiful texture and color that I really enjoy it in the warmer months and also combines Ceramides, peptides, Niacinamide and fermented ingredients. (More info: Everything you need to know about Niacinamide)
Then there is the 107 Everyday Plump Hydro Cream (50 ml for 48 $, full review here) that is actually aimed at dry skin, but works beautifully for me in winter and also combines fermented ingredients as well as Panthenol, Beta Glucan and Allantoin for soothing.
My last favorite is not only much more affordable, but also the newest product in my rotation: The Geek and Gorgeous Happier Barrier moisturizer (50 ml for 10,80 €, full review here) that I reach for to use before my Tretinoin for buffering. It contains no Hyaluronic Acid opposed to the others, so might be a great option if your skin reacts to that, and also features Squalane, Ceramide NG, Allantoin, Bisabolol and Green Tea Polyphenols, so a soothing and barrier strengthening mixture I really enjoy. (More info: How to use Retin-A with minimal irritation)
My favorite sunscreens for 2022
Now this category has actually changed completely compared to the years before. As always I have two options for you, one outdoor heavy duty sunscreen and one office sunscreen for the days when comfort matters more than water- and sweat- proof protection.
The Outdoor or summer sunscreen is the La Roche Posay Anthelios UVMune 400 Invisible Fluid (50 ml for 21 €, full review here) that has high UVA protection over the whole spectrum of wavelengths and holds up to sweating and being outdoors, so I am willing to forgive the slightly less elegant texture compared to my favorite office sunscreen, the Beauty of Joseon Relief Sun: Rice + Probiotics SPF 50+ (50 ml for 18 $, full review here).
Beauty of Joseon was released in 2022 and has become my daily go-to quickly, as it has the most beautiful texture paired with amazing filters. I have only one minor complaint based on my personal preferences: The finish is a tad too dewy for my personal taste.
My favorite hair care of 2022
Not much has changed here compared to last year: I still swear by my Olaplex products, Olaplex No 3 Hair Perfector (100 ml for 29,95 €, full review here) for pre-wash treatment, Olaplex No 4 Bond Maintenance Shampoo (250 ml for 29,95 €, full review here) and Olaplex No 5 Bond Maintenance Conditioner (250 ml for 29,95 €, full review here) for regular washes and lastly the Olaplex No 7 Bonding Oil (30 ml for 29,95 €, full review here) as hair oil and heat protectant.
For in between touch ups and to tame frizz I reach for the Garnier Fructis Multi-Use Wonder Oil (150 ml for 5,95 €, no review yet) which is surprisingly lightweight, but still makes my hair easy manageable and reduces frizz – not that the Olaplex Oil wouldn't do the same, but the price difference between the two is big enough to make it worth having two options.
How much would my routine cost in 2022?
Now let's see if my routine has become more expensive over the year, which it would probably have anyway, increasing prices taken into account.
Just to be clear: You of course do NOT need an expensive routine to take care of your skin and hair, and many of my picks could easily be replaced with much more affordable products if I went only by function and less by how much they bring me joy.
But my perfect routine, as pictured here, would come up to: 615,33 €, with 489,58 € only the skincare.
Compared to 2021 this is quite a bit more expensive, back then it was 441,77 € in total and 311,77 € for skincare only.
How much would your ideal routine be?
Shop this post:

Don't forget to check out the Discount Code Page on top if you want to save some money on your next skincare purchase.
If you want to get a vote in the next Ask Doctor Anne Topic, Ingredient Spotlight or product I review, don't forget you can head over to my Patreon account to get more involved!
(Visited 1.948 times, 1 visits today)