ADVERTISEMENT INFO:  PRODUCTS MENTIONED IN THIS POST ARE PR (GIFTED) AND LINKS USED ARE AFFILIATE LINKS. I RECEIVED NO MONEY TO WRITE THE BLOGPOST. PLEASE READ DISCLAIMER 
In an attempt to make building your skincare routine easier, Hylamide has a Core series for the basics and a Booster series for the extras, and the Hylamide Booster C25 Serum that I will review today belongs to the latter. It features 25% of a Vitamin C derivative that is more stable than the diva Ascorbic Acid and other ingredients targeting hyperpigmentation. (More info: Everything you need to know about Vitamin C in skincare)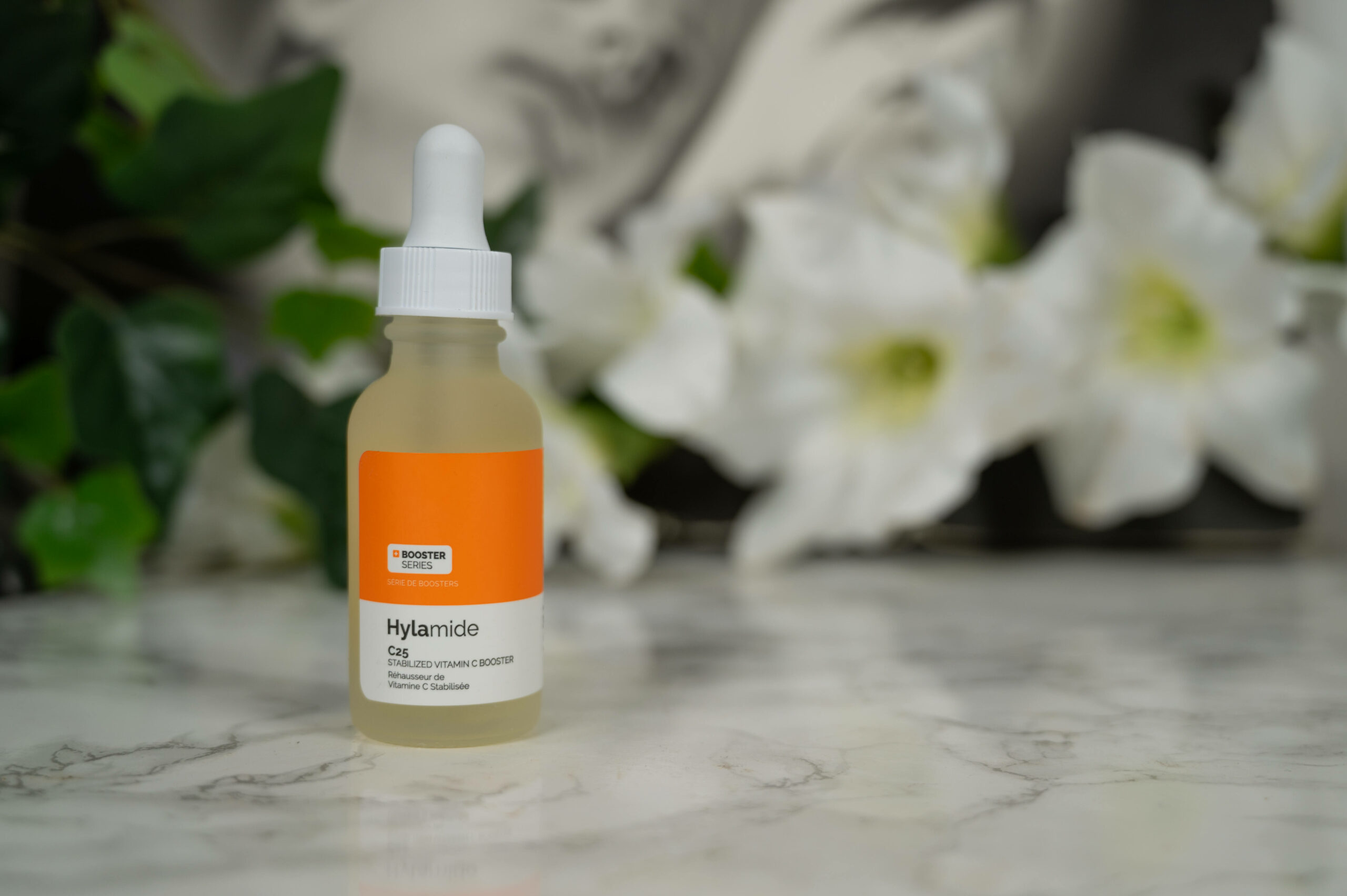 Now you know I prefer Ascorbic Acid over the derivatives, but that isn't my only issue with this product – more on that later.
What the Hylamide Booster C25 Serum claims
Concentrated and completely stable 25% Ethylated Vitamin C booster offers a fast-tracked approach to a visibly radiant, healthy-looking skin tone.
Facts about the Hylamide Booster C25 Serum
Prize and size
One dropper bottle contains 30 ml and is available for 25 € on the website here. You really only need a small amount, three drops are enough for your face and neck.
Texture and smell
And here is where my main issue with this product occurs – the texture. It is an anhydrous solution, meaning it contains no water as solvent but Ethoxydiglycol and despite not containing any oils it feels very oily when applied. So much for those that call water a "filler ingredient" when talking about INCI lists…
Mine is slightly yellow, which is apparently normal and in this case not due to oxidation and has no noticeable scent.
How to use the Hylamide Booster C25 Serum
According to the website it should be used morning and night, but I can't stand it in the mornings because of the oily texture and because it seems to cause any of my sunscreens layered on top to pill. This might be different for those with skin that is more on the dry side and absorbs the product quicker, but I still think it is better suited to night time use.
Ingredients of the Hylamide Booster C25 Serum
Ethoxydiglycol
solv

|

h

|

perf
0
0
,
Ethyl Ascorbic Acid

aox

|

sb
,
Hydroxyphenoxy Propionic Acid

sb
,
Phenylethyl Resorcinol

aox

|

sb
Hover the mouse over an ingredient for short explanation. Read more on INCIDecoder.
The ingredient list here is very short, with Ethyl Ascorbic Acid as Vitamin C derivative. Among the many Vitamin C derivatives, this is the one that appears to be best at penetrating the skin, but if that translates into effects isn't something I can vouch for. It is also important to note that you can't compare percentages here: If 25% Ethyl Ascorbic Acid is more or less effective than 15% Ascorbic Acid is something we can't say. Both Hydroxyphenoxy Propionic Acid and Phenylethyl Resorcinol are ingredients used for skin brightening, with manufacturer studies showing promising results.
(More info: How to read an ingredient list)
Does it live up to its claims?
I guess.
It contains 25% Ethyl Ascorbyl Phosphate and makes my skin look radiant by texture alone.
How does it compare to…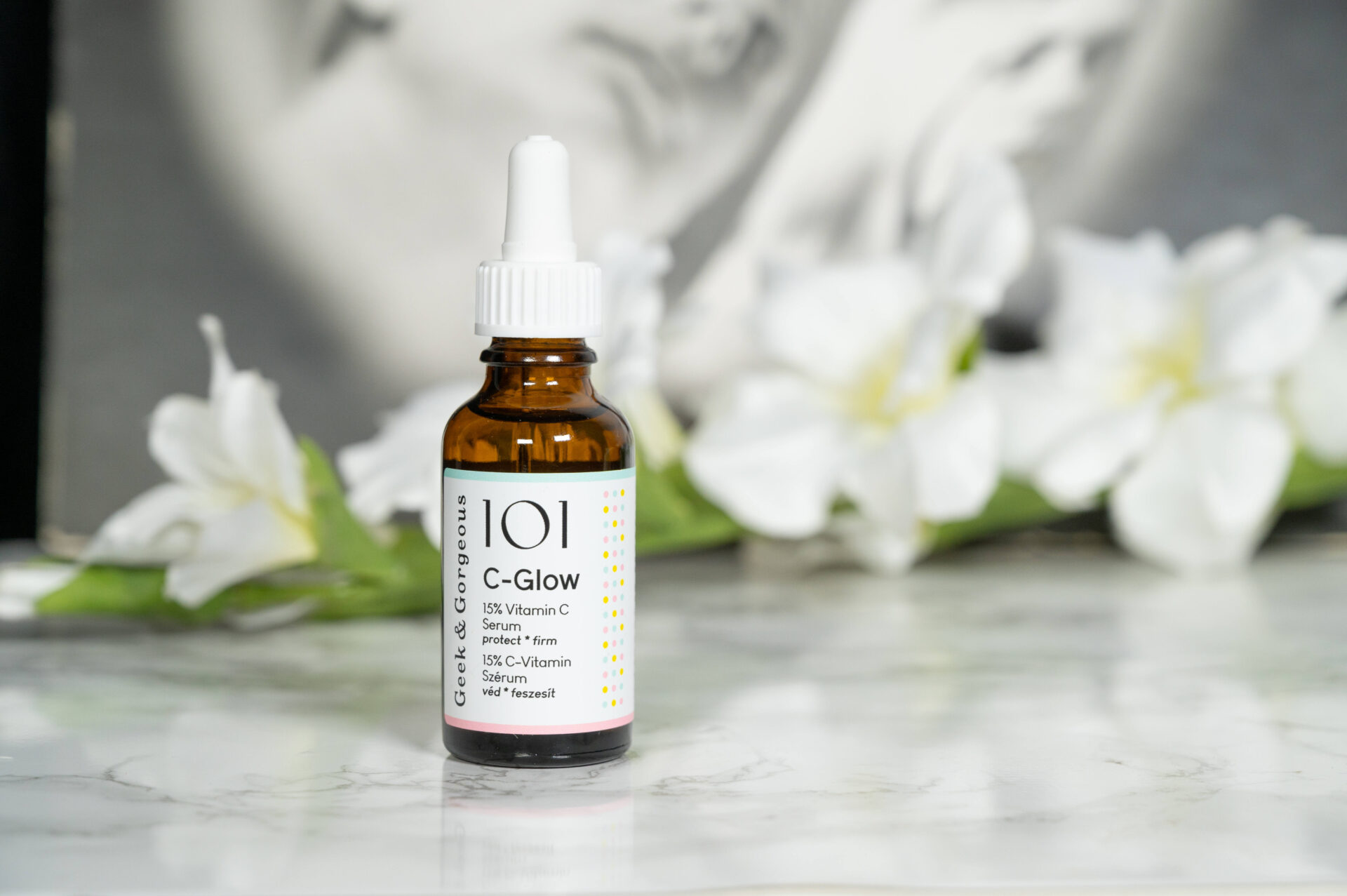 Geek & Gorgeous C-Glow
We are comparing apples and pears here, as C-Glow is both water based, so much lighter in texture, and uses 15% Ascorbic Acid rather than a derivative, but as it is my current favorite, I had to compare them. To probably no surprise to you I much prefer C-Glow and would only suggest going for the Hylamide Booster C25 Serum if your skin is very reactive and you prefer richer textures.
You can read my full review of the Geek and Gorgeous C-Glow Serum here.
Omorovicza Daily Vitamin C
Omorovicza uses another Vitamin C derivative, Sodium Ascorbyl Phosphate, and pairs it with Niacinamide and fermented ingredients rather than the brightening ingredients used by Hylamide. The texture is also much more pleasant, like a light lotion. Price wise Hylamide is much more affordable though, and Omorovicza uses alcohol and fragrance in their formula, which is absolutely fine unless you are allergic, but something many of you ask about. (More info: Is alcohol in skincare dangerous?)
You can read my full review of the Omorovicza Daily Vitamin C here
Would I repurchase and which skin types do I recommend the Hylamide Booster C25 Serum to?
Now you might have guessed it already, I would not repurchase. I think it is best suited for those with skin that is on the dry side and for those that don't get along with even lower concentration of Ascorbic Acid.
Shop my favorite Vitamin C serums here
Don't forget to check out the Discount Code Page on top if you want to save some money on your next skincare purchase.
If you want to get a vote in the next Ask Doctor Anne Topic, Ingredient Spotlight or product I review, don't forget you can head over to my Patreon account to get more involved!
(Visited 5.341 times, 1 visits today)