ADVERTISEMENT INFO: PRODUCTS MENTIONED IN THIS POST ARE PR (GIFTED) AND LINKS USED ARE AFFILIATE LINKS. I RECEIVED NO MONEY TO WRITE THE BLOGPOST. PLEASE READ DISCLAIMER
Yes, I did try the usurper before the original – to be honest, I had no idea that the Isntree Hyaluronic Acid Watery Sun Gel SPF 50+ PA++++  was so popular until I reviewed Beauty of Joseons Relief Sun Rice + Probiotics SPF 50+ and literally everyone wanted to know how the two compare.
To answer that, I filmed a quick shorts video, applying them split face, but after that I took the time to properly test the Isntree one, so I'd be able to answer all the questions you had.
What Isntree Hyaluronic Acid Watery Sun Gel SPF 50+ PA++++ claims
Long-lasting moisture, gentle sunscreen. Gently applied UV absorbing particles strongly adhere to the skin and block UV rays. Moist and transparent application.
Facts about the Isntree Hyaluronic Acid Watery Sun Gel SPF 50+ PA++++
Prize and size
One tube, white and blue, contains 50 ml and is available for 18 $ on the website here (use SHOPDRANNE for 10% off). I admit I am not keen on the packaging, it just doesn't speak to me, but that is a minor aesthetic complaint as it is fully functional.
Texture and smell
It looks and feels like a hydrating yet lightweight moisturizer without any scent. Honestly, I am in love with these textures, they are so beautiful to apply compared to the sunscreens I grew up with!
Immediately after the application it is a little tacky, but that disappears within minutes and after that happens, you can barely feel it on your skin at all. The finish though is really dewy, maybe even a tad more dewy than the Beauty of Joseon one, and on me looks – not feels! – borderline greasy.
How to use the Isntree Hyaluronic Acid Watery Sun Gel SPF 50+ PA++++
As always, sunscreen goes on last in your morning routine, right before makeup. The Isntree product never pilled on me and worked well with everything else, but no amount of powder was able to completely get rid of the shine. Which is probably great if it is glass skin you are after, but not if you are looking for a satin finish.
As this is not water resistant, I recommend you reapply throughout the day, especially if you sweat. That is, again, no issue with this sunscreen, as the second or even third layer of the day feels hydrating and cooling and never heavy.
(More info: 5 ways to reapply sunscreen over makeup)
Ingredients of the Isntree Hyaluronic Acid Watery Sun Gel SPF 50+ PA++++
Water
solv
,
Butylene Glycol
h

|

solv

|

vc
0
1
,
Ethylhexyl Salicylate
sunsc
0
0
,
Homosalate
sunsc
,
Dibutyl Adipate
emo

|

solv
,
Niacinamide

cci

|

sb

|

aacne

|

h
,
Bis-Ethylhexyloxyphenol Methoxyphenyl Triazine

sunsc
,
Cyclopentasiloxane
emo

|

solv
,
Methylene Bis-Benzotriazolyl Tetramethylbutylphenol

sunsc
,
Polysilicone-15

sunsc
,
Diethylamino Hydroxybenzoyl Hexyl Benzoate

sunsc
,
Pinus Pinaster Bark Extract

aox
,
Ceramide NP

sii
,
Centella Asiatica Extract

so

|

aox

|

h
,
Glycerin

sii

|

h
0
0
,
Portulaca Oleracea Extract

so

|

aox
,
Houttuynia Cordata Extract

aox

|

so
,
Olea Europaea (Olive) Fruit Oil

aox

|

emo

|

perf
0
0
–
2
,
Ficus Carica (Fig) Fruit Extract
h
,
Sodium Hyaluronate

sii

|

h
0
0
,
Ceteth-10
emu

|

surf
,
Hydrogenated Lecithin

emo

|

emu
,
Decyl Glucoside
surf
,
Propanediol
solv

|

h
,
Tocopherol

aox
0
–
3
0
–
3
,
Astaxanthin

aox
,
Hyaluronic Acid

sii

|

h
,
Sodium Hyaluronate Crosspolymer

sii

|

aox

|

h
,
Ascorbyl Propyl Hyaluronate
,
Hydrolyzed Hyaluronic Acid

h
,
Hydroxypropyltrimonium Hyaluronate
,
C10-30 Alkyl Acrylate Crosspolymer
vc
,
Sodium Acetylated Hyaluronate

h
,
Hydrolyzed Sodium Hyaluronate
h
,
Adenosine

cci
,
Dimethicone
emo
0
1
,
Tromethamine
buff
,
Carbomer
vc
0
1
,
Propylene Glycol
h

|

solv

|

vc
0
0
,
Ethylhexylglycerin
pres
Hover the mouse over an ingredient for short explanation. Read more on INCIDecoder.
The most important thing first: the filters. Isntree uses a mixture between modern filters like Uvinul A plus, Tinosorb S, Tinosorb M, Polysilicone-15 and more "old-fashioned" ones like Octisalate and Homosalate. The sheer amount of filters might seem reassuring at first, but won't tell you much as long as you don't know the amount each filter was used at. (More info: Chemical, physical or mineral – what is the difference?)
I obviously can't answer that either, but at SPF 50+ and PA++++, which means a PD of at least 16 it is a good one for daily wear. (More info: UVA Protection – Everything you need to know)
According to the results published on the website, this product had an SPF of 53.5 +/- 6.3 and a PFA of 19.4 +/-3.51.
As added beneficial ingredients there are Niacinamide, Hyaluronic Acid in different molecular weights for hydration, Ceramide NP, Centella Asiatica and Adenosine for soothing and barrier repair and several plant extracts alongside Vitamin E for antioxidants. In total, it has more skin beneficial ingredients than some moisturizers I have come across. (More info: Ingredient Spotlight Niacinamide and Ingredient Spotlight Hyaluronic Acid and Ingredient Spotlight Centella Asiatica)
Does it live up to its claims?
Most of them.
It offers moist and transparent application as well as UV protection, but I am not sure how longlasting it is. It isn't water resistant, so I think it will rub off easily and will need to be reapplied.
How does it compare to…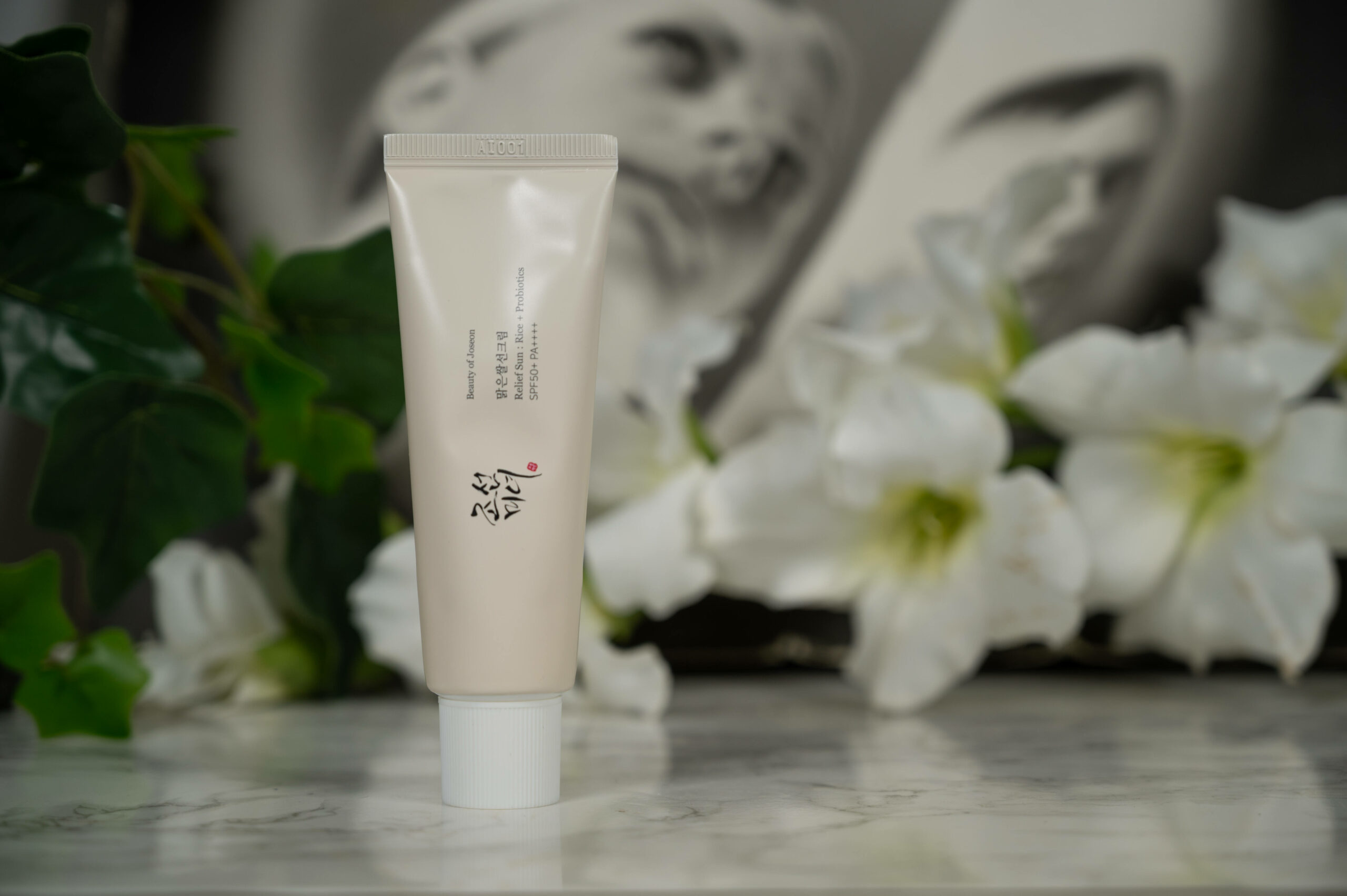 Beauty of Joseon Relief Sun Rice + Probiotics SPF 50+ PA++++
Although both are very similar in texture, the way they first apply and the way they feel on the skin, there are some minor differences: Over the day compared side by side on my face, the Beauty of Joseon looked a little less dewy and felt a little less rich. Only by a fraction, but sometimes this little difference can make or break how you feel about a product.
Comparing the filters, Beauty of Joseon has only four, but all of them are regarded modern ones and come with great photostability, while regarding the other beneficial ingredients, both share Niacinamide, but Beauty of Joseon has Glycerin rather than Hyaluronic Acid and other antioxidants.
Both are great sunscreens I would happily wear, but if I had to pick one, I would probably go for Beauty of Joseon.
You can read my full review of the Beauty of Joseon Relief Sun Rice + Probiotics SPF here
Would I repurchase and which skin types do I recommend Isntree Hyaluronic Acid Watery Sun Gel SPF 50+ PA++++ to?
As I said before, it is a great sunscreen and one I am happy to wear, but I'd probably still repurchase others first. If you want that really dewy skin look though, paired with soothing and repairing additional ingredients, this might be a great option for you.
Shop the post
Don't forget to check out the Discount Code Page on top if you want to save some money on your next skincare purchase.
If you want to get a vote in the next Ask Doctor Anne Topic, Ingredient Spotlight or product I review, don't forget you can head over to my Patreon account to get more involved!
(Visited 16.762 times, 3 visits today)