ADVERTISEMENT INFO: PRODUCTS MENTIONED IN THIS POST ARE PURCHASED MYSELF, BUT LINKS USED ARE AFFILIATE LINKS. I RECEIVED NO MONEY TO WRITE THE BLOGPOST. PLEASE READ DISCLAIMER
The La Roche Posay Anthelios Ultra-light Invisible Fluid SPF 50 was an oily skin favorite for many years and convinced with a really high PPD rating of 46 – as a quick recap PPD or the PA rating tell you the amount of protection against UVA you will get, meaning how well you are protected against pigmentation amongst other things. (More info: UVA protection and how it is measured)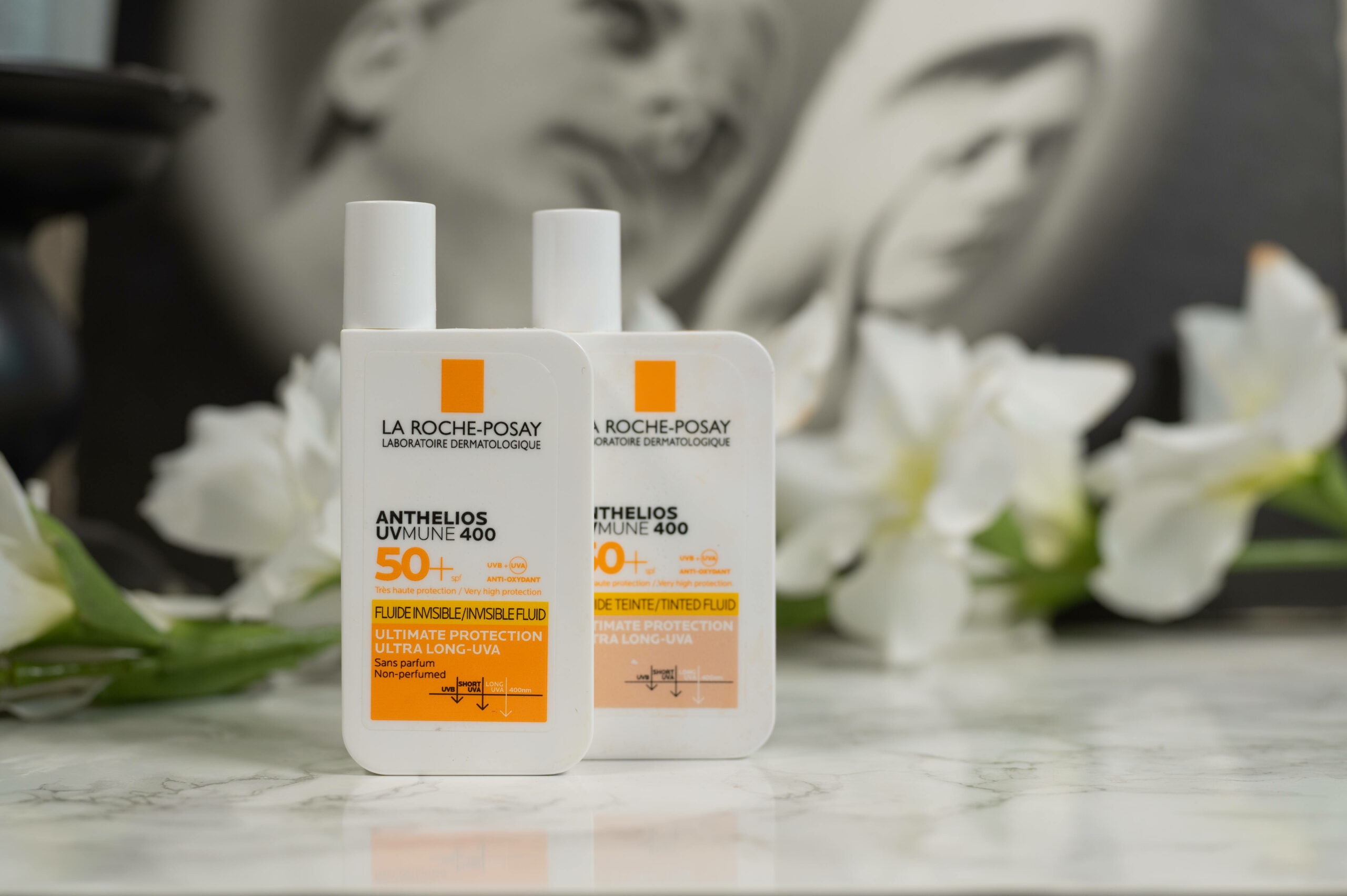 You can imagine it caused quite a stir in the sunscreen community when it was announced it would get reformulated. Well, let's discuss the new La Roche Posay Anthelios Uvmune 400 Invisible Fluid SPF 50 +, apparently with even better UVA protection. Is it still as comfortable to wear? Will it work for oily skin? And what do I think of the tinted version?
What La Roche Posay Anthelios Uvmune 400 Invisible Fluid claims
Our newer, improved version of Anthelios Ultra-Light Invisible Fluid SPF50+.
Very high UVA/UVB facial sun protection. Our ultimate protection with Ultra Long UVA protection. Ultra resistant formula specifically developed for sensitive skin.
The Ultra Long UVA protection they mention here is referring to their new filter, Mexoryl 400A, which offers protection in the 400 nm range where apparently the older version had a weakness in protection that led to pigmentation darkening in some people. (More info: Different kinds of hyperpigmentation and how they are treated)
Facts about La Roche Posay Anthelios Uvmune 400 Invisible Fluid
Prize and size
One bottle (looking exactly like the previous version) contains 50 ml and is available for 21 € on the website here or, at least here in Germany, in most pharmacies. It needs to be shaken before application.
Texture and smell
There is a fragranced and a fragrance-free version of the clear one, with the fragrance-free one smelling faintly of glue and the perfumed version smelling very floral. The tinted version is only available with fragrance and I admit that while the scent isn't unpleasant, it is too strong for my liking.
You get a very runny liquid with a slight yellow hue that spreads easily on the skin.
How to use the La Roche Posay Anthelios Uvmune 400 Invisible Fluid
My combination skin does not need a separate moisturizer with this, I apply it straight after serum, a generous amount, and let it sink in for a bit before I continue with my makeup. The finish is neither matte nor glowy, once it did sink in my skin looks like it did before, and I didn't notice any white cast.
Despite being so liquidy, I can feel it on my skin throughout the day more than I can the Beauty of Joseon one, but that is more reassuring than heavy and to be expected with water and sweat resistant products. (More info: Beauty of Joseon Rice + Probiotics SPF Review)
The fragrance-free version never did sting my eyes and reapplication was possible without pilling, even though it isn't my favorite texture for it. (More info: 5 ways to reapply sunscreen over makeup)
The tinted version is, like many of them, too dark and orange for me, when I used it it did make me look as if I wore foundation two shades too dark, which is a shame as I really liked the finish. I had a comment on YouTube though from someone with darker skin than mine (Type 5/6) that says the salmony color works amazing for deeper skin tones.
Ingredients of La Roche Posay Anthelios Uvmune 400 Invisible Fluid
Aqua/Water/Eau
solv
,
Alcohol Denat

amic

|

solv

|

vc
,
Triethyl Citrate
perf
,
Diisopropyl Sebacate
emo

|

solv
,
Silica
vc
,
Ethylhexyl Salicylate
sunsc
0
0
,
Bis-Ethylhexyloxyphenol Methoxyphenyl Triazine

sunsc
,
Ethylhexyl Triazone

sunsc
,
Butyl Methoxydibenzoylmethane

sunsc
,
Glycerin

sii

|

h
0
0
,
Propanediol
solv

|

h
,
C12-22 Alkyl Acrylate/Hydroxyethylacrylate Copolymer
vc
,
Methoxypropylamino Cyclohexenylidene Ethoxyethylcyanoacetate
sunsc
,
Perlite
,
Tocopherol

aox
0
–
3
0
–
3
,
Caprylic/Capric Triglyceride
emo
,
Acrylates/C10-30 Alkyl Acrylate Crosspolymer
vc
,
Caprylyl Glycol
h

|

emo
,
Diethylamino Hydroxybenzoyl Hexyl Benzoate

sunsc
,
Drometrizole Trisiloxane
sunsc
,
Hydroxyethylcellulose
vc
,
Terephthalylidene Dicamphor Sulfonic Acid

sunsc
,
Triethanolamine
buff
0
2
,
Trisodium Ethylenediamine Disuccinate
chel
,
Parfum/Fragrance

perf
Hover the mouse over an ingredient for short explanation. Read more on INCIDecoder.
Let's focus on the filters here: You will find Octisalate (280-320 nm), Tinosorb S (280-345 nm), Uvinul T 150 (280 – 320 nm), Avobenzone (310 to 400 nm, not very stable), Uvinul A Plus (320 – 400 nm), Mexoryl XL (peak absorbance at 303 and 344 nm) Mexoryl SX (peak absorbance at 345 nm) and then the new one Mexoryl 400 A or Methoxypropylamino Cyclohexenylidene Ethoxyethylcyanoacetate with a peak at 385 nm and protection especially in the range 360 to 400 nm, the long wave UVA part. (More info: Chemical, mineral and physical sunscreen – What is the difference?)
If you look at the range these filters cover, you get protection from 280 to 400 nm, which is the full spectrum. You did get that with the previous one as well, but apparently it was weak at the long wave UVA part ranging from 340 to 400 nm, and that is what they wanted to strengthen with the addition of Mexoryl SX. If that was really necessary or just a clever marketing move I can't say – there is only so much you can read out of ingredient lists.
Additional ingredients with potential skin benefits are Glycerin and potentially Vitamin E as antioxidant, although I think it is more used for preservation here. There is a fragranced and a fragrance free version, so make sure to check the label which one you are buying if that is of concern to you, and the tinted version obviously has some added colorants.
All versions do contain alcohol. (More info: Is alcohol in skincare really a problem?)
Does it live up to its claims?
Yes.
It offers protection over the full range of UV rays and, if you chose the fragrance free version, should work even for sensitive skins.
How does it compare to…
La Roche Posay Anthelios Invisible Fluid SPF 50+
Honestly, in terms of texture, feel and how they wear they are almost identical. I had a little bit of the old formula left and applied them split-face just to see if I would notice anything – I didn't. You basically get the same product with improved filters, an absolute win if you ask me.
Would I repurchase and which skin types do I recommend La Roche Posay Anthelios Uvmune 400 Invisible Fluid to?
Yes, I would and will repurchase, this version is, as much as the previous one was, my go-to for outdoor days or days at the beach. It is suitable to most skin types, either on its own for combination oily skin types or on top of a moisturizer for those that lean dry.
Yes, it does feel a little heavier than others, but that is the price you pay for it not disappearing at the first drop of sweat.
Shop this one or some of my other favorite sunscreens here

Don't forget to check out the Discount Code Page on top if you want to save some money on your next skincare purchase.
If you want to get a vote in the next Ask Doctor Anne Topic, Ingredient Spotlight or product I review, don't forget you can head over to my Patreon account to get more involved!
(Visited 16.160 times, 1 visits today)