ADVERTISEMENT INFO: PRODUCTS DISCUSSED IN THIS BLOGPOST ARE PURCHASED MYSELF AND LINKS USED ARE AFFILIATE LINKS. I RECEIVED NO MONEY TO WRITE THE BLOGPOST. PLEASE READ DISCLAIMER
&nbsp:
Out of the La Roche Posay Cicaplast line, the La Roche Posay Cicaplast B 5 Spray surely is not the best known one. I bet most of you would immediately think of the La Roche Posay Cicaplast Baume B 5 (full review here) or maybe even the La Roche Posay Cicaplast Baume B 5 SPF 50 (full review here) that was released in 2022 and created quite a stir. But the spray? I rarely see someone talk about it, and that is a real shame, because if you ask me, it is the most universal out of the three.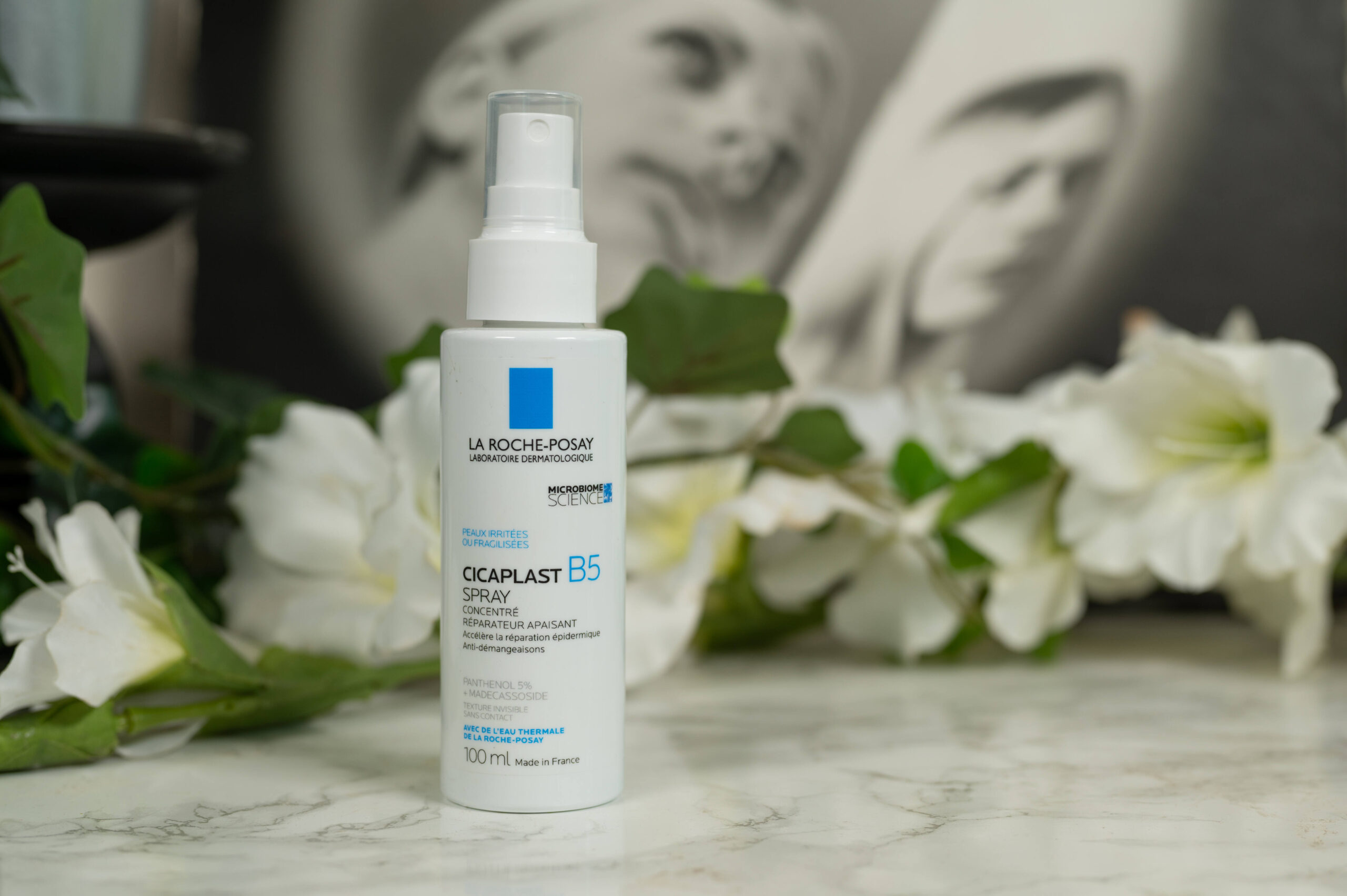 Because while the original baume is way to thick for me to wear it on a regular and I absolutely disliked the version with SPF 50, the spray is the one that I reach for almost every day in winter and that, if you ask me, can be integrated easily into almost every skincare routine, no matter your skin type.
I will link a video below talking about all three of them, but for todays post, let's focus on the spray.
What La Roche Posay Cicaplast B5 Spray claims
La Roche-Posay's Cicaplast Spray B5 is a skin barrier repair that respects the skin microbiome, and reduces feelings of discomfort. This lightweight, invisible, non-drying formula reduces the risk of contamination on painful-to-touch or hard-to-reach skin conditions. It is also touch-free to avoid contamination.
Looking at the name of the line, Cicaplast refers to the addition of Madecassoside, part of Centella Asiatica or Cica (More info: Everything you need to know about Centella Asiatica in skincare), and the B5 refers to the use of Dexpanthenol or Provitamin B5. Both are soothing, supposed to be antiinflammatory and help with wound healing as well as repairing dry skin.
Facts about the La Roche Posay Cicaplast B5 Spray
Prize and size
The spray is only available in one size containing 100 ml. It retails for 11,50 € on the website here. Just like the rest of the line it is alohol and fragrance-free.
Texture and smell of the La Roche Posay Cicaplast B5 Spray
The spray is without any scent and surprisingly lightweight. I somehow expected something heavier, but while it has more body than the Caudalie Grape Water (full review here) it still has less than many essences I have tried.
How to use the La Roche Posay Cicaplast B5 Spray
Although it is referred to as "good for skin conditions", you can obviously still use it if your skin is feeling fine or is irritated by winter or salt water or for whatever other reason you can think of without actually having a condition. (More info: What happens to your skin in winter and What happens to your skin in summer)
I could use it both morning and night in between layers, it played well with everything I paired it with and despite also being a little tacky, felt very comfortable on my skin. The mist is fine enough to spray it directly on to your face and that even worked on top of makeup (although I rarely did that – I wanted the product on my skin). But if my skin was upset for whatever reason or I expected it to be, because I was out in the wind and cold a lot, using this once I returned home helped everything feel calmed down.
Ingredients of the La Roche Posay Cicaplast B5 Spray
Aqua/Water/Eau
solv
,
Glycerin

sii

|

h
0
0
,
Propanediol
solv

|

h
,
Panthenol

so

|

h
0
0
,
Pentylene Glycol
solv

|

h
,
Sodium Citrate
chel

|

buff
,
Mannose

h
,
Madecassoside

aox

|

so
,
Manganese Gluconate
,
Sodium Chloride
vc
,
Coco-Betaine
surf

|

vc
,
Copper Gluconate

so
,
Caprylyl Glycol
h

|

emo
,
Citric Acid
buff
,
Trisodium Ethylenediamine Disuccinate
chel
Hover the mouse over an ingredient for short explanation. Read more on INCIDecoder.
The spray contains Glycerin as humectant, 5 % Panthenol and Madecassoside as well as Mannose as additional humectant and Copper Gluconate that is supposed to help with wound healing too. It has the focus on hydration and soothing rather than on being an occlusive like the baume is.
Does it live up to its claims?
Yes.
I mean, I am not sure what "respects the microbiome" is supposed to mean (More info: Everything you need to know about the skins microbiome), but it is lightweight and soothes irritated skin for sure.
How does it compare to…
Geek and Gorgeous Liquid Hydration
This one also comes in a spray version and is formulated with 5% Panthenol so I figured it would make sense to compare them. The Geek and Gorgeous version is cheaper, feels more like water and leaves no tackiness behind. It also uses Allantoin for extra soothing, but doesn't contain the Madecassoside that gives the Cicaplast line its name. I can't judge which one is more soothing for irritated skin, so I guess in the end it comes down to which one you can easier get hold of.
You can read my full review of the Geek and Gorgeous Liquid Hydration here.
Would I repurchase and which skin types do I recommend the La Roche Posay Cicaplast B5 Spray to?
The spray is suitable for all skin types and easy to use at whatever place you want to fit it into your routine, so yes, I can absolutely see myself repurchasing it.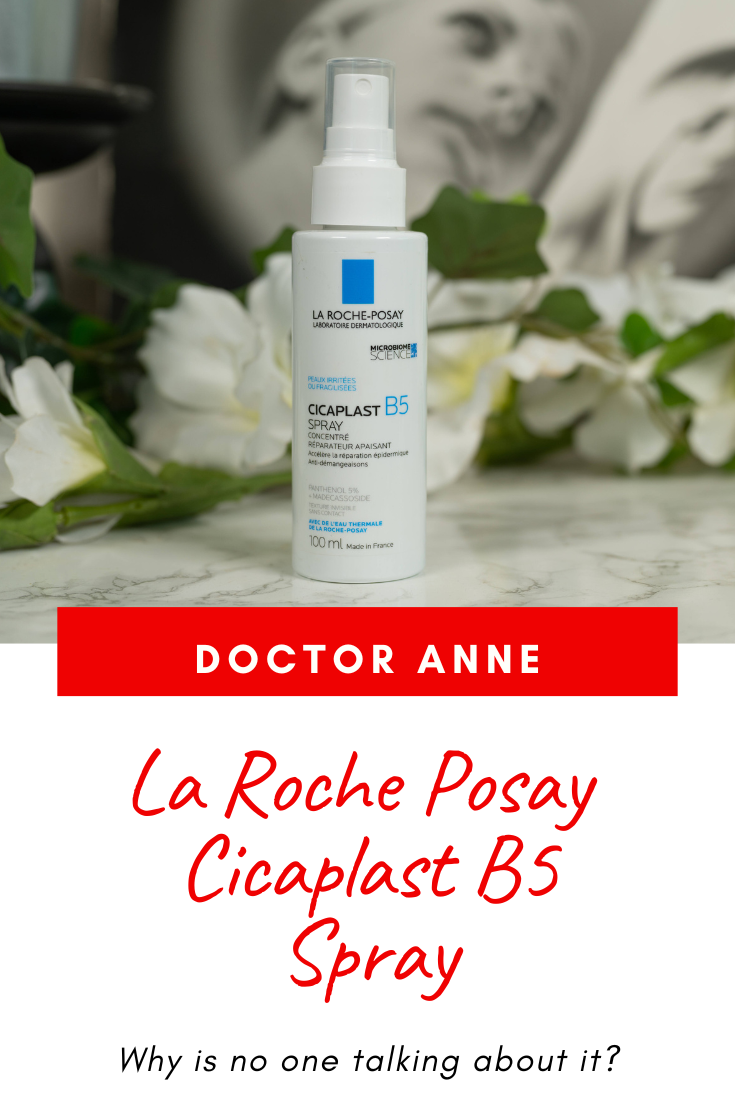 Shop the post

Don't forget to check out the Discount Code Page on top if you want to save some money on your next skincare purchase.
If you want to get a vote in the next Ask Doctor Anne Topic, Ingredient Spotlight or product I review, don't forget you can head over to my Patreon account to get more involved!
(Visited 3.531 times, 3 visits today)