ADVERTISEMENT INFO: PRODUCTS MENTIONED WERE PURCHASED MYSELF AND LINKS USED ARE AFFILIATE LINKS. I RECEIVED NO MONEY TO WRITE THE BLOGPOST. PLEASE READ DISCLAIMER
There are a few things in skincare I simply can't say no to, and a Vitamin C Serum is among them. So when in France last summer I picked up a bottle of the La Roche Posay Vitamin C10 Serum  to compare to my long standing favorite from Geek and Gorgeous.
It is not the only Vitamin C option available from the brand, there is also a face and an eye cream in the line, but unlike the serum these don't disclose their Vitamin C percentage. (More info: Everything you need to know about Vitamin C in skincare)
Let's talk about texture, ingredients and which skin type I would recommend the Vitamin C10 serum to.
What the La Roche Posay Vitamin C10 Serum claims
This anti-aging vitamin c face and neck serum leaves skin more radiant, softer, and hydrated. As a result, wrinkles look visibly reduced and skin texture and tone are more even and refined. This serum combines concentrated 10% pure vitamin c, salicylic acid and neurosensine for optimal effectiveness while also being suitable for sensitive skin.
Facts about the La Roche Posay Vitamin C10 Serum
Prize and size
One dropper bottle contains 30 ml and is available for 30 € on the website here. It might be just me, but I don't really get along with this dropper, as I feel it is weirdly shaped and tends to be messy, with serum smearing around the opening no matter how careful I try to be.
Texture and smell
The texture is much thicker than I expected, it feels almost gloopy or gel-like as opposed to the watery textures I am used to in other Vitamin C serums. It is also quite orange in color right from the start, but even darker six weeks after opening it, which I attribute to Vitamin C oxidation. The scent is intense, sweet and fruity and while I am usually not opposed to fragrance in my skincare products, I find this one to be too strong and overpowering for my personal taste.
How to use the La Roche Posay Vitamin C10 Serum
Just like other Vitamin C serums, this ideally comes directly after cleansing and before moisturizer and can be used both morning or night – I prefer the mornings.
As mentioned before the texture is a little gloopy and feels sticky on the skin for a little while, so I recommend that you wait for that stickiness to subside before you apply sunscreen or similar on top to reduce the risk of pilling.
The thing that surprised me most though and that might be tricky in how you can use it is that it contains Salicylic Acid alongside the Vitamin C. I can' say how much, but for someone with sensitive skin pairing these two together might lead to irritation if you use your Vitamin C daily, which is what I do. (More info: How to pair Vitamin C with other skincare ingredients)
Ingredients of the La Roche Posay Vitamin C10 Serum
Aqua/Water
solv
,
Ascorbic Acid

aox

|

sb

|

buff
,
Cyclohexasiloxane
emo

|

solv
,
Glycerin

sii

|

h
0
0
,
Alcohol Denat

amic

|

solv

|

vc
,
Potassium Hydroxide
buff
,
Polymethylsilsesquioxane
,
Polysilicone-11
,
Dimethicone
emo
0
1
,
Propylene Glycol
h

|

solv

|

vc
0
0
,
Pentaerythrityl Tetraethylhexanoate
emo

|

vc
,
C13-14 Isoparaffin
emo

|

vc

|

solv
,
PEG-20 Methyl Glucose Sesquistearate
emu
,
Sodium Hyaluronate

sii

|

h
0
0
,
Adenosine

cci
,
Poloxamer 338
emu

|

surf
,
Ammonium Polyacryloyldimethyl Taurate
vc
,
Disodium EDTA
chel
,
Hydrolyzed Hyaluronic Acid

h
,
Caprylyl Glycol
h

|

emo
,
Laureth-7
emu

|

surf
,
Acetyl Dipeptide-1 Cetyl Ester

cci

|

so
,
Xanthan Gum
vc
,
Toluene Sulfonic Acid
surf
,
Polyacrylamide
vc
,
Tocopherol

aox
0
–
3
0
–
3
,
Salicylic Acid

exf

|

aacne

|

so

|

pres
,
Parfum/Fragrance

perf
Hover the mouse over an ingredient for short explanation. Read more on INCIDecoder.
First of all, this is not a waterless formula, which is sometimes used because it helps keep the Ascorbic Acid stable longer, but contains water and a few silicones which explain the smooth feeling it gives the skin. Humectants used are Glycerin and a little bit of Hyaluronic Acid, and then there is Adenosine and Acetyl Dipeptide-1 Cetyl Ester (or Neurosensine), a peptide that is supposedly soothing. (More info: Hyaluronic Acid – More than a humectant and Everything you need to know about peptides in skincare)
As mentioned above there is also a not-disclosed percentage of Salicylic Acid (personally I don't think it is close to the 2% usually used for breakouts due to the placement on the ingredient list and the fact that I experienced no irritation with daily use whatsoever) and Vitamin E.
The formula also contains Alcohol denat and Perfume, should you prefer to avoid them. (More info: Is alcohol in skincare really that bad?)
Does it live up to its claims?
In parts.
Vitamin C has the ability ro make the skin appear brighter and with the added humectants it will probably help reduce the look of fine lines and wrinkles. Given the combination of Ascorbic Acid with Salicylic Acid I wouldn't deem it ideal for sensitive skins though.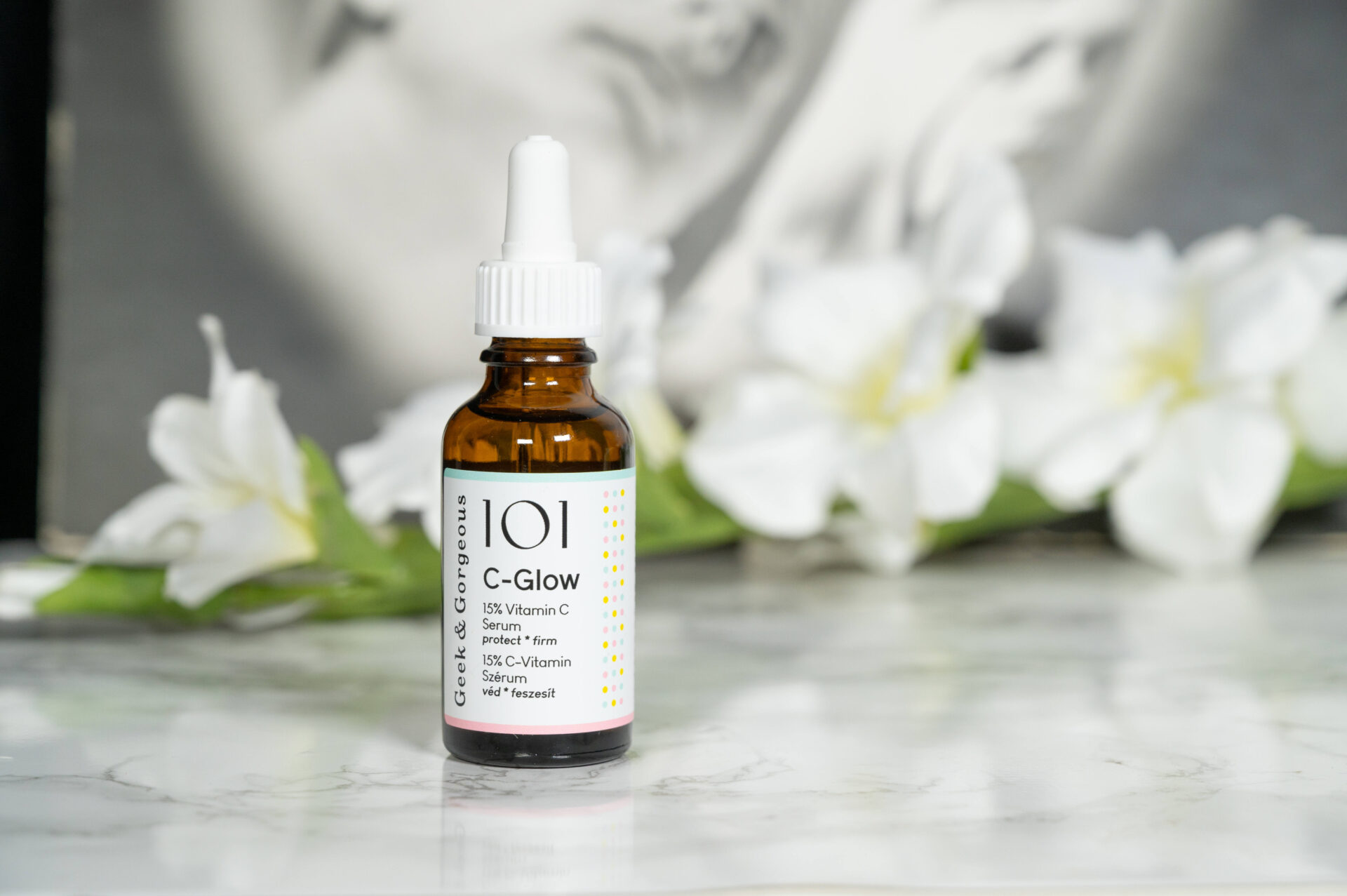 How does it compare to…
Geek and Gorgeous C-Glow
Other than the fact that both use L-Ascorbic Acid, there actually aren't that many similarities here. Geek and Gorgeous is a watery, clear formula and has no added fragrance or other potentially irritating ingredients. While the pH of La Roche Posay is at 5.5, the pH of C-Glow is at 3.3, so closer to ideal for Ascorbic Acid, but also potentially more irritating. Still, with Geek and Gorgeous having the "better" pH and 15% Ascorbic Acid, you probably get more Vitamin C effect than you get from the La Roche Posay Version, and that at half the price.
You can read my full review of the Geek and Gorgeous C-Glow here.
Would I repurchase and which skin types do I recommend the La Roche Posay Vitamin C10 Serum to?
I will certainly not repurchase as I much prefer my Geek and Gorgeous one, but if the 15% concentration or the low pH in that one is too much for you or you feel your skin might benefit from the small amount of Salicylic Acid added for daily exfoliation, this one might be worth trying.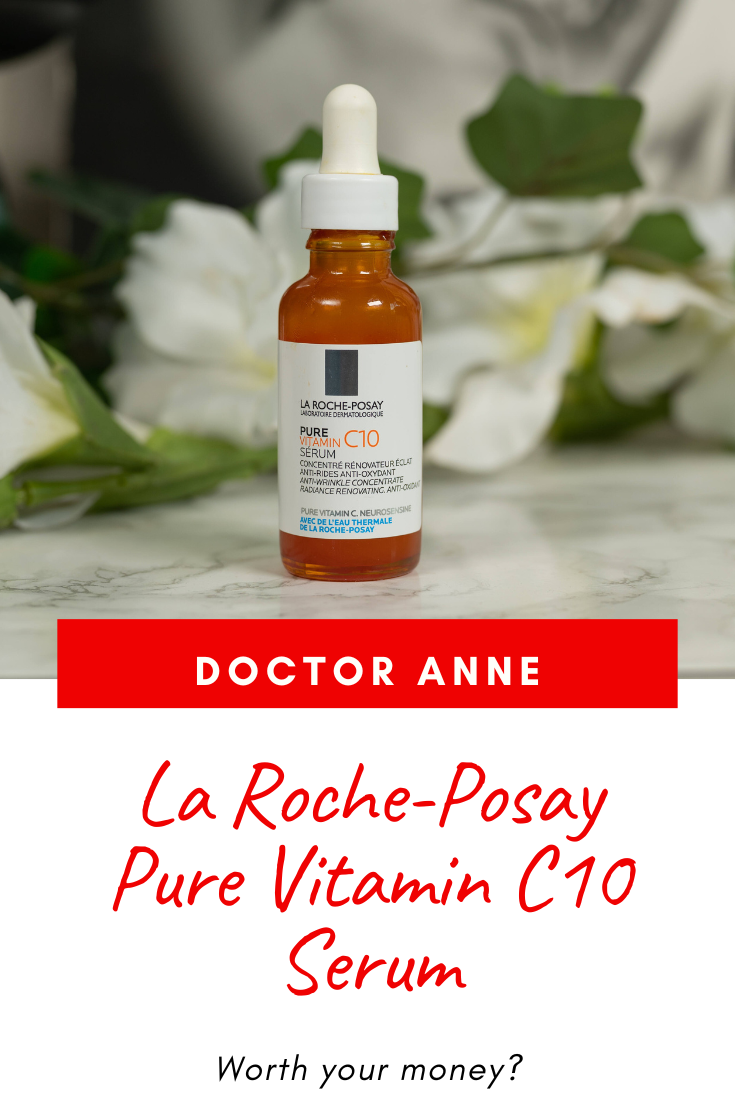 Shop the post
Don't forget to check out the Discount Code Page on top if you want to save some money on your next skincare purchase.
If you want to get a vote in the next Ask Doctor Anne Topic, Ingredient Spotlight or product I review, don't forget you can head over to my Patreon account to get more involved!
(Visited 12.955 times, 4 visits today)