ADVERTISEMENT INFO: SOME PRODUCTS MENTIONED IN THIS POST ARE PR (GIFTED) AND LINKS USED ARE AFFILIATE LINKS. I RECEIVED NO MONEY TO WRITE THE BLOGPOST. PLEASE READ DISCLAIMER
Like many a skincare lover I am guilty of looking out for the skin on my face much better than I do for the skin on the rest of my body, including the scalp. I vowed to change that many times already, so when the Laduora Duo 4 in 1 Pod Based Scalp and Hair Care device arrived at my doorstep, I was more than intrigued.
The 4 in 1 refers to the 4 different techniques used to take care of the scalp and promote hair growth: Sonic vibration, Warmth, Red Light Therapy and Electrical Stimulation, plus the contents of the pod that are distributed on the scalp when you run the brush through your hair.
But how did that actually work for me? And is there any data to back up the claims? Let's take a closer look!
What the Laduora DUO claims
Meet the Laduora DUO, the world's first pod-based hair and scalp care device. Combine your DUO with your chosen DUO Pod to experience a unique and luxurious hair and scalp treatment from the comfort of home.
Facts about the Laduora DUO
One device with charger and a set of two pods included is available for 299, 95 on the website here. The individual pods (always in a set of two) are available for 29,95 $ here.
The DUO looks like a brush, but with 30 metal bristles that conduct the warmth and the electric current and a hole in the middle in which you click the pod of your choosing. The device comes in three colors, red, pink peony and black, out of which I obviously picked red.
On the pod itself there are 6 similar looking metal bristles, but those can be pressed down on the top to release the mixture that is inside the pod and distribute it to the scalp.
There are currently three different pods, Boost, Awaken and Balance.
Out of these three I have tried Boost and Balance, their latest launch, but didn't notice any difference in how my hair felt and looked.
How to use the Laduora DUO
To use the device, you charge it with the charging point at the bottom, remove the protective caps from the pod bristles, click the pod into the hole in the middle and then press the round button underneath the bristles to turn the device on.
By clicking the button again shortly you can switch through three different settings, gentle (white light), balance (green light) and boost (blue light). While I can't say for sure if the other parameters change as well when switching between these three, the frequency of the vibration certainly does and I also feel that I go through pods quicker.
After choosing the setting you want to go for, you just place the DUO against your scalp like you would a brush and slowly brush through your hair, spending extra time at areas of concern should you have them.
After five minutes, the device will automatically turn off, but can be turned on again instantly if you want to go for a second round. Which you absolutely can, the brand says that after the initial process of adaptation where using it every day for five minutes is recommended, the frequency can be increased to 30 minutes a day in total, meaning you could go through the process six times a day.
The science behind the device
Now let's take a closer look at the 4 different things DUO uses to enhance hair growth – is there any science to back them up?
Well, for two out of four the answer is no, at least when it comes to studies. While both scalp massage, either manually or through sonic vibration, and warmth are often said to make the hair grow faster, there are no studies done on that topic. There is a possible explanation though, claiming that both warmth and massage increase the blood flow to the scalp, and that with that increased blood flow comes more nutrients to nourish the hair follicle, but if that is more than a theory, we don't know.
For electrocurrent there are some studies, although few and inconclusive, and for LEDs or red light therapy, we actually do have quite a few. Most of them are for a combination of low energy lasers and LEDs though, and the Laduora DUO only uses LED, but there are a few looking at LEDs only as well. I am not going too much into detail here, as I have a whole post dedicated on Low Level Laser Therapy for hair loss, but these are the two that made me the most excited to try the device. (More info: Does Low Level Laser Therapy work for hair growth?)
My six months results – is it worth your money?
Seeing a difference in your hair takes time, even more time than seeing a difference on your face when you use a device, so I committed to using the Laduora DUO for six months consistently. Five minutes daily don't sound much, but I admit it took some time to adjust to adding yet another beauty step to my already full day.
What I noticed was that despite the brand claiming on their website that wouldn't happen, the fluid from the pod left my hair a little… not greasy, but it left a slight residue. Not surprising as you are using oils, but still something that adds up especially if you are someone that doesn't wash their hair daily. I wash every other or every third day and that was still fine, just with my hair being a little less fresh than usual on day 3.
As for the claims on the website: smooth and shiny hair, improved scalp and hair quality and increased appearance of hair density, I can only attest to the improved smoothness and shine that I personally attribute to the oil from the pod as it didn't last through the washing, so wasn't a permanent change.
Now I have no bald patches or areas where my hair is thin, but I also didn't notice my hair looking fuller or denser overall. Above is a picture I took before I started the treatment and one six months later, and even here I wouldn't be able to see a change other than the fact that I need to get my roots done asap.
Roots brings me to the last thing: There was no need for me to go to the salon for a root touch up any sooner than I usually do, which is around every 5 months, so no increase in the speed my hair grew either. But even if I didn't have any of these objective changes, I can tell you that using the device felt very comfortable and soothing and that I am under the non-objectifiable impression that my hair regrowth looks a little healthier than it did before. Now if that impression is worth 300 $ including the continuing costs for the pod replacement, which lasted around a month depending on how often and on which setting I used the device is something you need to decide for yourself.
I personally would probably invest a little more in one of those Low Level Laser Therapy helmets and not purchase this one.
TL;DR
The Laduora DUO uses sonic vibration, warmth, LED and electric current to stimulate the hair follicle for the appearance of denser hair and increased hair and scalp quality. Out of these four, only two have studies backing up their claims of being actually beneficial for hair regrowth. It also uses a herbal mixture in a pod that is supposed to either stimulate the hair follicle or soothe the scalp, depending on which of the three versions you chose.
I used mine for six months, but while I found my hair to feel a little healthier, I didn't see any changes in speed of growth or hair density.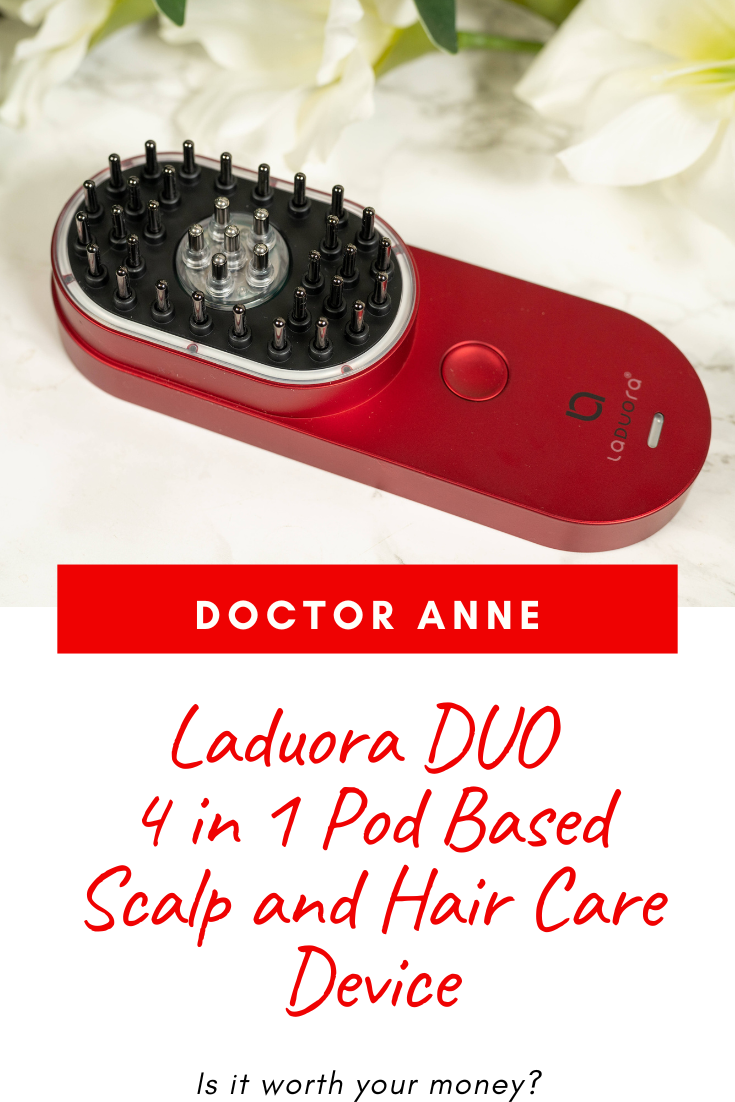 Shop the post
Don't forget to check out the Discount Code Page on top if you want to save some money on your next skincare purchase.
If you want to get a vote in the next Ask Doctor Anne Topic, Ingredient Spotlight or product I review, don't forget you can head over to my Patreon account to get more involved!
(Visited 497 times, 2 visits today)