ADVERTISEMENT INFO: THIS BLOG POST USES AFFILIATE LINKS AND CONTAINS PR-SAMPLES (GIFTED ITEMS). I RECEIVED NO MONEY TO WRITE IT. PLEASE READ DISCLAIMER.
It does not happen often that a skincare product leaves me confused. After years of using my face as testing ground for new releases, I tend to know quickly what a product can do for me and which ones I should stay clear from. The Murad AHA BHA Exfoliating Cleanser though was an exception.
When I first read it up, I was excited – I love BHA for my congestion prone skin, but so far only AHA cleansers had crossed my way. After first use then, I was slightly alarmed: This cleanser was way stronger than I expected, and I was not sure if I could make it work on my face.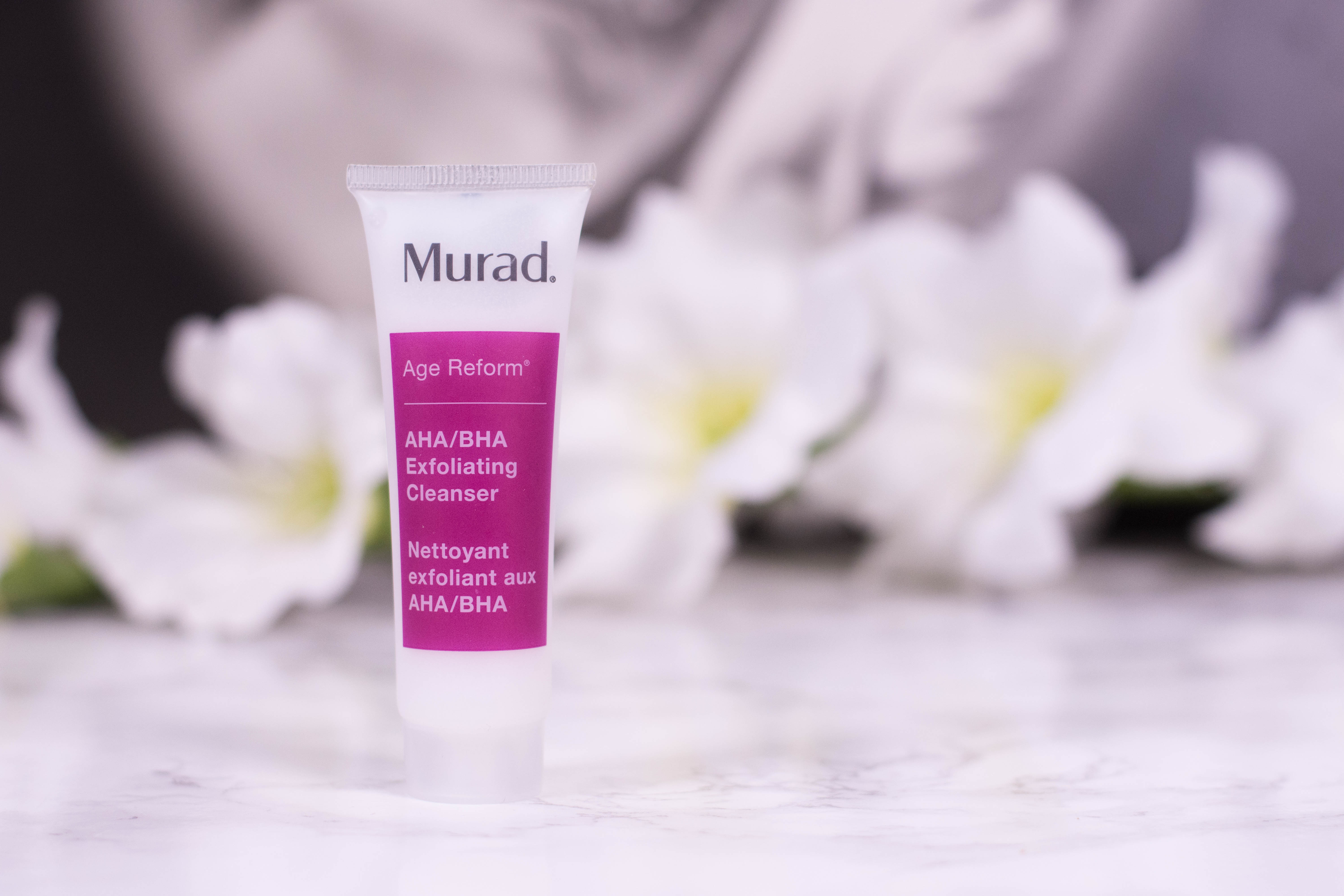 It took me weeks to work out how it would fit into my routine, but now that I did, it quickly became a staple.
You see, the dose makes the poison here! My confusion stemmed from the fact that it is called "exfoliating cleanser", so I expected something like the pixi Glow Tonic Cleansing Gel (which I know I still owe you a review on), a gentle cleanser with additional exfoliating abilities. This could however not be further from the truth! Using the Murad AHA BHA Exfoliating Cleanser as regular cleanser would most likely prompt your face to fall off. It is, in my humble opinion, not a cleanser with additional exfoliation, but an exfoliant with additional cleansing abilities.
To be fair, the Murad website recommends using it no more than twice a week (one of the many things I love about the brand is their realistic skin care advice), but I personally limit usage even further: I use it once a month, when due to hormonal changes congestion is at an all time high and strong measures are in order!
And to help you find out if the Murad AHA BHA Exfoliating Cleanser is worth your money, let me go a little more in depth here.
What the Murad AHA BHA Exfoliating Cleanser claims
Intensive triple-action exfoliator with a proprietary blend of salicylic, lactic and glycolic acids polishes away dull, dry skin without irritation. Reveals smoother texture and a brighter, younger-looking complexion.
Some facts about the Murad AHA BHA Exfoliating Cleanser
Price and Size
The squeezy tube contains 200 ml and retails for 41,99 € on the Douglas website here (Murad is exclusive to Douglas in Germany). As you only need a little, 200 ml is a very generous amount. I have the travel size and have not even used up a third of it yet.
Texture and scent
You can feel the beads when you rub the milky gel on your skin, but they don´t feel harsh. There is no noticeable scent.
How to use the Murad AHA BHA Exfoliating Cleanser
As I said before, don't be fooled by the name, this is NOT a cleanser. If you were to use it as daily cleanse, I reckon your face would fall off. This is an exfoliator with cleansing ingredients, so apply it around once a week (or less, depending on your needs) to a clean face. Murad recommends to first make it lather in the palm of your hand and then apply the foam to your face, which is gentler than rubbing it in directly as you get less physical exfoliation from the jojoba beads.
I have tried it both applied directly to the face and lathered up beforehand, and I prefer the gentler version of applying the lather to my face. If you have a lot of stubborn texture, applying it directly will increase the (very gentle) physical exfoliation you get.
Ingredients
Favorable ingredients

Jojoba Esters: Emollient
Glycol Stearate: Emollient
Butylene Glycol: Humectant
Sodium PCA: Humectant, naturally occurring in skin (drop with age), protecting skins acid mantle, antiinflammatory
Dipotassium Glycyrrhizate: Anti-inflammatory, treatment for atopic dermatitis
Sodium Ascorbyl Phosphate: Precursor of Vitamin C, more stable, less irritant, brightening, less effective
Glycolic Acid: AHA, exfoliates dead skin cells, slightly improves collagen production
Lactic Acid: AHA, larger molecule than Glycolic Acid, so exfoliates closer to the skin surface
Salicylic Acid: BHA, great exfoliant for acneic and oily skin, exfoliates inside the pores
Other ingredients

Sodium Laureth Sulphate: Surfactant, very effective in cleansing, but also very stripping
Cocamidopropyl Betaine: Surfactant, lathering
Acrylates Copolymer: Viscosity control
Polyquaternium-4: Film former
Sodium Hydroxide: pH adjuster
Sodium Chloride: Table Salt, thickening

 

Citric Acid: AHA/pH adjuster
Disodium EDTA: Binding Agen
Phenoxyethanol: Preservative

 

Methylparaben: Preservative
Propylparaben: Preservative
The main surfactant is Sodium Laureth Sulfate, which has a reputation of being rather stripping, and it combines Glycolic, Lactic and Salicylic Acid for chemical and jojoba beads for physical exfoliation. It contains a few humectants that give back some hydration as well as a Vitamin C derivate, but as you don´t leave it on your face I think the acids give the main effect here.
How does the Murad AHA BHA Exfoliating Cleanser compare to
Nip & Fab Glycolic Cleansing Fix
This is one of the better know (and as far as I can see quite popular) Glycolic Cleansers out there that I have tried. The obvious difference is that the Murad AHA BHA Exfoliating Cleanser does contain Salicylic and Lactic Acid on top of the Glycolic Acid one, and that the Nip & Fab one is only a quarter of the price. It has no humectants or soothing ingredients though, so I feel like you get what you pay for in this case, and I enjoy the Murad Exfoliating Cleanser more.
Read my full review of the Nip & Fab Glycolic Cleansing Fix here
pixi Glow Mud Cleanser
Another Glycolic Acid Cleanser, this time with a texture that lends itself to some gentle physical exfoliation as well. This one is more suited to be used as a cleanser (although you should of course keep it away from your eyes), as it is way gentler than the Murad Exfoliating Cleanser. But, that is the downside, it is also way less effective. The pixi Glow Mud Cleanser is more for daily upkeep, while the Murad AHA BHA Cleanser is a proper exfoliant, so I think it is totally justified to have both in your stash (*cough* like me *cough*).
Read my full review of the pixi Glow Mud Cleanser here
Instytutum Triple Effect Peel
If you have been around here for a while, you might remember the Instytutum Triple Effect Peel mentioned as my favorite exfoliant several times already. If you have been very good at keeping up with my posts (I love you!) you might remember how upset I was when they changed the formula around a year ago. The Triple Effect Peel is similar in that it combines AHA and BHA with physical exfoliation, but with the new formula, the physical part of the Instytutum product is way harsher than the Murad one, making the Murad AHA BHA Exfoliating Cleanser my favorite out of the two. Oh, and it is half the price, so that is amazing!
Read my full review of the original Instytutum Triple Effect Peel here
Does the Murad AHA BHA Exfoliating Cleanser live up to its claims?
Yes.
With one exception: I wouldn´t completely agree with the "without irritation" part. While it is gentle for what it is, using it the wrong way could be pretty irritating indeed.
So is the Murad AHA BHA Exfoliating Cleanser worth your money?
That really depends on your skin and it´s needs. I don´t think that sensitive skins would get along with it very well, or that skin that doesn´t suffer from congestion needs the extra BHA action it provides.
I do think however that skin like mine, with the combined needs of fighting congestion and needing superficial exfoliation due to being mature, will really benefit from having a product like that not for cleansing, but for exfoliation. In addition to that, men would probably enjoy it a lot too, as their skin is usually more oily and robust and the foaming action will help distributing the product in the beard area to prevent ingrown hairs.
Shop the post
(Visited 8.755 times, 1 visits today)