ADVERTISEMENT INFO: SOME PRODUCTS MENTIONED IN THIS POST ARE PR (GIFTED) AND LINKS USED ARE AFFILIATE LINKS. I RECEIVED NO MONEY TO WRITE THE BLOGPOST. PLEASE READ DISCLAIMER
The claims regarding the Murad Rapid Relief Acne Spot Treatment on their website use all kinds of superlatives – "within 4 hours", "97% agree…", "maximum strength formula" and usually that would make me suspicious. But as Murad is a brand I have used for a long time and whose claims I trust, I decided to look a little deeper to see if what they said was just mild exaggeration for marketing or plain impossible.
It is part of their acne control skincare line targeting oily and blemish-prone skin and contains 2% Salicylic Acid (not 20% as I first read, the dot in 2.0 is really hard to see for my more mature eyes…). This 2% is already justifying the claim of "maximum strength", as it is the highest concentration you can get over the counter.
Let's take a look at the other claims.
What the Murad Rapid Relief Acne Spot Treatment claims
Maximum strength acne spot treatment reduces blemish size and redness in 4 hours.
Facts about the Murad Rapid Relief Acne Spot Treatment
Prize and size
One tube contains 15 ml and is available for 26 $ on the website here. While 15 ml don't sound much, it is intended as spot treatment, so you won't need much. The tube has a small nozzle that will help you get as little as you need. Don't apply it directly to the skin though, get some on your hand and then dab it onto the spot.
Texture and smell
The product itself is a milky white gel that spreads easily, but with a little tackiness, and has a medicinal smell. It reminds me a lot of the way the skin disinfectants we use at work smell.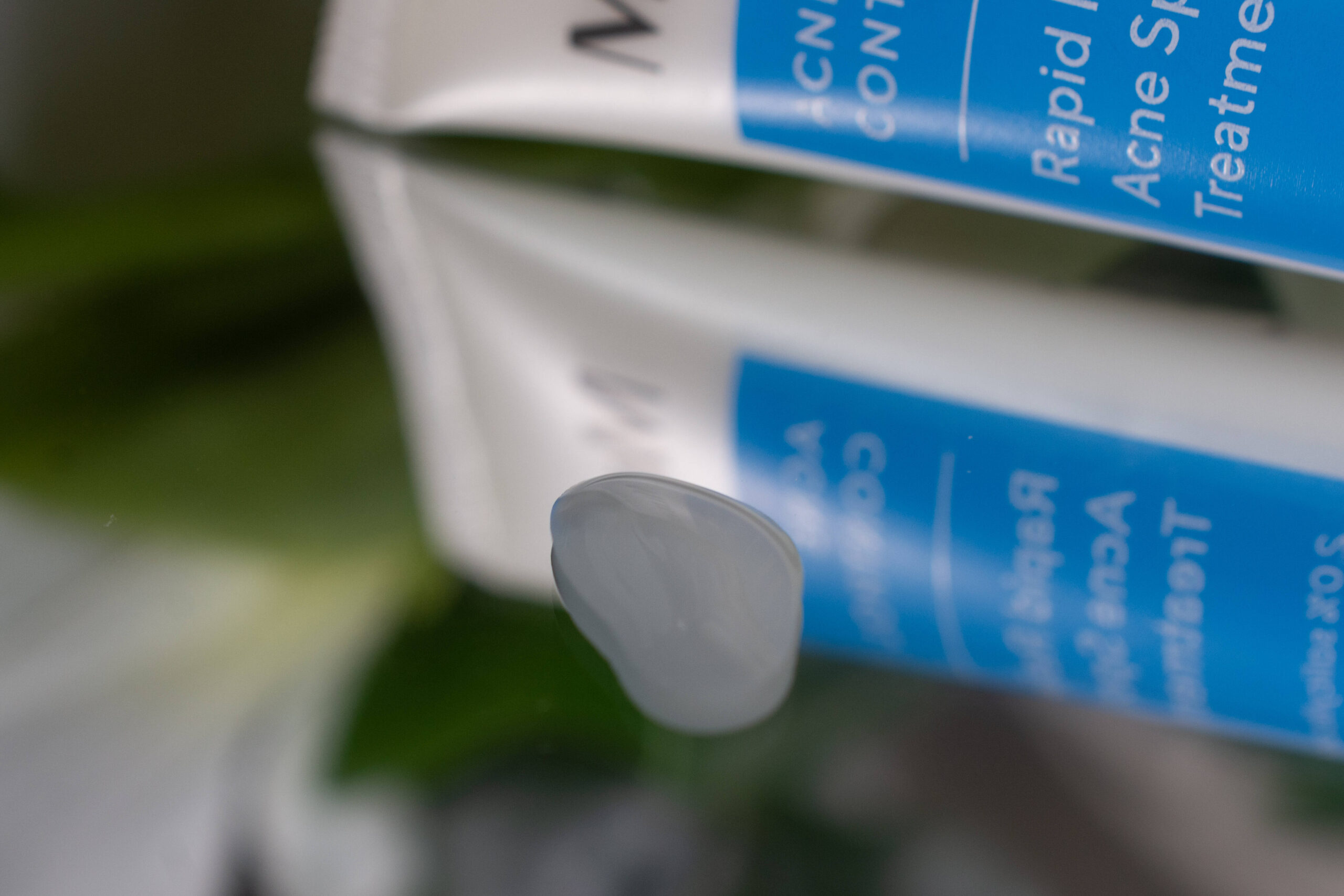 How to use the Murad Rapid Relief Acne Spot Treatment
This is intended to use as spot treatment on active breakouts, not as all over serum, so if you feel a blemish coming up, grab the Rapid Relief and dab some on top, ideally on cleansed skin and not on top of makeup (although that does work as well if you are in a pinch). The website recommends using it morning and night, but I have used it up to four times a day on especially bad breakouts without problems. It dries down almost invisible, so you won't notice it much when worn throughout the day.
When used for more than two days in a row it could be a little drying, but it worked really well in bringing the redness and pimple size down quickly – I get where the "within 4 hours" claim comes from.
Ingredients of the Murad Rapid Relief Acne Spot Treatment
Active Ingredients
:
Salicylic Acid

exf

|

aacne

|

so

|

pres
Inactive Ingredients
:
Water (Aqua)
solv
,
Alcohol

amic

|

solv

|

vc
,
Hamamelis Virginiana (Witch Hazel) Water

so
,
Propanediol
solv

|

h
,
Pentylene Glycol
solv

|

h
,
Glycerin

sii

|

h
0
0
,
Silica
vc
,
Butylene Glycol
h

|

solv
0
1
,
Polyacrylate Crosspolymer-6
vc
,
C12-15 Alkyl Lactate
emo
,
Aesculus Hippocastanum (Horse Chestnut) Seed Extract

so
,
Avena Sativa (Oat) Kernel Extract

aox

|

so

|

emo

|

abrasive/scrub
,
Urea

sii

|

h
,
Yeast Amino Acids
h
,
Trehalose

h
,
Inositol
h
,
Taurine
buff
,
Betaine

h
,
Thymol
,
Terpineol
perf
,
Hydroxyphenyl Propamidobenzoic Acid

so
,
Shea Butter Ethyl Esters
emo
,
4-T-Butylcyclohexanol

so

|

cci
,
Disodium EDTA
chel
,
Sodium Hydroxide
buff
Hover the mouse over an ingredient for short explanation. Read more on INCIDecoder.
This quick reduction in redness and swelling is probably due to the Salicylic Acid and its antiinflammatory properties. On top of that it is exfoliating with a preference for oily parts and the inside of the pore, meaning it will help unclog whatever is blocked and thus eliminating the source of some breakouts – not of these pesky deep set ones underneath the skin, but even in those it will reduce the redness and swelling.
There is also Alcohol, probably the reason why it smells like hand sanitizer and great at killing bacteria (More info: Is alcohol in your skincare bad for you?) and Silica to absorb excess oil. For hydration there is Glycerin and Urea, which could at higher concentrations also be keratolytic, meaning it could exfoliate as well, but I doubt these concentrations are reached here. Both Witch Hazel Water and Horse Chestnut Seed Extract claim to be soothing, but the plant extract with the most data is probably the Oat Kernel Extract added. (More info: The benefits of Colloidal Oat Meal in skincare)
Overall the whole formula uses tried and tested ingredients to reduce swelling and inflammation and dry out blemishes
Does it live up to its claims?
Yes.
It is able to reduce swelling and redness within a few hours, just like most Salicylic Acid formulations would, and is at the maximum strength allowed for Salicylic Acid, which is 2%.
How does it compare to…
pixi Zero Zit Blemish Solution
Interestingly enough, pixis offer isn't actually more affordable than Murads version, which I admit I had expected – pixi Zero Zit contains 10 ml and is available for 24 $. Even the 10 ml took me ages to finish though, so the question is if you'd need more anyway. The main difference though is that pixi Zero Zit does not use Salicylic Acid to treat spots, but instead uses Sulfur and Sea Salt to dry out the spot and bring down the inflammation. It is an unusual combination, but as effective as the Salicylic Acid version. A little more drying though, which might be a problem if your skin isn't that oily.
I personally prefer Salicylic Acid as it works great for me, but appreciate having an alternative.
You can read my full review of the pixi Zero Zit here.
Dr Sam's Flawless Neutralizing Gel
Again a product that could be used as spot treatment, but this time also all over the face for prevention. Dr Sam's offer contains 30 ml, so is twice the size of Murads version and in the end is more affordable per ml. Both use Salicylic Acid as main Active, but Dr. Sams combines it with 5% Azelaic Acid and Bakuchiol (More info: The benefits of Azelaic Acid in skincare and Is Bakuchiol better for you than retinol?). Despite being recommended as preventative skincare used all over, I much prefer the Flawless Neutralizing Gel as spot treatment. It works as well as Murad in this regard, but might help more with prevention of postinflammatory erythema or hyperpigmentation due to the Azelaic Acid (More info: The difference between PIE and PIH) I also perceive it as less drying, so probably better for prolonged use.
You can read my full review of the Dr. Sam's Flawless Neutralizing Gel here.
Paulas Choice Skin Perfecting 2% BHA Liquid Exfoliant
I only mention Paulas Choice because it is probably the best known 2% Salicylic Acid out there. Other than Murad it is very much not a spot treatment, but meant to be used all over for prevention, and it is much better suited to that than the Rapid Relief one as it isn't drying in the slightest. That proves once again that it isn't the ingredient that makes the product, but the formulation that makes the biggest difference. I personally use Paulas Choice every other day to prevent breakouts, but should that not be enough and a blemish raises its head, I put some Murad Rapid Relief or some Dr Sam's Flawless Neutralizing Gel on top to fight that annoying pimple specifically.
You can read my full review of the Paulas Choice Skin Perfecting 2% BHA Liquid Exfoliant here.
Would I repurchase and which skin types do I recommend the Murad Rapid Relief Acne Spot Treatment to?
Out of the spot treatments I have tried, I would probably repurchase the one from Dr. Sam over this one, but it is still a lovely product especially for those with more oily skin as it brings down the blemish quickly.
Shop Murad skincare here

Don't forget to check out the Discount Code Page on top if you want to save some money on your next skincare purchase.
If you want to get a vote in the next Ask Doctor Anne Topic, Ingredient Spotlight or product I review, don't forget you can head over to my Patreon account to get more involved!
(Visited 88 times, 1 visits today)