ADVERTISEMENT INFO: SOME OF THE PRODUCTS MENTIONED IN THIS POST ARE PR (GIFTED) AND LINKS USED MIGHT BE AFFILIATE LINKS. I RECEIVED NO MONEY TO WRITE THE BLOGPOST. PLEASE READ DISCLAIMER
When I sat down to plan my content for the rest of the year – because yeah, it is that late again already – I realized I had acquired quite some stuff I hadn't shown you yet. So here I am with my last big skincare haul of 2021 – some of the things you might have seen already because I got them shortly after I posted my last haul, but most of them won't make an appearance here until next year because, you know, I just have that one face. (More info: What's new for summer?)
It isn't all new stuff either, there are quite a few things I repurchased, so I suggest we start with my repurchases, move on to the new things I purchased and then finish with the PR I received.
Things I repurchased
First of all, there is Geek and Gorgeous C-Glow (30 ml for 10,50 €, full review here), my favorite Vitamin C Serum to date, and not only one, but four of them. One for myself, one for each of my sisters and one for my mother. And because that did not quite qualify me for free shipping, I also purchased their B-Bomb (30 ml for 8,50 €), a 10% Niacinamide Serum. Which, to be fair, actually belongs in the "New to me" section.
I also repurchased The Inkey List Hyaluronic Acid Hair Treatment (50 ml for 11,50 €, full review here) for the second time already and The Inkey List Salicylic Acid Exfoliating Scalp Treatment (150 ml for 17,30 €, full review here) for the first time – the bigger size and the fact I don't use it as often makes it last way longer than the Hyaluronic Acid one that I basically use every time I washed my hair to combat frizz. The Salicylic Acid one is maybe used once a month, to remove build up on my scalp, but not more often. Oh, and I can't say if it helps with dandruff, as I don't suffer from that. But it is great if you have oily roots and sometimes rely too heavily on dry shampoo.
Another one I repurchased is The Inkey List Niacinamide Serum (30 ml for 8,10 €), that I had passed on to my sister the last time as I prefer the one from The Ordinary with added Zinc (full review here) for summer, but as my skin is less oily now that I am well in my 40s and winter is coming, I figured I'd reach for one without the Zinc to not dry out the skin. And no, I really don't need two new 10% Niacinamide Serums, but you know, the free shipping made me do it. (More info: The benefits of Niacinamide for your skin)
Just for upkeep I repurchased two tubes of the Garnier Ambre Solaire Anti-Age Super UV Sunscreen SPF 50 (50 ml for 9,99 €, full review here) – it is just amazing for everyday as it is hydrating, but lightweight enough to wear under makeup and really affordable compared to other sunscreens I have used in the past.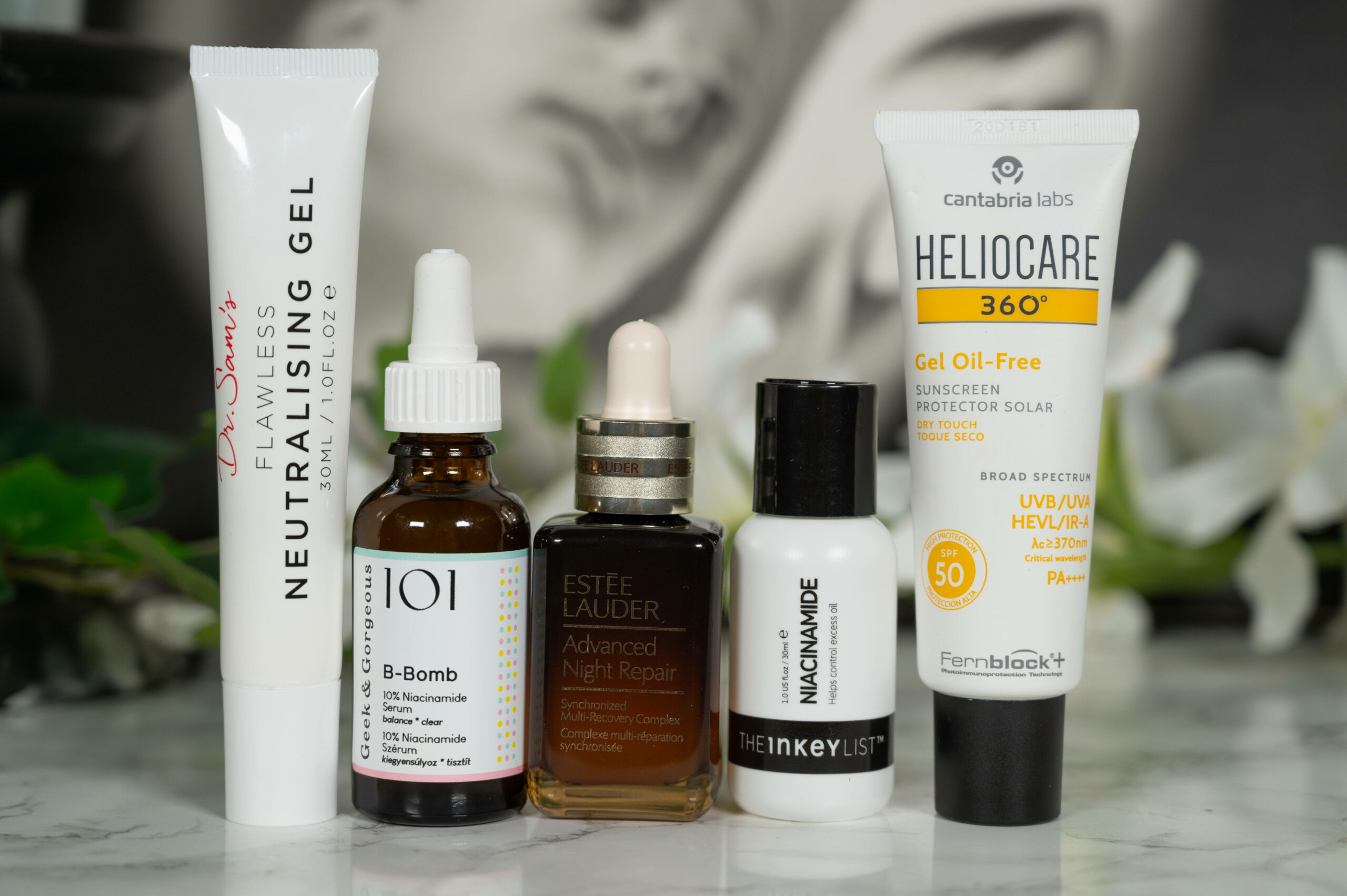 Things I purchased that are new to me
Moving on to the things I had NOT tried before, but felt compelled to try, which is, to be fair, the smallest category. I know what I like and what works for me by now.
Something I felt was missing in my routine though was the Dr Sam Flawless Neutralising Gel (30 ml for 38 $). This is Dr Sam Buntings newest release and promises to be hydrating while treating congestion and blemishes with 2% Salicylic Acid and 5% Azelaic Acid as well as Squalane and Bakuchiol. (More info: What is Bakuchiol?) Now you know I am not too excited about Bakuchiol, I much prefer my Tretinoin, but I yet have to find a 2% Salicylic Acid treatment that I can regularly use alongside the Tret without risking major irritation and flaky skin. I have been using it daily for almost three weeks now, and so far so good, but I need to go full cycle to really give you a proper review.
And the second thing I purchased that is new-ish is the Estee Lauder Advanced Night Repair Recovery Complex (30 ml for 58 €, former review here). If you ask now how that can be new to me, as I already have a review up on it going as far back as early 2020 – they reformulated, and I have yet to compare the new formula to the old one.
A new sunscreen I got is the Heliocare 360 Water Gel in Oil-Free (50 ml for 19,99 €). I finished my bottle of the Heliocare 360 Water Gel (full review here), which I loved, and figured the Oil-Free version would be great to use during the height of summer. Well, I was wrong. Firstly I do find it too drying on my skin, which I did not expect during summer, and second the scent in this one is SO strong, way stronger than in the other version, and this strong floral note all over my face is just not something I will ever get used to.
Might do a dedicated review, but if I don't, here is the short version: NOT a fan!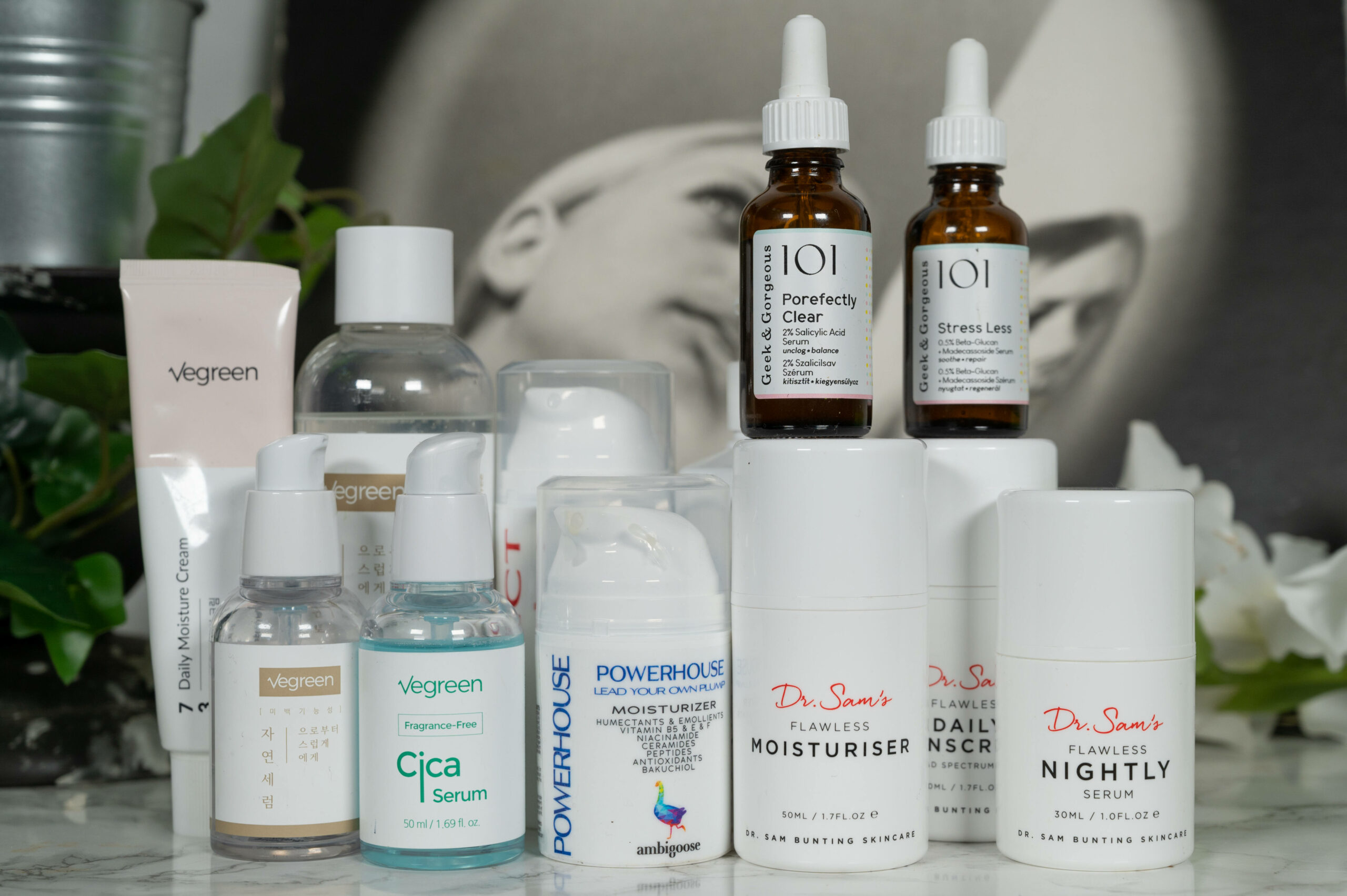 Things I got send by PR
And now for the stuff I got sent, which incidentally features more of Dr Sams Flawless Skincare line. Around the same time I purchased the Flawless Neutralizing Gel I received a parcel containing the Dr Sam Flawless Cleanser (200 ml for 22 $, full review here), the Dr Sam Flawless Moisturizer (50 ml for 29 $), the Dr Sam Flawless Nightly Serum (30 ml for 54$) and the Dr Sam Flawless Sunscreen (50 ml for 36 $). My review of the cleanser is up already, as they are the easiest and quickest to test, the rest will take some more time until I can give you my final thoughts. But I would be interested in hearing about your experiences, should you have used the line yourself.
Also already reviewed in parts on here are the products by Vegreen, a brand that approached me via Instagram and falls in the K-Beauty category, explaining why they are kind of hard to get outside Amazon. At first I wasn't too keen on trying their stuff, as their whole site is plastered with clean beauty and non toxic claims you know I really can't get on board with, but I hate to admit it, some of their products are really excellent. (More info: A doctors truth about clean beauty) My review of the Vegreen Nature Mucin Toner (250 ml for 18,41 $) and Vegreen Nature Mucin Serum (50 ml for 15,60 $) is already up (full review here), but I also have the Vegreen 730 Daily Moisture Cream (120 g for 15,60 $) and the Vegreen Fragrance-Free Cica Serum (50 ml for 16,60 $) that I might talk about in the time to come as well.
And lastly – thank you if you read this far, you are the best – lastly, I got contacted by a goose. Not just any goose of course, the Ambigoose that is so heavily into skincare that it launched its own line featuring the Respect Water Cleanser (30 ml for 19 €) and the Powerhouse Moisturizer (50 ml for 31 €).
Now I don't usually take skincare advice from animals, but what really got my attention was their mission statement:
"​​Our bold mission is to transcend stereotypical gender constructs that surround the beauty industry by providing the ambigoose community with a high-quality, diverse skincare range that is aimed at all humankind.", something I can wholeheartedly get behind in a time when companies try to sell me gendered packs of crisps!
So the mission is great, the goose was much fun to talk to, but if the products deliver is something I will share in another blogpost.
And that is everything! Enough to see me through the last weeks of 2021 (and probably the first part of 2022 as well).
If you want to get a vote in the next Ask Doctor Anne Topic, Ingredient Spotlight or product I review, don't forget you can head over to my Patreon account to get more involved!
(Visited 466 times, 1 visits today)