ADVERTISEMENT INFO: SOME PRODUCTS MENTIONED IN THIS POST ARE PR (GIFTED) AND LINKS USED ARE AFFILIATE LINKS. I RECEIVED NO MONEY TO WRITE THE BLOGPOST. PLEASE READ DISCLAIMER
To everyone that read last months New In skincare post talking about what should have been there, but wasn't, my e.l.f. skincare order: You can relax, e.l.f reshipped the order and everything arrived safe and sound this time. which means that this month is actually a whole lot of skincare here to show you, the three different e.l.f. lines I ordered, all three ZIIP microcurrent gels available for me to compare them, two serums from Alpha-H, my first ever microneedling device by Banish with accompanying skincare and lastly the firming wands by SBLA that are, despite the name, not devices, but skincare products.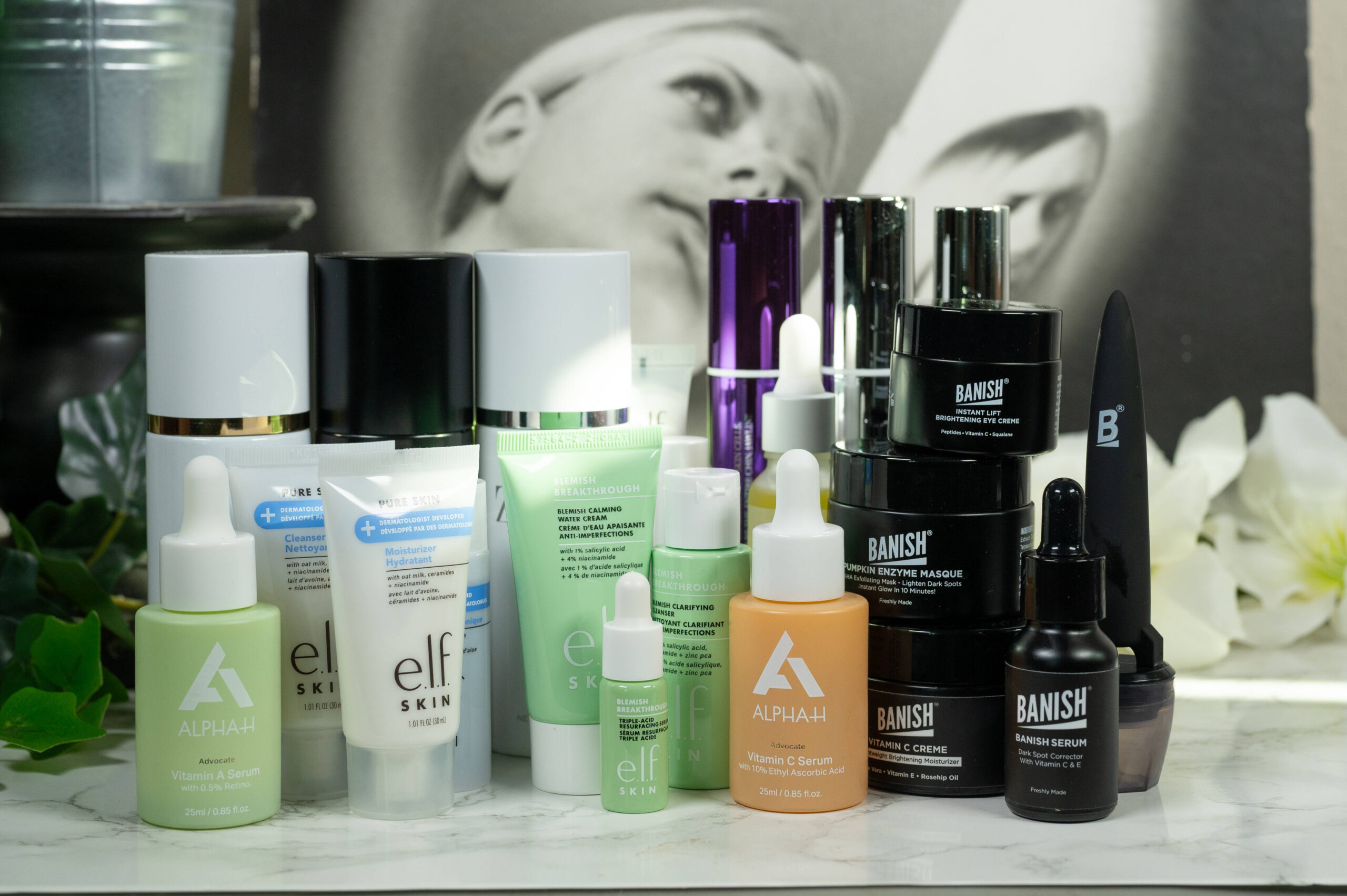 If you have been around for a while, you will know I am pretty skeptical when it comes to microneedling at home, and two of the main reasons (in depth blogpost coming soon), is the risk of using the roller the wrong way and not disinfecting it properly. Banish claims to have found a solution to that, so I was curious to see how their device actually works.
But let's look at the stuff that should have been here last month first.
e.l.f. Skin Hit Kit – hemp derived skincare
I admit I got a little carried away when I was on the e.l.f. website – it was hard not to, as the skincare is really affordable and there were quite a few trial sets, which is something I can barely resist. And this is exactly how I ended up with the e.l.f. Skin Hit Kit, with skincare derived from Hemp. Now hemp derived skincare has been all the rage over the last few years, but I don't think it is as good as it is claimed. (More info: Will CBD in my skincare make me high?)
Still here we go with four different products: First the Puff Puff Primer (30 ml for 7,20 €, review coming soon), which in all honesty is more makeup than skincare. Still they advertise the Hemp Seed Oil and the added Vitamins A and C, so I figured I'd throw it in under skincare. I don't use primers on the regular, but am determined to give this one a go.
The Happy Hydration Cream (50 g for 13 €, review coming soon) is advocated as rich cream, so will probably come out to play in autumn rather than now in summer, as will the All the feels Facial Oil (30 ml for 13 €, review coming soon), despite claiming to be lightweight and non-greasy. Face oils are just more of a cold-months-thing for me.
On thing I use year round is lip balms, so the Calm Balm (1,9 ml for 4,80 €, review coming soon) will be put in my handbag immediately.
e.l.f. Blemish Breakthrough line
Another line I had to try was the Blemish Breakthrough line with Salicylic Acid. My adult acne is mainly under control with my Tretinoin, but I do need regular exfoliation to help with blocked pores, and for that I prefer Salicylic Acid.
First we have the Blemish Clarifying Cleanser (115 ml for 10 €, review coming soon) with 1% Salicylic Acid – for reference, 2% is what you usually get in acne-fighting products. Then I got the Triple-Acid Resurfacing Serum (28 ml for 16€, review coming soon), which does not, as you might have suspected, contain the usual trifecta of acids as in glycolic, lactic and salicylic, but instead Lactobionic Acid (a Polyhydroxy Acid) and Tranexamic Acid. (More info: The benefits of Polyhydroxy Acid in skincare explained and The benefits of Tranexami Acid in skincare explained).
The last one in this trial kit is the Blemish Calming Water Cream (50 ml for 14 €, review coming soon), again with 1% Salicylic Acid.
e.l.f. Pure Skin line
And after all these special ingredient skincare sets I felt like I had to get the Pure Skin products as well, with the lovely claim "Back to basics" – you know I am a huge advocate for keeping the skincare around your actives as simple as possible.
The Pure Skin Cleanser (180 ml for 10 €, review coming soon) contains Niacinamide and colloidal oat meal as well as several Ceramides. (More info: The benefits of Niacinamide in skincare explained, The benefits of Colloidal Oat Meal in skincare explained and The benefits of Ceramides in skicare explained)
The Pure Skin Toner (150 ml for 10 €, review coming soon) on the other hand contains Glycolic Acid, which surprised me a little, but as they don't state the concentration on the website, it might be a concentration too low to irritate.
In the Pure Skin Moisturizer (75 ml for 13 €, review coming soon) you will again find the soothing ingredients present in the cleanser. It is, just like the other products from that line, fragrance-free. (More info: Is fragrance in your skincare bad for you?)
Alpha-H Advocate Vitamin C and Vitamin A Serum
When Alpha-H offered to send me some products, it didn't take me long to decide I wanted to try these two serums. You know I always have a Vitamin C and a Vitamin A in my routine in some shape or form, so I was excited to see how they'd perform compared to my favorites. Both the Alpha-H Advocate Vitamin C Serum (25 ml for 56 €, review coming soon) and the Alpha-H Advocate Vitamin A Serum (25 ml for 28 €, review coming soon) have been cracked open already, as I was out of both my regular Vitamin C and the Retinal I use on my neck and décolleté, meaning you can expect a review coming up quite soon.
Alpha-H sure is more on the expensive side, you can certainly get better deals on both types of serum out there, but it is a brand that has been with me all through my skincare journey and that I enjoy.
ZIIP Golden Gel, Silver Gel and Crystal Gel
If you have read my review on the ZIIP GX (if not, you can find it here), you'll know that I don't think you need to use the original and quite expensive gel that comes with it, any no name ultrasound gel will do. But after finishing my bottle of ZIIP Golden Gel, I admit I missed it. Unlike other gels it feels beautiful on the skin, is easy to remove after treatment and doesn't dry out during the treatment.
A question I had always asked myself was how the three available gels would compare when used side by side, and I was lucky enough to get sent all three as replacement and for comparison. So here they are: the ZIIP Golden Gel (80 ml for 123 €) aimed at more mature skin and enriched with anti-aging ingredients, then the ZIIP Silver Gel (80 ml for 44 €), which is mainly hydrating, and then the ZIIP Crystal Gel (80 ml for 76 €), which is certified organic and formulated with extra plant extracts.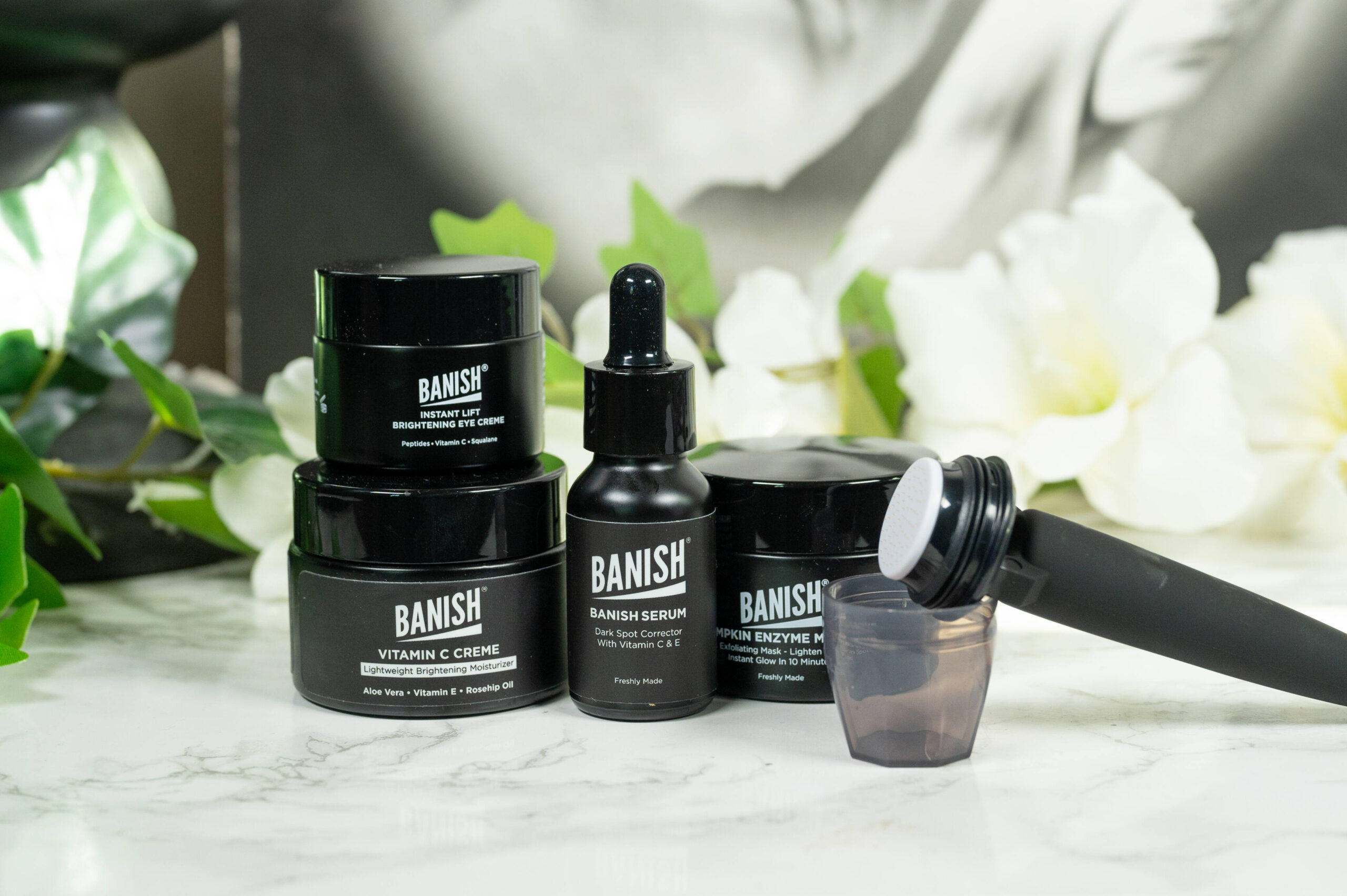 Banish microneedling device and skincare
The Banish packaging is unlike most in my collection, and the whole website, in clack and white, looks different from what I am used to. The reason why I wanted to try them wasn't their skincare products though, but their Banisher 2.0 (1 tool for 82 €). What looks like a medieval torture device (quite frankly, I am a little scared) is a special form of microneedling device – not a roller, but a stamp. I have reservations about at home microneedling, and quite a few come from my concerns regarding disinfection and injuring the skin through improper use. The Banisher 2.0 claims to prevent that by being a stamp rather than a roller, meaning it is easier to clean and harder to tear at your skin whille rolling. But claims are one thing, I wanted to see for myself if that could work.
To go with the device I got the Banish Serum Dark Spot Corrector (15 ml for 58 $, review coming soon), a Vitamin C serum designed to be used after microneelding (and of course on the days in between).
The rest of their skincare isn't specifically for use with a microneedling device, but aimed at reducing the appearance of acne scars, which the whole brand is built around. I got the Banish Instant Lift Brightening Eye Cream (ml for 85 $, review coming soon) that comes with the cutest pair of socks and a load of peptides in the ingredient list, the Banish Pumpkin Enzyme Mask (50 ml for 58 $, review coming soon) with added Glycolic Acid and lastly the Banish Vitamin C Cream (50 ml for 58 $, review coming soon) with, you might have guessed it, Vitamin C.
SBLA Sculpting Wands
Over the last year, I have reviewed a lot of skincare devices on here, most of them in an attempt to non-surgically lift my jaw line – I am one of the people that age with sagginess and jowls rather hollowness and sunken cheeks. And while I am well aware that over the course of time I will have to decide if I go the more invasive route or just acceept the changes, I am still trying to delay the inevitable as much as possible.
The latest I got for that reason are the Lifting Wands by SBLA Beauty. Despite the name and the quite technical looks, they aren't devices, but wands filled with skincare and with a roller ball for application, which looks fancy.
I got three of them, the SBLA Beauty Eye Lift Wand (15 ml for 149 $, review coming soon) and then both the SBLA Beauty Neck, Chin and Jawline Sculpting Wand (20ml for 89 $, review coming soon) and the SBLA Beauty Neck, Chin and Jawline Sculpting Wand XL (20 ml for 129 $, review coming soon), which isn't, as I first assumed, just a jumbo sized version of the original SBLA Beauty Neck, Chin and Jawline Sculpting Wand, but instead claims to melt fat cells with topical application.
Now I wonder if I should do a four weeks trial with before and after, using it on one half of my face only… What do you think?
Shop the post

Don't forget to check out the Discount Code Page on top if you want to save some money on your next skincare purchase.
If you want to get a vote in the next Ask Doctor Anne Topic, Ingredient Spotlight or product I review, don't forget you can head over to my Patreon account to get more involved!
(Visited 274 times, 1 visits today)