ADVERTISEMENT INFO: SOME PRODUCTS MENTIONED IN THIS POST ARE PR (GIFTED) AND LINKS USED ARE AFFILIATE LINKS. I RECEIVED NO MONEY TO WRITE THE BLOGPOST. PLEASE READ DISCLAIMER
At the end of last month I told you that I did purchase some skincare while I was in New York – I mean, I had to take advantage of the fact that our hotel was close to the biggest Sephora in the US, didn't I? Well, until I lined everything up to take pictures, I had no idea how much it actually was!
So yes, while I try to figure out which one to crack open first so I at least stand a chance to use it before it goes off, here is the full list for you  – please tell me what you'd like to see reviewed first!
We will start with the things I purchased in New York and end with the few additional bits I got in PR, including another device. They really are my newest weakness!
New In from The Inkey List and The Ordinary
Now here you have a mixture of an almost classic, The Ordinary Squalane Cleanser (50 ml for 7 €), that is only new to me and two new-ish items: two out of the four The Inkey List Supersolutions.
The cleanser gets so much praise that I knew I needed to try it at some point, and for The Inkey List… well, I try almost everything they come out with and that could suit my skin type.
I got the Scar, Mark and Wrinkle Solution or 1% Retinol Serum (30 ml for 22,99 €) to compare to their other retinol serum and the Dry and Rough Skin Solution or 10% Urea moisturizer (50 ml for 19,99 €). Both are more on the pricey side for The Inkey List products, so I am expecting to be wowed.
New in from Glow Recipe
For the longest time I have refused to buy into the hype of what I perceived to be a Insta-brand – Glow Recipe. The cutesy packaging, the pastel colors, the names… It is hard for me to take their products seriously.
But when I saw their Fruit Baby Bestsellers Kit (all products pictured above for 32 $), I figured I might just as well stop being so arrogant and just see for myself if there is more to it than fluff. The minis inside are their Watermelon Glow Pink Juice Moisturizer (60 ml for 39 $ full size), the Plum Plump Hyaluronic Serum (30 ml for 44 $ full size), the Watermelon PHA + BHA Pore-Tight Toner (150 ml for 34 $ full size), the Watermelon Glow Niacinamide Dew Drops (40 ml for 34 $ full size) and the Avocado Melt Retinol Eye Cream (15 ml for 42 $ full size).
I think I will leave them for spring, when the pastel pinks will fit the seasonal color palette…
New in from First Aid Beauty
A while ago I published my first "brands I want to explore" post (you can read it here) and it featured a whole lot of products from First Aid Beauty, so when I saw a kit where two out of the three were on my list, I figured it was now or never.
The ones I wanted to try were the Pure Skin Face Cleanser (56,7 g for for 20 $, full review here), which apparently was recently reformulated much to the dismay of long standing fans, and the Ultra Repair Cream with Colloidal Oatmeal (56,7 g for 16 $, full review here) that I wanted to try ever since I wrote about the benefits of Colloidal Oat Meal in skincare here.
The last one, the TikTok famous KP Bump Eraser Body Scrub 10% AHA (226 g for 30 $ for the full size) is one that I probably wouldn't have purchased, but as Keratosis pilaris season is right around the corner, it won't hurt to have it in my stash either. (More info: Chicken skin – How to treat the bumps on arms and legs)
All three are already lined up for intensive testing now that the cold is here.
New in from Innisfree – the Green Tea Seed line
I love tea, at least most of it. I drink it year round and adore both the black, the white and the green version. But while herbal tea might occasionally be tolerated, any kind of rooibos or fruity teas are strictly off limits.
I don't have much tea themed skincare though, so when I saw the Green Tea Seed kit from innisfree, I figured it was about time to change that. With the Hydrating Cleansing Foam (150 ml for 10,95 €), the Intensive Hydrating Toner (200 ml for 20,95 €), the Intensive Hydrating Serum (80 ml for 20,95 €) and the Intensive Hydrating Cream (50 ml for 25,95 €), all with Green Tea Seed in the formula, you basically get a hydrating skincare routine in a kit.
I am not sure which season they are most appropriate for, but maybe late spring? Any suggestions?
New in from Fresh with Black Tea
Continuing with the tea theme, here are the fresh Age-Delay Eye Concentrate (15 ml for 76 €), the Black Tea Firming Corset Cream (50 ml for 102 €) and the Kombucha Antioxidant Essence (150 ml for 79 €).
To be honest, I didn't realize how expensive they were until I typed the prices out there – that is the beauty of kits, with the smaller sizes and the multiple products it somehow always appears to be less expensive than it actually is in the end.
But as they do have a loyal following, I hope they will live up to my, now pretty high, expectations.
K18 Leave-in molecular repair hair mask
If you have been around here for a while, you know that I
a) bleach my hair and have no intention on stopping (More info: Why we go grey with age and why it matters) and that
b) I swear by Olaplex to keep my hair as healthy as possible in the process. (More info: What is Olaplex and how does it work).
That doesn't mean though that I am not always looking for the next best thing to try, and as the K18 hair mask (15 ml for 29,90 €) has been getting a lot of attention lately, I knew I had to have it. The 15 ml seemed like the most reasonable choice for me to get a feel for it, but if you are willing to commit, there is also a 50 ml version.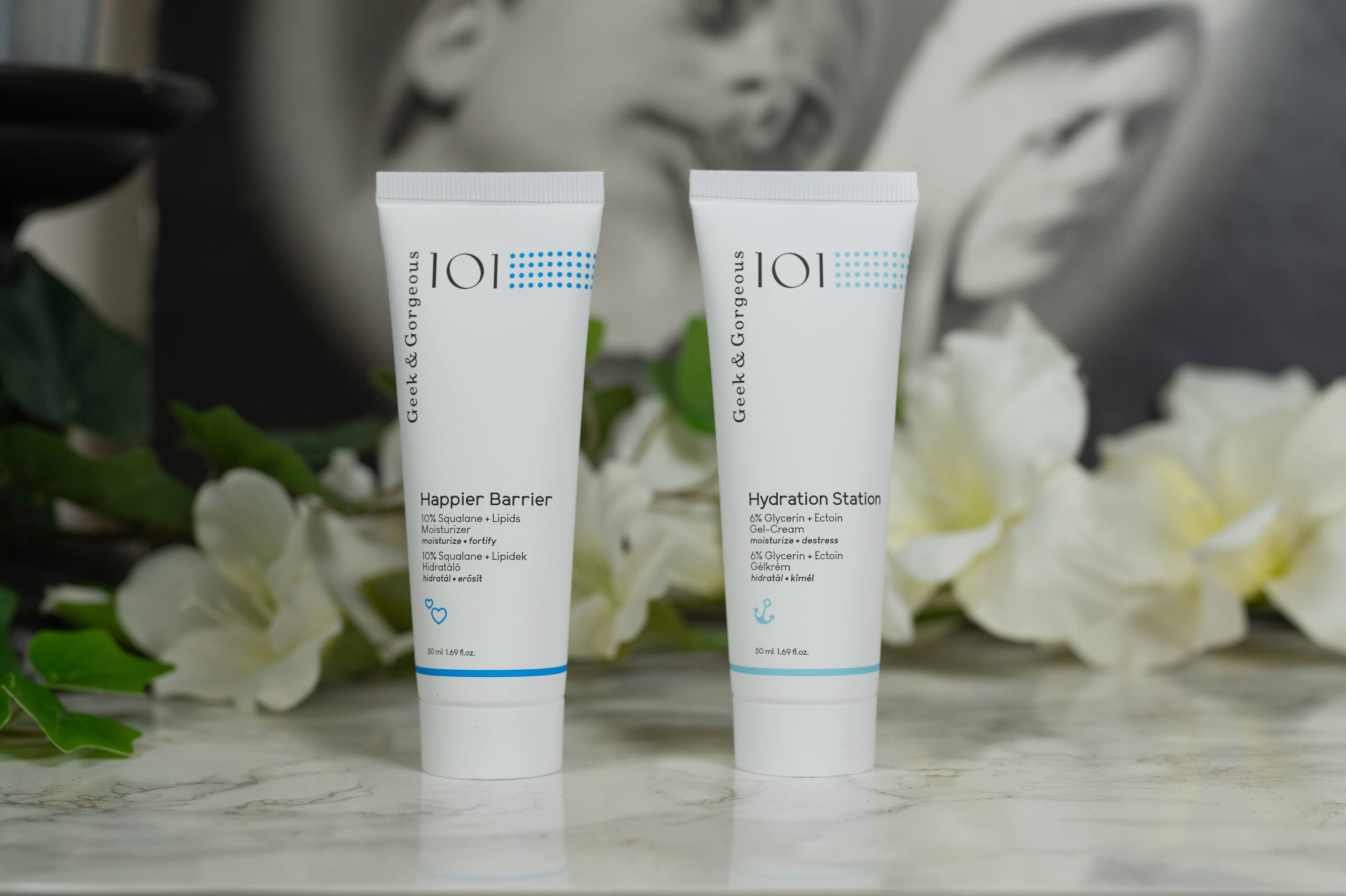 New in from Geek and Gorgeous – the Moisturizers
Another brand that has been heavily featured here on this blog already is Geek and Gorgeous. I mean they are affordable, ingredient – centered and usually convince me in everything I have tried.
Their latest release is two moisturizers, Happier Barrier aimed at normal to dry skin (50 ml for 10,80 €) and Hydration Station, aimed at normal to oily skin (50 ml for 8,80 €).
The only thing missing to build a full skincare routine using only their products was moisturizer and sunscreen, so you can imagine how excited I am to see if they live up to my expectations!
New in from Nacific
Now Nacific is a brand I admit I never had heard of before a package arrived at my doorstep, but as there are far more brands than minutes in a day that isn't necessarily a testament to the fame of the brand. Looking at their website, they are located in Korea, use the "clean and natural" narrative to distinguish themselves from others (More info: A doctors truth about Clean Beauty) and offer a variety of different skincare products with a focus on cleansers and toners.
I got send the Fresh Herb Origin Cleansing Oil (300 ml for 20$) and the Fresh Herb Origin Cleansing Water (300 ml for 15 $), both of which feature Bakuchiol for "early anti-aging" (More info: Bakuchiol or Retinol – Which one is better for you?).
I am not particularly into Bakuchiol and don't think using it in a rinse-off product is very effective, but for the sake of a review will put both to the test eventually.
Laduora DUO Scalp and Hair Care Device
Scalp care is the new trend in hair care I have been told, and while I am not sure if that is true, I can't help but notice an influx in products aiming to treat the skin on our scalp rather than just the hair growing out of there. And it makes sense to give the skin there the same love and attention than we give to the one on our face, don't you think?
When I talked about LED Light Therapy for skin rejuvenation here, I briefly mentioned that it was used for increased hair growth as well. Now I haven't looked into that a lot, but when I was sent the LADUORA Duo Pod Based Scalp & Hair Care Device (229,95 $ for device with Boost Pod Set) that combines sonic vibration, therapeutic warmth, red light therapy and electrical stimulation, I was more than curious.
Can it help with hair growth and hair loss? Well, I am determined to find out!
And that sums up the products I purchased or got sent last month. Over to you: What do you want to see reviewed first?
Shop the post here
Don't forget to check out the Discount Code Page on top if you want to save some money on your next skincare purchase.
If you want to get a vote in the next Ask Doctor Anne Topic, Ingredient Spotlight or product I review, don't forget you can head over to my Patreon account to get more involved!
(Visited 719 times, 1 visits today)