ADVERTISEMENT INFO: SOME PRODUCTS MENTIONED IN THIS POST ARE PR (GIFTED) AND LINKS USED ARE AFFILIATE LINKS. I RECEIVED NO MONEY TO WRITE THE BLOGPOST. PLEASE READ DISCLAIMER
My New In skincare posts seem to get later and later, now I am publishing the one for December 2022 in January of 2023 rather than on the last day of the month, but I do hope you will forgive. For one I was off between Christmas and New Years Eve, which meant that I had no idea which day it was anyway, and second, well, it was New Years Eve and I was too busy getting ready for a party we did end up not attending because of Covid (we agreed on everyone testing beforehand, knowing full well that might mean the party could be cancelled – I still stand by that decision though, better a cancelled party than lots of people getting sick).
That wasn't too bad though, as it meant that I could include my purchases from Olaplex that took a long time to finally be delivered when taking pictures on January 1st and that I wasn't as tired as I probably would have been if I went out. I don't recover from that as well as I used to… Other than the Olaplex already mentioned, parts new stuff and parts repurchased, I got some skincare from Versed (a brand I have not tried before), some skincare from Real Barrier (Korean Beauty I hadn't heard about previously) and a ton of products from SKIN1004. You might remember that I have worked with SKIN1004 in the past, but this time it is not a sponsored thing, they just decided to send me a lot of what they had in their line as PR – I have actually broken it down in the different sublines as it would be way too much to fit on one picture as you can see above.
These lines are color coded, which makes for aesthetically pleasing pictures!
New in from Olaplex
I will start with hair care, to switch things up, and because this and a bottle of Paula's Choice 2% BHA Liquid Exfoliant (118 ml for 39 €, full review here) are the only things in this post I purchased myself. Both the Olaplex No 4 Bond Maintenance Shampoo (250 ml for 29,95 €, full review here) and the Olaplex No 5 Bond Maintenance Conditioner (250 ml for 29,95 €, full review here) are products I have repeatedly repurchased, but the Olaplex No 4C Bond Maintenance Clarifying Shampoo (250 ml for 29,95 €, full review here) and the Olaplex No 4P Blonde Enhancer Toning Shampoo (250 ml for 29,95 €, full review here) are new to me.
I do not regularly use a Clarifying Shampoo, but wanted to try it simply because I have tried everything Olaplex so far, and a purple or "blonde enhancing" shampoo are staples in my routine to keep my fake blonde bright, so I am excited to see how these two perform.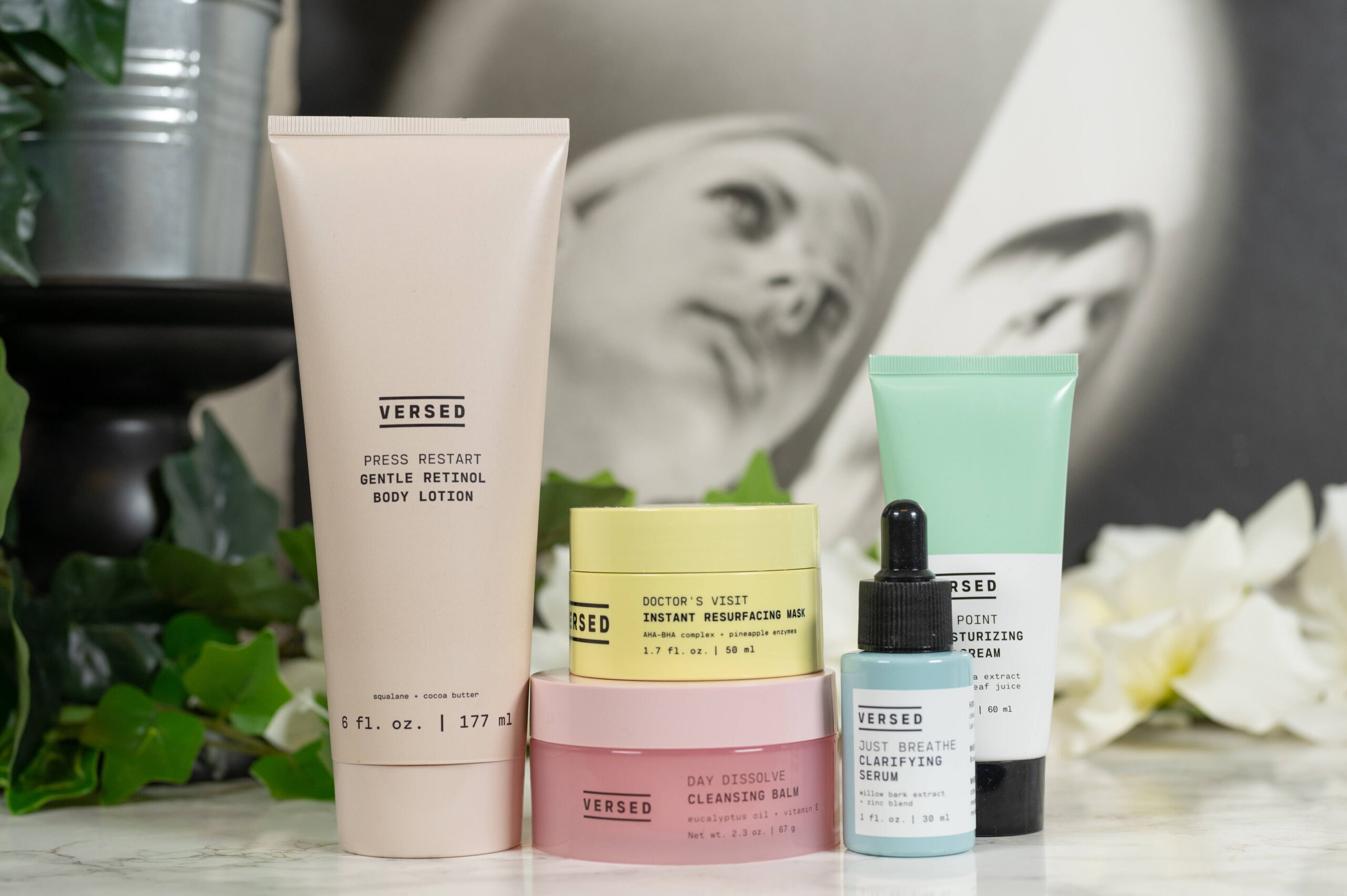 New In from Versed
Now Versed is a brand that is new to me. I might have seen them on Instagram eventually (they seem like an Instagram brand), but until their package arrived at my door step, they weren't really on my radar. Their website claims they are community co-created, that they listen intensely to consumer feedback, prioritize efficient formulas and take care to be zero emission and aware of their impact (yes, that could be greenwashing, no, I am not qualified to judge that), so that sounds nice. They are also vegan, which is great for those that are looking for options there, but they do have a quite long "not sure list" that incorporates things I really don't mind like silicones and fragrance.
But ultimately the products will need to convince me, out of which I have the Press Restart Gentle Retinol Body Lotion (177 ml for 15,99 €) that I am very exited about as I so far have not used a separate retinol for the body and the skin there is in desperate need for a little TLC. I will be turning 44 soon after all…
Then there is the Day Dissolve Cleansing Balm (67 g for 15,99 €) with eucalyptus and clove leaf oil, the Just Breathe Clarifying Serum (30 ml for 18,95 €) aimed at breakout role skin with Zinc, Niacinamide and Willow Bark Extract, the Dew Point Moisturizing Gel Cream (60 ml for 13,99 €) with Hyaluronic Acid and Aloe Leaf Juice and lastly the Doctor's Visit Instant Resurfacing Mask (50 ml for 15,99 €) with AHA, BHA and pineapple enzymes. I do really appreciate that they tell you to use it once a week rather than multiple times like other brands do.
At first glance the products do look nice, so I will report back.
New In from Real Barrier and Cure Code
Lately I have been getting PR packages from an Instagram Influencer Marketing Agency that I never heard of before and I am still trying to decide whether that annoys me or not – getting PR is exciting at first, but can get overwhelming once it reaches a certain level. They seem to be focusing on Korean Beauty, and the three things pictured above are the latest they send me.
Real Barrier is, according to the internet, using a patented MLE formula to replace missing skin lipids in damaged and dry skin – sounds perfect for winter. I got sent the Extreme Essence Toner (190 ml for 27 $) and the Extreme Cream (50 ml for 42 $) and while I admit the packaging does not speak to me, the products themselves do look interesting.
The Cure Code Intensive Care Ointment (50 ml for 34 $) seems to focus on the skins microbiome to soothe dry and irritated skin and claims to be non-greasy despite being called an ointment. We will see. (More info: Everything you need to know about the skins microbiome)
New In from SKIN1004 – the original Centella line
And now to several products from SKIN1004, a brand that I discovered back in 2021. Their main focus is on Centella Asiatica harvested in Magadascar, a very interesting soothing skincare ingredient, and they claim to have effective and gentle products here. (More info: Everything you need to know about Centella Asiatica in skincare) Again I am not a fan of their "free from" claims, especially as that includes "free from chemicals" which is in itself impossible, but the products I already tried did in majority convince me.
Out of products I already know we have the Centella Light Cleansing Oil (200 ml for 22 $, full review here) that I really enjoy as it is lightweight yet effective at removing my makeup, and the Centella Soothing Cream (75 ml for 17,50 $, full review here) that was great for the summer despite having Ceramides, fatty acids and cholesterol to support the skins barrier – just don't be surprised when you first see it, as it is light brown in color, very unusual.
New to me are the Centella Quick Calming Pads (70 pads for 22 $) that are supposed to hydrate and soothe (I am usually not a fan of pads like this outside traveling), then the Centella Toning Toner (210 ml for 18,50 $) with PHA for gentle exfoliation (More info: Everything you need to know about Polyhydroxy Acids in skincare), the Centella Ampoule (55 ml for 16,50 $) that apparently is their bestseller, the Centella Watergel Sheet Ampoule Mask (5 masks for 13 $) and then, what I am most excited about, two of their sunscreens, the Centella Air-Fit Suncream Plus SPF 50+ (50 ml for 19 $) that is an anorganic aka mineral sunscreen with Zinc Oxide and Titanium Dioxide (I usually don't like those) and the Centella Air-Fit Suncream Light SPF 30 (50 ml for 17 $) which is anorganic as well, but apparently more lightweight.
New in from SKIN1004 – the Tone Brightening line
Formulated to treat hyperpigmentation, discoloration and inflammation this line sounds like something I will love. It combines Centella Asiatica, extra Madecassoside and Niacinamide to achieve that and I am looking forward to trying these products. Out of the line I have the Tone Brightening Capsule Ampoule (100 ml for 24,50 $) that looks really interesting with the tiny bubbles trapped inside the liquid, the Tone Brightening Capsule Cream (75 ml for 21 $) that also contains Tranexamic Acid and lastly the Tone Brightening Tone-Up Sunscreen SPF 50+ ( 50 ml for 19 $) that is a hybrid sunscreen with added Tranexamic Acid. At first glance it looks very peachy, I am curious to see how it translates to my skin tone.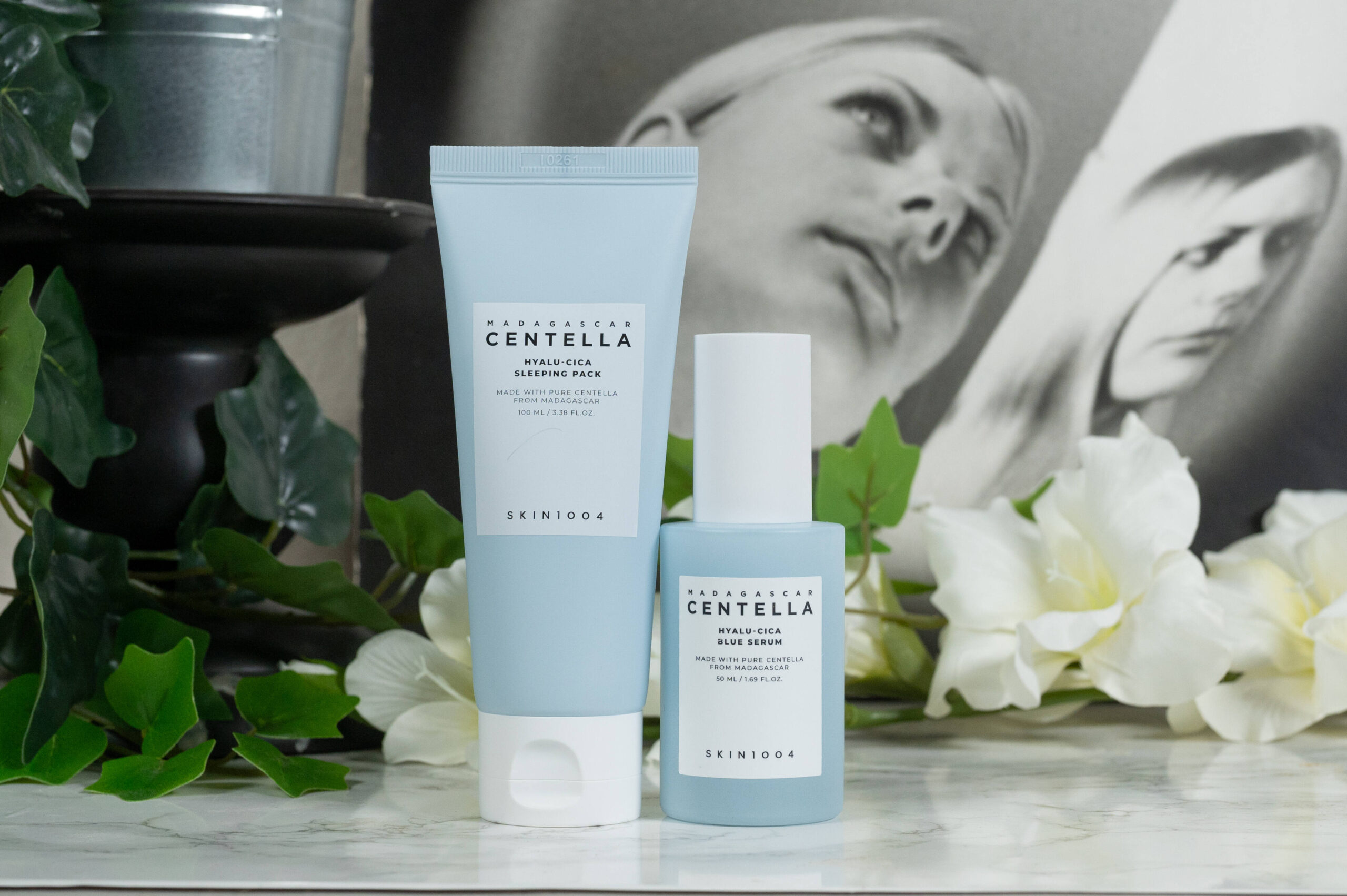 New In from SKIN1004 – the Hyalu-Cica line
This line features a mixture between Hyaluronic Acid (Hyalu-) and Centella Asiatica (-Cica) in what SKIN1004 claims is the "golden ratio" between them, but while I can't say what this golden ration might be, I can say from the Hyalu-Cica Blue Serum (50 ml for 22 $, full review here) that it is nicely hydrating with just a hint of tackiness. I am looking forward to trying the Hyalu-Cica Sleeping Pack (100 ml for 20$) soon that in addition to these too also contains Melatonin to supposedly firm the skin in addition to the hydration.
Also from the line is the Hyalu-Cica Water Fit Sun Serum SPF 50+ (50 ml for 19 $, full review here) that I did a sponsored post on about a month ago – mine is almost finished now as I really enjoy using it as office sunscreen.
New In from SKIN1004 – the Poremizing line
For the Poremizing line blush pink is the color of choice, probably a reference to the Pink Himalayan Salt the products are infused with.
This line is aimed at more oily skin and consists of the Poremizing Deep Cleansing Foam (125 ml for 14 $) that has papaya fruit enzymes to exfoliate, the Poremizing Clear Toner (210 ml for 19 $) that has Willow Bark Extract as additional ingredient, the Poremizing Fresh Ampoule (100 ml for 23 $) that has added peptides including copper peptides and lastly the Poremizing Light Gel Cream (75 ml for 21 $), promising a dewy finish.
I am looking forward to testing these once my skin gets more oily again in the warmer months.
New In from SKIN1004 – the Tea-Trica line
You know I love tea, so initially this line got me really excited, but the tea here doesn't refer to drinkable tea, but to tea tree oil, of which I am not that much of a fan. It is the line for blemish prone skin, so I think I will be able to put it to good use despite this personal preference.
First we have the Tea-Trica BHA Foam (125 ml for 14 $), a foaming cleanser with Salicylic Acid, then the Tea-Trica Purifying Toner (210 ml for 19 $) that has no Salicylic Acid, but the so called Pine Tree Complex aiming to sooth inflammation, and lastly the Tea-Trica Relief Ampoule (100 ml for 23 $) with similar ingredients. (More info: Toner, tonic, ampoule and essence – What is the difference).
I love the color of the line, especially the green of the Ampoule and Toner, but somehow feel it will be my least favorite one from everything shown here.
So pictured above you have the majority of al SKIN1004 products, the only line missing is the Zombie line made up of different sheet and soap masks that seem to be more fun items rather than serious skincare and that I don't think I would appreciate as much as a younger audience probably would.
The only thing left for me to do now is grow myself a second face so I can manage to test all that good stuff I got there!
Anything you want to see reviewed first?
Shop the post here:

Don't forget to check out the Discount Code Page on top if you want to save some money on your next skincare purchase.
If you want to get a vote in the next Ask Doctor Anne Topic, Ingredient Spotlight or product I review, don't forget you can head over to my Patreon account to get more involved!
(Visited 496 times, 1 visits today)