ADVERTISEMENT INFO: PRODUCTS MENTIONED IN THIS POST ARE PR (GIFTED) AND LINKS USED ARE AFFILIATE LINKS. I RECEIVED NO MONEY TO WRITE THE BLOGPOST. PLEASE READ DISCLAIMER
I have so much exciting new stuff to show you today: A variety of different Asian sunscreens, a selection of Biossance products, a brand I've been meaning to try for ages, some new skincare and makeup bits from pixi, two DRMTLGY products – I am actually unsure, but I think you say the vowels even if they aren't written out, don't you? Everything else would just sound odd … DRMTLGY… well, two of that brand and then, last but not least, a LED-mask by Currentbody Skin.
I know hauls are somehow controversial, but I like knowing what is new in someones stuff and I also like to give you guys an idea of which products I am currently testing so you know what to expect here and can leave your request for what you are most interested in in the comments.
So… let's do it.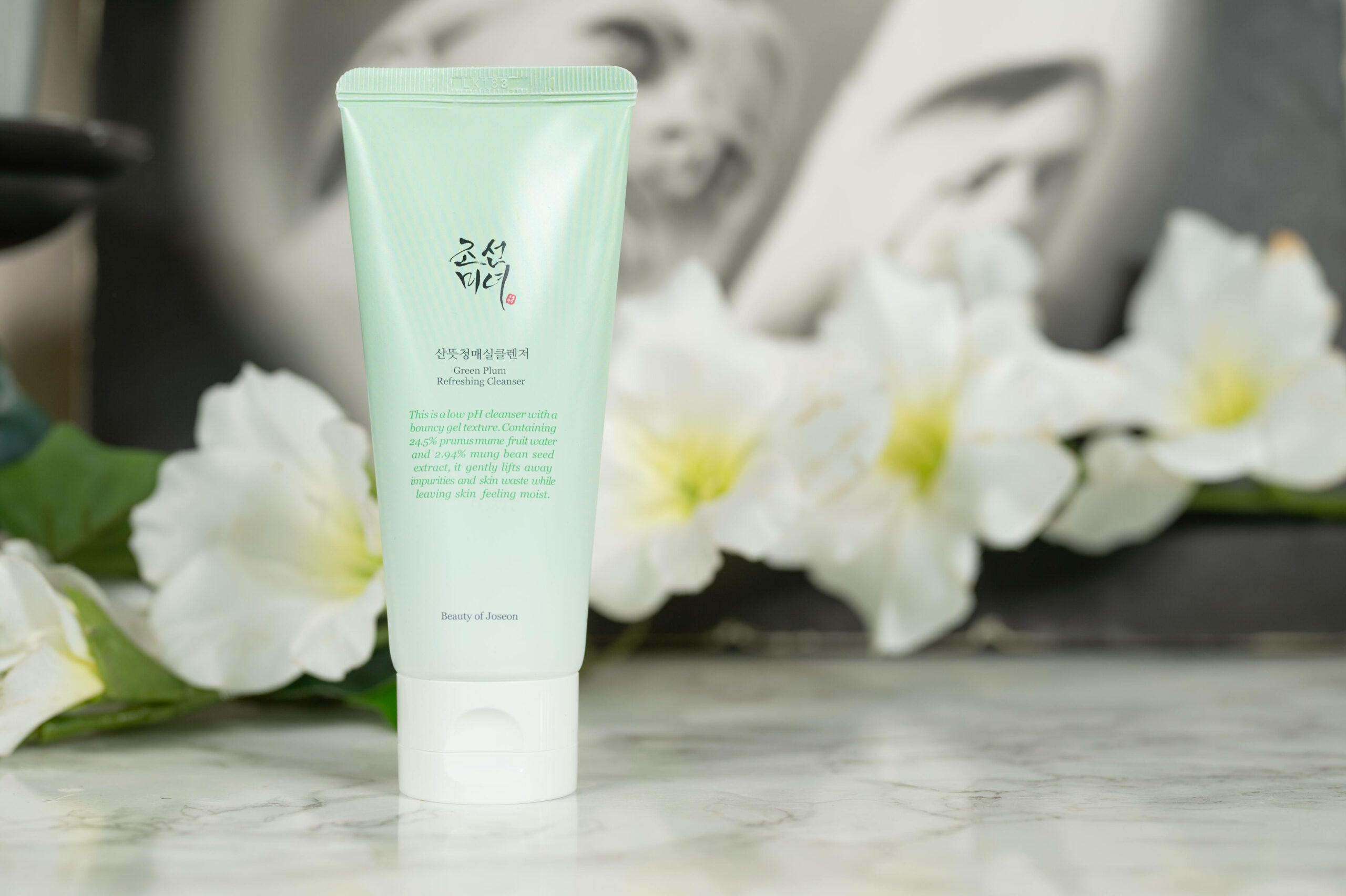 Beauty of Joseon skincare
Going in alphabetical order, a quick one to start: Beauty of Joseon Green Plum Refreshing Cleanser (100 ml for 13 $). I already reviewed their Radiance Cleansing Balm (you can read the review here) and their sunscreen (you can read the review here), both of which I really enjoy, so I am looking forward to this fresher option for the upcoming summer months.
Biossance skincare
To get that out of the way: Yes, they claim to be a "clean" brand and we all know how I feel about that, but that's not the products fault, so let's look at them. (More info: My thoughts about clean beauty)
All Biossance products feature Squalane made from sugar-cane, an oil similar in structure to the body's own Squalene, which is said to be suitable for all skin types for moisturization. I have to say I have used both formulas that were absolutely lightweight as well as some that felt really heavy, but in general it is more of a lightweight oil.
I have a selection of their bestsellers here: The Biossance Squalane + Vitamin C Rose Oil (30 ml for 72$, vegan) which claims to brighten, firm and hydrate – it is more on the oily side and des smell of roses quite strongly. Then I have their Biossance Squalane + Omega Repair Cream (50 ml for 58 $, vegan), a nourishing cream without any scent claiming to help repair the skin barrier as well as their Biossance Squalane + Marine Algae Eye Cream (15 ml for 54$, vegan) that has an interesting salmon color and a silky texture, claiming to lift and smooth the look of the eye area.
From their serum range I have the Biossance Squalane + Lactic Acid Resurfacing Night Treatment (30 ml for 62 $, vegan) with 10% Lactic Acid for overnight exfoliation and then the Biossance Squalane + Copper Peptide Rapid Plumping Serum (50 ml for 68$, vegan). I am actually most excited about this one, as you know I do love Copper Peptides in my routine and this one feels very light and is a beautiful baby blue in color. (More info: Everything you need to know about peptides in skincare)
DRMTLGY skincare
Next in the alphabet is D as in DRMTLGY, a brand I hadn't heard of before but that I immediately liked when I read in their leaflet that they have an "SPF first" approach, meaning that no skincare routine will give you benefits if you neglect sun protection. Totally on board with that!
As they are US based, their sunscreens are lacking the more modern filters I so love, but I am still looking forward to trying the Broad Spectrum SPF 45 (50 ml for 25 $, fragrance free, oil free) and their Universal Tinted Moisturizer SPF 46 (50 ml for 25 $, oil free), even though I am not sure how Universal the Universal Tinted Moisturizer will actually be, straight out of the pump it looks pretty dark for someone as light as me.
Both feature 12 % Zinc Oxide and 7,5% Octinoxate as sunscreen filters.
(More info: Which one is better for your skin – Chemical or physical sunscreen?)
Essie nail polish
Then I have E as in Essie, the color "Loving Hue" (13,5 ml for 9,95 €) from their "Treat, Love & Color" line. It looks pretty pink in the bottle, but is very sheer even with two coats on the nails, just a hint of rose with golden shimmer – it actually looks similar to the color my grandma used to wear.
As it is supposed to be a nail hardener and brightener and not a nail polish though that sheerness was to be expected. If it actually does harden the nails I can't say, but I like it in spring to make my hands look nice without the upkeep of a red or another opaque color.
Geek and Gorgeous
G is for Geek & Gorgeous, producer of my favorite Vitamin C serum, the Geek and Gorgeous C-Glow (30 ml for 10,50 €, full review here) which I had to stock up on and that came with a mini 10 ml bottle so you can decant some for traveling or just for everyday use to keep in your bathroom while the other one goes in your fridge to stay stable for longer.
Because I like to complete things, I also got their aPAD (30 ml for 10,50 €), a 20% Azeclair serum. Azeclair is an Azelaic Acid derivative aiming to reduce redness and breakouts especially in rosacea prone skin. (More info: Skincare tips for rosacea – The Do's and Don'ts)
And the last two I was missing from their collection were the two Hyaluronic Acid Serums, HA Rich and HA Light (30 ml for 8,50 €), hydrating serums that promise different textures for either normal to dry or combination to oily skin types. (More info: Ingredient Spotlight Hyaluronic Acid – More than a humectant?)
Now that I have these in my stash, I have officially tried everything they have to offer for now! Let me know if you want me to do a brand round-up video eventually.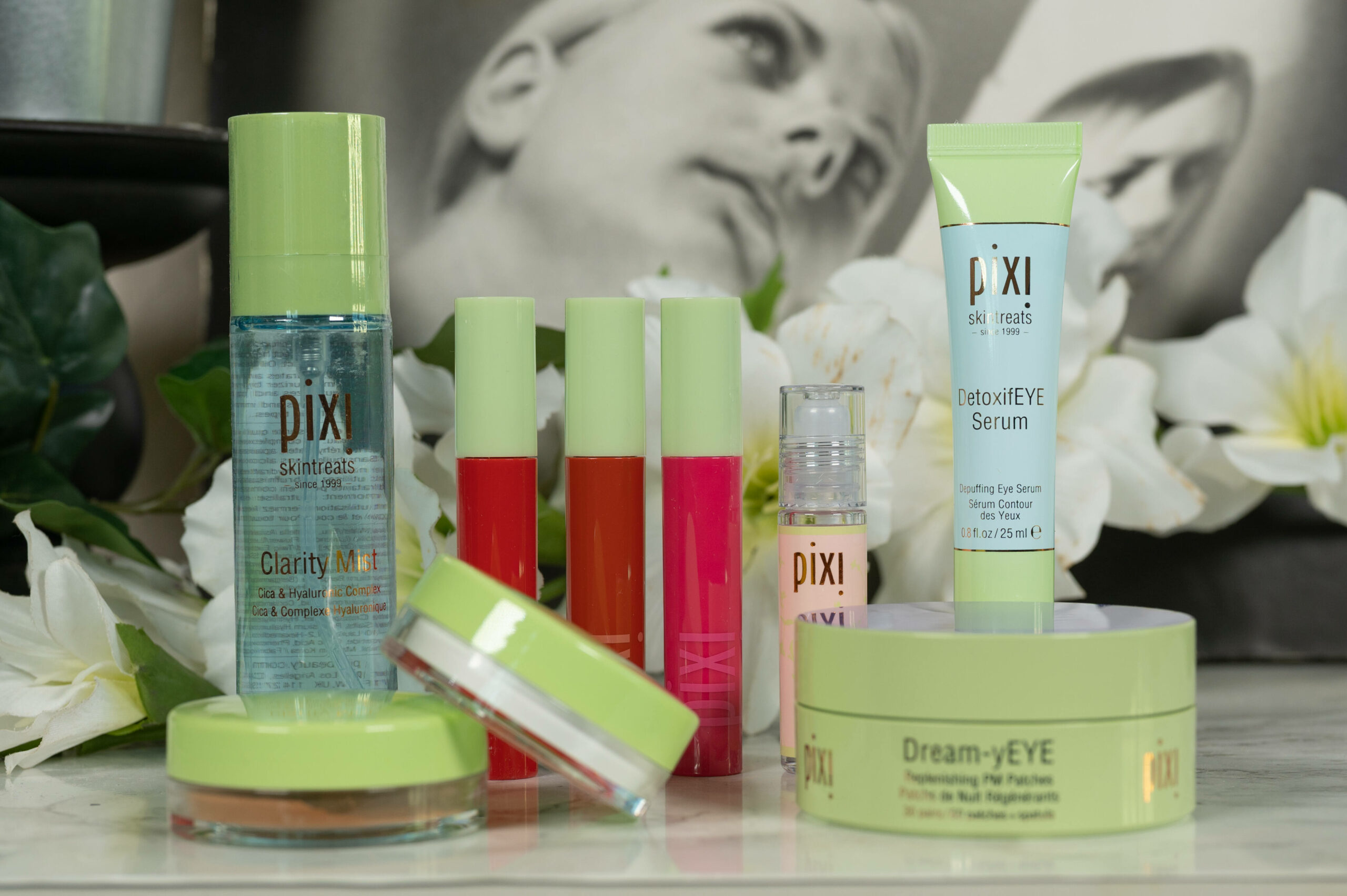 pixi skincare and makeup
P is for pixi, of which I have both skincare and makeup. Starting with the makeup, I have three shades of their TintFix multi-use tints (4,5 g for 12 £), the colors Adore, Love and Calm. You can use them both on lips and cheeks – and probably wherever else you want some color on your body and I have already played around with them quite a bit, but you'll get a dedicated post on these makeup bits, so I won't say no more right now. Also featured there will be the pixi H2O Skin Veil water-powders (5g for 22 £) in the shades Translucent and Sunkissed.
In between makeup and skincare sits the pixi Glow-y Lip Oil in the color Mint-y (5,5 g for 14 £), although "color" is probably too much to say – it is slightly minty and adds some sheen, but no color I can notice.
From the pixi skincare line I have the pixi Clarity Mist (80 ml for 16 £), which contains no Salicylic Acid despite belonging to the Clarity family, but instead Centella Asiatica and a Hyaluronic Acid Complex. I do usually love pixi Face Mists, but the spray nozzle in this one isn't very fine – you will need to spray it into your hands and then pat on.
Then there is the pixi DetoxifEYE Serum (25 ml for 22 £) with Caffeine to depuff the eyes – I have the DetoxifEYE Patches which I like, so I am happy to see they made a spin off. Speaking of eye patches, the last thing from pixi are the Dream-y Eye Replenishing PM patches (30 pairs for 22 £) containing Retinol and being aimed at mature undereyes. I really enjoy the two other versions I have – DetoxifEYE (full review here) and FortifEYE (full review here)- but am not sure I will see much difference between the three.
But we will see!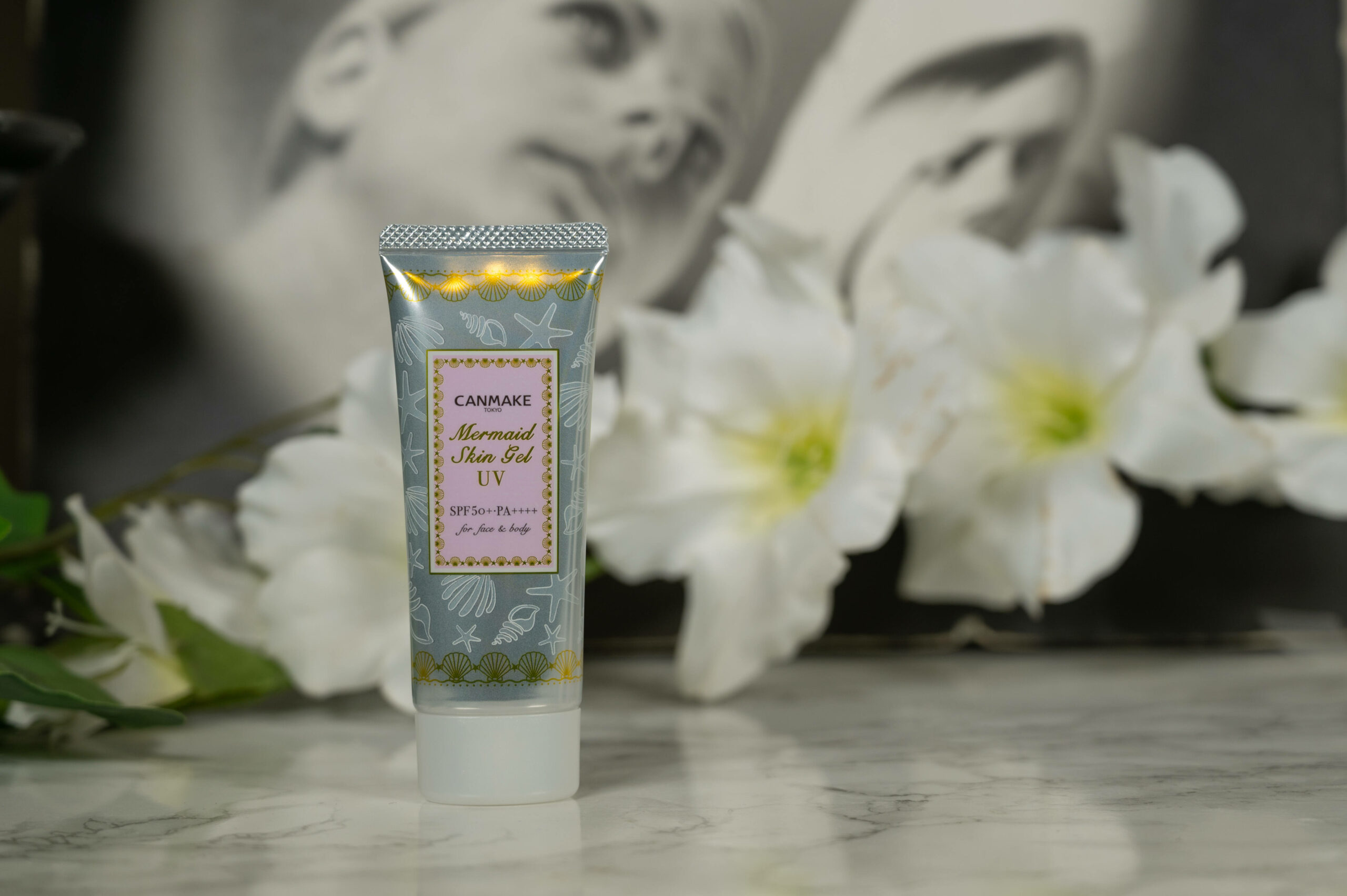 Sunscreens from Stylevana – Canmake, Dr. Jart+, Abib, Isntree, Missha and Purito
And now, the last letter in todays haul alphabet, is actually S. Which is a little bit of cheating, as S stands for Stylevana the shop, not a specific brand, but I got all the sunscreens I will show you from there, so for the sake of my alphabetical approach, forgive me. (Also, there is a discount code for shopping at Stylevana here)
I got the Abib Heartleaf Sun essence Calming Drop SPF 50 (50 ml for 21 $), which puzzles me for two reasons: First the dropper bottle – I have never seen sunscreen packaged like that – and then the instructions that tell you two apply two drops of product to the skin and pat dry. I mean, I haven't tried this one, but two drops will never be enough to get adequate sun protection! Anyone tried them and is willing to share their experience? (More info: How much sunscreen do you need for your face and neck?)
Next is the Canmake Mermaid Skin Gel UV SPF 50+ (40 g for 14 $), which I am really excited to try. It comes with high praise from oily skinned people, so I am looking forward to wearing it in the summer heat.
The Purito Daily Go-To Sunscreen (60 ml for 14 $) is one that I have already applied a few times – so far I like it, but it is very hydrating, so more for normal to dry skins I guess or for me when it is a little colder.
Isntree Hyaluronic Acid Watery Sun Gel (50 ml for 18 $) left a very good first impression, light weight and hydrating, and so did the Missha All Around Safe Block Essence Sun Milk (70 ml for 12,99 $), which has a beautiful and silky finish.
The Dr Jart+ Every Sun Day Mild Sun SPF43 (30 ml for 14 $)  on the other hand did not work for me at all. I will go into more detail in an upcoming video, but for now: Not a recommended buy, no matter your skin type.
The gadget – Currentbody Skin LED Light Therapy Mask
And that leaves just one thing to be discussed: the Currentbody Skin LED Light Therapy Mask (329 €). And yes, C was much earlier in the alphabet, but this one is a gadget, not skincare so it comes last.
I have been using it for four weeks already, filming a day light closeup of my skin at the beginning, at four weeks and – when the time has come – at eight weeks as it promises visible results within six week. It is my first Light Therapy device, so I am curious to see if I will become a believer – you can expect a video on both the theory behind LED therapy and one on my personal experience in June.
Shop the post

Don't forget to check out the Discount Code Page on top if you want to save some money on your next skincare purchase.
If you want to get a vote in the next Ask Doctor Anne Topic, Ingredient Spotlight or product I review, don't forget you can head over to my Patreon account to get more involved!
(Visited 734 times, 1 visits today)