ADVERTISEMENT INFO:  PRODUCTS MENTIONED IN THIS POST ARE PR (GIFTED) AND LINKS USED ARE AFFILIATE LINKS. I RECEIVED NO MONEY TO WRITE THE BLOGPOST. PLEASE READ DISCLAIMER 
I have been a long time fan of The Ordinary Buffet + Copper Peptides ad of Copper Peptides in my skincare in general, but the slightly oily texture of The Ordinarys version didn't completely agree with my skin. (More info: The Ordinary Buffet + Copper Peptides Review)
Which is why I was extra excited to get my hands on the NIOD Copper Amino Isolate Serum 3 1:1 that I will review for you today.
This one is the first of NIOD Copper Peptides I use, so I can only anecdotally report that the previous versions needed to be mixed before application to actually get Copper Peptides – which apparently worked very well, but for someone as lazy as me would have been a deal breaker.
With that out of the way, what else is there to say about the NIOD Copper Amino Isolate Serum 3 1:1?
What NIOD Copper Amino Isolate Serum 3 1:1 claims
As a highly-focused effort to maintain healthy-looking skin, this pro-repair, pro-collagen serum offers a novel approach to target all visible signs of skin aging indirectly. This indirect approach departs from the traditional thinking of addressing visible aspects of skin aging individually and instead forms a foundation to respect skin health.
Facts about NIOD Copper Amino Isolate Serum 3 1:1
Prize and size
There are two sizes available, either 15 or 30 ml, which are available for 45,60 € or 72 € respectively on the website here.
Texture and smell
Just like The Ordinary Buffet + Copper Peptides, NIODS version is blue and has a faint metallic scent. It feels very light and watery though and absorbs quickly after application.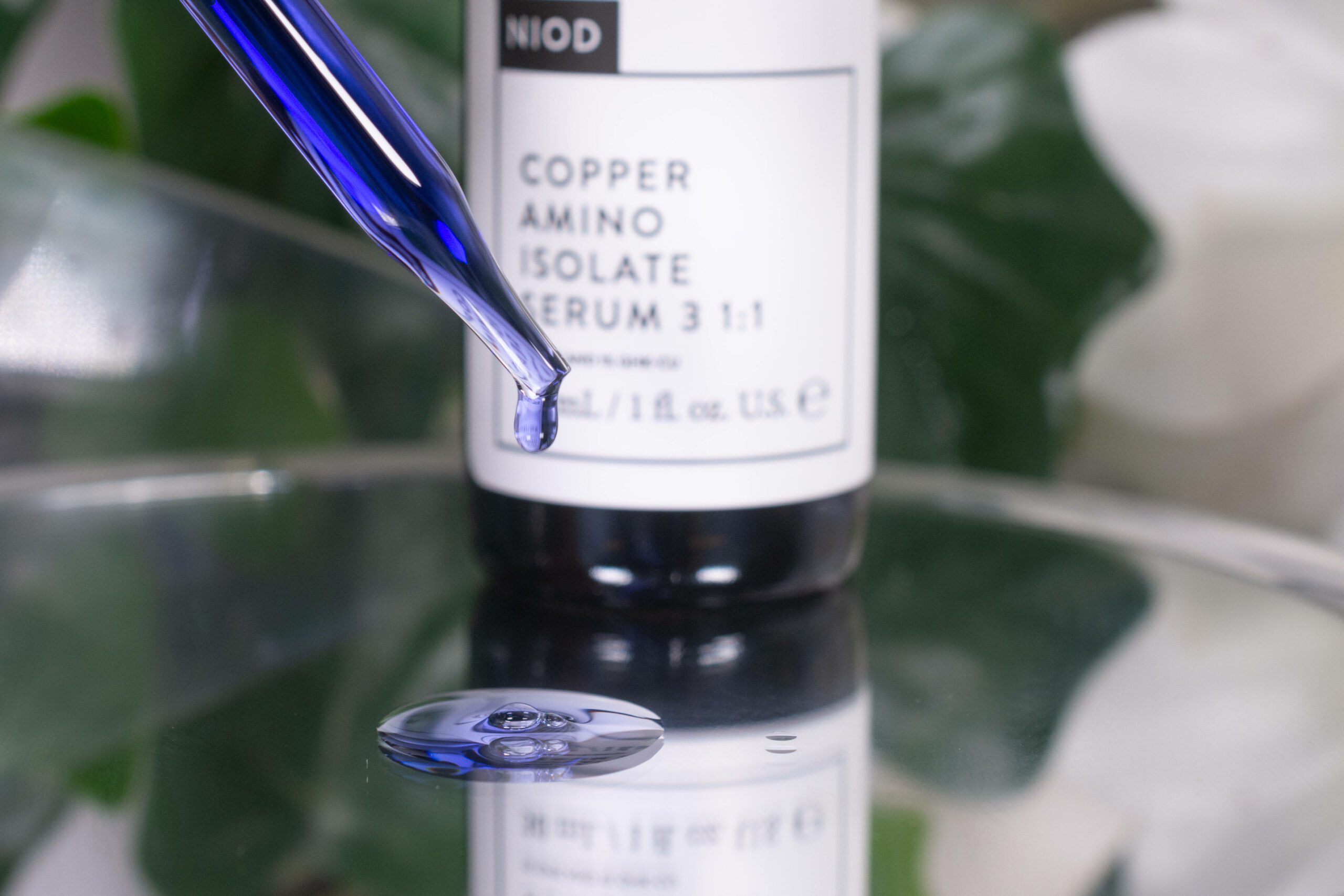 How to use the NIOD Copper Amino Isolate Serum 3 1:1
According to the website this serum should be used both morning and night. Opposed to The Ordinary Buffet + Copper Peptides I think this actually works very well in the mornings before sunscreen due to the much lighter texture, but can also be used at night on cleansed skin.
Although it is not specified on the brand website, Copper Peptides are not recommended to be mixed with acidic products like Vitamin C Serums, chemical exfoliants or strong retinoids, which for me personally limits their use as I use Vitamin C every morning and Tretinoin every other night. (More info: Combining skincare products the right way) Despite this recommendation though, I think if you leave enough time between one and the other, say apply this one 30 minutes before you Tretinoin, it doesn't really matter, as in the end in the skin they all come together anyway. I just can't be bothered to wait that long in between steps, so I use them every other night when I am not using Tretinoin. (More info: How to use Retin-A with minimal irritation)
Ingredients of NIOD Copper Amino Isolate Serum 3 1:1
Aqua (Water)
solv
,
Glycerin

sii

|

h
0
0
,
Tripeptide-29

cci
,
Copper Tripeptide-1

cci

|

so

|

aox
,
Tripeptide-1

cci
,
Myristoyl Nonapeptide-3

cci
,
Trifluoroacetyl Tripeptide-2

cci
,
Acetyl Tetrapeptide-2

cci
,
Sodium Hyaluronate Crosspolymer

sii

|

aox

|

h
,
Glycogen
h
,
Propanediol
solv

|

h
,
Pentylene Glycol
solv

|

h
,
Dextran
vc
,
Dimethyl Isosorbide
solv

|

vc
,
Ethoxydiglycol
solv

|

h

|

perf
0
0
,
Isoceteth-20
emu

|

surf
,
Leuconostoc/Radish Root Ferment Filtrate
amic

|

pres
,
Caprylyl Glycol
h

|

emo
,
Ethylhexylglycerin
pres
,
Phenoxyethanol
pres
,
Chlorphenesin
pres

|

amic
Hover the mouse over an ingredient for short explanation. Read more on INCIDecoder.
Not surprising this formula contains Glycerin as humectant and a bunch of different peptides, with the Copper Peptides being the one with the most research, but also Peptides from the Matrixyl family that are very well known.
Yes, the concentration with 1% Copper Peptides and 1% other peptides is not very high, but you don't need high concentrations of peptides for them to show effects. (More info: Everything you need to know about peptides in skincare)
Does it live up to its claims?
I can't really say.
Not because I am unable to judge the product and its effects on my skin, but because I admit I am a little confused by the claims even after reading them for the tenth time – what are they actually saying?
How does it compare to…
The Ordinary Buffet + Copper Peptides 1%
The main difference for me (after the price, with The Ordinary being less than half for the same amount of product) is the texture. While The Ordinary always felt a little much when applied, the NIOD version is much more elegant and much better suited for oily skin. Ingredient Wise I don't think there is much of a difference as both contain 1% Copper Peptides to do the heavy lifting. If the more elegant texture is to you worth spending the extra cash is a very personal decision though.
You can read my full review of The Ordinary Buffet + Copper Petides here
Would I repurchase and which skin types do I recommend NIOD Copper Amino Isolate Serum to?
I can see myself repurchase, simply because the texture is so much more lovely. Copper Peptides have been a part of my skincare routine for a while now, and if you are above a certain age and already have the basics down (sunscreen, retinoid and antioxidant in case you need to check), then it is worth considering adding them to yours as well.
Due to being lightweight it is better suited for oily skin types, but will work on dry skins equally well.
And because that seems to be a common concern when it comes to Copper Peptides: No it did NOT increase facial hair growth for me.
Shop this one and some of my other favorite serums here
Don't forget to check out the Discount Code Page on top if you want to save some money on your next skincare purchase.
If you want to get a vote in the next Ask Doctor Anne Topic, Ingredient Spotlight or product I review, don't forget you can head over to my Patreon account to get more involved!
(Visited 10.976 times, 1 visits today)