ADVERTISEMENT INFO: THE PRODUCTS MENTIONED IN THIS POST WERE PURCHASED BY ME. LINKS USED ARE AFFILIATE LINKS. I RECEIVED NO MONEY TO WRITE THE BLOGPOST. PLEASE READ DISCLAIMER
Oh wow, THAT is tiny! was my initial thought when I first saw the Olaplex No 7 Bonding Oil we will review today. I mean, it is not that I have ever finished a hair oil, but somehow if I pay a certain amount of money, I expect something, well, bigger.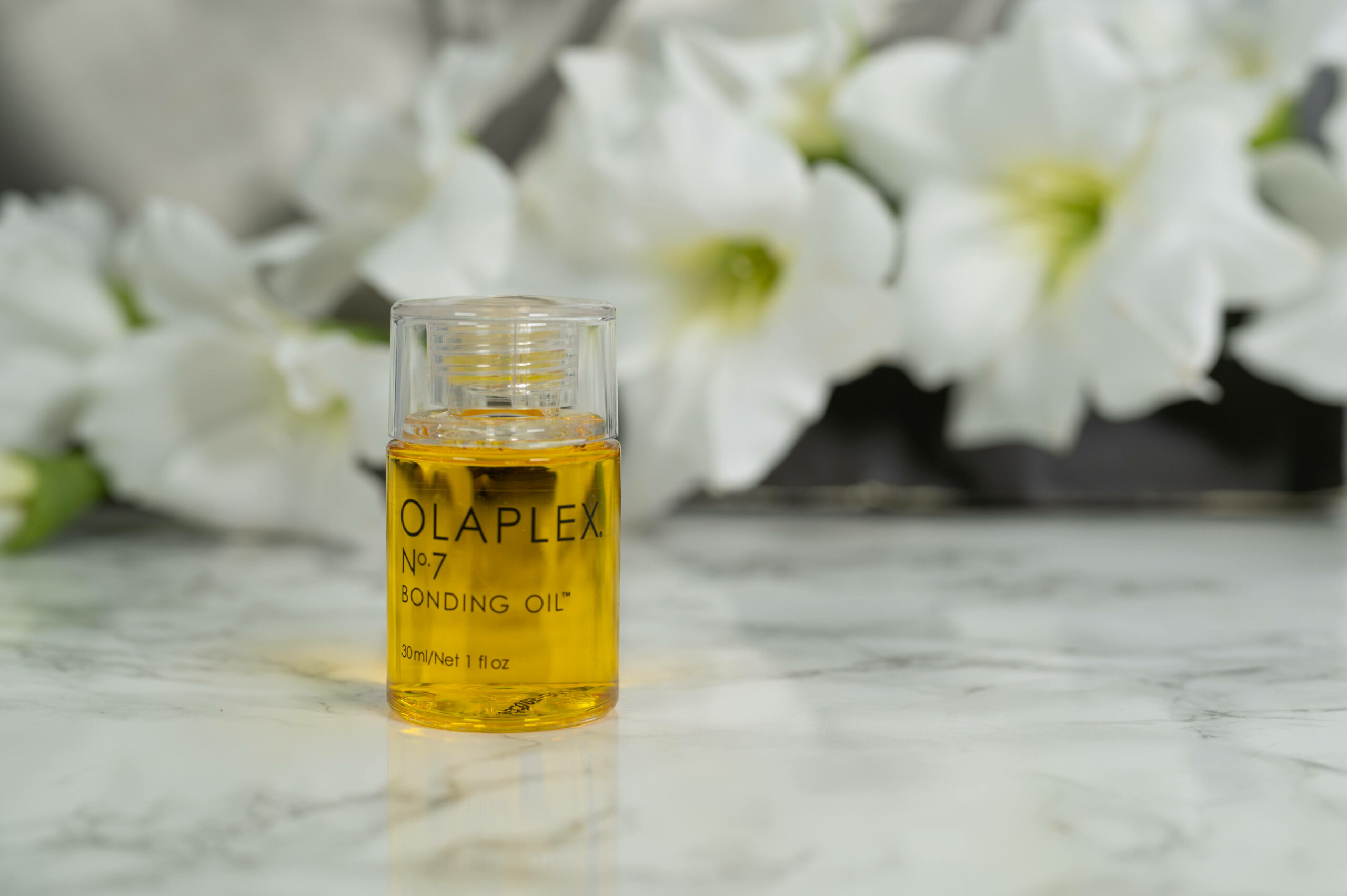 So now, after seven months of using it continuously, do I think it is worth purchasing?
Let's find out!
What is the deal with Olaplex claims to repair the hair anyway?
Unlike most other hair products that aim to improve the appearance of hair, Olaplex actually claims to repair it using an ingredient called Bis-Aminopropyl Diglycol Dimaleate which repairs broken Disulfid bonds in the hair that occur after bleaching, heat styling and just general day to day friction. (More info: How does Olaplex work?)
If that is actually as revolutionary as it sounds is debated among hair care experts and formulators (of which I am not one, hair care chemistry is not my forté), but providing you with anecdotal (read: useless from a scientific point of view) evidence: I attribute the health and strength of my fine and bleached hair to discovering Olaplex in-salon treatments and many of their at home products.
What the Olaplex No 7 Bonding Oil claims
A highly-concentrated, weightless reparative styling oil. Dramatically increases shine, softness, and color vibrancy. N°7 minimizes flyaways and frizz, while providing UV/heat protection of up to 450°F/232°C.
Facts about the Olaplex No 7 Bonding Oil
Prize and size
One plastic bottle contains 30 ml and is available for 29,99 € on the website here.
Texture and scent
It is an oil, no texture surprises here, but a lightweight one. When rubbed into the hands there is no greasy film and, unless you use too much of it, it doesn't add grease to the hair either. The scent is the typical slightly floral Olaplex scent, but very faint. I do not smell it on my hair after application.
How to use the Olaplex No 7 Bonding Oil
You can use it both on damp hair and after styling for extra shine and to smooth frizz. My preferred way is using it on damp hair before I blow dry or hair style, that way I don't need a separate heat protectant. I put two drops in the palms of my hands, run it through the lengths from the ears downward and then whatever is left on my crown. (More info: My favorite tool for styling my hair)
When used after styling it works fine at smoothing the hair, but I don't see a difference to any other, much cheaper hair oil I have used in the past.
Ingredients of the Olaplex No 7 Bonding Oil
Dimethicone
emo
0
1
,
Isohexadecane
emo

|

solv
,
C13-14 Isoparaffin
emo

|

vc

|

solv
,
Coco-Caprylate
emo
,
Phenyl Trimethicone
emo
,
Bis-Aminopropyl Diglycol Dimaleate
,
Propanediol
solv

|

h
,
Zea Mays (Corn) Oil
emu

|

perf
0
0
–
3
,
Beta-Carotene
,
Helianthus Annuus (Sunflower) Seed Oil

emo
0
0
,
Moringa Oleifera Seed Oil

emo
,
Punica Granatum Seed Oil

aox

|

emo
,
Water (Aqua)
solv
,
Morinda Citrifolia Fruit Powder
,
Fragrance (Parfum)

perf
,
Hexyl Cinnamal

perf
,
Eclipta Prostrata Extract
,
Ethylhexyl Methoxycinnamate
sunsc
0
0
,
Limonene

perf

|

solv
,
Tocopherol

aox
0
–
3
0
–
3
,
Citral

perf
,
Linalool

perf
,
Melia Azadirachta Leaf Extract
,
Citronellol

perf
,
Pseudozyma Epicola/Camellia Sinensis Seed Oil Ferment Extract Filtrate
h
Hover the mouse over an ingredient for short explanation. Read more on INCIDecoder.
Other than the Bis-Aminopropyl Diglycol Dimaleate, Olaplex signature ingredient, you will find Dimethicone and several different oils like Corn, Sunflower, Pomegranate and Moringa Seed Oil. Interestingly enough there is also Ethylhexyl Methoxycinnamate aka Octinoxate, a UVB absorbing sunscreen. (More info: Do you need sun protection for the hair?)
But while UV protection for the hair is important, I wouldn't expect too much effect here as you
a) only use a tiny amount and
b) it is very unstable without other stabilizing filters.
There is also fragrance including Limonene, Citral, Linalool and Citronellol.
Now back to the initial question: Is the Olaplex No 7 Bonding Oil worth purchasing?
For me, absolutely.
Not because it is the best hair oil I have ever used, I have used drugstore ones that gave a similar effect. And not because of the Bis-Aminopropyl Diglycol either, although I have stated before that I attribute the health of my fine, bleached hair to the discovery of the Olaplex in salon treatment.
What makes the Bonding Oil worth repurchasing is the fact that I can use it both to combat frizz and as heat protectant. I don't need to spend money on a separate product, take an additional step and, very important to me, I don't feel product build-up in my lengths, something I am very peculiar about.
And if I take a look at how much I have left after using it for seven months at least twice, usually three times a week, you will realize it is indeed good value for money.
More Olaplex products  have tried
Olaplex No 3 Hair Perfector
While this is surely the most impactful one out of the at home treatments, it is also the one I struggle with the most because it is just a pain to use as you need to apply it to wet hair before the actual showering process, something I struggle to fit into my routine. I still keep repurchasing though because I am a believer.
Olaplex No 4 Bond Maintenance Shampoo and No 5 Bond Maintenance Conditioner
I like and use them both, but interchangeably with other shampoos as I find them to weigh my fine hair down when used exclusively. That probably wouldn't be an issue if I washed my hair every day, but I don't, every other day has to suffice.
You can read an in-depth review of No 3, No 4 and No 5 here.
Olaplex No 8 Bond Intense Moisture Mask
While this is a nice hair mask, it is the one that did impress me the least and the one I am not going to repurchase as I think there are other that are better value for money, especially if you already use the other Olaplex products.
You can read my full review of No 8 here.
If you want to get a vote in the next Ask Doctor Anne Topic, Ingredient Spotlight or product I review, don't forget you can head over to my Patreon account to get more involved!
Shop my favorite hair care products here

(Visited 36.068 times, 23 visits today)