ADVERTISEMENT INFO: THE PRODUCTS MENTIONED IN THIS POST WERE PURCHASED BY ME. LINKS USED MIGHT BE AFFILIATE LINKS. I RECEIVED NO MONEY TO WRITE THE BLOGPOST. PLEASE READ DISCLAIMER
I have talked about how Olaplex is supposed to work, how much I love it and how it saved my bleached fine hair for years now, so when they released some new products, the Olaplex No 8 Intense Moisture Mask among them, you bet I had to try those as well.
But after I got them and looked at the claims, I couldn't help but wonder: How does the No 8 Intense Moisture Mask differ from No 3, which is described as "at home treatment, not a conditioner"?
You might remember that I don't use No 3 as often as I should, simply because I find it impractical to apply it to damp hair before I even start the washing process and basically stand around with wet hair waiting for a minimum of 15 minutes until I can actually start to shower – my showers are usually rushed, crammed in right before bed time after a workout, no time for extensive preparation!
So is the No 8 an easier to use substitute? Or is indeed one of them a mask and the other one a treatment, and you actually need both?
The "active ingredient" in Olaplex
If you are interested in the science around Olaplex, I highly recommend you read the in-depth blogpost I wrote about it (More info: How does Olaplex work?), but in short: Olaplex uses an ingredient called Bis Aminopropyl Diglycol Dimaleate that claims to bind to the free sulphur atoms that are created when the Disulfide bonds in your hair are broken due to heat, bleach or other stuff, and by grabbing a sulphur atom on each side basically repairing the broken bond. Imagine the molecule holding hands with a sulphur atom on each side, promising to never again let go.
This is what Olaplex claims is the "Bond Building Technology"
What the Olaplex No 8 Intense Moisture Mask claims
Infused with patented OLAPLEX Bond Building technology, this highly concentrated reparative mask adds shine, smoothness & body while providing intense moisture to treat damaged hair. Hair so visibly healthy, you can skip the styling.
Just for a quick comparison, Olaplex No 3 claims to "​​…reduce breakage and visibly strengthen hair, improving its look and feel." – not the same claim, but similar enough for me.
Facts about the Olaplex No 8 Intense Moisture Mask
Prize and size
One bottle contains 100 ml and retails for 28 € on the website here. I am not experienced with high end hair care prices, but when I compare it to Kerastase for example, it is on the expensive side. I don't mind too much though as you really don't need much and one bottle lasts me more than 12 months.
Texture and smell
Like the shampoo and conditioner and like the No 3 Hair Perfector from the Olaplex line, No 8 has the typical Olaplex fragrance, slightly sweet, but not overpowering and not so much that I can smell it on my hair after washing. While No 3 is more on the liquid side and runny, No 8 feels very rich and creamy, similar to their conditioner. All products are either pearly white or off white in color.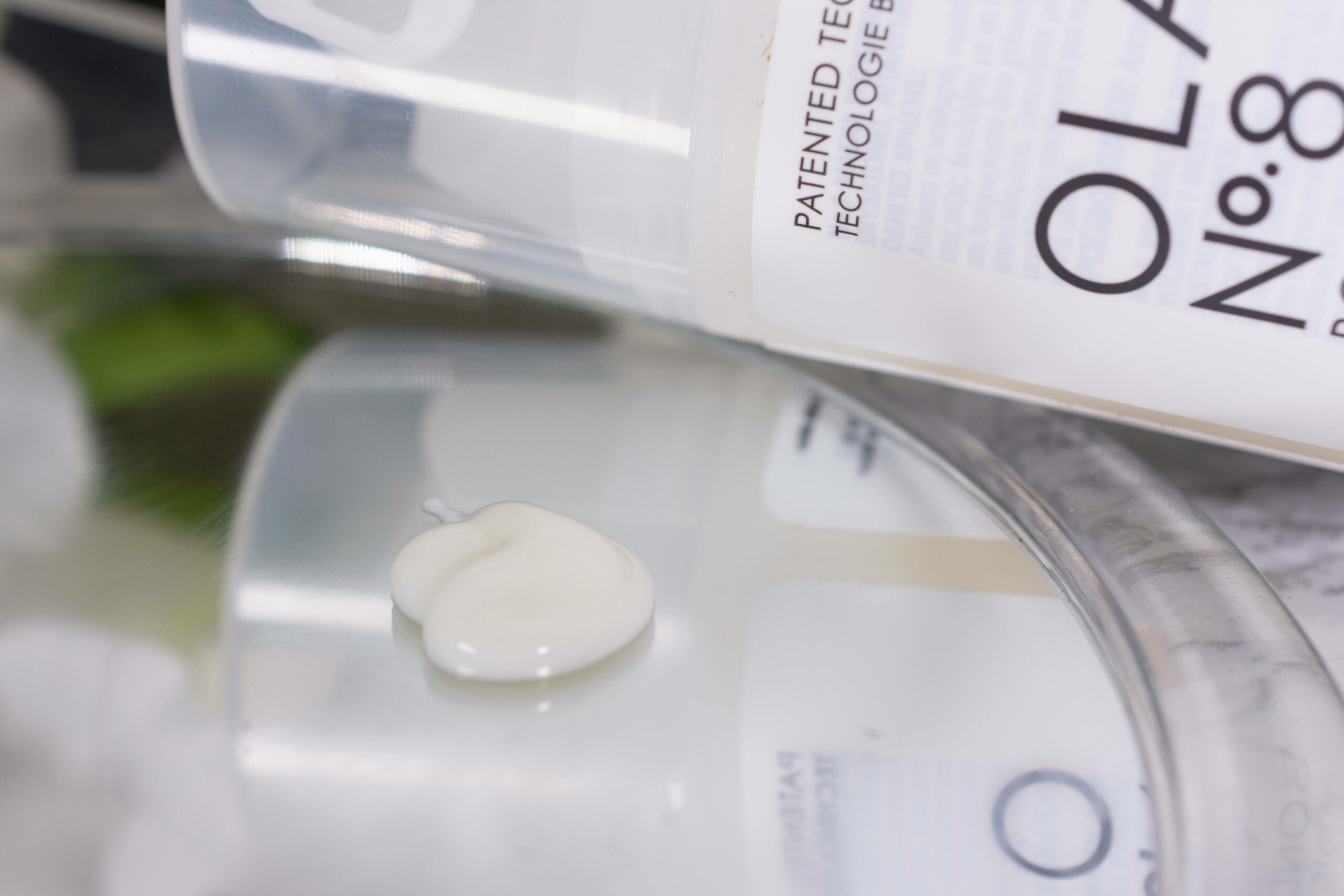 How to use the Olaplex No 8 Intense Moisture Mask
Just like any other mask you apply this one to wet hair after shampooing and instead of a conditioner, leave it on for around ten minutes and then rinse it out, And yes, I know that means that I am, again, standing around for 10 + minutes waiting for my hair stuff to do its things, only that this time around I am also naked and cold.
But to be fair I use this time to exfoliate and shave and do other body maintenance, which is why it doesn't feel as bad as doing it before the showering even starts.
Just use No 8 sparingly on the lengths of your hair, it is really very rich and would probably be too much for your roots – No 3 on the other hand is supposed to be applied liberally from the roots to the tips and doesn't weigh the hair down.
Ingredients of the Olaplex No 8 Intense Moisture Mask
Water (Aqua/Eau)
solv
,
Dimethicone
emo
0
1
,
Cetyl Alcohol
emo

|

emu

|

vc

|

surf
2
2
,
Persea Gratissima (Avocado) Oil

aox

|

emo
0
0
–
3
,
Glycerin

sii

|

h
0
0
,
Stearyl Alcohol
emo

|

vc

|

emu

|

surf
2
2
,
Ethylhexyl Olivate
,
Behentrimonium Chloride
pres
,
Cetrimonium Bromide
amic

|

emu

|

pres

|

surf
,
Limnanthes Alba (Meadowfoam) Seed Oil

emo
,
Oryza Sativa (Rice) Bran Oil

aox

|

emo
,
Quaternium-80
,
Rosa Canina (Rose Hip) Seed Extract
emo

|

h
,
Ceramide AP

sii
,
Ceramide NP

sii
,
Hydrolyzed Jojoba Esters
,
Sodium Hyaluronate

sii

|

h
0
0
,
Sodium PCA

sii

|

h
0
0
,
Bis-Aminopropyl Diglycol Dimaleate
,
Arginine

sii
,
Cannabis Sativa (Hemp) Seed Oil
emo
,
Jojoba Esters
so

|

emo

|

h
,
Panthenol

so

|

h
0
0
,
Squalane

sii

|

emo
0
1
,
Carthamus Tinctorius (Sunflower) Seed Oil

aox

|

emo
0
0
–
2
,
Glycine

sii
,
Alanine

sii
,
Serine

sii
,
Valine

sii
,
Isoleucine

sii
,
Proline

sii
,
Threonine

sii
,
Guar Hydroxypropyltrimonium Chloride
vc
,
Histidine

sii

|

h
,
Hydroxyethylcellulose
vc
,
Phenylalanine

sii
,
Aspartic Acid

sii
,
Pca

sii

|

h
,
Phosphatidylcholine
emu
,
Citric Acid
buff
,
Sodium Lactate

buff

|

h
,
Ethylhexylglycerin
pres
,
Sodium Benzoate
pres
,
Phenoxyethanol
pres
,
Bis-Cetearyl Amodimethicone
,
Fragrance (Parfum)

perf
,
Citral

perf
,
Hexyl Cinnamal

perf
,
Limonene

perf

|

solv
Hover the mouse over an ingredient for short explanation. Read more on INCIDecoder.
The first thing you notice is the presence of oils, ceramides and amino acids and, due to its conditioning nature, the high amount of Dimethicone (the second ingredient) and other conditioning agents like Behentrimonium Chloride and Cetrimonium Bromide. The actual active ingredient, the Bis Aminopropyl Diglycol Dimaleate, makes its appearance around the middle of the ingredient list, indicating that it is not present in a high concentration.
How does it compare to…
the Olaplex No 3 Hair Perfector
If we look at the ingredient list of No 3 though, the Bis Aminopropyl Diglycol Dimaleate is the second ingredient after water, which means that it most likely is present in a higher concentration than it is in No 8, making No 3 the better choice if you really want to repair existing damage. It also has less oils, less conditioning agents and no silicones, explaining why it is indeed not a replacement for a conditioner.
So side by side, you do actually need both if your hair is damaged and No 8 is not even close to being a replacement for No 3.
And if you are interested in the Olaplex No 7 Bonding Oil, I have a review for you here.
How did the Olaplex No 8 work for me?
It really leaves my hair soft and manageable with visibly reduced frizz. It also has a tendency to weigh my fine hair down if I use too much or use it too frequently (which usually doesn't happen because I rarely take the time to do hair masks). I also can't say it leaves me without the need for styling – yes, I don't need to style my hair to reduce frizz, but I need to put some waves in as I am not a fan of the very sleek look it gives me.
Would I repurchase?
No.
I will try to finally get better with using No 3 at least twice a month instead. And for the conditioning upkeep, I will stick to No 5, the Bond Maintenance Conditioner, which may have less "active", but is way easier to use.
Whom do I recommend the Olaplex No 8 Bond Intense Moisture Repair Mask to?
If your hair is damaged and you are looking to repair that at home, the No 3 is a must and the No 8 a nice addition.
If your hair isn't really damaged and you just want something for upkeep, No 8 is probably enough for you.
And if your hair is happy and healthy as it is, with no damage to repair, you can save your money entirely and get a much cheaper conditioner/ hair mask at the drugstore.
(Visited 7.169 times, 1 visits today)