ADVERTISEMENT INFO: THE PRODUCTS MENTIONED IN THIS POST WERE PURCHASED BY ME. LINKS USED MIGHT BE AFFILIATE LINKS. I RECEIVED NO MONEY TO WRITE THE BLOGPOST. PLEASE READ DISCLAIMER
Despite using the brand Omorovicza on and off for years, I realized I never reviewed one of their products on here. And no, it is NOT because the name is a tongue twister, it is more because although the products are lovely, they rarely made it into my regular routine.
I have a friend though that swears by the brand (More info: Find her blog here), so when I happened to get a travel size of the Omorovicza Daily Vitamin C, I remembered that she tried it and found it perfect for her very reactive skin.
And because quite a few of you have told me over the past that they can't make Vitamin C Serums as in L-Ascorbic Acid Serums work, I figured you might be interested in hearing my thoughts on this possible, albeit pretty expensive, alternative.
Why Vitamin C is not always L-Ascorbic Acid
Now my introduction might have some of you confused about why I suggest this Vitamin C Serum for those that don't get along with Vitamin C in the form of L-Ascorbic Acid. The reason is that although technically L-Ascorbic Acid is the original Vitamin C, the derivatives developed to offset some of Ascorbic Acids weaknesses, like irritation and instability, are usually referred to as Vitamin C too when a product is named. (More info: Everything you need to know about Vitamin C)
Same is true here, the Omorovicza Daily Vitamin C Serum does not contain Ascorbic Acid, but a Vitamin C derivative called Sodium Ascorbyl Phosphate, alongside some extracts that might have some Vitamin C naturally.
The problem we have with the derivatives is that the data we refer to is mainly on the original, not on the derivatives, so we can't say for sure if they are as good. For Sodium Ascorbyl Phosphate for example we do have some data suggesting it helps with collagen production, UV damage and hyperpigmentation, but it is limited, so you might need to see for yourself if it works for your skin or not. (More info: The limitations of topical skincare)
What the Omorovicza Daily Vitamin C Serum claims
Restore strength and radiance to your skin with Daily Vitamin C Serum, a potent brightening treatment that helps to combat the common signs of ageing. A stabilised form of the powerful antioxidant Vitamin C creates the basis for this milky serum, helping to defend against environmental aggressors whilst balancing pigmentation for a more unified skin tone.
Melting in effortlessly, the formula also utilises Hyaluronic Acid to pump the skin full of moisture for a lasting hydrated effect, while the brand's exclusive Healing Concentrate™ firms and tones the facial contours and smooths the appearance of fine lines and wrinkles. After use, the complexion looks illuminated, healthy and visibly youthful.
Facts about the Omorovicza Daily Vitamin C
Prize and size
One bottle contains 30 ml and retails for 155 $ on the website here. You only need a tiny bit, so the tube should last you a long time, which is not a problem with the derivative as it is more stable than Ascorbic Acid is.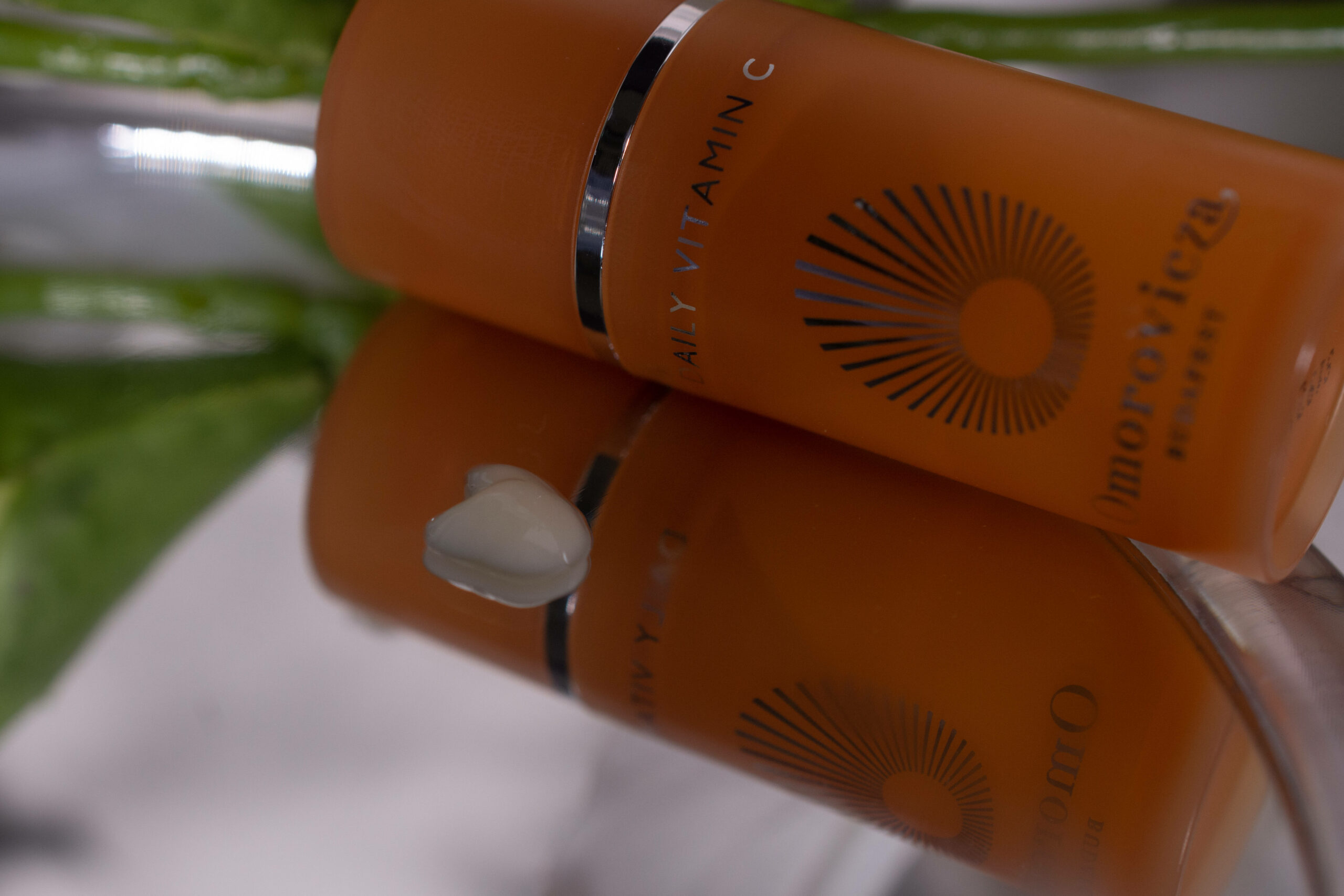 Texture and scent of the Omorovicza Daily Vitamin C Serum
Compared to most other Vitamin C Serums I have tried recently, this feels like a lotion rather than a watery texture. It is creamy white, spreads easily and sinks in without residue. The scent is barely noticeable.
How to use the Omorovicza Daily Vitamin C Serum
I prefer to use my Vitamin C in the mornings, so I applied the serum straight after cleansing and waited for a few minutes before I followed up with sunscreen. The waiting part is more of a habit than necessary – with regular Vitamin C I do that to let it absorb uninterrupted due to its reactive nature. It layers very well with everything I followed up with and you could of course just as good use it at night.
The serum itself is hydrating enough to be used as only serum on my normal skin.
Ingredients of the the Omorovicza Daily Vitamin C Serum
Aqua (Hungarian Thermal Water)
solv
,
Glycerin

sii

|

h
0
0
,
Propanediol
solv

|

h
,
Sodium Ascorbyl Phosphate

aox

|

aacne
,
Alcohol

amic

|

solv

|

vc
,
Yeast Extract

h
,
Sclerotium Gum
vc
,
Sodium Levulinate
,
Alcohol Denat

amic

|

solv

|

vc
,
Niacinamide

cci

|

sb

|

aacne

|

h
,
Sodium Anisate
amic
,
Xanthan Gum
vc
,
Zinc Pca

aacne

|

h
,
Potassium Sorbate
pres
,
Citric Acid
buff
,
Caprylyl/Capryl Glucoside
surf
,
Benzyl Alcohol
pres

|

perf

|

solv

|

vc
,
Parfum (Fragrance)

perf
,
Ci 77891 (Titanium Dioxide)
col
0
0
,
Chlorella Vulgaris/Lupinus Albus Protein Ferment
,
Nasturtium Officinale Flower/Leaf Extract
so
,
Sodium Hyaluronate

sii

|

h
0
0
,
Phospholipids

sii

|

emo
,
Leuconostoc/Radish Root Ferment Filtrate
amic

|

pres
,
Sodium Benzoate
pres
,
Actinidia Arguta Fruit Extract
,
Limonene

perf

|

solv
,
Linalool

perf
,
Benzyl Salicylate

perf
,
Citronellol

perf
,
Geraniol

perf
Hover the mouse over an ingredient for short explanation. Read more on INCIDecoder.
Other than the Sodium Ascorbyl Phosphate we already talked about you will find Glycerin and Hyaluronic Acid as main humectants, Niacinamide (More info: Everything you need to know about Niacinamide in skincare) which you know I love and Yeast Extract as postbiotic (More info: What are pre-, pro- and postbiotics). Oh, and the Hungarian Thermal Water the brand is known for, claiming to be soothing and healing on the skin.
What some people might not be so keen on to see is alcohol (which I personally absolutely don't mind) as well as Fragrance and potentially irritant fragrant components. Just FYI, I don't mind any of these ingredients in my products, this is just a word of warning for those with sensitivities. (More info: Is alcohol in skincare really a problem?)
Does it live up to its claims?
Yes.
My skin looked hydrated and bright over the period of me using it, which was a little over four weeks every morning, basically until the travel size was empty.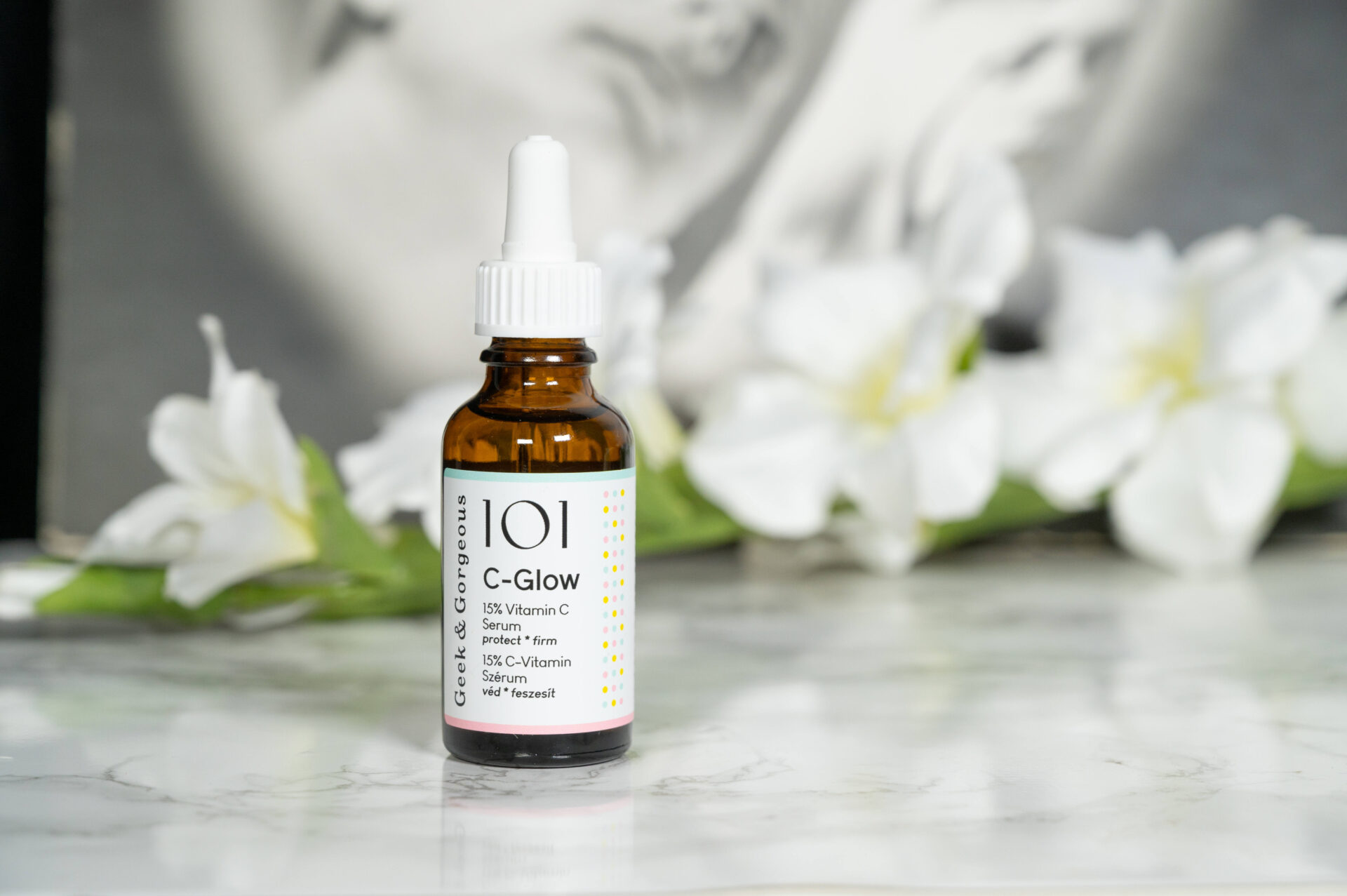 How does it compare to…
Geek and Gorgeous C-Glow Serum
I don't have any Vitamin C derivative products I can compare it with, as I tend to use L-Ascorbic Acid, so let's take my current favorite. The first obvious difference is the price, as Omorovicza is more than 10 times more expensive than the Geek and Gorgeous version. The second difference is the texture, with Geek and Gorgeous being watery while this one here is a lotion. And lastly the type of Vitamin C used and the rest of the formula do differ quite a bit. While Geek and Gorgeous is just a Vitamin C Serum, and a brilliant one I might add, Omorovicza offers a one-stop-shop with the added humectants and Niacinamide. This is possible due to the less reactive nature of the derivative and might be a selling point for those of you that want to use as little different products as possible.
I personally will stick to Geek and Gorgeous, as my skin gets along very well with Ascorbic Acid and I love the value for money, but if I for whatever reason could not use the original version of Vitamin C with its low pH, the Omorovicza Serum would be a great alternative – if it is within your budget.
Read my full review of the Geek & Gorgeous C-Glow Serum here
Which skin types do I recommend the Omorovicza Daily Vitamin C Serum to?
If you have skin that can't tolerate the low pH needed for Ascorbic Acid serums or of you are the type of person that wants one serum that does it all in the mornings rather than layering, this might be a great option for you. Yes, it is definitely expensive, and I don't believe you have to spend that much for a good skincare routine, but just like others buy expensive shoes or handbags, I sometimes like to treat myself to a luxurious skincare product. If that resonates with you, here you have a beautiful option to splurge.
You can shop my favorite Vitamin C Serums and more of my favorite skincare here.
If you want to get a vote in the next Ask Doctor Anne Topic, Ingredient Spotlight or product I review, don't forget you can head over to my Patreon account to get more involved!
(Visited 925 times, 1 visits today)