ADVERTISEMENT INFO: SOME PRODUCTS MENTIONED IN THIS POST ARE PR (GIFTED) AND LINKS USED ARE AFFILIATE LINKS. I RECEIVED NO MONEY TO WRITE THE BLOGPOST. PLEASE READ DISCLAIMER
Over the years I have published many empties posts – I know not everybody likes them, but with the amount of products I test, it actually says something when a product stays in my rotation long enough for me to finish it.
This year I decided on a special project: Collect everything I finish and do a "One year of Empties" summary in the end! Sounded like a great idea until I sat down with a giant pile of trash…
So grab yourself a drink or two, this is going to take a while.
I divided everything in categories and will keep it short – almost everything mentioned has a dedicated review on the blog already!
Cleansers in finished in 2022
To be honest I was surprised to see how many first cleansers I finished and how few second or morning cleansers. I guess I have too many of them in my rotation… (More info: Which type of cleanser is right for you?)
As first cleanse or makeup removal, the Clinique Take the Day Off Cleansing Balm (125 ml for 25 €, full review here) has been my favorite for many years, but this year got challenged by the Beauty of Joseon Radiance Cleansing Balm (100 ml for 19 €, full review here). Both are great at removing makeup, but somehow the texture of Beauty of Joseon speaks to me more – it is called a sherbet like balm and just feels incredibly luxurious on the skin, so out of the two, I think it is the one that will get repurchased..
In summer I prefer an oil and finished the SKIN1004 Madagascar Centella Light Cleansing Oil (200 ml for 15 €, full review here) – I got sent that as part of a paid partnership in summer 2021. It is lightweight, rinses clean and doesn't irritate my eyes, so again something I would repurchase.
The only second, or in this case morning cleanse I finished is the Murad Environmental Shield Essential-C Cleanser (200 ml for 42 $, full review here). It has been a long standing favorite of mine as well with a great refreshing, but not stripping formula, so I can see myself repurchasing it in the future again, despite it being more on the expensive side.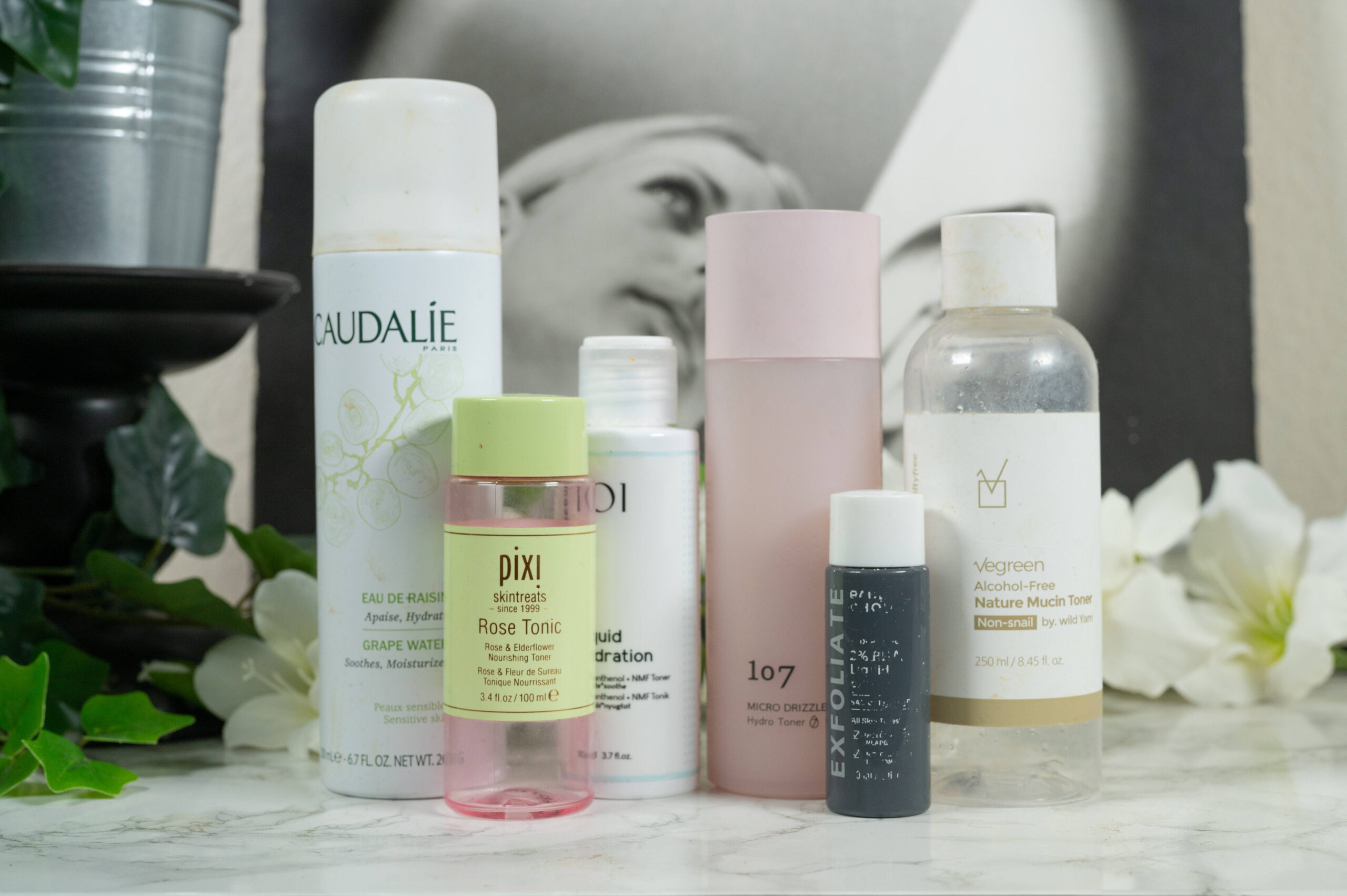 Toners I finished in 2022
Obviously a toner is not a necessity, but simply a step I enjoy, so don't expect much important skincare ingredients here. (More info: Toner, tonic, essence, what is the difference?)
The only one that I would dearly miss is my Paula's Choice Skin Perfecting 2% BHA Liquid Peeling (118 ml for 39 €, full review here). It is the best Salicylic Acid I have tried, and believe me, I have tried a lot of them. Gentle, effective, other than the price I don't have any complaints, and even that isn't that bad as you don't need much.
Then we have the pixi Rose Tonic (250 ml for 15 $, full review here) that I enjoy mainly for its scent and the added hydration. (More info: The different pixi tonics compared)
The 107 Micro Drizzle Hydro Toner (180 ml for 35 $, full review here) on the other hand feels a little more substantial on the skin, which is why I used it mainly during the colder months. (More info: Everything you need to know about fermented ingredients in skincare) The Vegreen Alcohol free Nature Mucin Toner (200 ml for 20 $, full review here) is part of a series of products that are advertised as a vegan alternative to snail mucin, I have the corresponding serum in a bit, and it was nice and hydrating, but not outstanding. It has added Panthenol for soothing, as has the Geek and Gorgeous Liquid Hydration Toner (110 ml for 7 €, full review here) that I really like when my skin is upset – out of the two the Liquid Hydration one is the one I would repurchase.
The last one is the Caudalie Grape Water (75 ml for 13 $, full review here), the finest mist I have ever come across and one of my most repurchased products – I love it especially in the summer. (More info: Will the Seven Skin method give you glowing skin?)
Serums I finished in 2022
When I looked at this category, I realized that I actually finished a lot of hydrating serums. I guess they make up the backbone of my routine despite me rarely thinking about them.
Before I touch on them, I just need to get this out of the way: 3 bottles of Geek and Gorgeous C-Glow (30 ml for 10,50 €, full review here). I keep telling you that it is my favorite Vitamin C, and here is the proof, I use it consistently. The only other Vitamin C I have to show you is the Hylamide Booster C25 (30 ml for 25 €, full review here) which I didn't like too much due to the slightly oily formula and that was used up on my chest, where I am way less picky about the products. (More info: Everything you need to know about Vitamin C in skincare)
Then we have the Vegreen Fragrance-Free Nature Mucin Serum (50 ml for 18 $, vegan, full review here), which is a hydrating serum with added Niacinamide, Panthenol, Ceramide NP and several peptides including copper peptides, so a great allrounder with a lovely texture that might get repurchased, and the 107 Dewy Glow Serum Mist (50 ml for 58 $, full review here), which in addition to fermented ingredients and Allantoin for soothing has Arbutin, aiming to brighten hyperpigmentation. True to its name it also leaves the skin incredibly glowy, which is why I wasn't the biggest fan. (More info: Everything you need to know about Niacinamide in skincare, Everything you need to know about Ceramides in skincare, Everything you need to now about peptides in skincare)
Another hydrating serum with added peptides including copper ones is the Hylamide SubQ Skin Serum (30 ml for 22 $, vegan, full review here) that I did enjoy, but didn't quite get the cult status it had online – there was a huge uproar when it was announced it was to be discontinued – and The Inkey List Hyaluronic Acid Serum (30 ml for 7,99 €, vegan, also available as super size now, full review here), a staple in my routine when I want a hydrating but non-sticky serum with a little added extra. (More info: Everything you need to know about Hyaluronic Acid in skincare)
The SKIN1004 Madagascar Centella Hyalu-Cica Blue Serum (30 ml for 14 $, full review here) is one that I received as part of a sponsored post in 2021 and happily used up, it contains Hyaluronic Acid, Centella Asiatica, Panthenol and Niacinamide and is calming and hydrating, same as the Geek and Gorgeous Stress Less Serum (30 ml for 10,80 €, full review here) that contains Beta-Glucan from Colloidal Oatmeal and Madecassoside from Centella Asiatica for soothing. (More info: Everything you need to know about Centella Asiatica in skincare, Everything you need to know about Colloidal Oatmeal in skincare)
Out of these all I am not sure which one will get repurchased, I enjoyed all of them.
Eye Creams I finished in 2022
Now I don't know about you, but I feel like it takes me forever to finish any eye cream despite them being so small and using them every day. (More info: Are eye creams just a waste of money?)
The ones I happened to finish are the Murad Retinol Youth Renewal Eye Serum (15 ml for 97 €, full review here), which is extremely expensive, but oh so beautiful in texture, and the Good Molecules Yerba Mate Wake Up Eye Gel (15 ml for 6 $, vegan, full review here) that is okay, but which I don't love enough to repurchase. (More info: How to get rid of dark circles under the eyes)
Moisturizers I finished in 2022
As someone that prefers using their sunscreen as moisturizer for most of the year, it comes as no surprise that I actually didn't end up finishing a lot in this category. And two of them, the Dr Sams Flawless Moisturizer (50 ml for 29 $, full review here) and the Ambigoose Powerhouse Moisturizer (50 ml for 29,99 €, vegan, full review here) were used mainly on my neck and chest, so they only half count. Both are okay, but not my preferred texture, so won't be repurchased.
The only one I used exclusively on my face is the Vergreen 730 Daily Moisture Cream (50 ml for 21 €, it strangely has no full review yet), which is delightfully basic with Glycerin, Squalane and Arginine and amazing to use before Tretinoin. I can absolutely see myself repurchasing this one in the future, but currently have way too many others open to even think about that. (More info: How to use Retin-A with minimal irritation)
Sunscreens I finished in 2022
The second biggest category is sunscreen and that will surely not surprise anyone that has been following me for any amount of time. I wear it every single day and swear it has made the biggest difference to my skin of all skincare things I picked up over the years.
We will start with the Isntree Hyaluronic Acid Watery Sun Gel (50 ml for 18 $, full review here) that I had no idea was so popular until I tried it – it is beautiful indeed, but a tad too dewy for my personal taste. It often gets compared to the Beauty of Joseon Relief Sun: Rice + Probiotics SPF 50+ (50 ml for 18 $, full review here) out of which I finished two last year, with a third one already open. You can tell it is a favorite, even though it is almost as dewy as the Isntree one – on camera they almost look identical, in real life Beauty of Joseon has a little less glow.
Then there are two bottles of my designated summer sunscreen, the La Roche Posay Anthelios Invisible Fluid SPF 50+ and its new formula, the La Roche Posay Anthelios UVMune 400 (50 ml for 21 €, full review here). I call this my summer sunscreen as it has a very high UVA rating compared to most others and that is what I look for to prevent my hyperpigmentation from reappearing. (More info: What is UVA protection and why is it important) Another one that would probably fall into this category is the Ultraviolette Supreme Screen SPF 50+ (50 ml for 39 €, full review here), even though I don't know the exact UVA rating of this one. It has a lot of modern filters and the brand comes from Australia, which is known for their strict sunscreen regulations.
Then I have the Dr Sam's Flawless Daily Sunscreen (50 ml for 29 $, full review here), whose texture I really wasn't a fan of and which got used up on my neck and chest, and the DRMTLGY Universal Tinted Moisturizer SPF 45 (50 ml for 26 $, full review here) which is the only US sunscreen I have tried so far and which is surprisingly nice in texture. The color was too dark for me though, so I used it up on my notoriously pale legs – they got bronzed up and protected at the same time, which is always a bonus.
The last one is a tube of Fotoprotector ISDIN Fusion Water (50 ml for 24,90 €, no dedicated review) which was my go to for years, basically until I discovered the beauty of Asian sunscreens. It has recently been reformulated (again), but this version is a great European formula.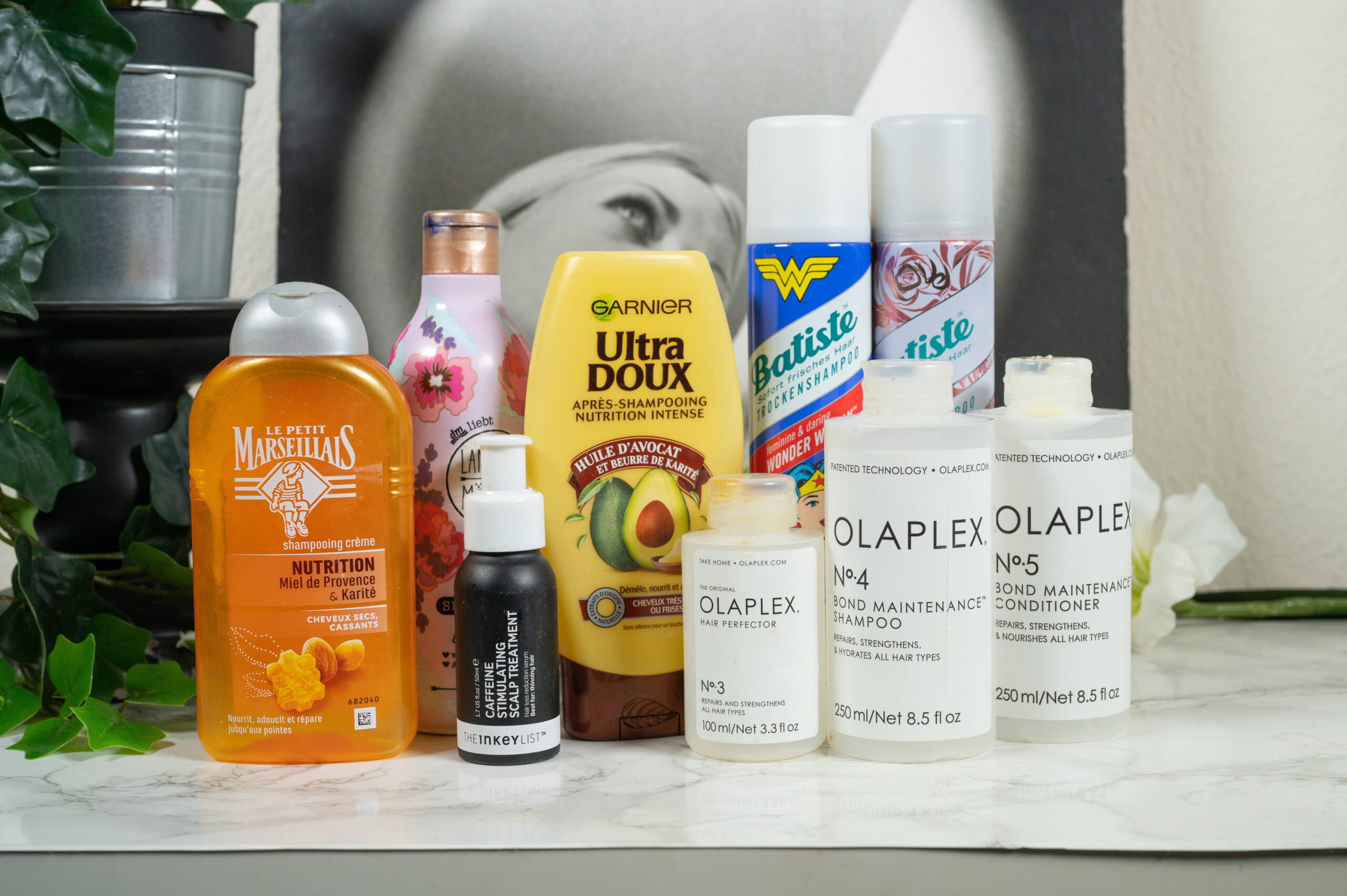 Hair Care I finished in 2022
The regulars out of the way first: One bottle of Olaplex No 3 (100 ml for 29,95 €, full review here), one of Olaplex No 4 (250 ml for 29,95 €, full review here) and one of Olaplex No 5 (250 ml for 29,95 €, full review here). I have been using Olaplex products for a long time and repeatedly repurchased – all three of them are already repurchased and back in my bathroom. (More info: Olaplex and infertility – do you need to worry?)
These are pretty expensive, the rest of my hair care is not: I have a bottle of Le Petit Marseillais Nourishing Shampoo with Honey and shea butter (250 ml for 3,49 €) as well as a bottle of DM Langhaarmädchen Shampoo in Silver Blond (300 ml for 4,95 €). I always have a bottle of purple shampoo in my rotation, but that one didn't convince me, I didn't like the scent much. Then there is the Garnier Ultra Doux Conditioner with Avocado and Shea Butter (250 ml for 2,45 €), which was surprisingly lovely given that it doesn't use any silicones, which I didn't realize when I bought it. I usually prefer silicones in my conditioner to keep my hair manageable, but this one might get repurchased.
I also finished The Inkey List Caffeine Stimulating Scalp Treatment (150 ml for 14,99 €, full review here), but to be honest I didn't use it consistently enough to tell if it made a difference – I am not good with scalp care I guess, something to put on the to do list for 2023.
That only leaves two bottles of Batiste Dry Shampoo (200 ml for 3,95 €), one in Rose Gold and one in Wonderwoman – I preferred the scent in Wonderwoman, but it was limited edition.
Random Face Stuff I used up in 2022
Now for everything I couldn't fit in anywhere else: We have several tubes of prorelax Conductive Gel (100 ml for 9,83 €) that I use for my microcurrent treatments and radiofrequency and then two tubes of the Medicube AGE-R Booster Gel (100 ml for 16,95 €) that I got with the Medicube device I tested this year. It is really nice, but as you need so much of that stuff with the devices I use, I will stick to the cheaper version. (More info: NuFace review with before and after. Medicube review with before and after)
Then there is the Emile Cordon Moroccan Mint Lip Balm (12 g for 46 $, full review here) – I am certain I finished more than that one, probably some Labello and stuff, but I somehow didn't keep them. It was minty in a non-offensive way, but I wouldn't spend that much on a lip balm no matter the flavor.
And lastly I tried the Kascin Hydrocolloid Acne Patches (39 patches for 8,90 €). I usually just use hydrocolloid patches from the drugstore, but sometimes you need something more discreet and for these occasions regular patches work better. These were okay, I don't really have favorites here. (More info: The benefits of acne patches in skincare)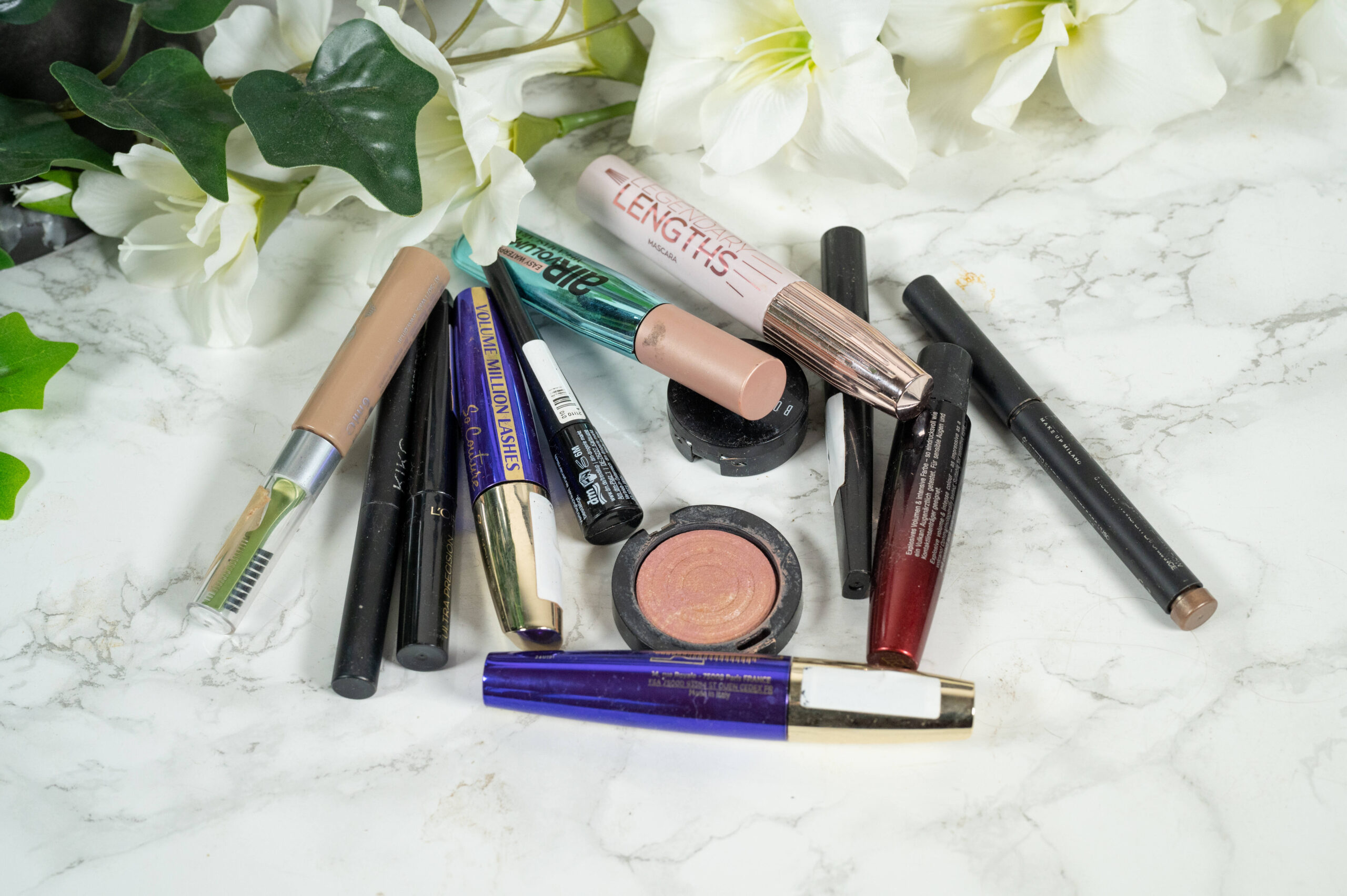 Make Up I used up in 2022
And now to a category that usually is much smaller: makeup. But this year I didn't only finish mascaras and liquid liners, but other stuff as well.
For mascaras we have two tubes of the L'Oreal Volume Million Lashes So Couture (9,5 g for 11,79 €) that is something like my current favorite, one of Manhattan Volcano Explosive Volume Mascara (10 ml for 4,95 €) which was okay, the Avon Legendary Lengths Mascara (10 ml for 8,99 €) that I was surprised I actually liked despite the tapered brush and the L' Oreal Air Volume Mega Mascara (7,9 ml for 11,95 €) that I mainly bought because I needed something waterproof in summer and disliked as much as most other waterproof mascaras as well – I can't help it, I feel most of them are clumpy and give me crunchy and weird lashes.
Then we have two tubes of the L'Oréal Precision Liner in Black (9,95 €, full review here), which has been my most repurchased liquid liner of all times, and one tube of DM trend it up Dip in Eyeliner (2,5 ml for 2,75 €) that I purchased to compare, but which didn't hold up.
Another often repurchased staple is the Alverde Eyebrow Gel in 01 Blonde (6 ml for 3,95 €), which doesn't hold my brows in place as good as I remember anymore, so I am currently looking for a replacement.
But aside from these staples there is more this year: One pot of Bobby Brown Corrector in Light Bisque (1,4 g for 27,95 €) that I have repurchased for several years but that now with age doesn't sit as well as it used to under my eyes, and two of the KIKO Long Lasting Eyeshadow Sticks (1,6 g for 7,95 €) in the color 06 and 07, a pearly light gold and a taupe color. The colors of both were beautiful, but the staying power didn't convince me. I had to set both with a powder eyeshadow, otherwise they would disappear within three hours, and while that did work, I wanted something to just put on and go for lazy days.
Then I finished a blush, the Max Factor Creme Puff Blush in Seductive Pink (1,5 g for 6,45 €, full review here) that, contrary to the name, is a baked powder blush, not a cream product. I have several shades of those and love them.
And the last thing, again unusual for me, is a perfume, the Givenchy Ange ou Démon Le Secret (30 ml for 67 €). I am not much into perfume, it isn't unlikely that I forget to put some on in the mornings, and I only have two different scents, and one of them is this one.
Shop the post
Don't forget to check out the Discount Code Page on top if you want to save some money on your next skincare purchase.
If you want to get a vote in the next Ask Doctor Anne Topic, Ingredient Spotlight or product I review, don't forget you can head over to my Patreon account to get more involved!
(Visited 512 times, 1 visits today)