ADVERTISEMENT INFO: THIS BLOG POST CONTAINS GIFTED ITEMS (PR) AND USES AFFILIATE LINKS. I RECEIVED NO MONEY TO WRITE IT. PLEASE READ DISCLAIMER
Tonics are what pixi is best known for, after all their success started with the introduction of the famous pixi Glow Tonic that I myself have gone through countless bottles of.
So whenever pixi launches a new collection like their latest, the pixi Clarity collection, I am extra excited to test the Tonic included.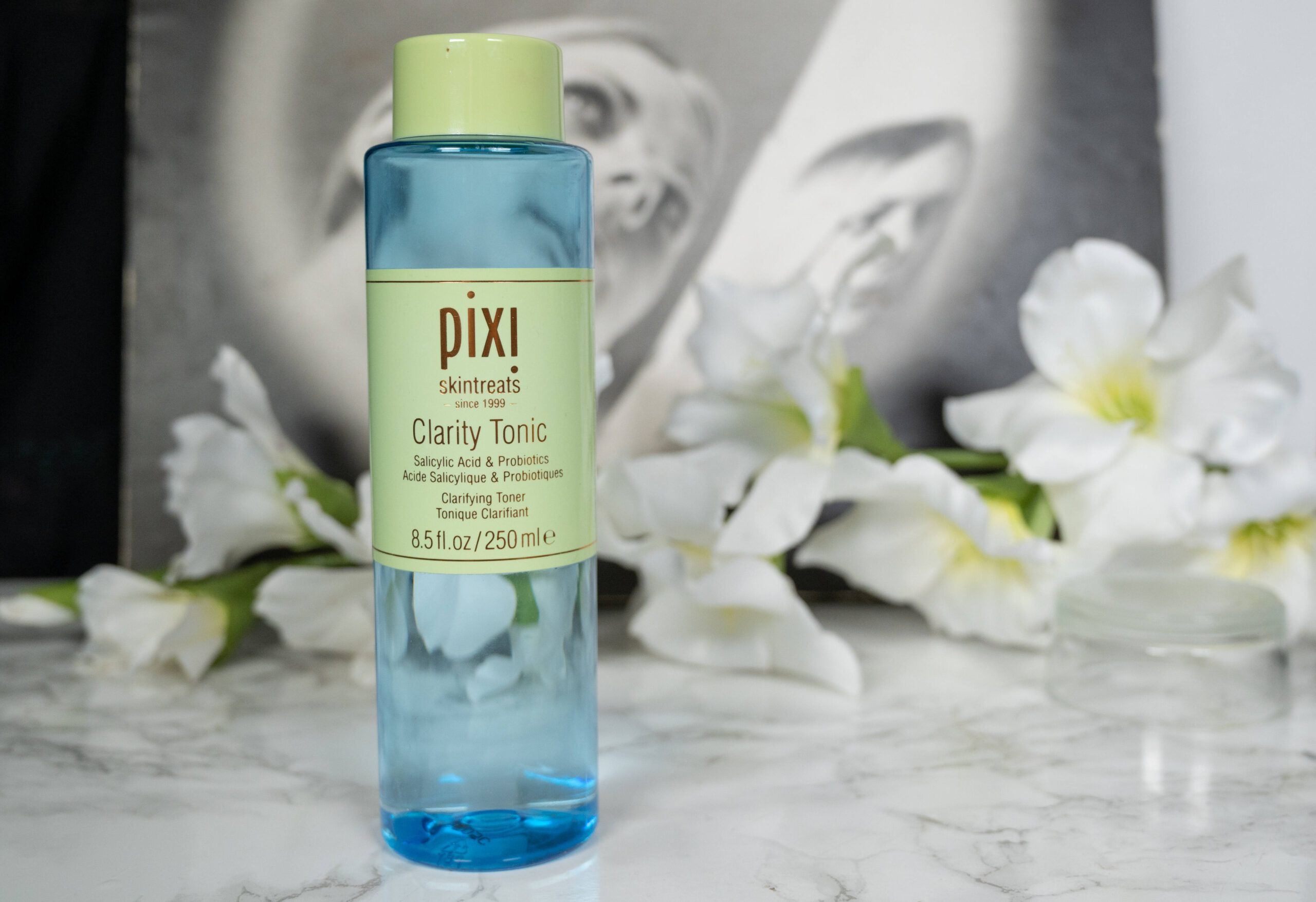 Not all of them have convinced me, but there are a few like the original Glow Tonic or the pixi Rose Tonic (full review here) that have earned a permanent place in my routine.
But will the pixi Clarity Tonic join them? And which one is better suited to your skin type, the Clarity Tonic or the original pixi Glow Tonic one?
The pixi Clarity Collection
The whole pixi Clarity Collection focuses on Salicylic Acid as main "active", although you will see as we dive further into the individual reviews that there is a lot more to the products than just that.
As always with pixi, the products are not tested on animals and come in their signature packaging with light blue being the determining color for this specific line.
Oh, and if you are wondering about the difference between a toner, a tonic and an essence, I did a dedicated blogpost on this question here.
What the pixi Clarity Tonic claims
Clarifying tonic with potent AHAs, Antioxidants and balancing Probiotics helps to clear skin and minimize the appearance of pores.
Facts about the pixi Clarity Tonic
Price and size
As always with the tonics, pixi offers two different sizes. 250 ml that retail for 29 $ or a 100 ml travel size that will set you back 15 $. While I recommend getting the smaller size when purchasing the pixi Vitamin C Tonic (read more about it here), with this one you obviously get a better deal when going for the 250 ml. The big bottle should last you 3-4 months, depending on whether you use it daily or only during certain periods of the month like I do.
Texture and smell
If you were hoping for a fancy color, I am sorry to disappoint: The bottle is blue, not the Tonic itself, and just like it has no color, it has no scent either.
How to use the pixi Clarity Tonic
Suitable for use both morning and night, pixi advises you to saturate a cotton pad and swipe that all over your face directly after cleansing. I much prefer to pour something into the palms of my hands and pat that on, and I have used it both morning or night, depending on my routine and my skin.
pixi Clarity Tonic ingredients
Aqua/Water/Eau
solv
,
Aloe Barbadensis Leaf Juice

so

|

h
,
Propanediol
solv

|

h
,
Glycerin

sii

|

h
0
0
,
Sodium PCA

sii

|

h
0
0
,
Betaine

h
,
Lactobacillus Ferment Lysate Filtrate

so
,
Glycolic Acid

exf

|

buff
,
Sodium Hyaluronate

sii

|

h
0
0
,
Salicylic Acid

exf

|

aacne

|

so

|

pres
,
Glycyrrhiza Glabra (Licorice) Root Extract

so

|

sb
,
Salix Alba (Willow) Bark Extract

so
,
Magnesium Ascorbyl Phosphate

sb

|

aox
,
Centella Asiatica Extract

so

|

aox

|

h

|

surf
,
Saccharum Officinarum (Sugarcane) Extract/Extrait De Canne À Sucre

h
,
Leuconostoc/Radish Root Ferment Filtrate
amic

|

pres
,
Populus Tremuloides Bark Extract
,
Lactic Acid

exf

|

h

|

buff
,
Sodium Citrate
chel

|

buff
,
Sodium Hydroxide
buff
,
Ethylhexylglycerin
pres
,
Citric Acid
buff
,
Potassium Sorbate
pres
,
Sodium Benzoate
pres
,
Phenoxyethanol
pres
Hover the mouse over an ingredient for short explanation. Read more on INCIDecoder.
Just like the other products in the line it not only contains Salicylic, but also Glycolic and Lactic Acid, so it will exfoliate on different skin depths.
Glycolic is present at a higher concentration than Salicylic Acid, while Lactic comes later in the ingredient list, which makes me think its effect is going to be negligible. In general I think the acid concentrations will be on the lower side, given that it is a tonic, so better for upkeep than for overnight results.
There are also a few soothing ingredients like Aloe Vera and Centella Asiatica, a few humectants like Glycerin, Lactobacillus Ferment Lysate (read more about probiotics in skincare here) and Betaine and a few brightening ingredients like Licorice Root Extract and Magnesium Ascorbyl Phosphate, a Vitamin C derivative (more about that here).
In general though, given that it is a tonic, none of them come in a very high concentration.
What the Clarity Tonic does not contain, and that is one of the main differences to the Glow Tonic, is essential oils or fragrance, a change many will be delighted about.
How does the pixi Clarity Tonic compare to the pixi Glow Tonic
The main difference is of course the fact that this one combines three acids, while the Glow Tonic only contains 5% Glycolic Acid. Sadly I can not give you any concentrations for the Clarity Tonic to compare, as pixi does not release the concentrations, not even when specifically asking for them.
Now do you need three different acids in one product? That depends. Glycolic Acid will penetrate deepest and have the strongest resurfacing effect, while Lactic Acid is better suited at sensitive skin and does not penetrate as deep and Salicylic Acid loves oil, so exfoliates best in the pores. So if your skin is more on the oily and congested skin, it might be beneficial to have a combination of these three acids.
Does it live up to its claims?
In a way.
While it contains the potent AHAs it claims to contain, they aren´t going to give you immediate results. As always the dose makes the poison. As for the "helps clear the skin and reduce the appearance of pores" – yes, it has ingredients that will help in that, but again, at a low percentage.
Which skin types do I recommend the pixi Clarity Tonic to?
That means on the other hand though that it is hard to overdo it  – I used the product every day for two weeks straight together with my Tretinoin and experienced zero irritation. It might take longer for you to see the results, but especially for young, slightly congested skin, but without a major breakout problems, this is a great everyday Tonic to prevent those minor congestions from turning into full blown zits.
Would I repurchase?
Yes.
Because I know that in the week before I am due going on my period, my skin is prone to congestion that if I don´t treat it quickly has a tendency to evolve into annoying spots. Given that I use Tretinoin though my skin does not tolerate strong exfoliation very well, so something gentle that I can introduce early on is quite helpful.
Shop the post
(Visited 14.393 times, 1 visits today)