ADVERTISEMENT INFO: SOME PRODUCTS MENTIONED IN THIS POST ARE PR (GIFTED) AND LINKS USED ARE AFFILIATE LINKS. I RECEIVED NO MONEY TO WRITE THE BLOGPOST. PLEASE READ DISCLAIMER
I think by now I have three different tubes of pixi eye patches in my fridge, the latest being the pixi Dream-yEye Replenishing PM patches. Now just to be clear, you don't need three different ones, to be honest you don't even need one tube to have a good skincare routine, and you surely don't need to keep them in the fridge either.
I keep a lot of my skincare in the fridge because I live directly under the roof with no air-con (air-con isn't really a thing here in Germany), so in summer it regularly is above 30 °C in my bathroom, which really isn't good for products, and in case of the patches the cooling effect is maximized when doing it. The reason I have three different tubes is that I got sent them and each contains 30 pairs, meaning it would take me a whole month of using them every night to finish one, and for me they are more of a weekend thing than something I do daily.
But what do I think of my newest addition and how do they compare to the other two I have?
Here is a video I made comparing the pixi Fortif-Eye and the pixi Detoxif-Eye patches
What the pixi Dream-yEye Replenishing PM patches claim
Calming and replenishing hydrogel patches help under-eyes feel hydrated, soothed and restored. Use at night to wake up with eyes looking rested and refreshed!
Facts about the pixi Dream-yEye Replenishing PM patches
Prize and size
One tube contains 60 patches, so will give you 30 uses in total assuming you will use them underneath both eyes – if for some reason you should decide to treat one eye only, you could get more uses out of the tube – and is available for 26 € on the website here.
Texture and smell
These are hydrogel patches, so they have a wobbly texture, like a firm jello, and get softer when in contact with the warmth of the skin. Green in color, they contain sparkle that makes them look futuristic, and they have no scent to them.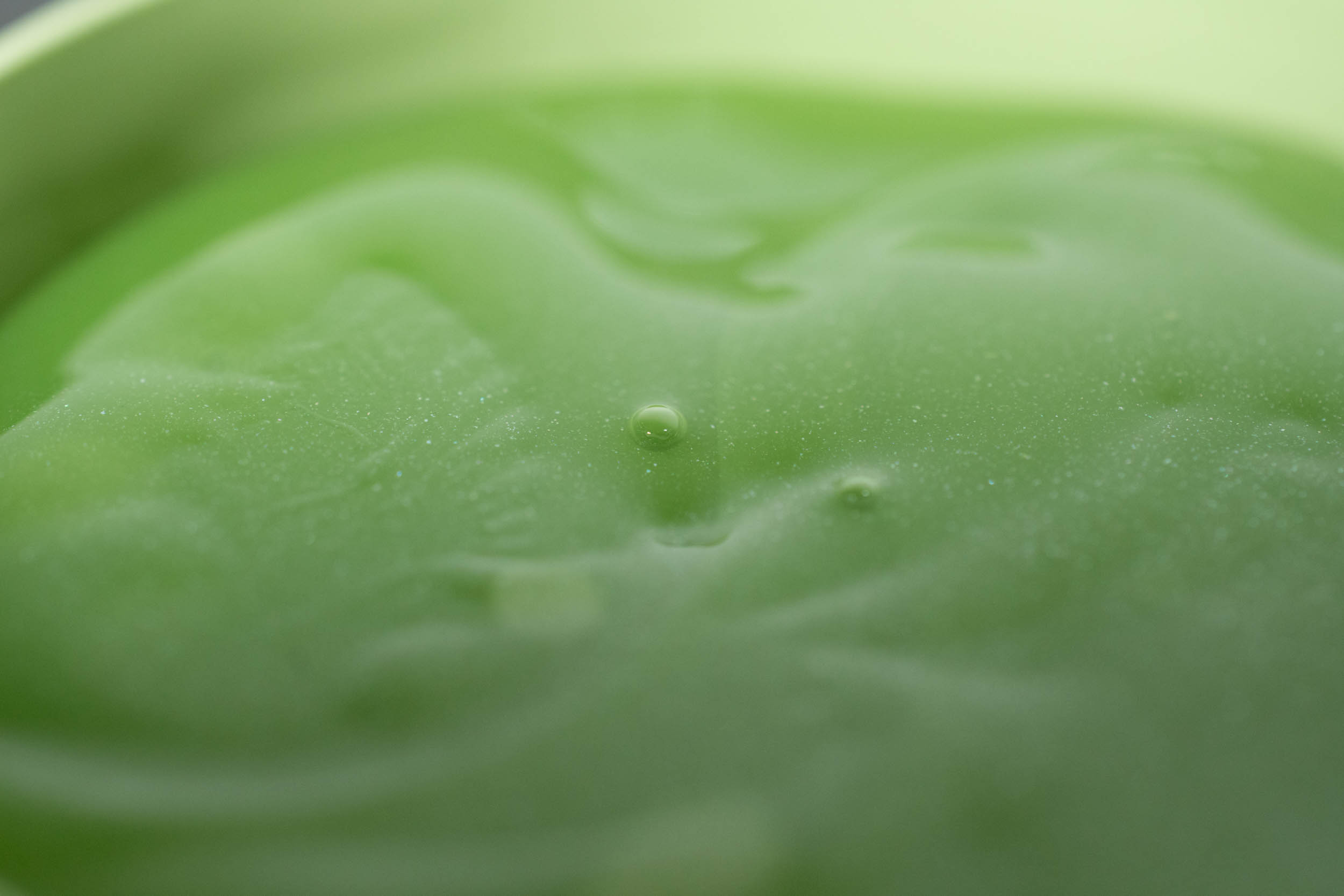 How to use the pixi Dream-yEye Replenishing PM patches
Shaped like the lower part of a semicolon, the thicker rounded part goes to the outer edge of the eye, while the pointy one is placed on the tear duct area on clean, dry skin. The theory behind hydrocolloid patches in general is that they act as occlusive layer that helps the skincare that is underneath them, or in this case, IN them, penetrate better. (More info: Hydrocolloid pimple patches – everything you need to know) They also prevent Transepidermal Water Loss and create a moist environment beneficial for wound healing, but that is more important for acne patches than for the under eyes.
In this case the recommendation is to put them on in the evening before you go to bed, but assuming you wear them indoors and not outside running errands or sun bathing (no shame if you do!), you can just as well pop them on in the mornings. Yes, they do contain Retinol, which isn't stable to UV exposure, but indoors that isn't a problem.
There is no recommended time you should wear them, so I usually just leave them on for as long as it feels comfortable, which can easily be an hour as they stay moist and in place whatever I do. While I never experienced irritation, they do contain quite a few plant extracts though that might irritate some, so make sure to patch test before wearing them for a prolonged period of time next to the eye.
After removal you can either follow up with your regular routine or just leave it at that. (More info: Are eye creams just a waste of money?)
Ingredients of the pixi Dream-yEye Replenishing PM patches
Aqua/Water/Eau
solv
,
Glycerin

sii

|

h
0
0
,
Calcium Chloride
vc
,
Ceratonia Siliqua (Carob) Gum
emo

|

vc
,
Xanthan Gum
vc
,
Camellia Sinensis Leaf Extract

aox

|

so
,
Chamomilla Recutita (Matricaria) Flower Extract

so

|

aox
0
0
,
Jasminum Officinale (Jasmine) Extract
so

|

h
,
Lavandula Angustifolia (Lavender) Flower Extract
surf
,
Caffeine

aox

|

perf
,
Chondrus Crispus Powder
abrasive/scrub
,
Persea Gratissima (Avocado) Oil

aox

|

emo
0
0
–
3
,
Retinol

cci
,
Ceramide NP

sii
,
Sodium Hyaluronate

sii

|

h
0
0
,
Acetyl Hexapeptide-8

cci

|

h
,
Aloe Barbadensis Leaf Extract

so

|

emo

|

h
,
1,2-Hexanediol
solv
,
Pentylene Glycol
solv

|

h
,
Hydroxyacetophenone
aox
,
Polyglyceryl-10 Laurate
surf

|

emu
,
Ethylhexylglycerin
pres
,
Cellulose Gum
vc
0
0
,
Synthetic Fluorphlogopite
vc
,
Caprylic/Capric Triglyceride
emo
,
Sodium Phytate
chel
,
Hydrogenated Lecithin

emo

|

emu
,
Phenoxyethanol
pres
,
Titanium Dioxide (Ci 77891)
col
0
0
,
Chromium Oxide Greens (Ci 77288)
col
Hover the mouse over an ingredient for short explanation. Read more on INCIDecoder.
Before we take a closer look at the potential benefits you will get, remember that all of this is bound into the patch, so it will most likely perform a little different than it does in serum or cream form. That isn't meant to say it won't be effective, it just means that you should manage your expectations in terms of instant effects. The most noticeable effect will probably be hydration due to the occlusion and the humectants Glycerin and Sodium Hyaluronate.
As plant extracts you will find Chamomille and Jasmine, according to pixi for soothing, as well as Lavender and Green Tea. (More info: The benefits of Green Tea Extract in skincare) More interesting in my opinion though is Acetyl Hexapeptide-8, a peptide also called "Botox in a jar" (More info: Everything you need to know about peptides in skincare) and of course the Retinol for firming the skin (I can't give you a concentration, but I assume it is quite low as it is formulated to be used underneath the eye, More info: Everything you need to know about retinoids). You will also find Ceramide NP to strengthen the skin barrier (More info: Everything you need to know about Ceramides in skincare) and Caffeine often used for depuffing and for its antioxidant effects.
Does it live up to its claims?
Yes.
No matter the ingredients, hydrogel patches will always help the skin feel more hydrated, but I admit when I use them at night, I feel like my eyes look better rested the next morning.
How do they compare to…
pixi FortifEYE Firming Eye Patches
Similar to Dream-yEYE, these contain Retinol and a peptide, but not the "Botox in a jar" one, but some that claim to mimick the effect of Growth Factors. There are also other plant extracts like Aloe Vera, Pine and Coconut, as well as Adenosine and Allantoin for soothing, but both share the Caffeine for depuffing.
The short term effect of both is comparable, long term is something I can't judge, so you definitely don't need both.
You can read my full review of the pixi FortifEYE Firming Eye Patches here.
pixi DetoxifEYE Depuffing Eye Patches
Let me preface this by saying that I really don't like the term DetoxifEYE, although I appreciate the play on words. You don't need products (or even worse, supplements!) to detox your body, you have a fully functioning organ system in your liver and kidneys that takes care of that. They certainly work better than eye patches when it comes to toxins.
The ingredients in these differ from the other two in the fact that there is no Retinol and again different plant extracts and that the focus is more on hydration with different humectants and Caffeine for depuffing than on firming with retinol and peptides, so technically they are aimed at younger skin. I do believe though that to see results from retinoids and peptides, you need to use them regularly, not just once in a blue moon in an under eye patch, so I am perfectly happy with these.
Short term there is no difference in effect, long term again isn't something I can judge due to the irregular application.
You can read my full review of the pixi DetoxifEYE Depuffing Eye Patches here.
Would I repurchase and which skin types do I recommend the pixi Dream-yEye Replenishing PM patches to?
I will repurchase some kind of pixi hydrocolloid under eye patches for sure, but which one out of the three I don't know yet. Which one works best for your individual skin depends on potential sensitivities you have to any of the added plant extracts, other than that I don't think it makes much of a difference. For those planning to conceive or currently pregnant using the ones without retinol is the recommended approach although I personally don't think it would be a problem in this kind of application form. (More info: Pregnancy skincare – everything you need to know)
Shop the post
Don't forget to check out the Discount Code Page on top if you want to save some money on your next skincare purchase.
If you want to get a vote in the next Ask Doctor Anne Topic, Ingredient Spotlight or product I review, don't forget you can head over to my Patreon account to get more involved!
(Visited 135 times, 1 visits today)